In 2017, almost everything is being done on the internet. Is buying art any different? The second Hiscox Online Art Trade Report has now been published, introducing us to the world of the online market from a different perspective. The truth is that many people - some 58% - are still worried about buying a fake piece of art on the web, due to the whole of the art market being predominately unregulated; yet these findings reveal that the trending of click-shopping is on the rise. What artworks are selling online the most? Through which platforms? Will it be worth it to do it as an investment? Below are the key findings of the Hiscox Online Art Trade Report.
The Hiscox Online Art Trade Report 2017
The Hiscox Online Art Trade Report 2017
Going through the second Hiscox Online Art Trade Report, we come to realize that the online market is, actually, yet to go through its flourishing time! The first numbers revealed in the findings are that it has grown strongly in 2016 - up to 15% to $3.75 billion compared to 2015. According to Anders Petterson, Founder and Managing Director of ArtTactics, this number is some 8.4% of the overall art market (up from 7.4% in 2015), which means that some 92% of transactions still happen offline. Still, the potential for growth is almost certain, and there's still a lot to be done in this space.
According to Robert Read, Head of Art and Private Clients, Hiscox, there are two main models for buying art online. "Either it's 'click and buy the fixed price' or it's an online auction model. What people have found is that some buyers prefer the knowledge of what they're buying at fixed price, and others like the excitement of the auction and the idea that they're getting a bargain." Those in charge of these purchases realize that they need to cater to both sides equally. In fact, among the top Selling Platforms for 2016, there are four "traditional" auction houses: Christie's, Sotheby's, Phillips and Bonhams at position 1, 2, 6 and 9 respectively. In 2016, 19% of the online art market was held by combined sales of Sotheby's Christie's and Heritage Auctions, which amounted to $720 million. The biggest jump in sales could be seen at Christie's, whose online sales went up 84%. Heritage Auction, on the other hand, reported that 41% of their sales are now conducted on the web, with $348.5 million reported in 2016. However, their strong positions on the list are "threatened" by other platforms and e-commerces growing fast, which is to say that they might take over in the future.
On the other hand, the gallery sector is also speeding up the adaptation to e-commerce. 33% of the galleries surveyed said they offered their clients the option to buy and pay directly online, up from 28% in 2015. 30% of those not offering these services said they would include this option in the next 12 months, as part of the development of their online art sales channels. Also last year, 26% of the galleries surveyed said they planned to partner up with a third-party e-commerce platform in the near future; furthermore, 64% of the galleries who don't offer artworks online now have clear online sales strategy. For 37% of the galleries use third-party platforms, online sales derived from this channel represented less than 10% of total sales.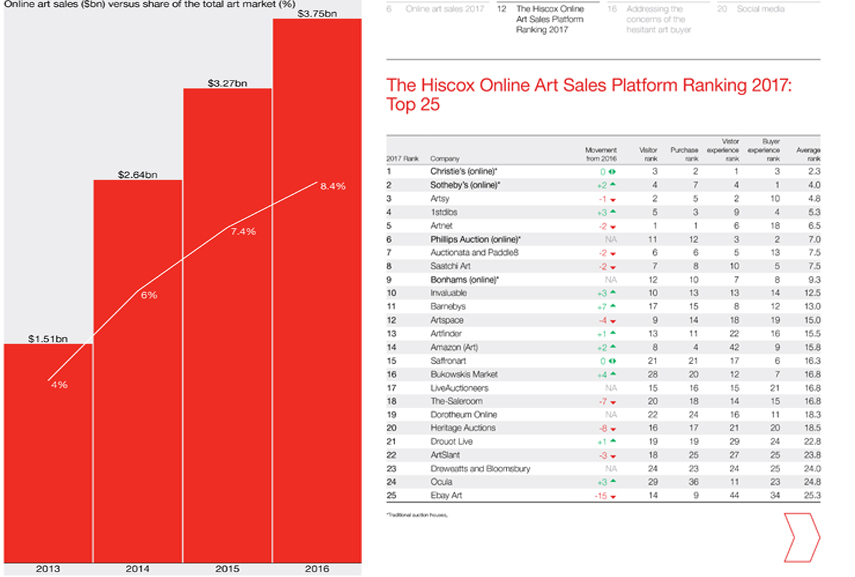 Convincing The Hesitant Buyers
One of the main reasons why the online art market isn't taking up so much space on the overall level are the hesitant buyers, and the market's inability to convert them. What's encouraging, however, is that the number of those acquiring art through their devices has been increasing in the last 12 months; those who have bought more than a single artwork on the web grew to 65% in 2017, up from 63% in 2016. The ways to get them to purchase art this way even more is to reach them; 54% of them found out about the online art market through media articles, 51% said it was word-to-mouth, while 45% stated they found new online platforms through social media. Of course, the next step includes active addressing of the buyers' key concerns. Thus, it involves raising awareness, creating a user-friendly experience, introducing quality artworks, price transparency, return guarantees, human interaction; offering more information and listening to their feedback, in order to improve their service.
Another interesting fact from the Hiscox Online Art Trade Report 2017 is that the interest in Instagram has been growing so much to overtake the popularity of Facebook. Important art businesses, museums, artists and collectors all use it to engage and connect, while 57% of survey respondents say it is their most frequently used social media platform. Social media is becoming an increasingly important tool for galleries and dealers, with 91% of the galleries surveyed using it to promote their space and their art/artists. 57% of galleries saying they find Instagram the most effective in terms of raising awareness, compared to 42% who say Facebook. When it comes to generating direct sales or direct sales leads, again Instagram comes out as the clear winner, with 35% of the galleries saying the platform is driving direct sales, compared to only 7% of respondents mentioning Facebook.
For detailed information on each of these sections, please consult the full report below!
Full Document
Images, video and report courtesy Hiscox.