What are the challenges that the online art market is facing?
The sixth annual Hiscox Online Art Trade Report has just been released, revealing interesting facts about this question. The main finding - the market worth an estimated $4.22 billion - up 12% in 12 months. While this is an increase, it is still lower than the 15% growth in 2016 and significantly behind the 24% from 2015.
Still, there are a few issues that the buyers continue to be concerned about, lack of transparency in pricing being one of the most important ones, along with cyber risk. Could blockchain and cryptocurrencies help out with the issue? How big is the role of social media networks in buyers' decision-making?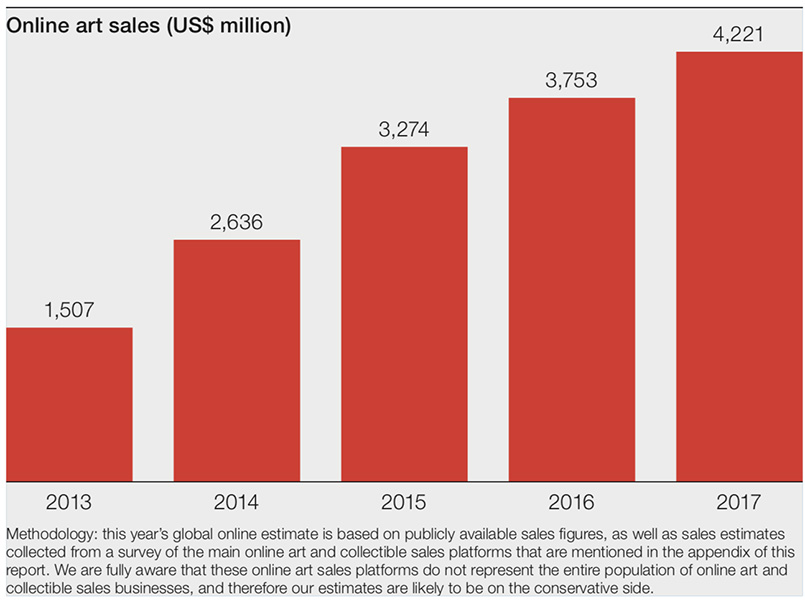 Online Sales Trends
Although the market value delivered a decent number, Hiscox Online Art Trade Report 2018 reveals that fewer people buy art online - roughly 43% of buyers bought online in the past 12 months, compared to 49% in 2017. This revelation poses the question of whether the online art market can keep its customers on more than one occasion.
What is interesting, however, is that people who do buy on the internet tend to do it more frequently now, and at high(er) prices - the share of online buyers paying $5,000 per fine art object on average went up 25% (compared to 21% in the previous year). As much as 74% of them are also making multiple purchases, almost 10% more than in 2017.
For existing collectors, price transparency and secrecy seem to be the biggest problems. In this year's survey, 90% of new buyers say that this was a key attribute and criteria when buying art online, and they're worried this issue isn't addressed.
Talking about those who do buy art online again, they are doing it much more on their mobile devices too - the use of mobiles for these purposes has risen up to 20% in 2018 (it was 4% in 2015)!
For the second year in the world, there is also Instagram, now used by a billion people, as the world's favorite social media platform to buy art, according to 63% of survey respondents - up from 57% in 2017 and 48% in 2016.
And what do people buy the most online? Paintings and prints are still the favorites, although new media art (video and digital art) is slowly but surely positioning itself high as well, as 17% of online art consumers bought an item of it last year.

Online Art Platform Trends
The past few months saw quite a few mergers and acquisitions, contributing to the speed-up of industry consolidation - Artsy, Etsy and Sotheby's which have all acquired companies and teams focusing on artificial intelligence and machine learning. Furthermore, 81% of online platforms questioned expect to see a higher rate of consolidation in the future.
Although 41% believe that the online art market will consolidate into only a few global platforms, another 30% believe regional and local platforms will dominate, whilst 32% believe the online art market will remain collecting category specific. The divergence in views highlights that the end-game is still open and that there is plenty to play for.
Online platforms also fear the online auctions market the most. With Artsy making significant investment in the online auction business, there will be competition with other auction aggregators like LiveAuctioneers, The Sale Room and Invaluable.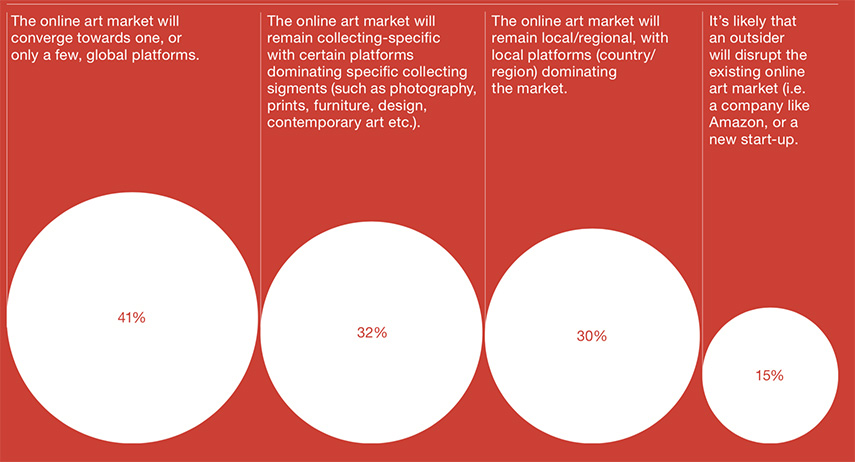 Galleries and Online Sales
When it comes to galleries selling art online, three quarters of them use third-party marketplaces to do so - up from 59% in 2017. Some 19% are accounting these marketplaces for at least half of their online sales as well.
Some 73% of the galleries also report that their online buyers are mostly new clients, with the percentage of returning ones is fairly low - 43%.
Another good news could be that almost 70% of galleries this year sold their artworks online to international clients, which is 16% more than in 2017.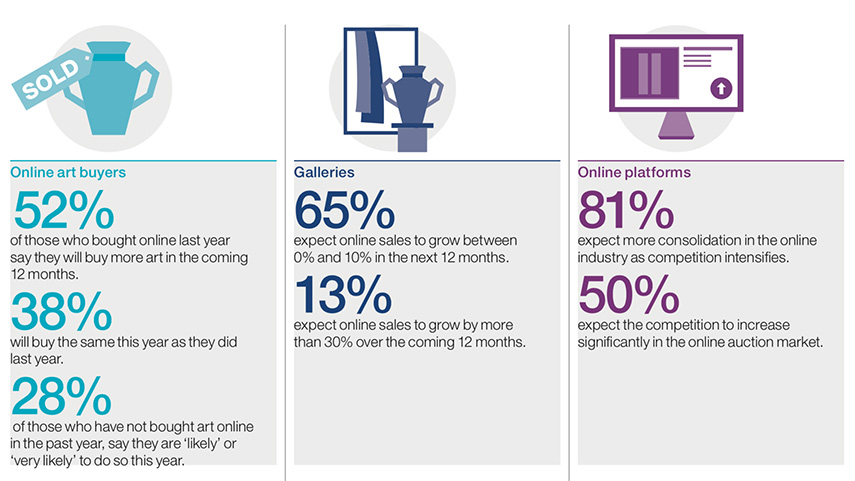 Emerging Risks and Opportunities
Could Blockchain really revolutionize the art market?, we asked just recently. According to the Hiscox Online Art Trade Report, 60% of online platforms feel that cryptocurrencies as a payment method will be the way blockchain technology initially enters the market.
Yet, only 7% currently accept cryptocurrencies as payment, and only 8% have embedded blockchain industry into their business.
On another note, a whopping 54% of platforms have been targets of an attempted cyberattack in the 12 months behind us, with 15% of these attacks being successful. There's no wonder that four in ten online art buyers, or 41% of the survey respondents, are 'concerned' or 'very concerned' about cybercrime, and 82% of them would most likely buy from platforms they had prior knowledge of.
Another curious finding of the report is that 41% of galleries and 24% of online platforms surveyed were not aware of the new General Data Protection Regulation (GDPR).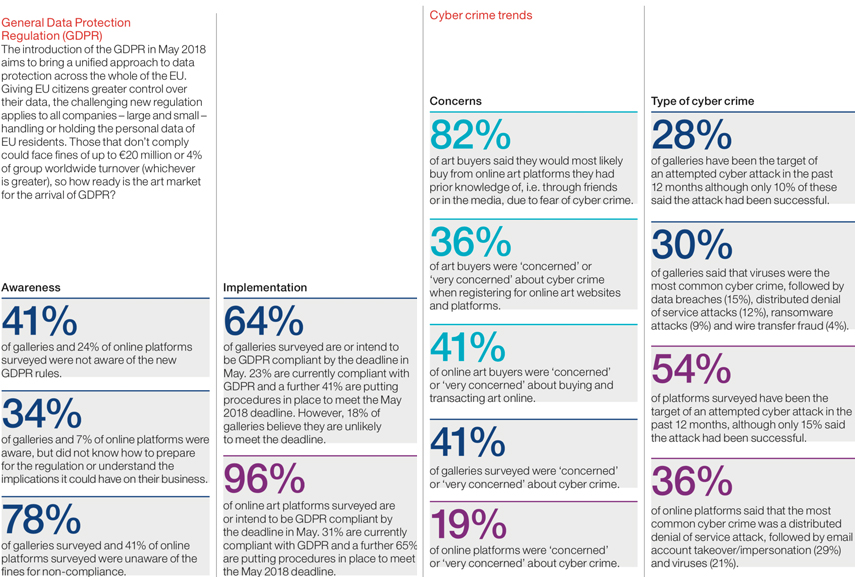 The Hiscox Online Art Trade Report 2018
What is clear from the Hiscox Online Art Trade Report 2018 is that we'll be reading more and more about cryptocurrencies and the blockchain technology, especially if they do end up providing transparency the art market deserves.
In conclusion, the future of the online art market is guaranteed, although we can't say for sure what the road to there will look like.
Below, find the full report.
Hiscox Online Art Trade Report
Featured image: Encounter, 2017 by Michal Rovner. Image courtesy of artist and Pace Gallery. Featured in the Hiscox Online Art Trade Report 2018.