So, what do we have for you today? A thing of beauty, if you ask me, and I'm the only one today that will talk to you about this great features that WideWalls is offering - FOR FREE! We'll expand your knowledge and data for art auctions of contemporary artists in a way that you could become an expert in art auction history for any given big name in the last 70 years or so. But, let's go step by step.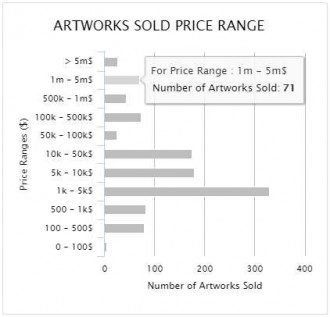 Everything About Every Artist
Say, you want to know how Jeff Koons' artworks are doing at art auctions? No problem. You simply go to his auctions page, and voila! There you have it all. What you'll first notice are four boxes, that we'll explain right here. The box called Artworks Sold Price Range, you'll find the span of total amount of money Koons' artworks received at auctions throughout the history. In our particular example, you'll see that in range of $1 million to $5 million, Koons have sold the total of 71 artworks in his career. In other words, he has a lots of millions of dollars.
But, let's go on. On the right, you'll see another box called Turnover. Here, you will find out how much money did Koons' artworks were sold for on year-per-year basis. In our example, you could see that, by far, 2014 was the most successful year for Jeff Koons so far, as he had sold artworks worth $150 million in those 12 months. You could also see that 2015 is not so good up to this point, since the total turnover from auctions is just above $32 million. However, the biggest auctions are yet to come in November, so we will see.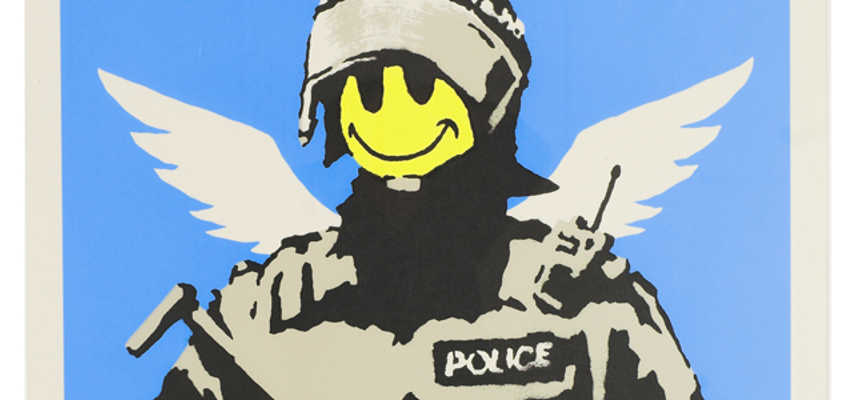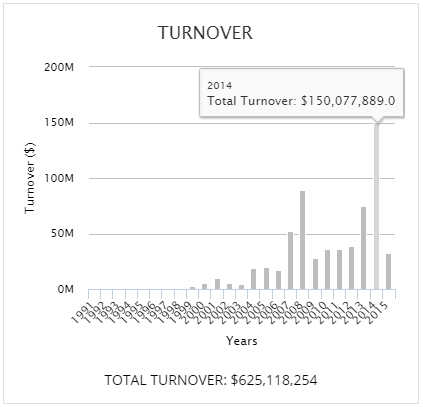 Art Market's Indicators
This feature is, obviously, a good indicator of the art market, as well - in Koons' case, you can see the huge jumps in 2006 and 2007, and the similar huge drop in 2008, when the global crisis started. You could also see gradual recovery in years to come, with another two jumps, that were even bigger than those in 2006-07. Now, in 2015, the art market is in recession, and guess what - Koons' total turnover is heading south very fast. Of course, this isn't the only indicator of the art market's condition - the interest for one artist could go down without any crisis in sight - but it is a great tool for analysis when you join several big names and their performance during a certain period of time.
The next box is called Number of Artworks Sold. Here, also on a yearly basis, you can find out how many Koons' artworks were sold at auctions each year - in Koons' case, this timeline goes back in 1991, because in our example, the number of artworks sold at auctions in 2014 was 151, while in 2015 so far, he had sold 108 artworks.
The final box is called Sell Through Rate. If all artworks by Jeff Koons that were ever auctioned were actually sold, this rate would have been a hundred percent. Since some of his auctioned works remained unsold, this rate from 1991 to 2015 is 79.39 percent.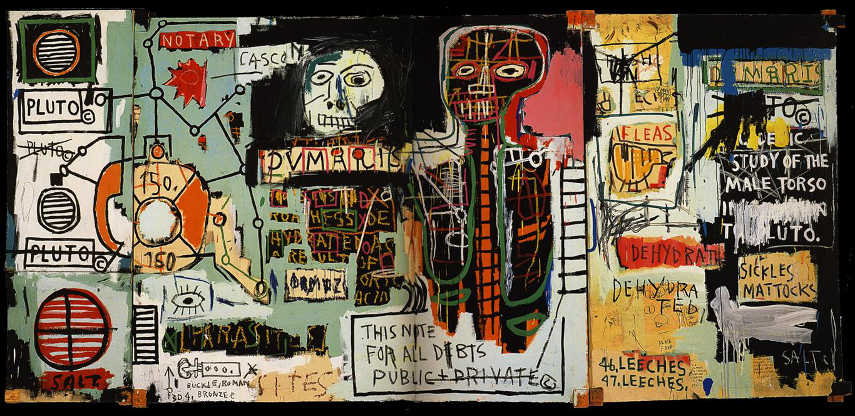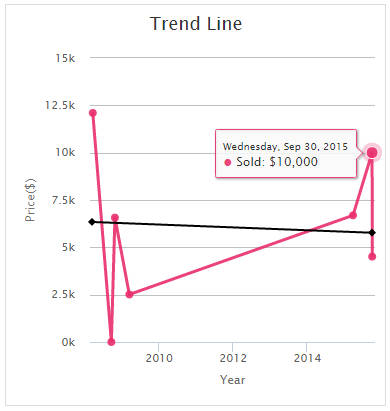 Everything About Every Artwork
Bellow these boxes, the real treat begins: every artwork sold at an auction, with all historic performances and charts: just arrange auctioned artworks in any order you want (by the artwork's title, creation year, last hammer price, highest hammer price, or last hammer price date - everything in ascending and descending order), and see the details for that artwork. Say, you want to know everything about Banksy's Flying Copper performances at art auctions. Piece of cake - just go to the mentioned artwork and there you have it.
On your left, bellow the image of the artwork, you will find another two interesting boxes. One is called Trend Line, and it features a graph with two lines: pink and black. Pink line has pink dots, and these dots are telling us when this particular artwork was sold and for what price. In our example, you could see that Banksy's Flying Copper was sold on September 30th 2015 for $10,000, but that it was also sold on October 1st for much lower price, $4,500. Of course, when pink dot is pointing at $0, that means that this artwork remained unsold at that particular auction. Straight black line indicates the trend of hammer prices.
Bellow that, there is a box called Estimates for Auctions that gives us the graph of all estimated prices and hammer prices at all auctions this artwork had participated.
So, in a nutshell - a gold mine. Yes, we are giving you a gold mine for free. You may thank us later.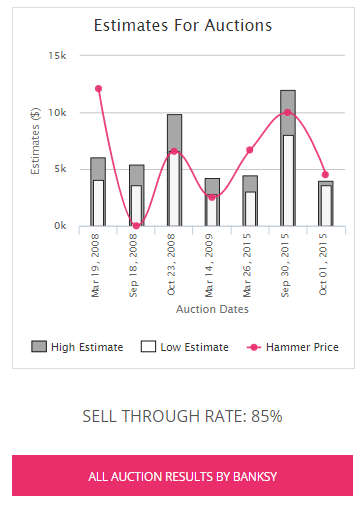 Art Auction on WideWalls
Of course, when we talk about auctions, you simply can not miss our Art Auction page. Not only you'll get the deep insight of what is happening in the world of art auctions, you will also get as recent as possible information about every artwork that participated at every auction. This way, the new information from the art auction world are coming as soon as it is humanly possible to our Art Auction page, and every lot that was auctioned you will find in our ever-growing data base. From there, you can go through every artwork by that artist that participated at any auction. But, be very careful: this is very interesting. You may lose the track of time when you go into our database. Just don't tell later that we haven't warned you.
Your opinion is valuable to us! Please join us for a discussion on our Facebook page.
Sign up for My WideWalls for FREE and be up-to-date with contemporary and street art.
Featured image: Jeff Koons - Orange Balloon Dog