With books written and studies conducted on the history of street art in the USA and the UK, one must not overlook the history of street art in France, perhaps the most prolific bastion of the movement. Even though we can find evidence of graffiti throughout French history, these marks are usually isolated and rarely so deeply connected to the socio-political context of the moment. Being a proud instigator of big political changes in modern history, France has always nurtured the revolutionary spirit, which consolidated perfectly with the art emerged out of resistance. Today, France, and Paris especially, enforce strict laws against vandalism and damaging of public property and monuments (a law from 1994 determines up to 10 years jail time and fines up to 150,000 euros for vandalism of public landmarks), while street art movement has been paradoxically stronger than ever. A part of the street art appeal perhaps lies in the anonymity of the artistic messenger, with whom people identify instantly. But, in order to completely understand the prevailing need of numerous urban creatives to keep painting where they're not supposed to, we must revisit careers of some of the pioneers of the art. Flashback to post-war period.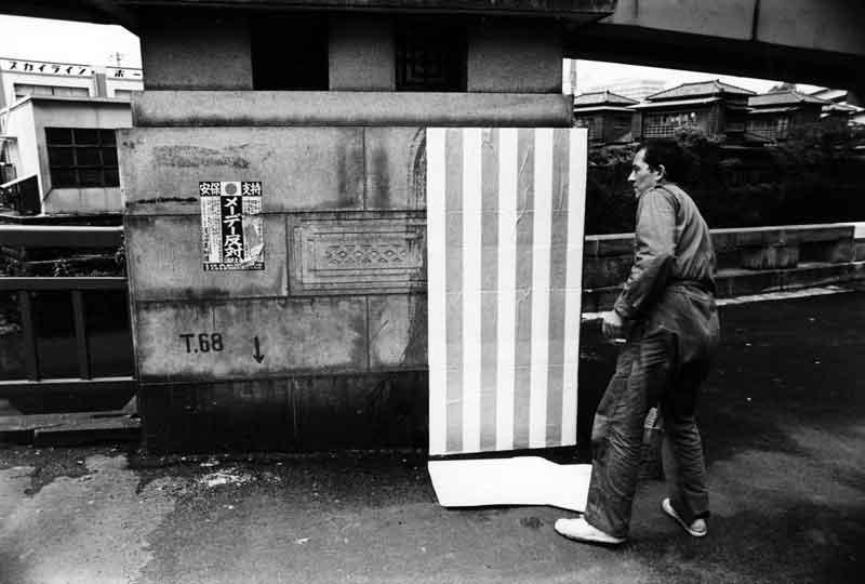 Street Art is Beyond Graffiti
And while in New York the graffiti gained shape and meaning in the late 70s, Paris had already moved into a distinct street art direction by then, which is often unjustly overlooked. Stencils, posters and murals appeared around the French capital, announcing a novel understanding of public art, introducing various techniques in addition to the preferred New-Yorkian aerosol. French street art was growing on the country's artistic heritage, incorporating poster wheat pasting, stenciling and other innovative expressions that did not revolve around lettering alone.
Announcements of street art can be detected already in the Parisian sixties, with the activities of avant-garde artists, Nouveau Realists, and among publicly aware Conceptualists. One of the followers of New Realism was Jacques Villeglé, who devised an innovative way of employing existing posters in artistic creation. At the time, his decollage techniques and an abundant use of typography were considered exceptionally fresh, whereas Villeglé was unaware he was in fact participating in what we today call 'upcycling'. His art was directly bound to the street, to the grounded life, the anonymous, the marginal, made with found posters.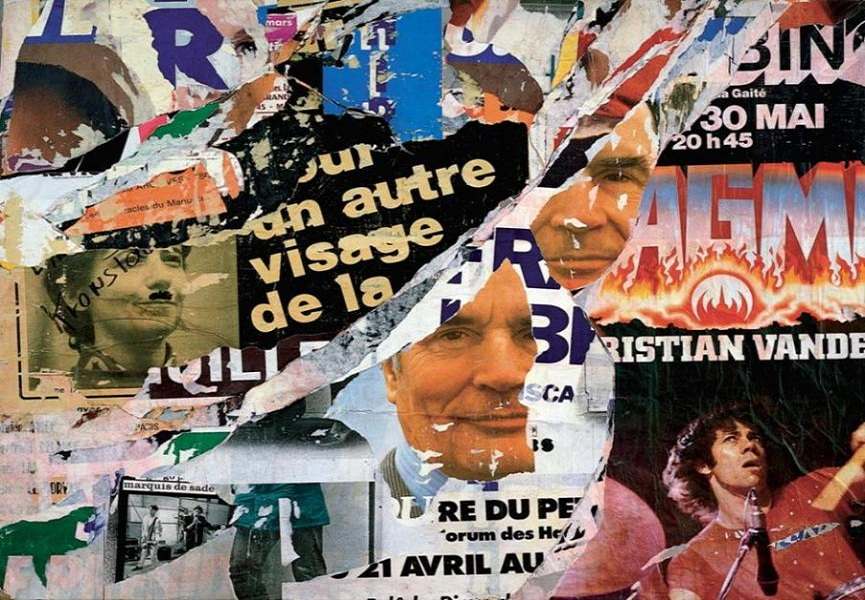 Posters as Medium
Inclusion of public space in art grew, as was the involvement of artists in the public space. On the wave of performance and abstract minimalism, but also driven by increasing usage of easy-to-reproduce posters, Daniel Buren created a site-specific installation Affichages sauvages across Parisian metro in 1970, moving on to subway in Tokyo and New York. This, essentially, culture-jamming project the artist initiated in 1967, when the first 'savage views' were posted. Posters allowed for quick and unlimited reproduction and quick execution on the spot, which made them one of the preferred techniques in street art till today. So early in its evolution, French street art already diverted from graffiti, and addressed some of the more universal political issues.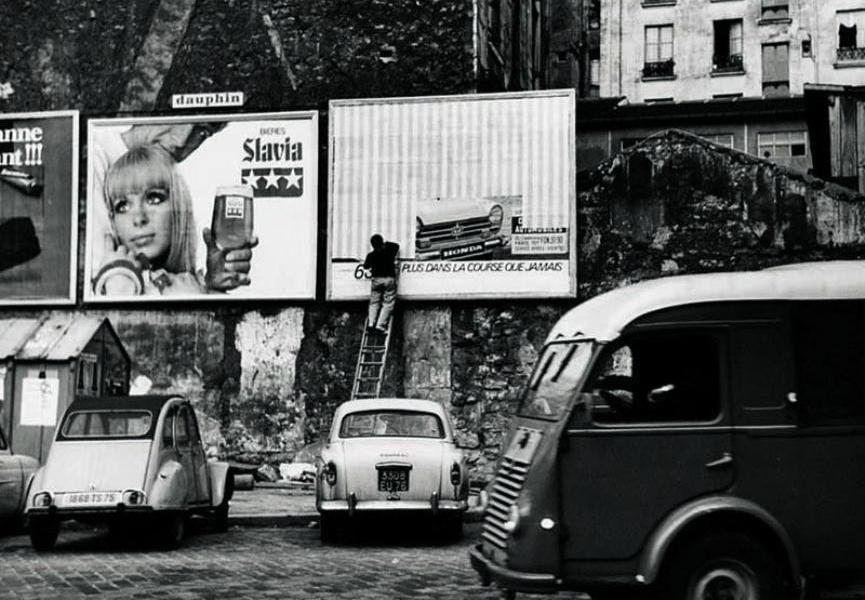 Official Birth of Street Art
French art historians concur that street art in France, as we know it today, started in the expansive ruins of Les Halles, a green market in center demolished in 1971 to make room for a modern metro station and a shopping center. This is when artist Gérard Zlotykamien entered the wrecked site and painted silhouettes of reclining human figures, evoking the 1945 nuclear destruction of Hiroshima. He used spray paint. Simultaneously, there was another pioneer of the movement working in Paris. His name is Ernest Pignon-Ernest, a situationist and a member of Fluxus, whose wheat pastes tell an alternative modern history, infused with both politics and poetics, emotions and spirits of those in need of remembrance. At the beginning of the 70s, he pasted up silkscreen portraits of Arthur Rimbaud around the romantic poet's favorite locales in Paris. Ernest Pignon-Ernest is still active today, continuously drawing attention to the margin, with his ethereal, excruciating spatial installations.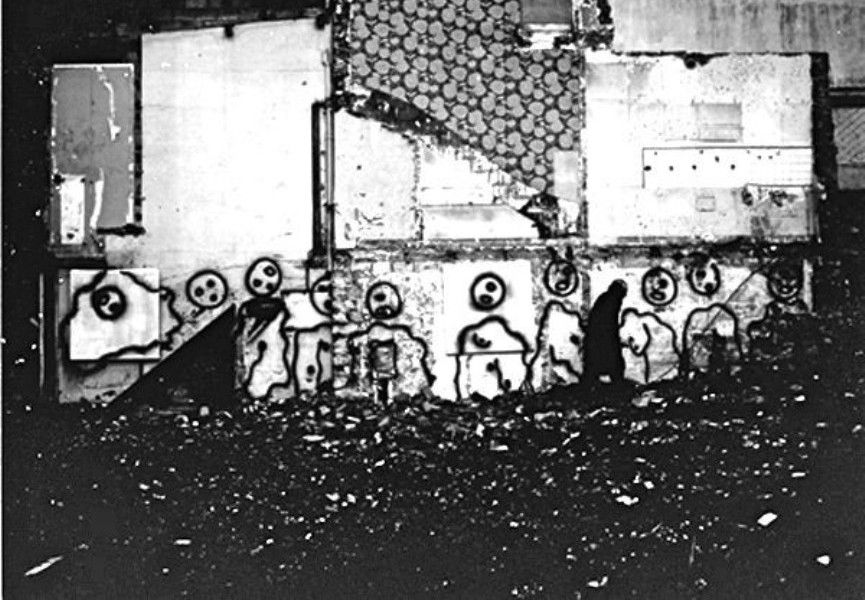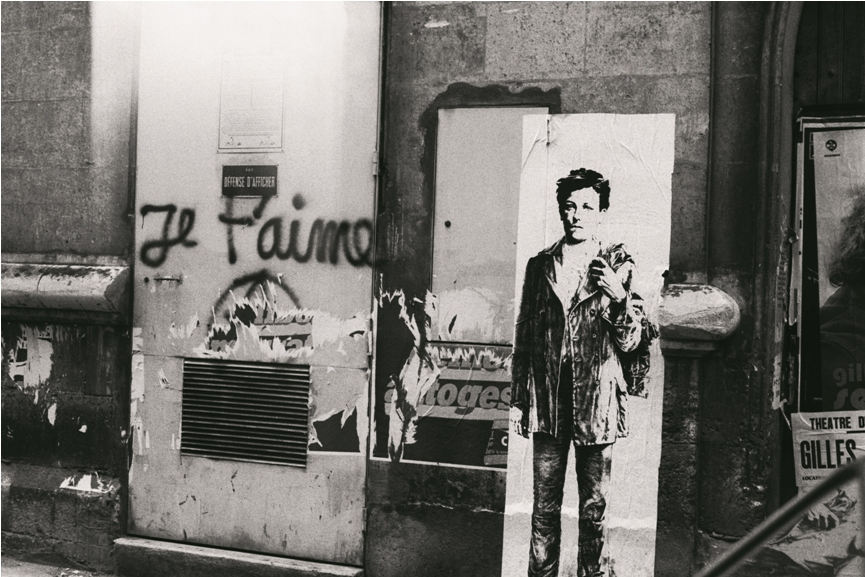 Redefinition of Stencil
Socially conscious from its beginnings, French street art rapidly incorporated many different media, where those which were already used to communicate propaganda were the easiest to assimilate. Stencils, today one of the most common and most famous techniques in street art, was once the prime medium of Italian fascist dictator Mussolini's hordes, who used them profusely. World famous largely thanks to Banksy, stenciling had its creative potential introduced by a French artist, whose influence the famous Brit acknowledges openly. This was Blek le Rat, an innovator and an inspiration of many, who started dispersing his life-size rat stencils and other signature imagery around Paris in the early 1980s. Curiously, Blek le Rat never hid he was inspired with fascist stencils, as he was citing them frequently.
Although it might appear odd at first that such a liberal culture incorporated a tool coming from a very rigid philosophy, it is not. Street art absorbed numerous cultural influences over the years, primarily because the aesthetics or the simplicity proved a good fit, but it always transformed them according to the core ideas of the movement. Thus a fascist fave become a bearer of a message of freedom, filtered through a mind of an artist. To be fair, this was not the first time stencils were used for an anti-fascist cause, since a German political group, as well as protesting students of 1968 in Paris applied them as well.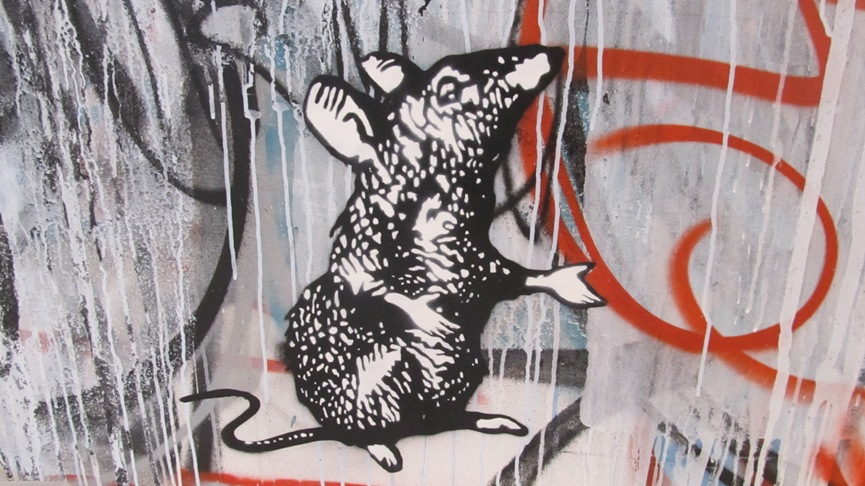 The 1980s Boom
1980s was probably one of the happiest decades for street art, marking a period when the movement was noticed by officials, even if considered preposterous. Some of the writers emerged from graffiti became superstars, such as the world's most expensive artist today Jean-Michel Basquiat, who rose to fame all too quickly, only to be destroyed by it. One of the main representatives of the French street art of the 80s, still working today, is Jef Aerosol, an artist from Lille, known all over the world. His wonderfully executed stencil works often portray celebrities famous figures from pop culture history, but characters from the outskirts of social pool as well. All of his works are marked by a red arrow, the artist's emblem, pointing out the key to understanding his compositions, mostly inspired by urban life. Working at the same time as Jef Aerosol, Miss Tic was the pioneer of French street art among women. She was active during mid-80s, predominantly in the working class neighborhoods of 13th and 20th Parisian districts. Her stencils are rare, but can be found, exuding a particular pin-up aesthetics followed by a textual message, often citing lyrics. Her works are today protected, and official cleaners must restore and preserve them, rather than whitewash them.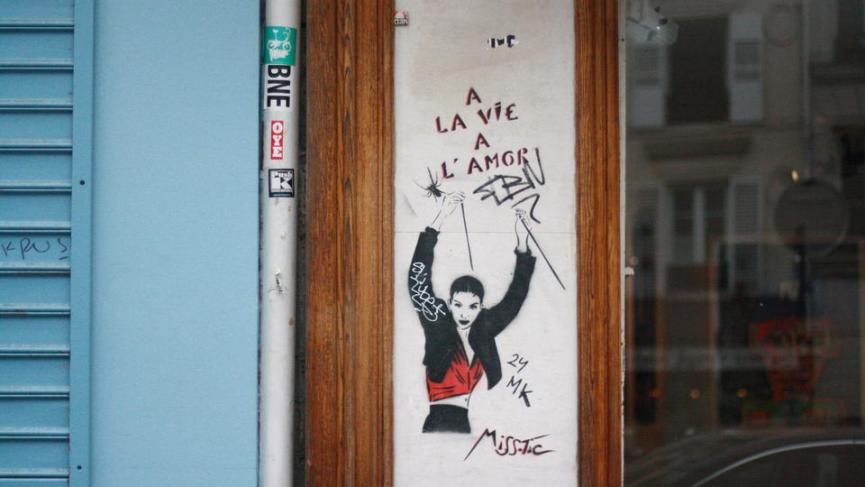 After the Fame
When the 1990s came, a lot of Parisian street art treasures were buffed by the super-expensive cleaning action. One of the known creatives whose style matured over that decade is Zevs, known for inclusion of famous logos into his works and a very specific technique of liquefying the letters and signs, in an oddly neat manner. Monsieur Chat is one of the 90s creatives, having started to depict his signature yellow cats in 1993. This Swiss artist has been based in Paris for a long time, and his cats amuse and elevate mood across billboards, metro stations and other expected or less expected public places even today.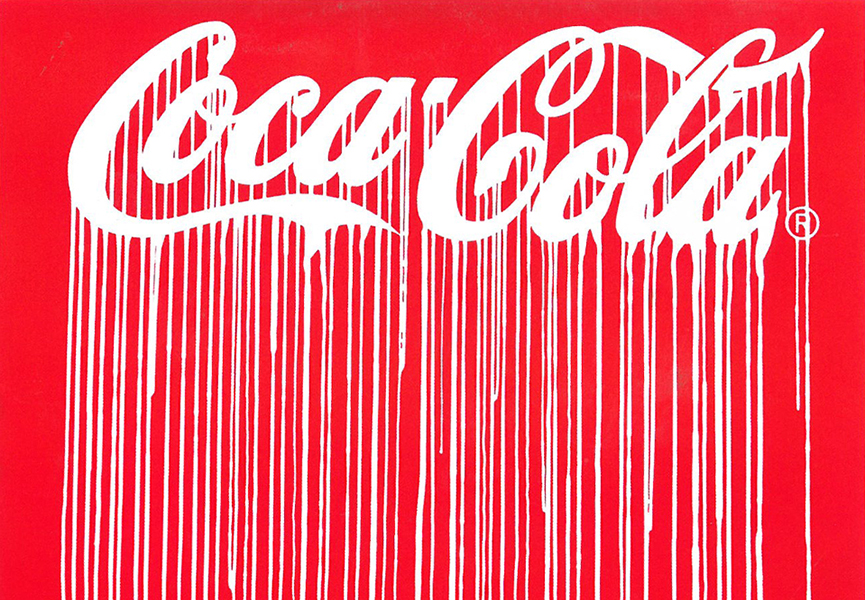 New French Street Art Stars
Throughout the 1990s and 2000s, a new generation of street artists blossomed, with a completely novel idea of what street art is, and what is should be. Official attitudes towards the movement began changing as well, and large-scale murals, graffiti projects and street art organizations made their way into the heart of Paris legally. Even prestigious art spaces, such as Tokyo Palace with the recent Lasco Project, dedicated portions of their programs to street art, allowing contemporary artists to express their visions and styles. A generation born around the end of the 1970s honed its skills in the meantime, as some of the most famous representatives of the style belong to it.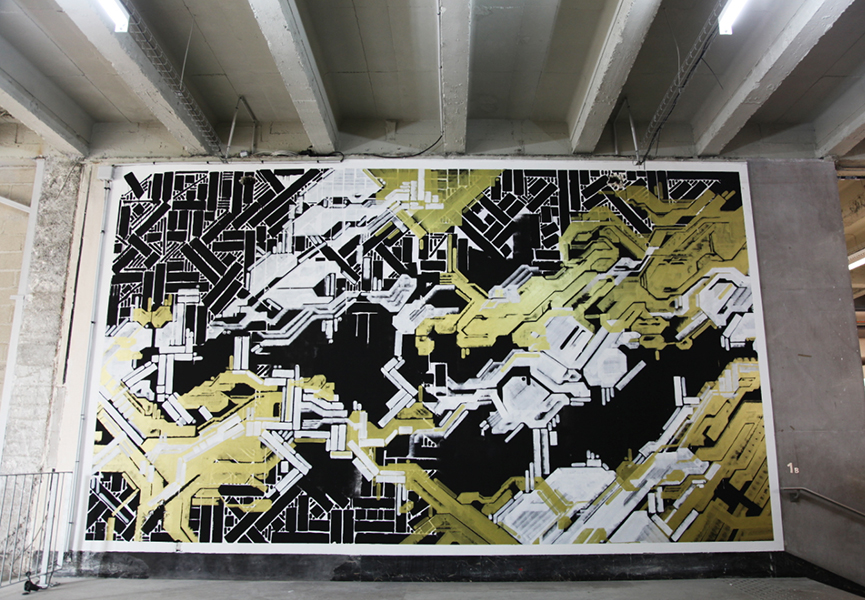 Celebrities of Contemporary Scene
Already a legend, Invader, earlier Space Invader, has become world famous for his little mosaic emulations of the old video game characters, dispersed across the globe. It's said that when viewed from space, his pieces connect to make a humongous invader, but we will never know for sure. Significance of his art is not so much in the technique and thematics, as it is in the newly enabled mobility of artists, with Invader standing in the front lines. He is widely acclaimed and he appeared in Banksy's film Exit through the gift shop. Next to Invader, there is a whole army of artists working in France today, all of whom have built their expression either on their artistic preferences, or on the national street art heritage. To mention only a few, there are Seth Globepainter with his romantic imaginations, C215 with the amazing artistry in stencil technique, cats, and portraits of everymen, L'Atlas with his minimal, angular lettering, Miss Van as a woman in nature and spirit with her burlesque kitties and international understanding of residence (she lives in Barcelona now), phenomenal crews such as Da Mental Vaporz that bring together extraordinary talents including Bom. K, Lek, Sowat among others, a bit younger Ludo with his post-apocalyptic vision and a particular palette and super-talented creator of giants MTO. The list goes on, as does the richness of street art expression of contemporary France, where this original movement has found a good home.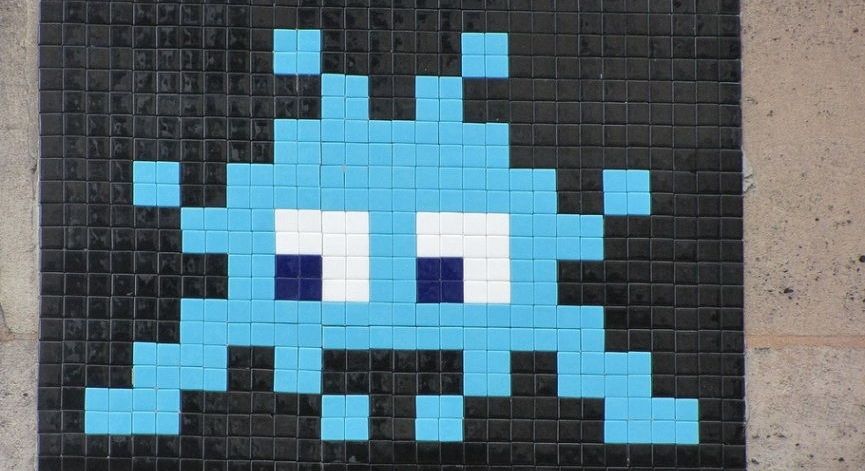 Art Market Acceptance
The art market naturally followed the public adoration of street art, resulting in emergence of new galleries dedicated only to the style. The establishments are both renowned or small, including spaces from Galerie Perrotin, to Galerie Itinerrance or Magda Danysz. The activity has been dispersing lately across all districts, but the 13th remains one of the main hubs of mural activity. Grand projects such as Tour 13 or Le MUR also promote street art lately, but where the future will take this relatively young development, we are yet to see. Old lady Paris is therefore not yet for scraps, hosting a swarming scene of the most radical art movement of our century, maybe even unconsciously following the inherent revolutionary tradition pertinent to the French. The scene is so alive and attractive that even Banksy and Shepard Fairey were happy to come here to paint. Laws in some places continue to be strict, but neighborhoods such as the 13th district are promising to become the next center of, if not French, then surely Parisian street art in the future.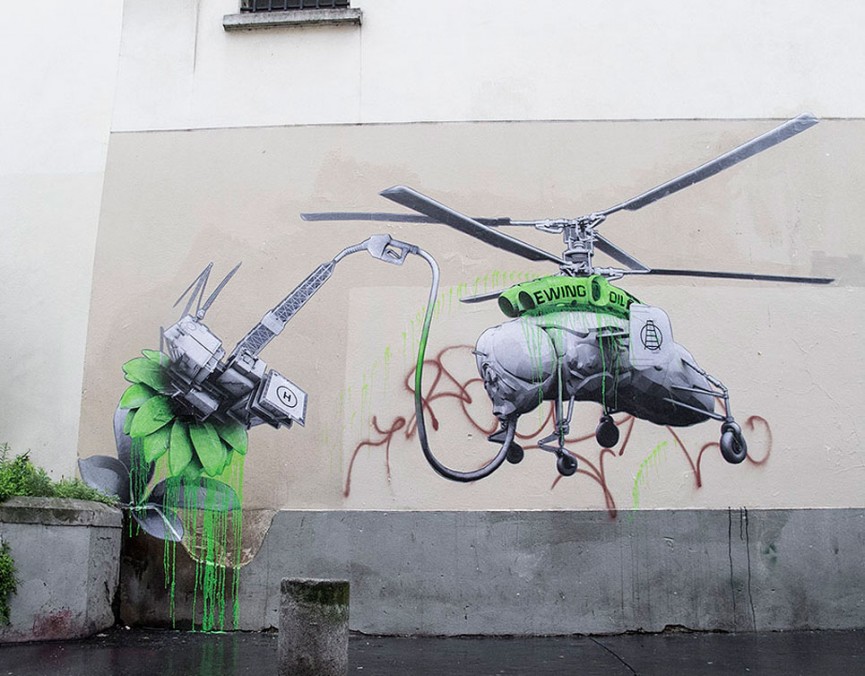 Stay up to date with all things related to street art with a FREE sign up for My Widewalls!