What does it mean for someone to be visible?
The top definition in Merriam Webster dictionary defines the word as "capable of being seen," which, at first glance, seems simple enough. But, when thoroughly analyzed, the definition appears to raise more questions than answers: Can we consider ourselves seen if others refuse to acknowledge our presence? Are people who are constantly underrepresented considered visible?
For many women of color, it is usually difficult for us to be seen in the art world because so many people decide to look past us. We often feel invisible, which makes it difficult for us to imagine better realities for ourselves.
However, there are rare and special moments when exhibitions highlight artwork made by women of color, and, for once, we do feel seen. Before the coronavirus pandemic was declared a national emergency, I had the opportunity to visit such an exhibition in person. The exhibit, which is located at the Hollis Taggart Gallery in Chelsea, is called History Reclaimed, and it features the works of Suchitra Mattai and Adrienne Elise Tarver.
The well-curated exhibition features pieces that are breathtaking: both Mattai and Tarver have a knack for playing with color, texture, and composition. The works shown in History Reclaimed break from the confines of borders and structures—figures bleed from canvases; and both artists are capable of conveying a lot of information with a single abstract mark or swatch of fabric.
Even though Mattai and Elise Tarver are from different places (Mattai is from Guyana, and Elise Tarver grew up in the American south), both artists raise interesting questions about identity and colonialism.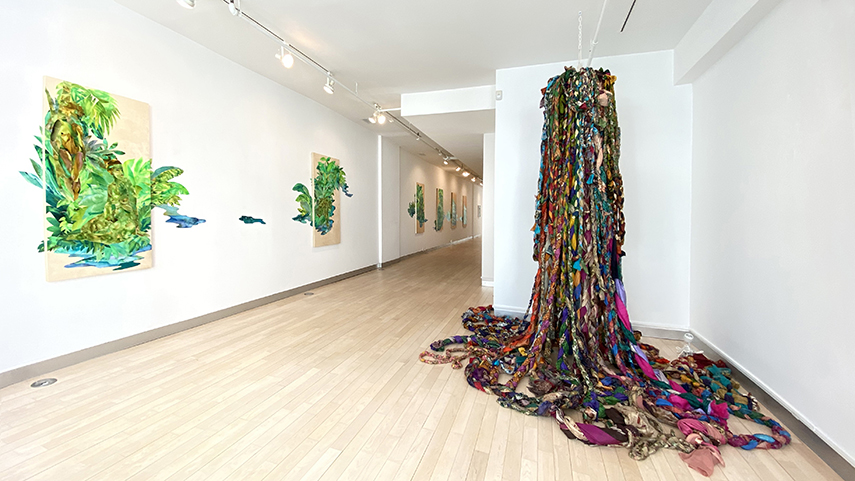 Suchitra Mattai
In Suchitra Mattai's piece, Self Portrait as a Stranger (2020), a woman gazes out at the audience from behind flowers and horizontal lines. The woman's face is further obscured by a piece of fabric. In this piece, it's clear that Mattai is playing with questions of visibility, that she is challenging the viewer compositionally by deciding to cover the subject's face with found objects.
"I use a lot of found materials in my work," Mattai says in a video released by Hollis Taggart Gallery. "And sometimes found needlepoint, embroidery, etcetera. And to me, it's a collaboration with those women of the past who weren't able to participate in the greater art world or male-dominated art world, and so I'm giving voice to those women. But I'm also reimagining what they were doing through my own interventions."
It was refreshing to see Mattai's work because it made me feel seen. As someone who is descendent from Caribbean immigrants, it is often difficult to find artists who openly reference indentured servitude and the Indian diaspora. I was glad to see that Mattai's work talked about this history in a way that was complex and innovative by combining embroidered pieces, found objects, textiles, and paintings.
Another piece, Axis Mundi (2019) uses vintage saris in a site-specific installation. This piece also brings objects (saris) that are associated with femininity and places them in the center of a prominent New York art gallery. It is a radical act that helps us reimagine what is possible in a gallery, and it blurs the boundary between art, craft, and sculpture.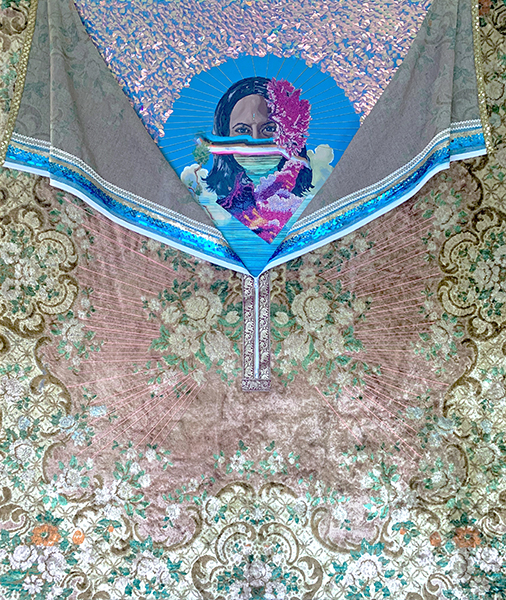 Adrienne Elise Tarver
Adrienne Elise Tarver's work also asks the viewer to ponder their relationship with identity by representing black female figures in a patchwork of blue and green shapes. The works feel lush and tropical; leaf-like forms curve around one another, stretching in different directions. The formal elements of her work pose interesting questions about the content of it, which challenges the "Western created fantasy of her tropical origins."
Tarver uses ink and yupo paper to create dynamic collages that initially appear abstract, but, upon closer observation, it becomes clear that figures hide within the works. In one work, The Dreamers (2019), it looks like a brown form in the center of the piece is a rock or a plant. But, if you stare at it for a few seconds, a crouching woman emerges.
"I think about hiding them [the figures] and camouflaging them as a means of giving them agency," Tarver says in another video released by Hollis Taggart Gallery. "It gives them time to exist within their space before the viewer understands they're there."
This ingenious compositional choice signals that Tarver's work is not meant to be immediately legible. To fully comprehend these pieces, we need to look at them carefully, to pick apart individual elements to make sense of the whole piece. But we are rewarded when we sit with the piece for that long. We are seen.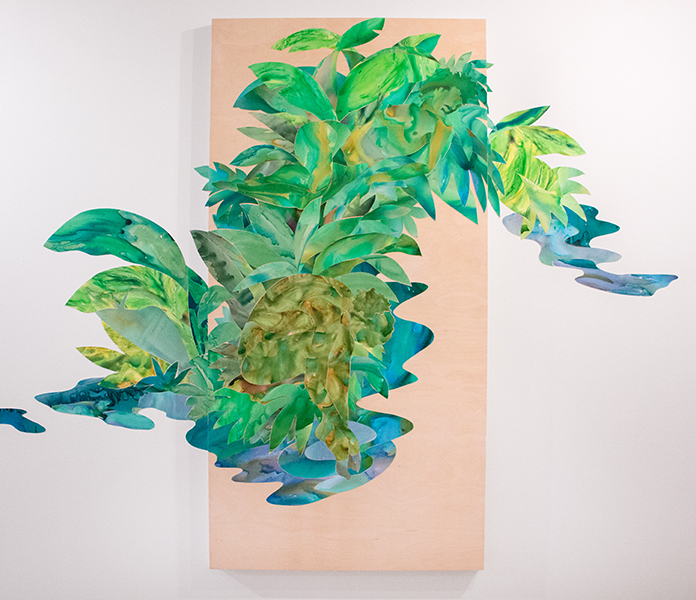 History Reclaimed
When the gallery reopens to the public, the exhibition will remain on view for 2-3 more weeks, but, meanwhile, you can view the exhibition online.
Written by Isis Davis-Marks.
Featured images: History Reclaimed at Hollis Taggart, Installation View 2020. Courtesy Hollis Taggart.