Comparing the works of artists belonging to different historical periods often brings exciting revelations that broaden the understanding of art-making and all of its layers. The Old Masters of the Renaissance continue to inspire different generations, but the fascination with the work of leading modernists is staggering as well.
An apparent liaison between the master of Pop art in the UK, David Hockney, and one of the world's best-known painters of all times, Vincent van Gogh, is exceptionally fascinating. Both have explored landscape as a vehicle for self-examination and contemplation to move away from the demands of their own time.
To give a proper analysis of this connection and the way Van Gogh inspired Hockney to explore further the domains of the mentioned genre, the Museum of Fine Arts in Houston will host an exhibition called Hockney-Van Gogh: The Joy of Nature.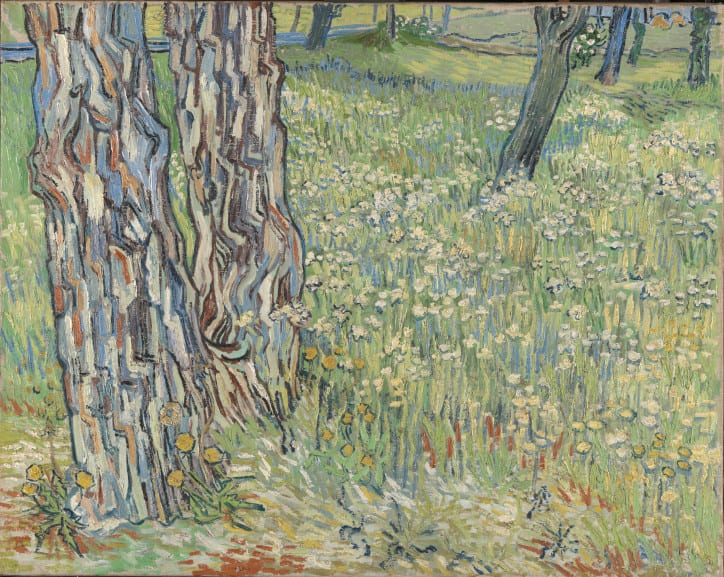 Juxtaposing The Two Masters
Vincent van Gogh and David Hockney are unmistakably soulmates as the closer look at their works unravels the same level of fascination with nature, experimentation with perspective and color, despite the fact that each artist managed to develop a signature aesthetic in their own right.
Originally organized by the Van Gogh Museum in 2019, Hockney-Van Gogh: The Joy of Nature features 47 of Hockney's works (spanning from intimate sketchbook studies over monumental paintings to his experimental videos and iPad drawings) and the selection of 10 paintings and drawings by Van Gogh.
To underline the significance of the upcoming show, Gary Tinterow, MFAH director, stated the following:
This exhibition offers visitors an extraordinary opportunity to see these two visionary artists side-by-side. We are delighted to collaborate with David Hockney and the Van Gogh Museum to bring these exceptional works to our audience in Houston.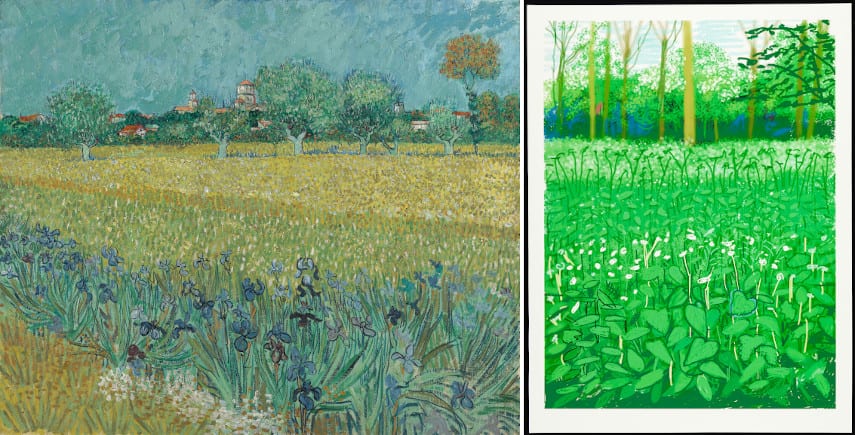 The Works
The selection of Hockney's works includes the paintings made in the 2000s in Yorkshire Wolds, in northeastern England, where Hockney returned to visit his mother and a terminally ill friend after living in Los Angeles for four decades. In this peaceful and idyllic environment, the artist made landscapes en plein air through the seasons.
These compelling compositions show a clear connection to Van Gogh's landscapes, such as Field with Irises near Arles (1888) and Path in the Garden of the Asylum (1890), both works included in the installment.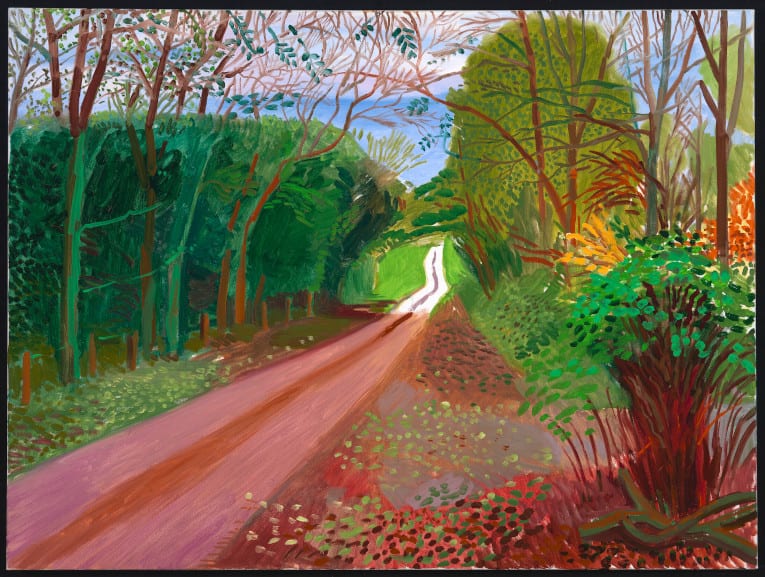 Van Gogh and Hockney at MFAH
The upcoming exhibition will confirm the mastery of each artist and the devotion to the landscape genre with a time difference of almost one hundred years.
A fully illustrated catalog of the same title published by Thames & Hudson will accompany the exhibition.
Hockney-Van Gogh: The Joy of Nature will be on display at the Museum of Fine Arts in Houston from 21 February until 20 June 2021.
Featured image: David Hockney - Woldgate Vista, 27 July 2005. Oil on canvas, David Hockney Inc. © David Hockney. Photo: Richard Schmidt. All images courtesy MFA Houston.