If you like rallycross cars (or cars in general), and art, then this news will blow your mind. Famous motor racing team Hoonigan and artist Felipe Pantone have collaborated in a promotion of the brand new Ken Block's Ford Focus. Ken Block, Hoonigan's team principal, is not shy when it comes to the livery decoration. However, both Block and Bakkerud (Block's teammate) were criticized for quite boring grey livery on their cars at the end of Gymkhana 8. But, after the interventions by internationally renowned graffiti artist Felipe Pantone, these cars look as they synergize both speed and energy – what is actually needed for racing cars if they want to win. Will they have more success in the new season with the new livery, we will see in the coming months.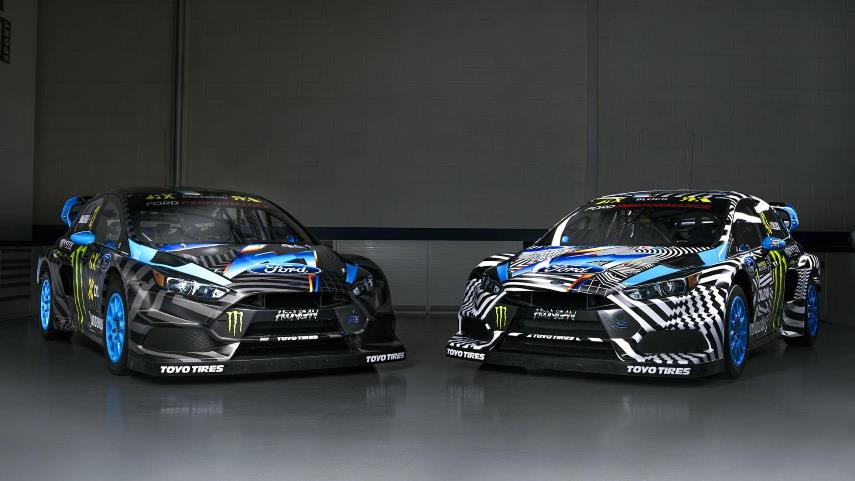 Hoonigan and Felipe Pantone Collaboration
So, Felipe Pantone came to the Hoonigan's Long Beach headquarters, and started with his work immediately. He created pieces virtually, and then he transferred them onto canvas. The artwork is printed on vinyl and wrapped to the body of the car. Pantone worked on two cars actually, two RS RX models that are identical, however, the artist designed a custom wrap for each one (one RS RX is Block's, another one is Bakkerud's). They both feature identical Hoonigan logos, as well as the logos of the sponsor. Block's RS RX is black and white with blue accents. On the other hand, Bakkerud's RS RX is gray and black with blue accents. Pantone's artworks will be easily recognizable for those who are familiar with his art – the combination of geometric elements and psychedelic color contrasts characterize the "compositions" – bold colors, geometric shapes, trippy kinetic art. It looks quite powerful, so it matches the power of the car engines – the cars' EcoBoost engine is wound up to over 600 horsepower, has a four-wheel-drive system so effective it can shoot off the line and hit 0-60-mph in less than two seconds. Unfortunately, cars will be covered by mood and dust, as soon as the races begin; but if you want to see brand new Hoonigan cars, be sure not to miss the next race of the World Rallycross Championship that will take place in Hockenheimring, Germany, May 7-8.
Felipe Pantone Creates Art for Hoonigan
Art Cars
This is not the first time that urban artists are "decorating" a Ford Focus. In 2011, six street artists used a public studio in the Scottish city of Glasgow to create a one-of-a-kind Ford Focus art car (in addition, be sure to check out our list of 10 Best Street Art Cars). But, it's only about street artists when it comes to the art cars. BMW, for example, is particularly interested in creating a fascinating art car collection. Among artists that worked with BMW are Jeff Koons, Robert Rauschenberg and many other famous names. The next series of BMW art cars is scheduled to be released in 2017.
We would like to hear your opinion! Please comment on our Facebook Page!
Featured Images: Hoonigan and Felipe Pantone. All Images via topgear.com. They are used for illustrative purposes only.