It is probably safe to say that a great majority of us, whether we're art connoisseurs or not, came across horse paintings at least once in our lives. Now that you think about it, it was perhaps more than that one time too, because the truth is that paintings of horses are among the most common artworks out there.
We are talking about the entire history of equine arts, going back thousands of years, delivering a fascinating visual homage to this animal, as marvellous now as it always was. Inhabiting picturesque landscapes, battlefields, royal estates, and busy peasant markets, horses have always been present in the story of man, as both a valuable asset and a unique companion in times of war and peace alike.
As a result, artists from all around the world have found their muse in the form of a steed and have depicted them as gloriously as they possibly could. But can we still talk about horse paintings in the 21st century?
A Slideshow Video of 6000 Years of Horse Paintings in Art
Paintings of Horses - A Brief History
Although the earliest equestrian imagery cannot be discussed in terms of their value as artworks according to today's principles, it definitely portrays a long-standing relationship between horses and men in a visually-historical sense. The very first example of horse paintings can be traced back to the famous Lascaux caves in France[1], which contain prehistoric paintings estimated to be 16,000 years old. In ancient Egyptian and Grecian art, as well as Roman work, horses have been a common sight, as their anatomy was studied and explored with care, while in Christian and Byzantine art they could only be seen as part of the dominant religious scenery. The great resurgence came with the Renaissance period, in the 14th century, when Italian artists like Titian, Andrea Mantegna, Raphael, and even Leonardo da Vinci all portrayed them. This tradition carried on to the Baroque era as well, through the canvases of painters like Peter Paul Rubens, Anthony van Dyck, and Diego Velàzquez.
As equine sports were established, first by the Tudors and then by the French, many painters were invited to the races[2]. One of them was Impressionist artist Edgar Degas, who painter many early racing scenes, together with Benjamin Marshall, Henry Thomas Alken, James Ward, John Frederick Herring Sr., and many more. In the 18th century, George Stubbs made his name as "the horse painter" as well, as he produced numerous anatomical drawings of the animal after spending eighteen months dissecting equine carcasses. But perhaps the most famous examples of horse paintings to date were created by Romanticism French artists Théodore Géricault and Eugène Delacroix, both of whom portrayed them in many of their artworks.
At the turn of the 20th century, paintings of horses found their place in movements like Cubism, Surrealism and Expressionism. Artists like Wassily Kandinsky, Jean Metzinger, Francis Picabia and Joan Miró all depicted the steeds, varying in style, setting and meaning. In many of such cases, horses were rarely part of a historical theme but were rather incorporated as a part of an artistic vision, perhaps due to their beauty alone.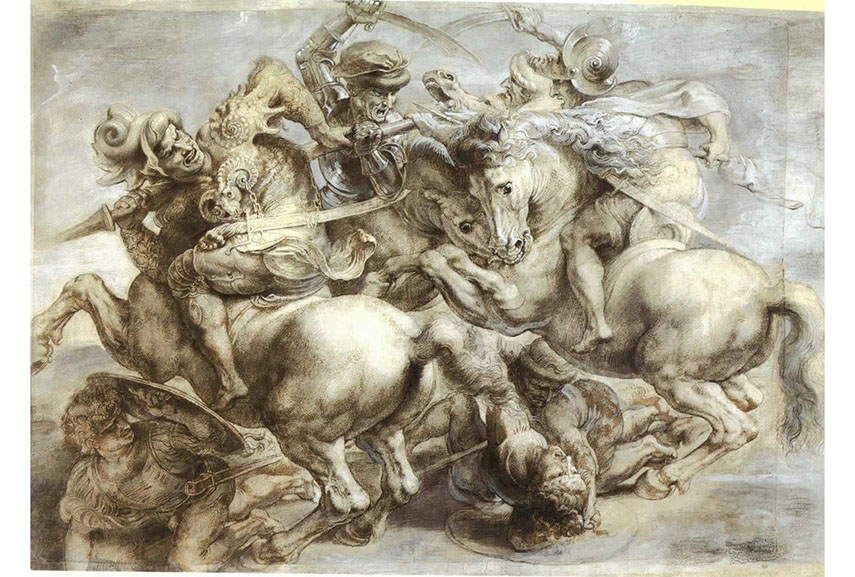 Why Horses?
No matter the nation, the historical period, the religion, the culture, the tradition or the simple everyday life, horses have managed to find their way in, for many centuries. Their numerous roles have been depicted in different types of horse paintings countless times: through military art, which portrays horses in battle and the cavalry of knights; the aforementioned horse racing, which had many artists fascinated by the complexity of gallop, their impressive speed, their muscle structure; through the art of the American West and its famous Native American tradition of cowboys, which was bound to have equine subjects. Very often, they were considered highly valuable, whether to the poor men who would use them for labor and transportation, or the wealthy for whom it was a symbol of prestige and power. Imminently, horses have been man's companion throughout the eras, and the man continues to admire the nobility of spirit, virtue and fortitude of this extraordinary animal[3], in ways that will always involve art and its many forms.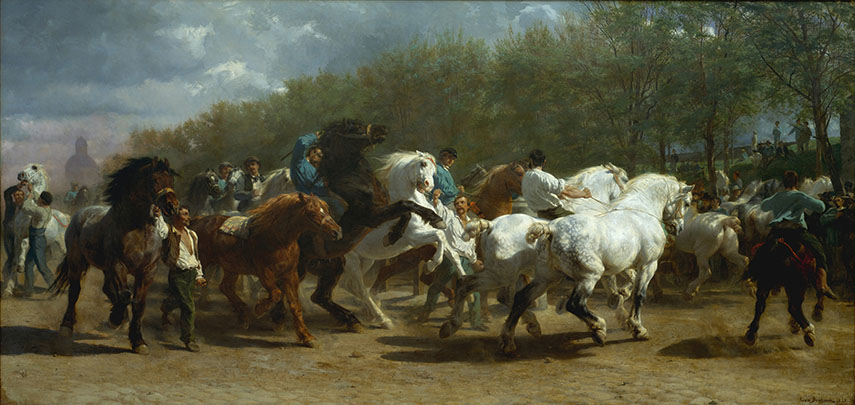 Horse Paintings by Famous Artists in the History of Art
Without a doubt, as we said earlier, some of the most famous horse paintings were created during the emergence of Romanticism. French Masters Théodore Gericault and Eugene Delacroix were the most famous, as they both portrayed horses in a stunning manner, leaving us to enjoy their many artworks dedicated to the animal. Although it is the sculptures that hold a significant spot in equine arts, often portraying their a famous general or other historical figure riding them, paintings of horses are nevertheless quite numerous, and so are the artists who made them. Coming from a variety of styles, movements and approaches, they created iconic pieces that are bound to take our breath away every time we see them.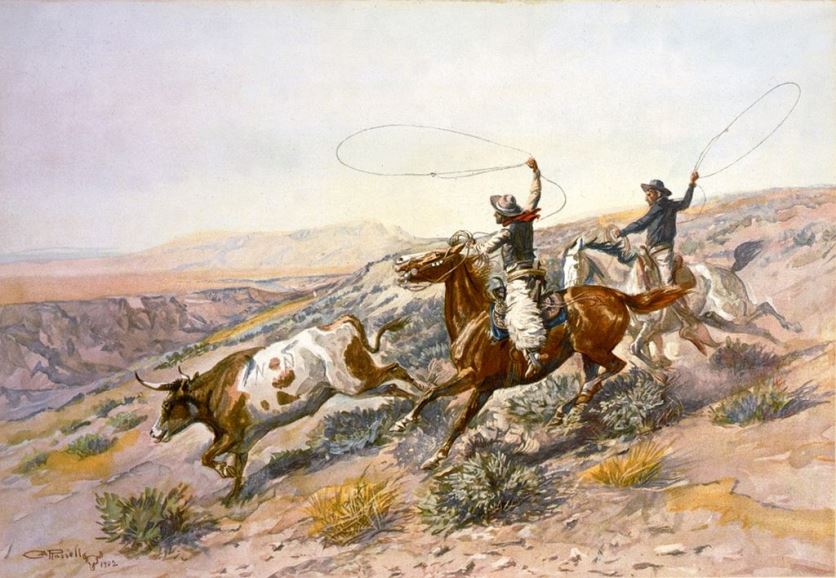 George Stubbs – Whistlejacket
Whistlejacket, an oil-on-canvas painting is probably one of the best-known horse paintings ever executed. It was created by British artist George Stubbs in 1762. The painting shows the Marquess of Rockingham's racehorse approximately at life-size. The canvas is large and lacks any other content except some discreet shadows. What makes this piece of art renowned is the heroic scale of the painting and lack of background. Stubbs spent several months at Wentworth Woodhouse in Yorkshire (Rockingham's country house), and created many horse portraits, with and without human figures.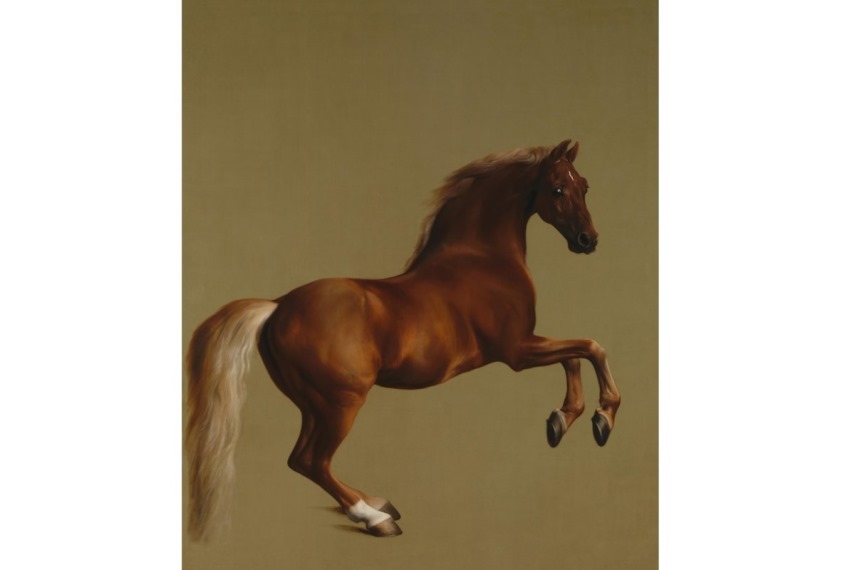 Theodore Gericault - An Officer of the Imperial Horse Guards Charging
An Officer of the Imperial Horse Guards Charging, also known as The Charging Chasseur is a painting by French artist Theodore Gericault. Executed in 1812, it's portraying a mounted Napoleonic cavalry officer who is ready to attack. The painting is a typical example of French romanticism, although it has similar motifs with Jacques-Louis David's Napoleon Crossing the Alps. However, the vigorous paint handling and dramatic diagonal arrangement distance this painting from Neo-Classicism. The painting is part of the Louvre collection.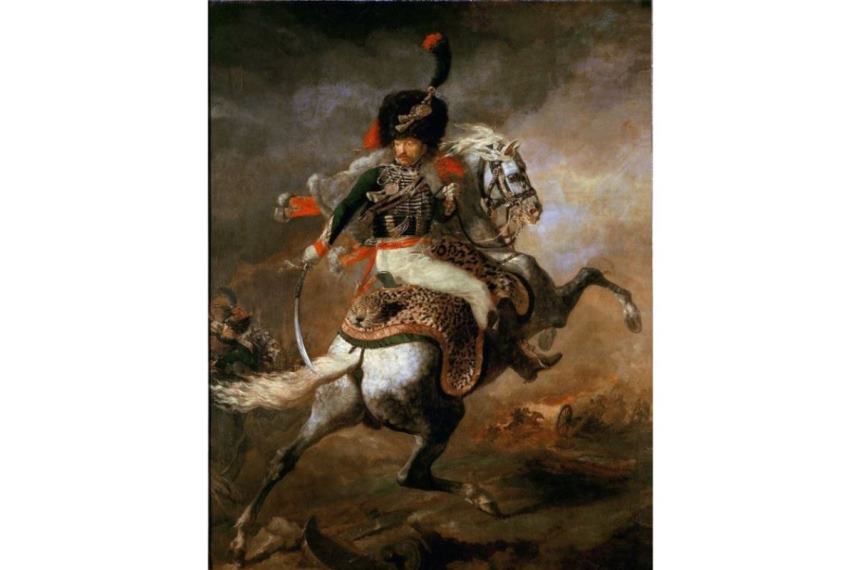 Eugene Delacroix - Horse Frightened by Lightning
One of the leading figures of French romanticism was Eugene Delacroix. This Master is known for his use of expressive brushstrokes and his study of the optical effects of color that would eventually influence the emergence of the Impressionist movement. For Delacroix, color was the main mean of expression. He painted a huge number of horse paintings, but Horse Frightened by Lightning is certainly the most famous one. The painting was executed in 1825 and can be found in the Museum of Fine Arts, Budapest.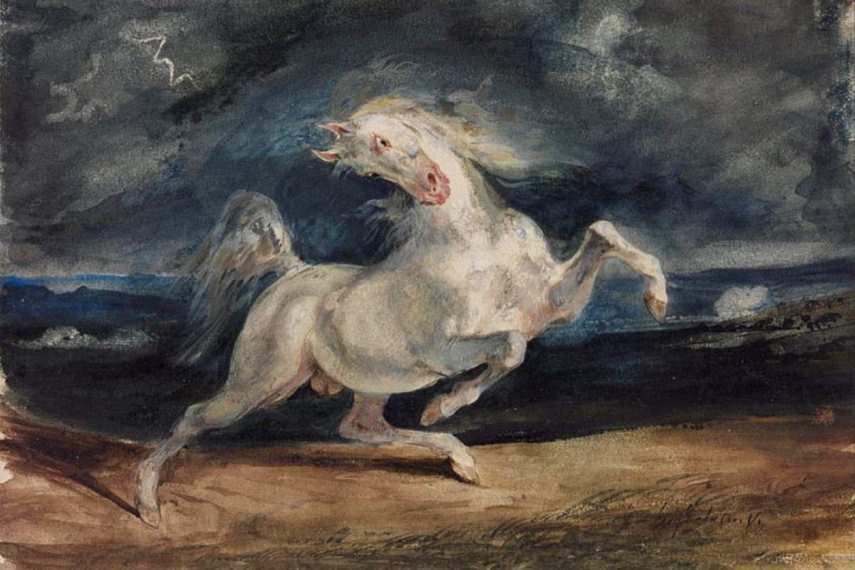 Edgar Degas - At the Races
The most conservative and naturalistic painting by French impressionist Edgar Degas is At the Races. It took three years for the artist to complete this work. The painting depicts an action-filled piece, with horses and riders in motion and at rest in an outdoor setting. The piece is also characterized by close-up detail and distant perspectives. As in other of his paintings, Degas paid special attention to the use of color, light, and shadow.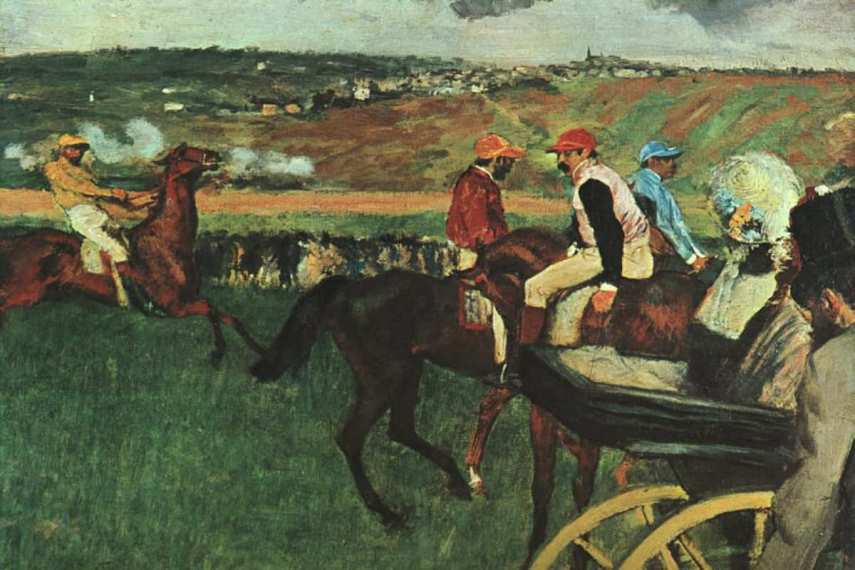 Albert Gleizes - La Chasse (The Hunt)
La Chasse or The Hunt is a painting executed in 1911 by the French artist, theorist and writer Albert Gleizes. This painting is created in a highly dynamic Cubist style, with multiple faceted views. However, the artwork retains recognizable elements relative to its subject matter. It depicts an outdoor hunting scene, with seven people, along with numerous animals. Men on horses are preparing for departure, while the tension in the air is visible as the hunters and animals interact with one another.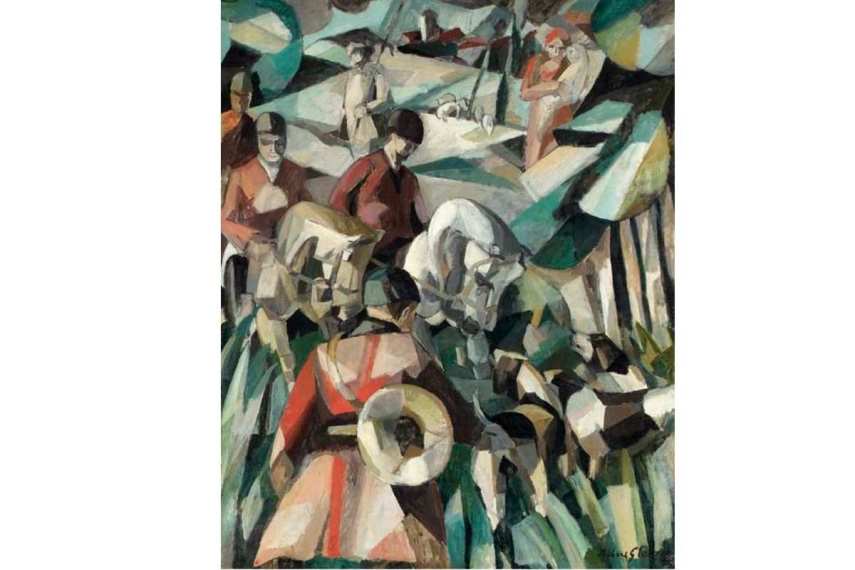 Wassily Kandinsky - Reiter (Lyrishes)
Reiter (Lyrishes) was created in 1911, during the Blue Rider Period of one of the fathers of abstract art – Wassily Kandinsky. Kandinsky's paintings from this period are large, expressive colored masses evaluated independently from forms and lines. This was the period when Kandinsky used music as well for art creation. Kandinsky sometimes used musical terms to identify his works. This is not the only painting by Kandinsky depicting horses. He also created horse paintings during the early phase of his career.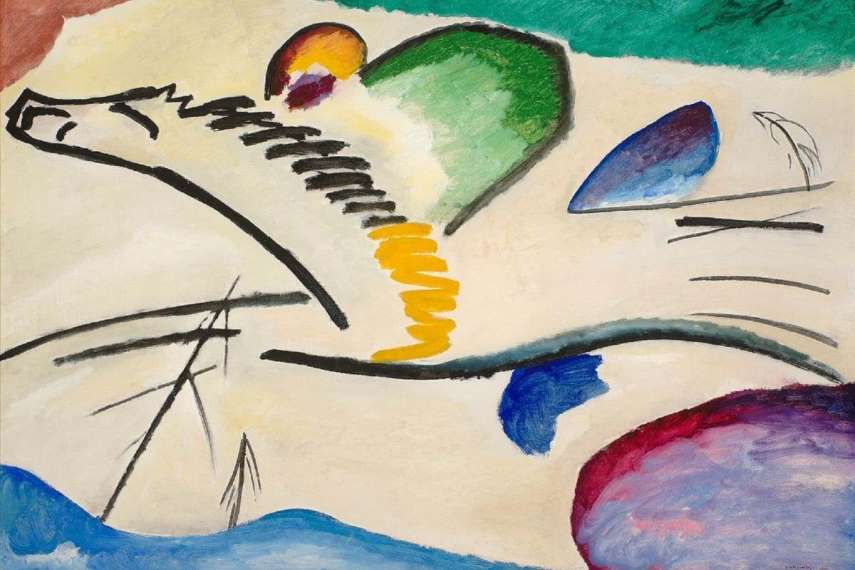 Francis Picabia – Horses
Francis Picabia was a prominent French avant-garde painter, poet and typographist. Within the field of visual arts, he is best known for his Cubist paintings, as well as for being a prominent art figure during the proto-Dada period. Later in his career, Picabia was briefly associated with Surrealism. However, in the beginnings of his career, Picabia's work was associated with Impressionism and Pointillism. His painting Horses from 1911 is a perfect example of a Post-Impressionist painting.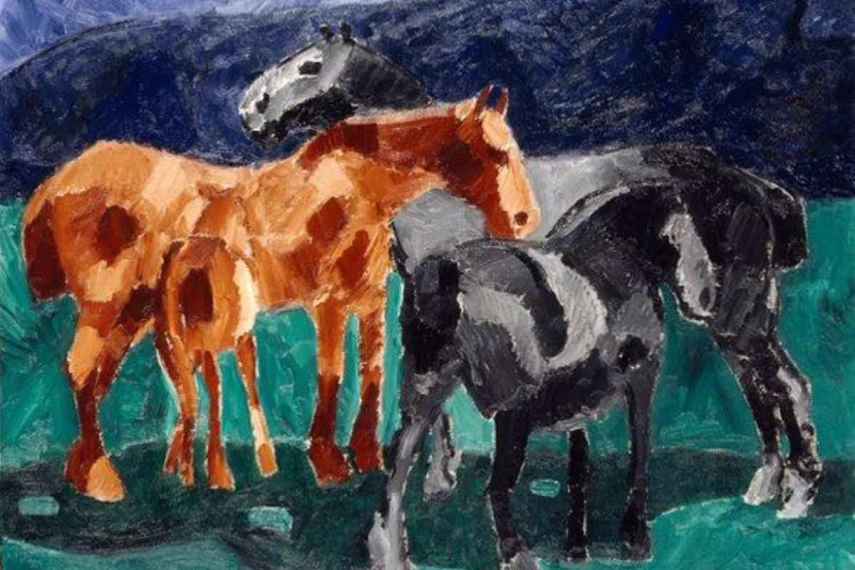 Jean Metzinger - La Femme au Cheval (Woman with a horse)
La Femme au Cheval also known as Woman with Horse and L'Écuyère is a painting by French artist Jean Metzinger. Executed in 1911, it was exhibited in Paris at the Salon des Indépendants in 1912 and the Salon de la Section d'Or, 1912. As the title suggests, the painting depicts a nude woman riding a horse. The picture plane is broken down into facets, presenting multiple aspects of the subject simultaneously. This concept was first used by Metzinger and soon after it would be considered as one of the main principles of Cubism.
Joan Miro - Horse, Pipe and Red Flower
The famous piece by Joan Miro, Horse, Pipe and Red Flower, was executed in 1920. It's one of the rare examples of still lifes that the Catalan artist Joan Miro painted while at home in the village of Montroig during the summer of 1920. The painting, although usually described as surrealistic, has many elements of Cubism. Miro painted Horse, Pipe and Red Flower after he returned from Paris, where he was influenced by the avant-garde paintings he had seen in Paris. He focused especially on Picasso and his works.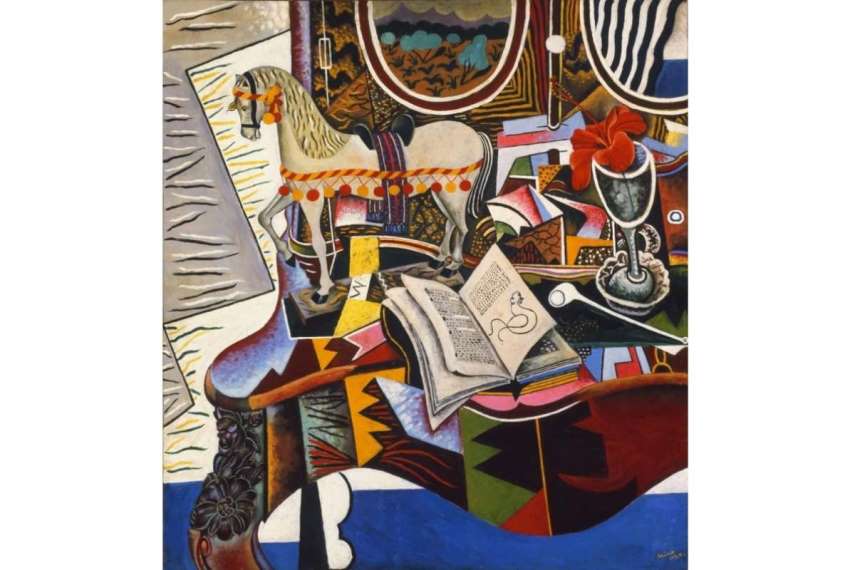 Pablo Picasso - Guernica, detail
One of the greater masterpieces in the 20th Century art – Guernica by Pablo Picasso is not a horse painting per se. However, this large scale painting, a symbol of pacifisms, has a horse as one of the central figures in the composition. The horse is actually occupying the center of the painting – a horse falling in agony. There are dozens of interpretations of the depiction of the horse in Guernica. Picasso was never interested in explaining the elements of this famous painting. However, many art historians argue that it symbolizes suffering Spain experienced during the Spanish Civil War. As art historian Patricia Failing once said: "The bull and the horse are important characters in Spanish culture. Picasso himself certainly used these characters to play many different roles over time. This has made the task of interpreting the specific meaning of the bull and the horse very tough. Their relationship is a kind of ballet that was conceived in a variety of ways throughout Picasso's career."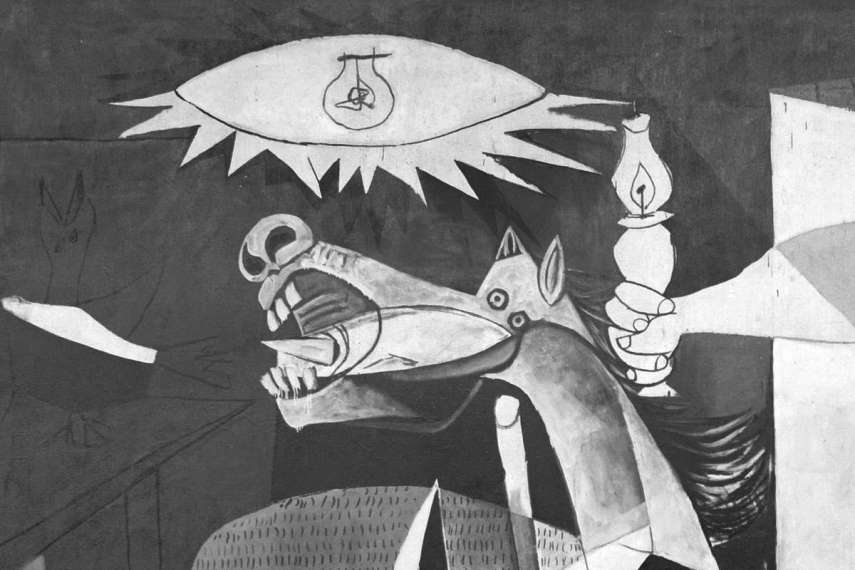 Is There a Contemporary Equine Art?
Because they are not so ever-present in our society anymore, horses have stopped being such a frequent sight in artworks. Cars replaced carriages, tanks replaced cavalry and horse races, although still in existence, are generally interesting because of the betting and the money. It could be said that, in Contemporary art, the steeds could still be depicted for their graciousness and nobility, rather than a specific role they have in modern-day life. Since Picasso's Guernica, there were a few artists who had horses as subjects of their art, although often not as protagonists. For instance, Jannis Kounellis came in the spotlight in 1969, having been criticized for putting twelve living horses up for an exhibition. Richard Prince featured them in his Cowboy and Marlboro Men series from the 1980s. Many fashion photographers use them in shootings, one of them being Annie Leibovitz herself, particularly in the Disney series. In 2007, Maurizio Cattelan hung five taxidermied specimens in a gallery space, mourning their death in war, and Marina Abramović rode one in her The Hero performance. So what about paintings of horses? You can find them in murals, through the practice of Alexis Diaz, Pixel Pancho or Nychos, for instance, but when it comes to canvases, they seem to be rare among the mainstream creatives. We can probably be sure that these members of the equine family will always draw the attention of artists, but maybe not so much in the painting field - at least not among the one dictated by the art market and influential institutions. Luckily for us, we can enjoy the masterpieces of the past at any time.
Written by Angie Kordic and Lorenzo Pereira.
Editors' Tip: The Horse: 30,000 Years of the Horse in Art
This illustrated history of the horse in art documents the creative journey from prehistoric cave painting to the war horses of Uccello, the thoroughbred portraits of Stubbs, the enigmatic prints of Elisabeth Frink and beyond. The book sheds particular light on man's relationship with the horse. From cave man's early attempts on cave walls to illustrations from a book of 13th Century "Farriery" in Istambul, from 2000-year-old Chinese sculpture to Michaelangelo's sketches, Roman terra cotta bas relief to 20th century American Indian and cowboy art, from 15th-century woolen tapestries to modern "futurist" art... What a beautiful way to learn mankind's history as well as art history, all the while appreciating the form and beauty of the horse. It's a wonderful education, a fascinating read.
References:
The Lascaux Caves [September 12, 2016]
Oelke, B., Raney, C., Drawing and Painting Horses, The Art of the Equine Form, Watson Gupthill Publications 2000
Sivak, A. (2012), A Horse, Of Course! Curator Anne Woollett on Equine Painting, The Iris (Getty) [September 12, 2016]
Featured Images: Eugene Delacroix - Horse Frightened by Lightning, 1825-29, image via Wikipedia; Pablo Picasso - Boy Leading a Horse, 1905-06, detail. Courtesy Museum of Modern Art, New York; Olaf Rude - Saint George and the dragon, 1918, detail. Courtesy Aarhus Kunstmuseum; Jacques Louis David - Napoleon Crossing the Alps, 1801, detail. Image via Wikipedia; Franz Marc - The Large Blue Horses, 1911, detail. Courtesy Walker Art Center. All images used for illustrative purposes only.