Hossam Dirar is an Egyptian contemporary artist from Cairo, Egypt, who currently lives and works in Barcelona, Spain.
Dirar's work in painting is refined and takes more of a classic approach, using oil paint in expressive strokes and warm colors to depict women in their feminine power. He attempts to find links between humans regardless of their nationality, race or gender and through his art demystifies and bring to the forefront common ideas and human aspirations.
In 2013, Saatchi Gallery Director in London Rebecca Wilson had chosen Dirar as one of the Twelve best young artists worldwide to be on their list for art investments.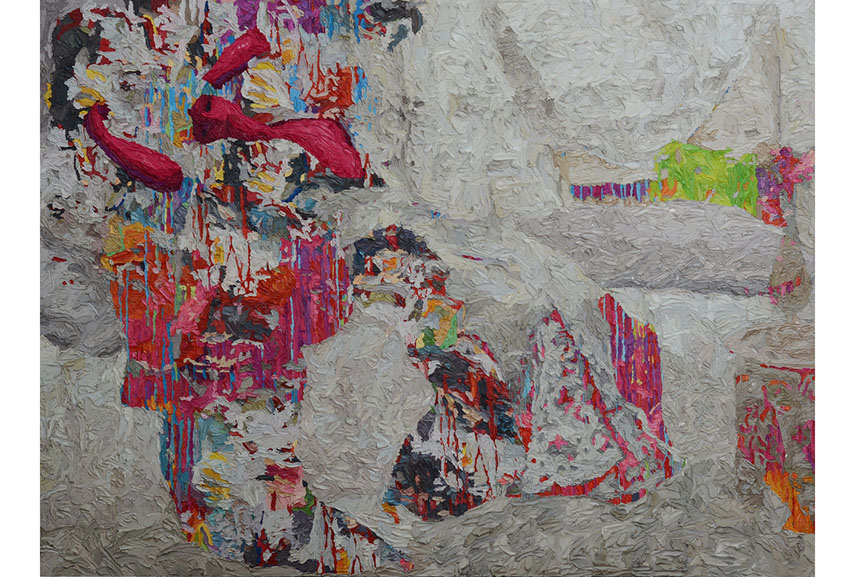 Becoming an Artist
Widewalls: At what age did you decide to be an artist?
Hossam Dirar: I believe art is a gift and it is very hard for me to say at what age I began art, but since my childhood I felt that I can see the world in a different way than others. I always want art to change the world around me. As I found myself beginning to enter the world of art, I realized that I was learning more about myself as a person, and at that point art and painting was my way of sharing and presenting my ideas and thoughts with the world. Now art is my entire life because through art I develop a deeper understanding of life and my place in it.
Widewalls: Can you tell little more about your creative process? What you are thinking of before starting each work?
Hossam Dirar: My process varies with each new piece. First I am struck by an idea, usually generated from a personal experience, or an unfamiliar subject matter that I am challenged to understand. When I have these challenges or personal experiences, I document my thoughts on paper and from there I begin drawing people and signs, and then eventually translate these ideas onto canvas. I utilize oil paint on canvas, using spatulas and splattering techniques of varying speeds to achieve depth.
Widewalls: It's either about woman or conflict, pain and revolutions..
Hossam Dirar: Since moving to Spain and leaving my Egyptian home, I have dealt with many problems and conflicts. Naturally all these different emotions got involved in the same time, so I ended up expressing my emotions through art from my experiences with society, people, relationships, or even revolutions. Given the political climate in Egypt, such conflicts have affected me as a human being, so I express myself the way I know best, through my art.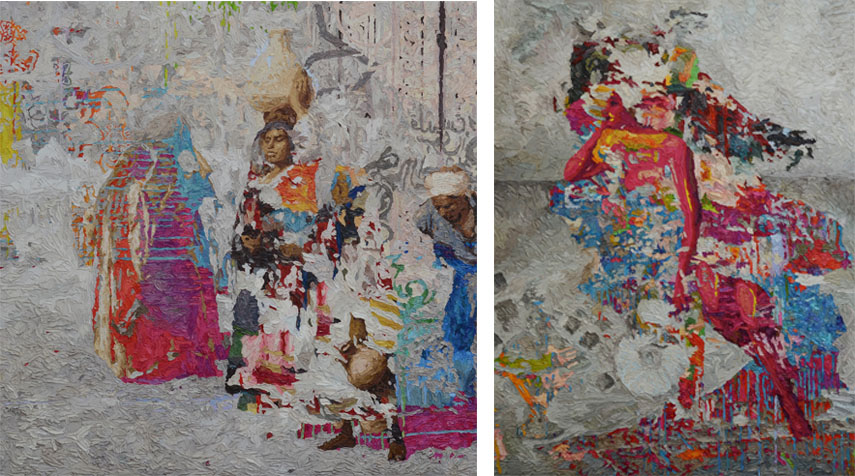 Hossam Dirar - Le HAREM. Le caire 1801
Widewalls: What made you create this series?
Hossam Dirar: I decided to create this series because I was in the process of trying to find out who I really am, as an Egyptian coming from a country with a great past and a very impressive civilization. These factors had a very big role in my search.
Egypt throughout time was filled with all kinds of art structure, but more importantly the people; they make up a large, happy, optimistic, and peaceful nation but now I ask myself one question: how did all of this change?
So I decided to build this series relying on the past history to try to revive the past.
Widewalls: So what's the story behind it?
Hossam Dirar: Last year I left my country and decided to move to Spain.
There I realized the large influence that ancient Egyptian civilization had left in parts of the European civilizations. During my geographical transition, I was inspired to learn more about my own civilization and the specifics of the Arabic oriental art that showed the Egyptian lifestyle of centuries past.
When Napoleon came to Egypt in the 18th century, the painters and artists of the time were always building, painting, and doing other crafts depicting the lifestyle, structures, and even the condition of the city in most of their works. I was very influenced by such depictions to try to understand that Era, so I began producing paintings influenced by the Orientalism artists trying to see things in a different way.
I try to revive the past by creating drawings and paintings with modern interpretations in the hopes of reminding people of the ancient splendor of Egypt.
Widewalls: Where was your first show for this work?
Hossam Dirar: Art opening was in Cairo, Egypt on March 25th.
Widewalls: I have noticed that many of your works focus on a woman. Why is that?
Hossam Dirar: I care a lot about history and the influence that the past has on the future in my work, and also how time changes people and societies. During all of this I choose to focus more on women, simply because I really believe that women are the mirror of life to different societies, through their eyes, feelings, and emotions.
Written by Julia JM.
Featured images: Working process in Spain; Hossam Dirar in his studio; Hossam Dirar - The Magic of the east, 2017; Hossam Dirar - Once upon a time, 2017. All images courtesy the artist.