A Different Language is the title of the latest How and Nosm exhibition which will be presented by the Jacob Lewis Gallery located in New York. The Jacob Lewis Gallery is an exciting new name in the New York art scene having only opened in October 2014 with their inaugural show Comet Dust & Crystal Shards by Inka Essenhigh and A Different Language will be the debut show with the gallery of the Spanish born identical twins Raoul and Davide Perre who comprise the art duo How and Nosm whom you can see discussing their work in this Art of Vibe: How and Nosm Go From Tagging Trains To 4-Story Buildings.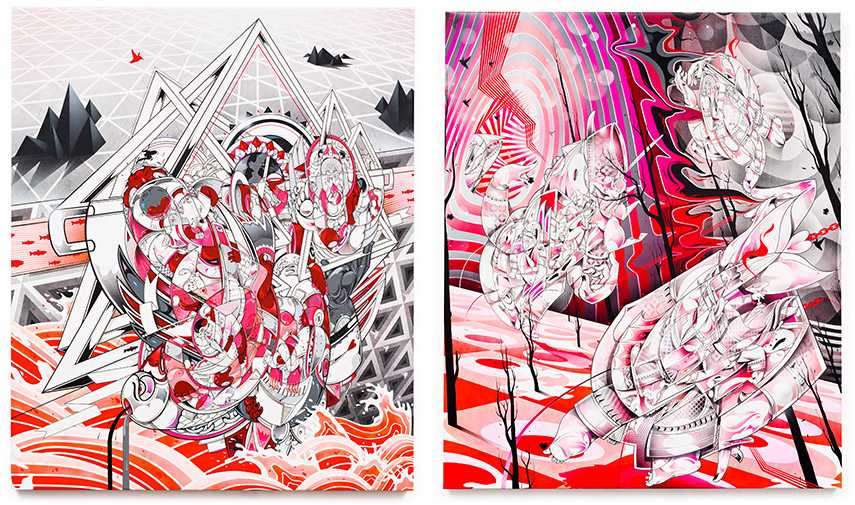 How and Nosm Exhibition
The A Different Language exhibition by How and Nosm at Jacob Lewis Gallery will present a series of recent works by the brothers that display their intuitive creative process and their now trademark limited colour palette combined with complicated and almost hypnotic compositions that are alive with geometrical patterns, vast amounts of detail and fascinating characters. As can be seen in the featured photographs, How and Nosm work together on the paintings, allowing the images to flow together and working in sync that can only come from the close family bond only found with identical twins. As youngsters they were immersed in skateboarding and graffiti culture, tagging trains together which has gone on to inform their studio based works with paintings appearing in A Different Language such as One Way Or The Other and Calm Prevailed being created with Cel-Vinyl paint, India ink and spray paint, revealing free flowing graffiti inspired lines against detailed almost cubist forms occupying the foreground. The works reveal complex narratives within the surreal landscapes they create often charged with rich symbolism and cultural references. You can read more about How and Nosm in How and Nosm at Watanabe Press in Brooklyn and The Z Project by The Library Collective they were involved with.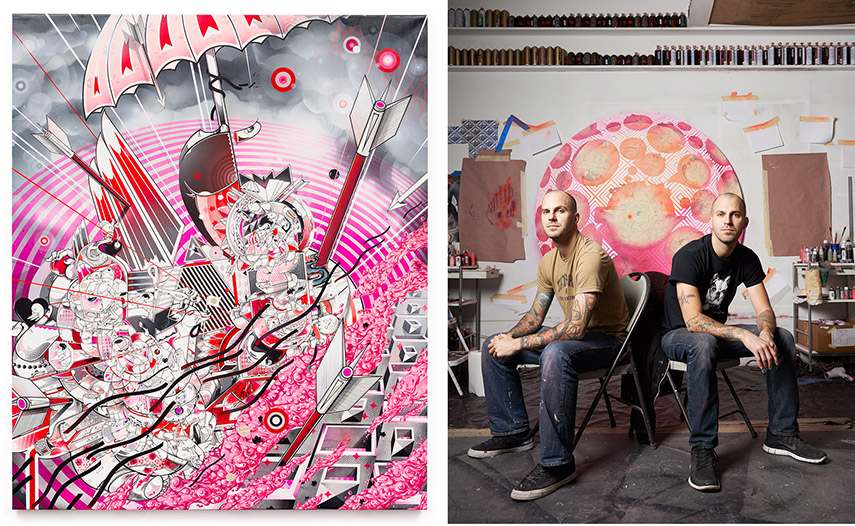 A Different Language
Many identical twins speak of having their own type of language, of a subconscious connection that allows them to finish the sentences of each other or to sense the others feelings and apparently this is also true of How and Nosm that then overflows into the artworks. They liken it to each artist having their own language but it can be learned, as can the viewers of the works on display in A Different Language, who by observing the paintings can then become part of their artistic world which blurs the edges of dreams and realities creating fantastical landscapes full of vivid imagery. If you allow yourself to get immersed in the alien landscapes created by How and Nosm, darker themes will emerge such as betrayal, abuse of power and alcoholism that sometimes refer to their own history, but could also be translated as reflecting what is going on in society as a whole. The How and Nosm exhibition, A Different Language, displays perfectly their unique individualism that somehow comes together into wonderfully crafted and multi-layered artworks that are quite remarkable in their depth and styling. Although rare, there are other siblings creating artwork together so why not take a look at works created by MaJo Brothers, Miaz Brothers and the Clayton Brothers
A Different Language by How and Nosm at Jacob Lewis Gallery, New York opens on 20th February, 2015 and runs through until 4th April, 2015. Opening reception on 19th February, 2015 6-8pm.
Discover all the languages of art by signing up to My Widewalls today!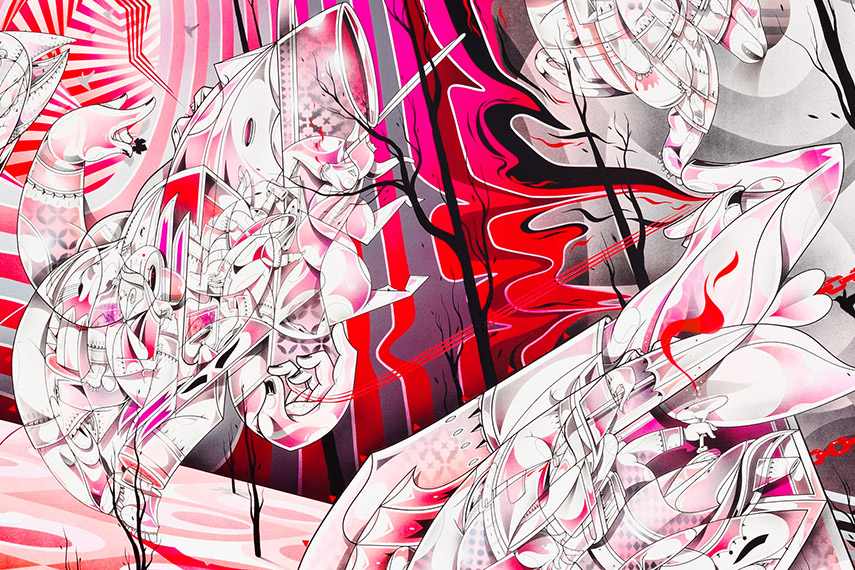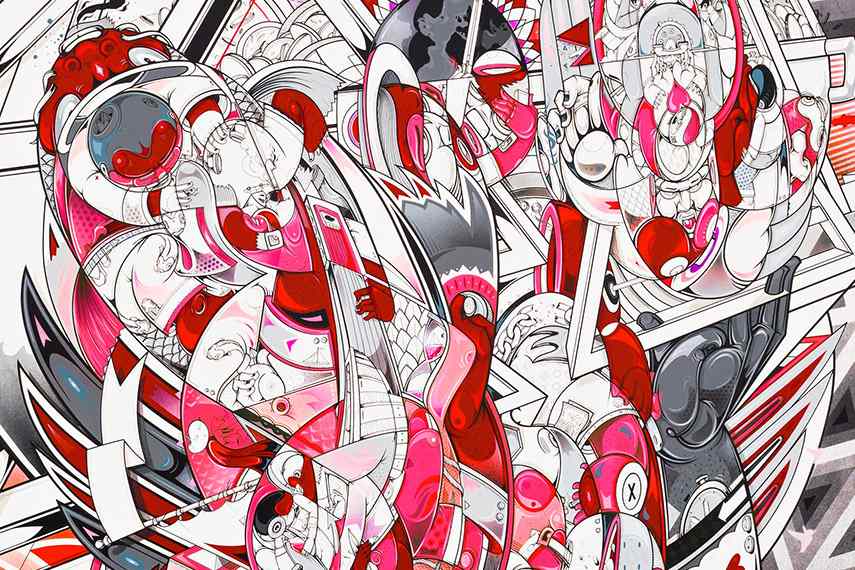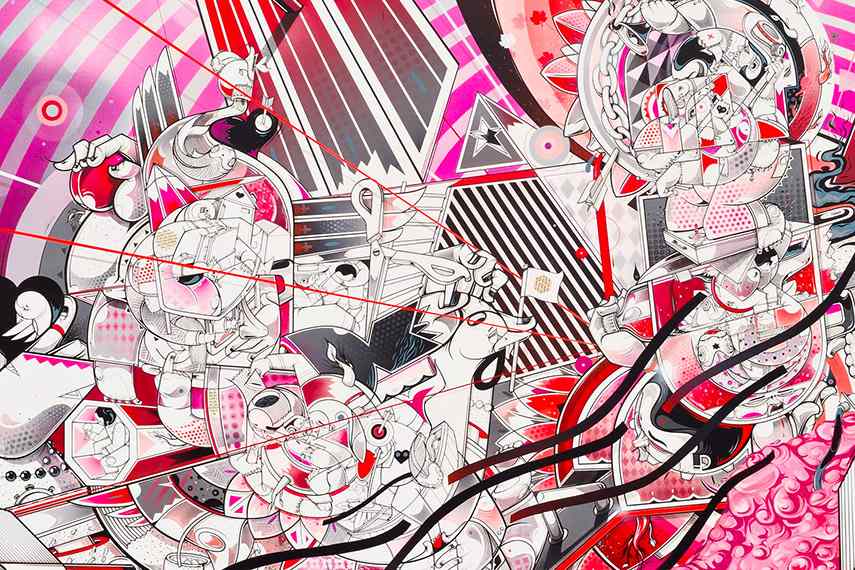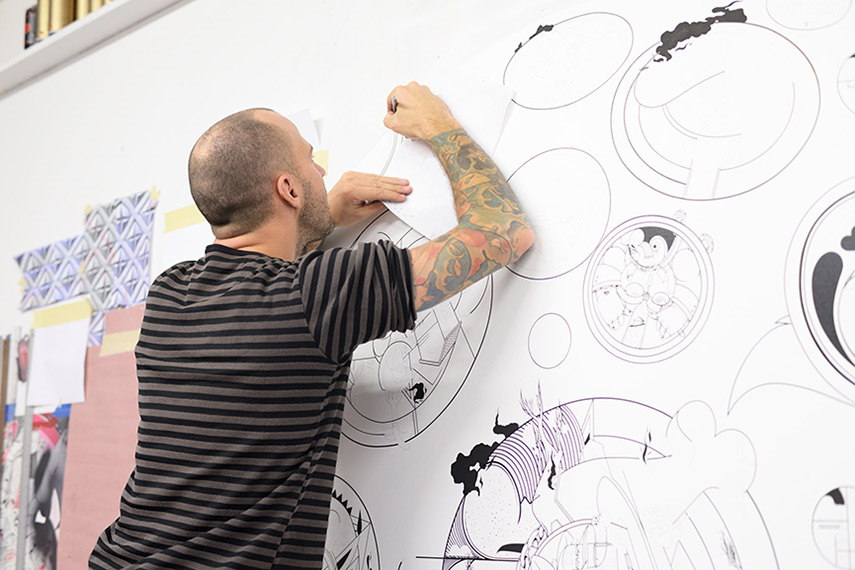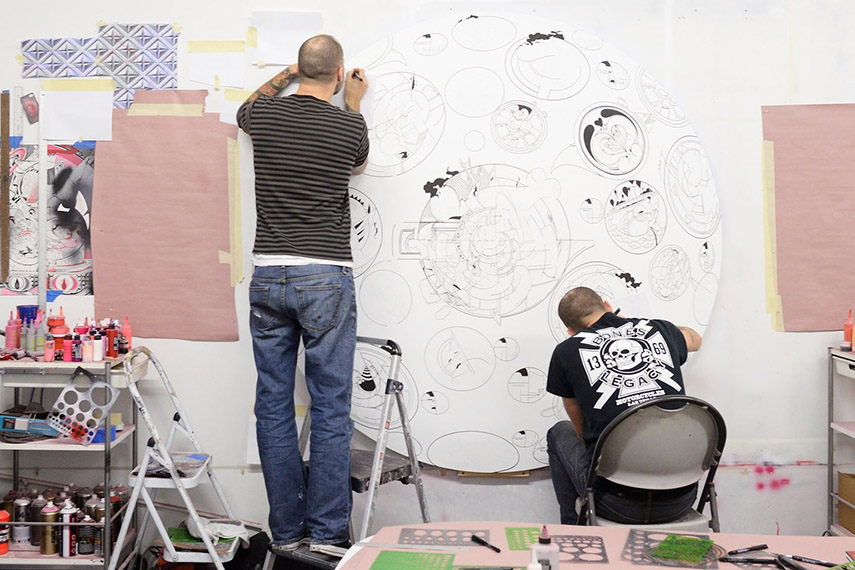 All images courtesy of Jacob Lewis Gallery.