Above a small abandoned lot on the corner of Flushing and Knickerbocker Avenues in the Bushwick neighborhood of Brooklyn is the mural Red Hot Summer Day. The artistic duo known as How & Nosm executed this large-scale mural in August 2014 as part of a project commissioned by Converse and the arts magazine Juxtapoz.
The artists (Raoul and Davide Perré) are identical twin brothers originally from San Sebastián, Spain, raised in Düsseldorf, Germany, and have called New York home since 1999. Upon first moving to the city, they were part of the underground Bronx-based graffiti collective known as TATS CRU, which included other street artists such as Bio, BG183, and Nicer. Aside from their mural-based work, they also create works on paper and paintings on canvas.
Their work has been exhibited at major international art fairs and exhibitions, such as Art Wynwood in Miami, Art Basel, and the Armory Show in New York. It is also worth noting that they have murals in the Bowery, Coney Island, and other sites across the boroughs of New York.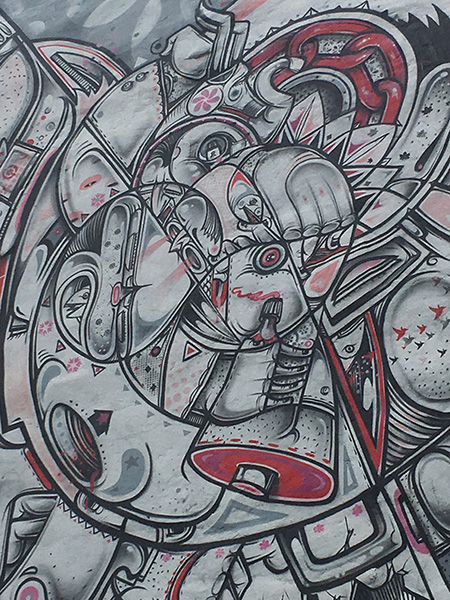 The Murals of How & Nosm
How & Nosm's murals are typically based on small black and white drawings that are used to help guide the completion of their larger work. The mural process starts with larger forms and later begins to focus on the minute details, using aerosol cans with varying tips and stencils to create a remarkable level of intricacy that has become a hallmark of their style and practice.
Another defining characteristic of their art is the limited palette of reds, pinks, whites, and greys. These detailed murals with puzzle-like compositions encourage prolonged looking and discovery of hidden elements and symbols that relate to the meaning of the work. The artists have described their murals as creating worlds within worlds (as seen in the frequent use of orbs), which is meant to visually represent the myriad forces at play between individuals and larger oppressive structures in society.
According to past interviews, they ultimately hope to evoke a sense of human conflict and struggle in their chaotic yet mesmerizing narrative scenes.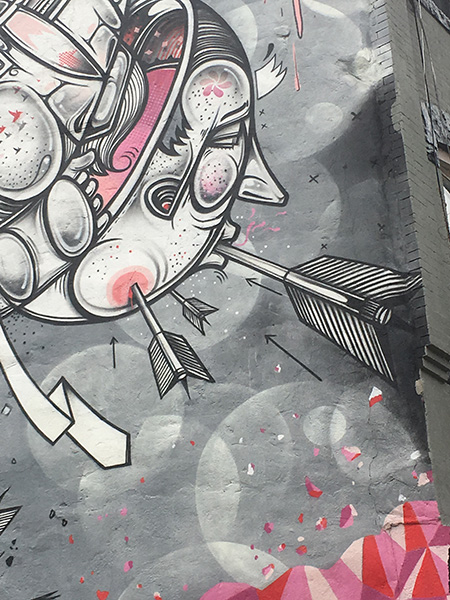 Red Hot Summer Day
Red Hot Summer Day touches upon the themes of exploration, foreign landscapes, and survival as seen through the main figure, who perilously tries to traverse a pink toxic sea while being attacked at every turn and twist. This figure can be read as representative of humanity more broadly, a potent symbol of the individual's struggle against the prevailing forces of any given environment or situation. The spacesuit of the astronaut-like figure contains within it a smoking gun, an electrical plug, broken bones, various fish heads, a series of interlocking chambers and gears, and a chain link that appears to be moving through a digestive or respiratory tract.
The bizarre, grotesque anatomical details that merge technological and anatomical forms bear striking resemblance to the human-animal creatures that populate the paintings of Hieronymus Bosch, as perhaps best seen in The Garden of Earthly Delights Triptych. Bosch was a fifteenth-century Netherlandish artist that frequently deployed fantastical beasts to provide critical commentary on society, and his work is deeply moralizing, offering a rather pessimistic view of humanity's fate. In contrast, How & Nosm's mural seems to at least be suggesting the possibility of the triumph of the individual despite what obstacles may lie ahead, as evidenced in the astronaut's undeterred efforts to cross the sea of industrial waste.
Aside from allusions to Bosch's best-known panel painting - which is housed by the Museo del Prado in Madrid - the industrial and mechanical imagery in Red Hot Summer Day can be understood as a reference to the artists' homeland of the Spanish Basque region and the immediate environs of Bushwick itself, a fully functioning center of manufacturing and industry.
After closer inspection, viewers might notice that the cosmonaut is punctured with arrows. This might be taken as an oblique reference to the Christian martyr of Saint Sebastian, the namesake of the brothers' familial home. The connection raises concerns about persecution of religious beliefs and freedom of expression, motifs that directly relate to themes of new frontiers, survival, and immigration.
Bushwick, like all neighborhoods in New York, has been host to waves of immigrant groups. While the inclusion of a Christian martyr largely has to do with the artists' personal family history, the reference has particular resonance for the surrounding area because Bushwick has been home to large populations of Puerto Rican and Dominican Catholics since the 1970s.
The brothers Perré incorporate one other important reference to the Basque country in their mural masterwork. There are visual parallels between the techno-anatomical hybridity of the image's main protagonist and the figures in Pablo Picasso's Guernica (1937), a modernist work that directly references atrocities committed in a Basque town under the dictatorship of Francisco Franco. For example, the fish heads in Red Hot Summer Day find their counterpart in the various animal heads seen in Guernica, namely the contorted heads of a horse and bull. Furthermore, the vignettes of broken bones in Red Hot Summer Day correspond to the dismembered body parts strewn about Picasso's composition.
Lastly, the anguished expressions of Picasso's tortured and deformed figures are mirrored by the wailing faces on the bubbles rising around the astronaut. Raoul and Davide's family lived under the horrific military rule of Franco, and many of their images have been inspired by this family history - a history characterized by struggle, perseverance, and hope.
While Red Hot Summer Day may appear at first glance to be an incomprehensible mural punctuated with varying tones of red, it is in fact a thoughtfully constructed work of street art that weaves together disparate strands of personal histories, universal experiences of migration and place-making, and an overarching message about overcoming hardship in the face of seemingly insurmountable tribulations.
To book a tour, utilize the Air BnB Experience interface.
Written by Anthony M. Huffman.
Featured image: How & Nosm, Red Hot Summer Day, 2014, detail. Courtesy the author.