Art week in Miami naturally begins with Art Basel Miami Beach art fair, and for all of those who manage to tackle this art monster, fairs around it are almost a field trip. Not to get confused, less exhibitors means more chance to really savour art, and therefore - to discover gems otherwise hidden amidst heaps of super-famous names. One of the coolest art shows of the week is definitely Scope, oriented towards the new contemporary art and with its excellent Breeder program for the emerging artists. For all of those who are in Miami this week, Scope is a definite must, but for collectors of urban, street and less conventional art forms - even more. So, put on your coolest December-in-Miami outfit and step into the world of imagination and visual freedom.
Widewalls Top 10
Among the ten galleries we selected as must-sees at SCOPE, there are other exhibitors that deserve attention. The art fair has a brilliant Breeder program for emerging artists, so this may be the favorite place of young collectors and art lovers who get their thrill from fresh inventions. First, let's go through the ten favorites again. C.A.V.E. Gallery from Venice Beach is showing intriguing pieces. Besides the Li-HIll work we featured, there is a colorful piece by Slurpee, a surreal combination of a black and white drawing and insane coloristic solutions. Fifty24MX might prove to be one of the most exciting exhibitors this year, as it selected the top artists from the international urban scene such as Saner, Ciler, Curiot, Miss Van, Fidia Falaschetti and Mars 1. A wonderful masked portrait by Saner (our feature image) is worth the attention. Hashimoto Contemporary from San Francisco is showcasing studio pieces by an inventive cut-out-installation artist Crystal Wagner, who was featured at the ArtPrize competition. Pop surreal pieces can be found with Gauntlet Gallery booth, while StolenSpace from London is showing D*Face, as the pure pop. Jonathan LeVine has interesting collection of hyperrealistic paintings by Dan Witz, and a witty mixed media piece by Evol. Dan Witz is featured at the Wunderkammern gallery booth, along with eye-deceiving works by Aakash Nihalani. Classic studio works by My Dog Sighs are found at Vertical gallery booth, as announced in our SCOPE preview, but also some insane constructions by Colin van der Sluijs. Finally, Mighty Tanaka gallery from Brooklyn is showing a selection of Nychos' dissections, with wonderful, appealingly icky, glass statuettes by Zach Puchowitz.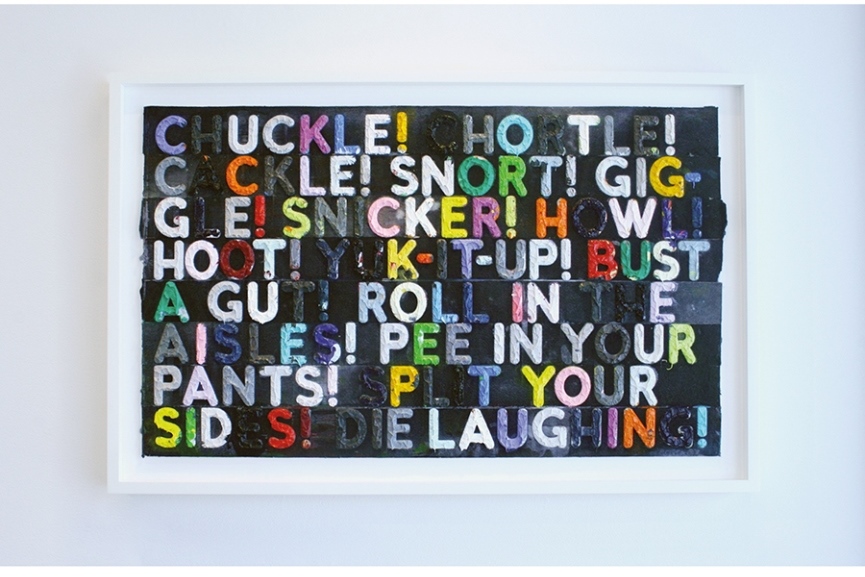 Highlights at SCOPE
To be fair, there is an abundance of amazing art at the show, some of the pieces being mandatory. What is a definite must see it the piece by Ryan McCann entitled Death to Shepard Fairey, a clever praise + protest against the Obey, showcased by the Inner State Gallery. Moby's photographs are showcased at the Emmanuel Fremin gallery, while Primo Marella Gallery is promoting art by Abdoulaye Konate, bearing an equally eerie feel as the famous electronic musicians' photos. Also worth seeing are works by Tall Frank at Corridor Contemporary.
Not only young and emerging can be seen at SCOPE. Christopher Wool's piece is shown by OTCA gallery, and Gana Art is offering pieces by Vanessa Beecroft, a favorite collaborator of Kanye West.
Breeder and Korea
Korea is featured country with several interesting galleries at SCOPE this year. We would like to highlight Baiksong Gallery and the work by Kim Heewan. Breeder section might be the most exciting, since a lot of the names are new and upcoming. Do not omit to go to Rush Arts, Stick Together and see the Shrine at Tribe 13 booth.
Thalassa - Sea in Greek
What must not be avoided is a special programming at SCOPE, in particular the display of The Dean Collection. A massive installation by Swoon is showcased, inspired by the Gulf oil spill tragedy in New Orleans. It represents an aspect of the primordial sea god of Greek origin - Thalassa, who is said to have given birth to all tribes of fish in the ocean. Thalassa is in direct correlation with the location of SCOPE, the ocean nearby and the known environmental nature of Swoon's art.
Along with other programs, the artistic experience promises to excel, but the lounge areas are also somewhere to be, as that's where all the chatter and the exciting deals go down. The main advice for survival is basically the same as for the Art Basel, but whatever you do - make sure you're early. Even now - a lot of the best pieces might already be gone!
SCOPE is open till Sunday, December 7, 2014.
All images from SCOPE.
Always be updated about art fairs in Miami and beyond - sign up for My Widewalls today!