So many interesting outdoor art events are happening this summer and not only during the street art festivals. Urban Nation, the art network from Berlin, is organizing a live mural painting in the days to come, as part of their ongoing One Wall project. The stars of this month's street art initiative will be the artist duo HOWNOSM, well-known to all our readers. These New York-based brothers will paint one of their large scale murals on one of the buildings in Tegel, a locality in the Berlin borough of Reinickendorf. So if you're interested in the idea of seeing HOWNOSM duo at work, perhaps now is your chance.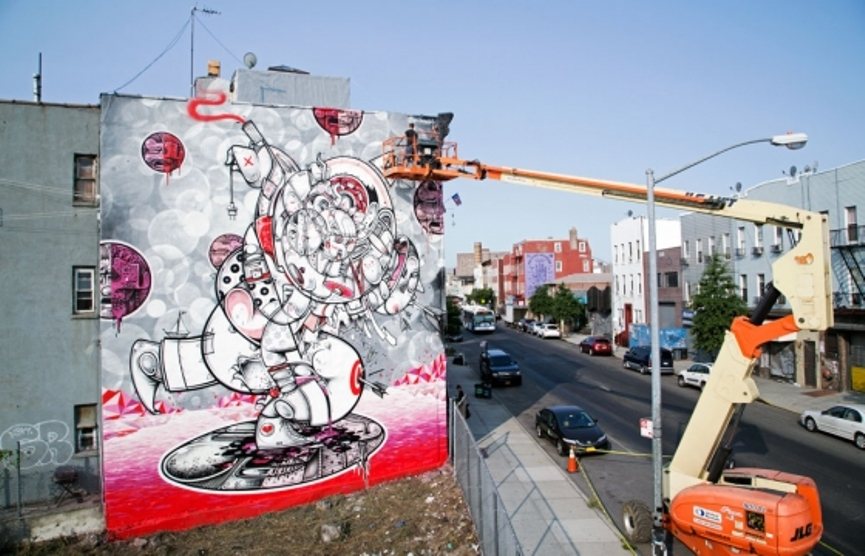 Urban Nation and One Wall Project
Since 2013, Urban Nation has been turning the walls of Berlin into works of art. Throughout the years they have developed a great program for artist exchange and public participation, bringing the art of young and established urban artists closer to the local communities and enhancing the look of public spaces all over Berlin. The One Wall project is directed by Yasha Young, and in the month of August, two of this events will take place in Berlin. After HOWNOSM, the opportunity to redesign one of Berlin's walls will have the artist Li-Hill. Each artist called to participate in the One Wall project is expected to leave the unique mark on one of the facades, and beautify the public space of Berlin with his artistic vision.
HOWNOSM at Work in New York
HOWNOSM in Tegel
HOWNOSM are well-known for creating large-scale graffiti-based murals, marked by their signature red, black and white imagery. They are perhaps one of the most prolific street art muralists working today and definitely the most famous duo when it comes to street and urban art. HOWNOSM often participate in public mural painting actions and it is always a true pleasure to watch them work. For the One Wall project they plan to do a large scale mural titled On tiptoes, embodying the idea of a person trying to reach for the stars while standing on its tip-toes. This giant figure by How and Nosm will be done on a 42-meter wall in one of the Tegel neighborhoods.
Location of HOWNOSM Mural in Tegel
Tegel Mural by HOWNOSM – When and Where?
HOWNOSM will begin painting their mural On tiptoes on 4th of August, and are expected to finish their piece through August 15th, 2015. They will work on one of the walls at Nehemeir Strasse no. 6 in Tegel, Reinickendorf. While you're in the neighborhood you can also check out the Fintan Magee's Circle of Life mural created recently for the One Wall project.
Are you excited about this forthcoming HOWNOSM mural in Tegel? Share your thoughts on our Facebook page!
And for more street art initiatives to follow this summer sign up for My Widewalls for FREE?
Featured image:
HOWNOSM – Chose a Path, Lisbon, 2013. Courtesy of How and Nosm and Urban Nation