A Marseille-based artist, HugPat is best known for his black and white semi-abstract works which demonstrate respect for figuration, inherited from his many years of architectural practice. Also coming from Marseille, Clément Verdière expresses himself through the female form, which for him incarnates the relation to the other, or perhaps to himself. The meeting with HugPat and Skunkdog served as a significant trigger for his studio practice.
The works of these two artists will now be joined at Galerie David Pluskwa. Titled Corps Accord, the exhibition juxtaposes black and white works by HugPat and Clément Verdière, encouraging a lively artistic dialogue.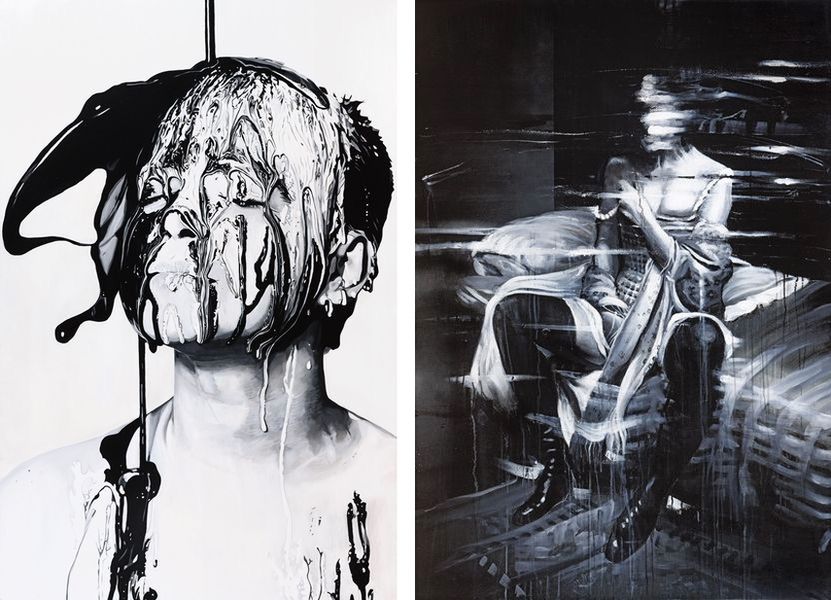 The Art of HugPat
The early work of HugPat aka Patrick Hugues is comprised of black felt drawings of abandoned harbors, warehouses, frozen cranes and other large, distorted urban complexes. Initially disembodied, over time, these works became populated by humans.
The artist finds inspiration in cityscapes he visits during the day, transcribing them in the evenings in black and white works characterized by an interplay between light and shadow. Painting dark cities, crisis, ghostly humans or rebellions, he provides a vision of an apocalyptic world.
HugPat described his work as "vast windows where chaos reigns."
Painting is a struggle. But a necessary struggle. When this energy, this instinctive need becomes expressed through my gesture, my work advances.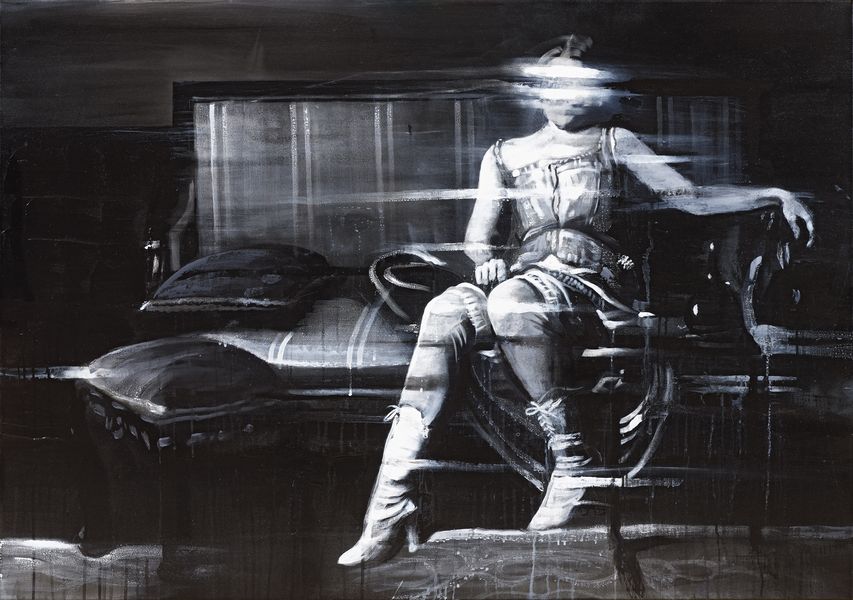 The Practice of Clément Verdière
A self-taught artist, Clément Verdière has been spending hours working, searching, exploring. Initially an outlet, painting grew into a true partner, which is at times reassuring and at times monstrous. The meeting with HugPat and Skunkdog has helped him to find his artistic identity. They directed his work towards the creation of excess, emotion without restraint, without half-measure.
His work is now characterized by the female form, painting it in all its complexity. Composed of black and white, shadows and light, his paintings are emotionally charged, reflecting the artist's life scars.
Over time, Verdière's art is becoming more and more meticulous. Recent works are deformed by the trickling water, showing subjects locked behind a wall of glass.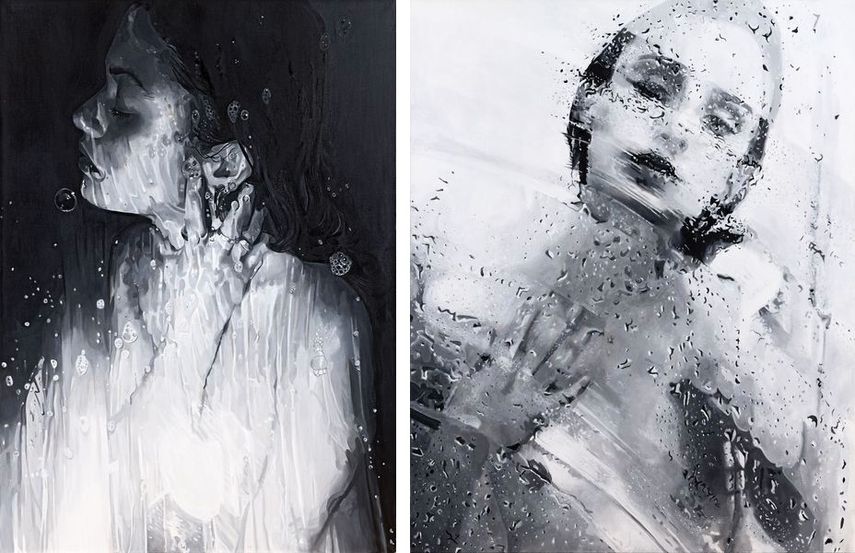 Clément Verdière and HugPat at Galerie David Pluskwa
Working in their distinct styles, both artists exhibit a perfect mastery of their art. This wonderful and unique exhibition is definitely not to be missed.
The exhibition Corps Accord will be on view at Galerie David Pluskwa in Marseille until July 20th, 2019.
Featured image: Work by HugPat. All images courtesy David Pluskwa.