Since 1997, Fine Cell Work (FCW) has been operating as a charity that helps and empowers British prisoners by engaging them in needlework. Throughout the process, they learn the craft and develop unique designs in collaboration with the country's leading contemporary designers, and the final products are made in limited editions and sold or auctioned.
For the latest project titled Human Touch, the prisoners collaborated with a group of internationally recognized contemporary artists to create outstanding pieces that will be presented at Sotheby's galleries in London and offered for sale.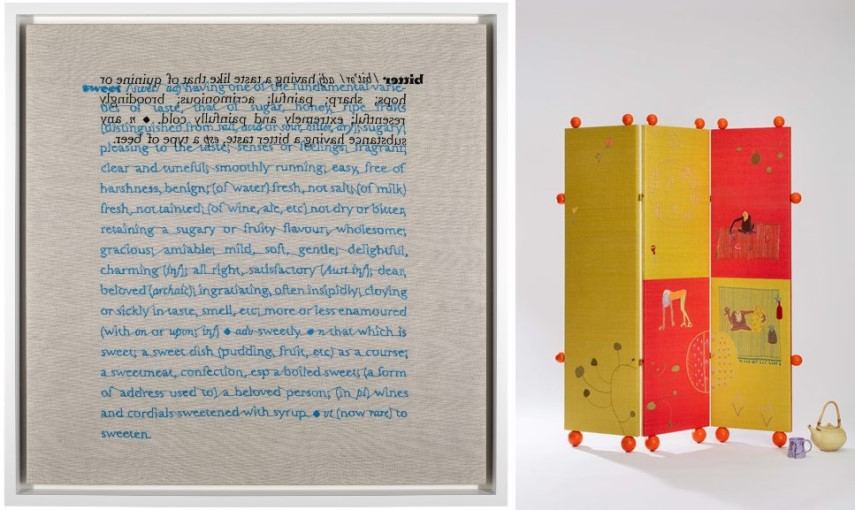 Supporting The Cause
Wolfgang Tillmans, Carolina Mazzolari, Cornelia Parker, Ai Weiwei, Bob and Roberta Smith, Annie Morris, Idris Khan, and Francis Upritchard proposed either their previous of new works to be produced in close collaboration with the prisoners, who in turn had a task to stitch the works according to precise instructions.
All the proceeds from the sale will be directed to Fine Cell Work, so that the charity could continue disturbing funds to their training and other programs dedicated to the prisoners.
The Works
One of the largest works to be presented/offered is a large scale piece Odyssey in Quilting. This 200 x 240 cm tapestry by Ai Weiwei features scenes typical for the migrations happening across the globe and was made by the artist and thirteen stitchers from eight prisons. The following statement given by one of them, a stitcher called Andrew, illustrates the impact working on this project had on their personal development:
Fine Cell Work has impacted my life in prison beyond measure. It has been a financial crutch... I have the motivation and positive feelings having objectives to work towards and spend my time productively making something of a difference for good in the world.
The work No man is an island. No country by itself by Wolfgang Tillmans was recreated for the project and so the EU campaign poster was made into as a large cushion with the meticulous needlepoint performed by a single prisoner.
Cornelia Parker decided to present the work Bitter/Sweet (verso) 2019, from her Opposites series, which represents a continuation of the collaboration with Fine Cell Work started in 2015. A hand-sewn photograph Numbers made in 2019 by Idris Khan was reproduced in a form of a framed silkscreen fabric piece stitched by a single stitcher.
Unlike Khan, Francis Upritchard's 2019 piece The Artists was made by six stitchers who padded it with Italian silk, while hand-embroidered piece Void by Carolina Mazzolari was stitched in wool by both the artist and the prisoners.
An embroidered chaise longue entitled Hope from A Thin Line by Annie Morris was also produced, as well as a large scale needlepoint piece Art Makes People Powerful by Bob and Roberta Smith.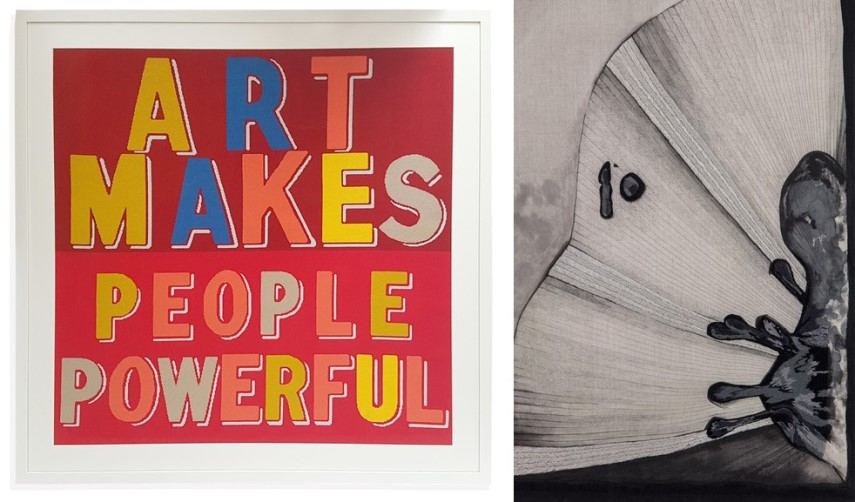 Human Touch at Sotheby's London
To make things more visible it is worth mentioning that in 2018 for instance, the charity worked with over 600 prisoners across 31 prisons, and the same year stitchers made almost 10,000 products in prisons across the UK. These and plenty of other information are accessible on Fine Cell web page, where the mentioned artworks will be on sale with offers invited over a guide price starting from 12 February 2020.
Human Touch will be on view at Sotheby's in London, 34-35 New Bond Street, from 26 February until 3 March 2020.
Featured images: Ai Weiwei - Odyssey in Quilting, 2019. Quilt, Cotton, printed with embroidery embellishments, 200 x 240 cm. Courtesy Fine Cell Work © Ai Weiwei. All images curtesy Sotheby's/Fine Cell Work.