A melting pot of cultures due to its location at the intersection of western Europe and the Balkans, Vienna has a mixture of architecture representing many periods and styles, ranging from elaborate Baroque-era monuments to a 20th-century rejection of high ornamentation. Whatever architectural style is your favorite, chances are you'll find some fascinating examples of it in the lively city of Vienna.
One of the architectural highlights of Vienna is certainly the Hundertwasser House, a colorful building that draws attention to itself almost magically. Designed by Friedensreich Hundertwasser in the heart of the city, it draws visitors from all around the world. Hundertwasserhaus in Vienna is intended as the first approach to a conversation with nature, in which we and nature are equal partners where one may not overpower the other. "It is a house that does not follow the usual standards, an adventure of modern times, a journey into a country of creative architecture," Hundertwasser said at the time.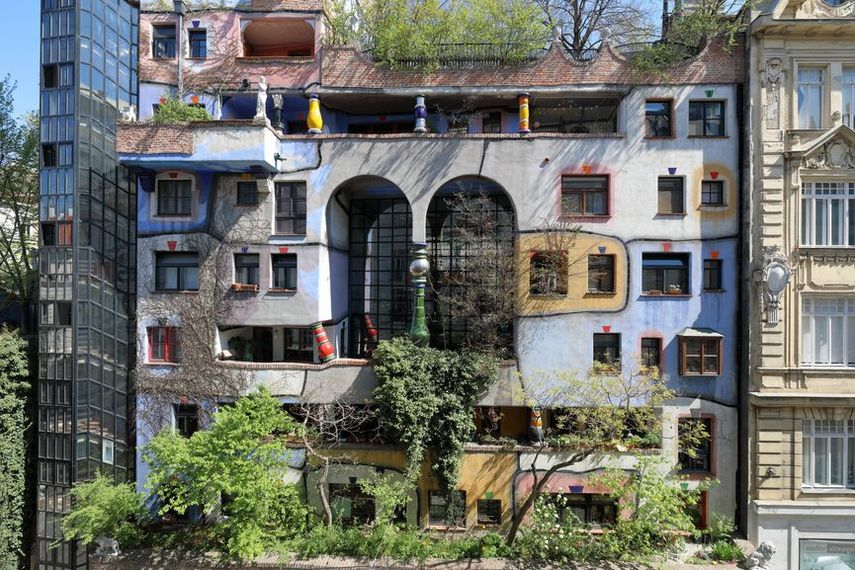 The Philosophy Behind The Hundertwasser House
An Austrian-born New Zealand visual artist and architect, Friedrich Stowasser, better known by his pseudonym Friedensreich Regentag Dunkelbunt Hundertwasser, provided one of the most important contributions in the art history of post-war modernism. Standing out as an opponent of any standardization, he designed buildings characterized by imaginative vitality and uniqueness. Reacting against the conventional architecture of his contemporaries, Hundertwasser wanted architecture that was closer to nature, without any unnatural straight lines but with bright colors and whimsical shapes.
In 1977, the mayor of Vienna, Leopold Gratz, invited Hundertwasser to create an apartment building according to his own ideas. In a 1980 press conference, the architect explained that is imperative to "break with a whole series of regulations", which are "in the light of new requirements and restrictions, directed against the environment and man."
Advocating more just, human and environmentally friendly buildings, Hundertwasser sought to restore what he described as "window right and the tree obligation." As he explained, the window right meant the freedom for the resident to recreate the prefabricated space of the apartment he is to live in as well as the outside wall of his flat, "so people can see from far away, from the street, that there lives a MAN." On the other hand, the tree obligation meant the restoration of the dialogue with nature, "helping nature grow wild in the city."
For Hundertwasser, a house worthy of man would have "all the windows of different size, not in one vanishing line and not at one level, the storeys of differing heights, a few balconies of various kinds and sizes, the outer wall that is not perfectly straight and flat like hardboard, but natural, almost imperceptibly bumpy, the steps of differing height, width and of varying materials," while "boston ivy and other climbers and trees must be part of the plan from the beginning."
If people can live in an environment compatible with them which they can recreate themselves instead of in an anonymous, hostile, aggressive concrete desert, they won't want to escape at every opportunity, like from a concentration camp, either to the countryside, on holiday, or into substances which make them forget their hostile environment or drown it out.

It is an unusual house. For it is meant to be an oasis of humanity and nature in the sea of rational buildings, the realisation of the longing of people for romanticism.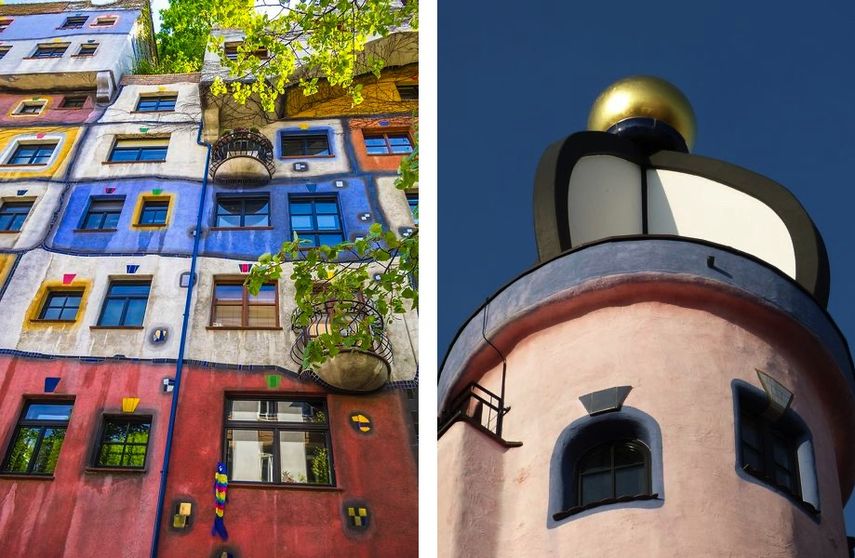 The Design of the Hundertwasserhaus
The Hundertwasserhaus was built between 1983 and 1985 in Vienna according to the ideas and concepts of Hundertwasser with architect Univ. Prof. Joseph Krawina as a co-author and architect Peter Pelikan as a planner. A residential building located at Kegelgasse 36-38, Vienna, the Hundertwasser House is envisioned as a "House for Human Beings and Trees", as described years earlier in Hundertwasser's text Forestation of the City. Subsequently, there were clashes between Hundertwasser and Krawina, which escalated in the design of the facade. The controversy led to the Krawina's resignation from cooperation in 1981.
The Vienna building is characterized by a colorfully decorated exterior façade comprised of a bizarre-looking colorful patchwork with irregular patterns and varied window shapes. This surreal and dreamlike design features undulating lines, onion-topped towers, bright colors, ornaments, mosaics, stucco figures and ceramic pillars.
Within the house, there are 53 apartments, four offices, 16 private terraces and three communal terraces, and a total of 250 trees and bushes. Each apartment is different and no apartment shares the same style of doors and windows. Hundertwasser took no payment for the design of the house, declaring that it was worth it, to prevent something ugly from going up in its place.
Hundertwasser House (Hundertwasserhaus) - Vienna, Austria
The Dispute
When it was completed, Hundertwasser's fantastical creation in Vienna caused quite a stir and was met with skepticism and outright hostility by the critics. However, the Hundertwasserhaus was a hit with the general public and, since its construction, it has been visited by millions of people. The building can only be seen from the outside, but the public can also visit the Hundertwasser Village located in the Kegelgasse directly across the apartment house. A building with a whole forest on the roof, it was also designed by Hundertwasser and was built because of the high visitor rush to the apartment house.
In 2001, the house became a subject of a bitter legal battle after Joseph Krawina claimed he has done as much work on it as Hundertwasser. Twenty years after his exit from the project, the firm H.B. Medienvertriebsgesellschaft mbH under its business manager Harald Böhm encouraged him to legally substantiate his claim as co-creator of the building. In 2010, after eight years of litigation, Austria's Supreme Court of Justice ruled Josef Krawina along with Friedensreich Hundertwasser, to be co-creators of the house with the effect that it is now forbidden for the Hundertwasser Non-Profit Foundation to disseminate any illustration or replica of the house without acknowledging Krawina as co-creator. Recognized as a co-creator of equal standing, it was ruled that Krawina must be paid an equal share in royalty receipts.
With this house, Hundertwasser proved that a more human architecture in harmony with nature is possible within the regular construction time, within the financial budget of a public project, and within the current building laws without any special permits. It brought personality, harmony, and innocence to such impersonal endeavors like apartment complexes, corporate businesses, and modern life.
Across his work, Hundertwasser embraced the biomorphic, the irregular, and the irrational. Drawing inspiration from masters as varied as Gaudí and Gustav Klimt, his categorical rejection of the "godless and immoral" straight line, as well as his boycott of "monotonous architecture," infused his bold, colorful works with a vitality that set him aside from most. Born of this fervent activism and unique universe was his own belief system, called "transautomatism," which privileged the viewer's experience above all. Whether he was planting trees in urban settings or proclaiming the "right to a window," Hundertwasser's visions of a harmonious future between humans and nature continue to resonate with increasing urgency. Once out of print, this re-edition of a TASCHEN classic works in close collaboration with the Hundertwasser Foundation to present the Viennese master's oeuvre in all its different facets. Because his work is, by nature, virtually inseparable from his biography, private life, and political actions, a vivid portrait of Hundertwasser takes shape through his own lens. Excerpts from conversations between the author and the artist add immediacy and authenticity to this intimate monograph.
Featured image: The Hundertwasser House, Facade Kegelgasse. All images Creative Commons.