The internationally renowned street artist, who goes by the name Hush, envisions the forms of feminine energy through his upcoming, highly anticipated exhibition. The theme of Allure is that of a visual journey examining the role of femininity and female sensuality, which shifts between darkness and light. Seeing women through a man's perspective is always a unique experience, one which cannot be fully predicted, although it usually lies somewhere between attraction and fascination. In Hush's works, women are portrayed as strangely serene and slightly gloomy, almost as if they represent a calm before the storm.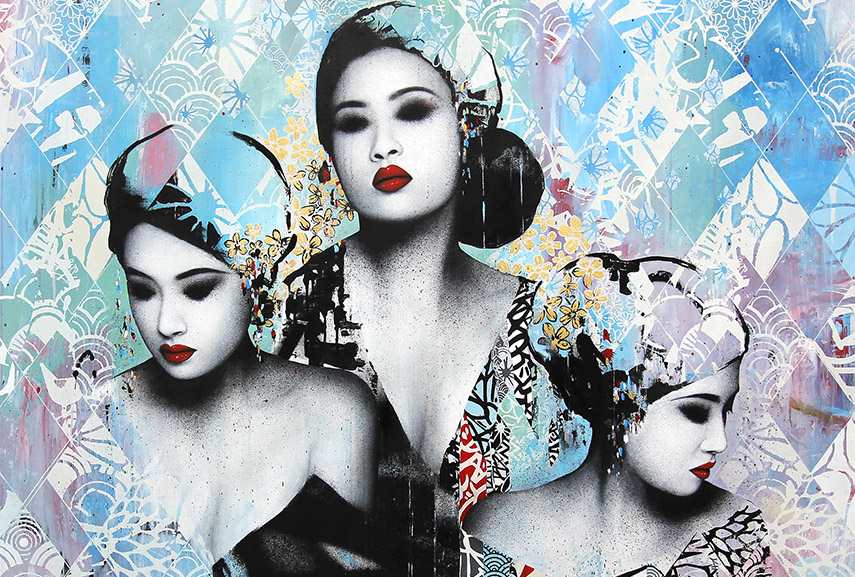 Dehumanized Geishas
Since what we're looking at are static images, it can only be presumed that the storm is this uncanny beauty itself. We are, therefore, enchanted by these women's pale faces and dark hair, accompanied by arresting patterns, showing in patches. Still, the figures in these paintings seem to have a cold, dehumanized appearance, albeit attractive and proportionally pleasing. That is when the eerie part starts creeping in. Reflecting on the symbolism of Japanese Geishas, the artist speaks of the superficial approach to female beauty, one which reduces women to sexual objects in the eyes of mass media and, consequently, individuals. Still, there is no doubt that the artist himself aims for the geishas to seduce the audience, but in a way which makes us stop and think about their bland facial expression for a moment.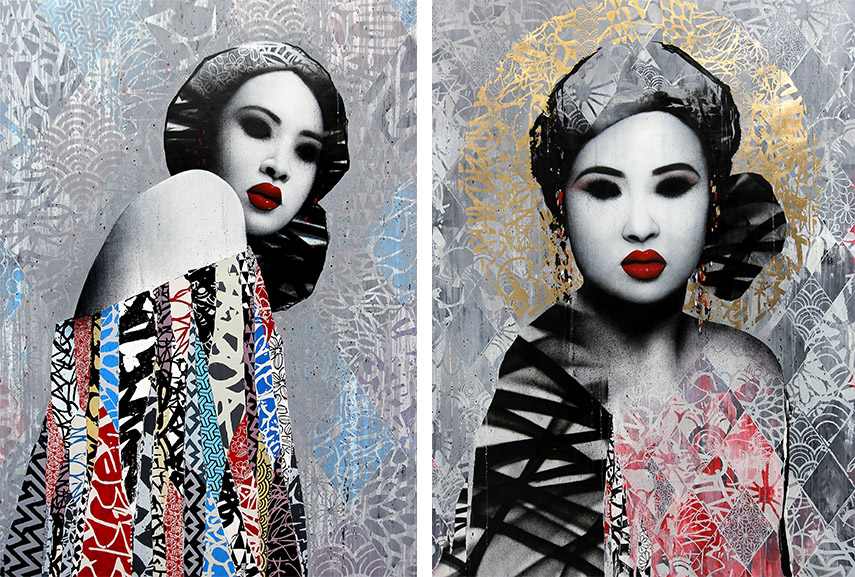 Grayscale and Full Color
If you know Hush's works, you already know that his style is usually based on a dialogue between the intensely hued motives and pale, grayscale elements. Ironically, this contrast usually makes the colorless part stand out. In this series, the background is made out of collages, some parts being hand-made, and some are screen-printed. The graffiti elements are added later in layers, and these additions to the painting are sometimes made over the course of months. Finally, the last layer of color is made as a visual replica of the peeled-off poster aesthetics, which we are all familiar with, since we see this phenomenon quite often on the streets. This is the moment when a piece is finished.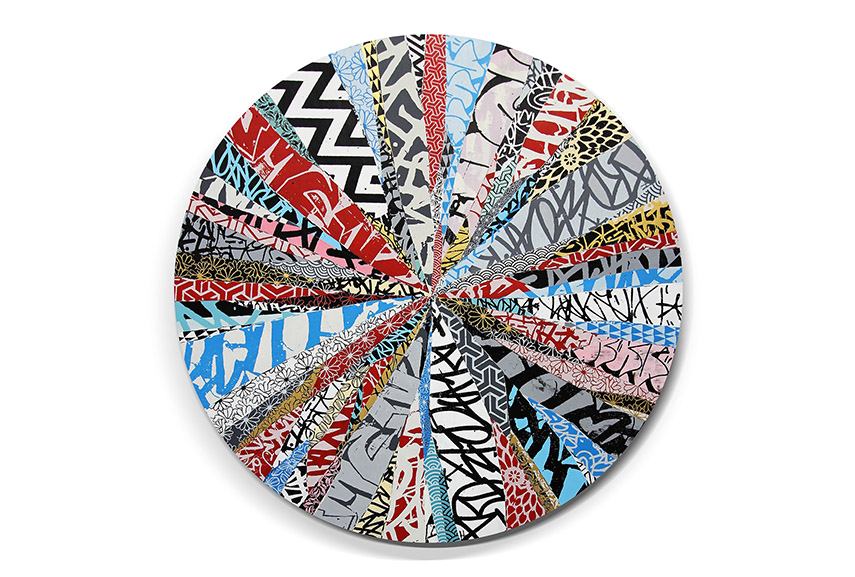 Allure by Hush, Coinciding with Another Exhibition at Corey Helford Gallery
"Some people think my women are serene, others that they're dark. What is clear is the power of their sensuality" - that is how Hush explains the intricate visual appearance of his characters. Have this in mind, and save the date for May 28th, which is when Hush's exhibition opens at Corey Helford Gallery, at 7 pM. The show will be on view through July 2nd, 2016. Alongside Allure, two other exhibitions will be on view at the gallery, opening at the exact same time.. They will display works by the contemporary expressionist, Lori Nelson in Gallery 2, and by three artists - Mab Graves, Amandine Urruty and Yoko d'Holbachie, at Gallery 3.
Featured image :HUSH - Affectation, acrylic paint, screen print, spray paint & ink on linen, 40" x 60. All images courtesy of Corey Helford Gallery.