The Prague-based artist Hza Bažant is presenting his new series of screen printed illustrations at Urban Spree Gallery. The exclusive german book release of Nusle is scheduled for September 4th. The book is based upon Bažant's impressive graphic saga and it consists of 34 separate sheets displaying a minimal approach to the large scale print series. With its graphics clearly exposed, the true hidden powers of the stories remain in the background and the author only hints at them. This sort of underlined artistic tone is characteristic for the work of Hza Bažant.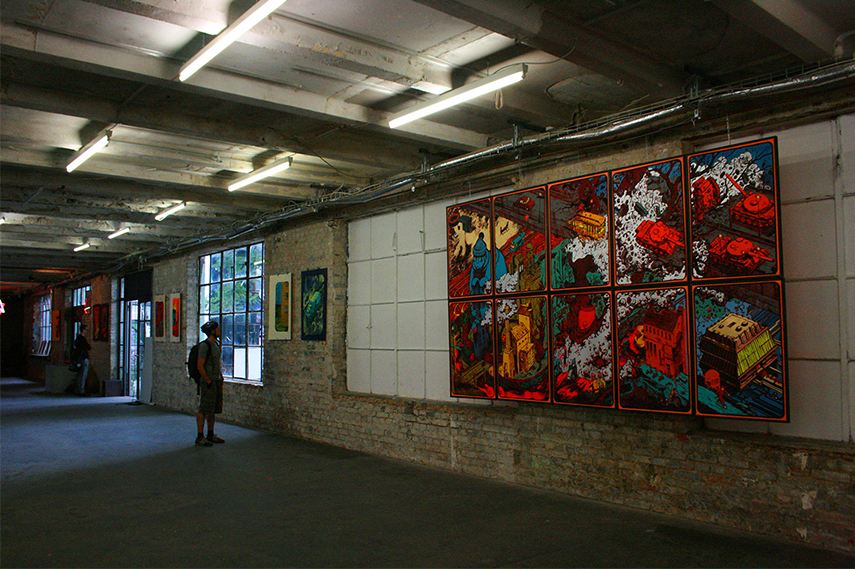 Hza Bažant - Master of Puppets
Born in Czechoslovakia in 1979, throughout his career Hza Bažant became an accomplished illustrator and a puppet master. He is an author of graphic novels and series of short stories, of which several have been adapted as a set design for theater. The artist is also one of the founding members of the team Hura, and he operates the gallery and screen printing workshop named Hygiene station. On top of that, HZA is the leading figure in the group of giant puppets Echt Street Puppets, which is well known throughout Europe and Asia, and since 2010 has been teaching at the Department of Alternative and Puppet Theater in Prague. Such a busy and prolific artist has still managed to make time to work on his latest series of illustration works titled Nusle, for which the idea and first images have been created in 2009.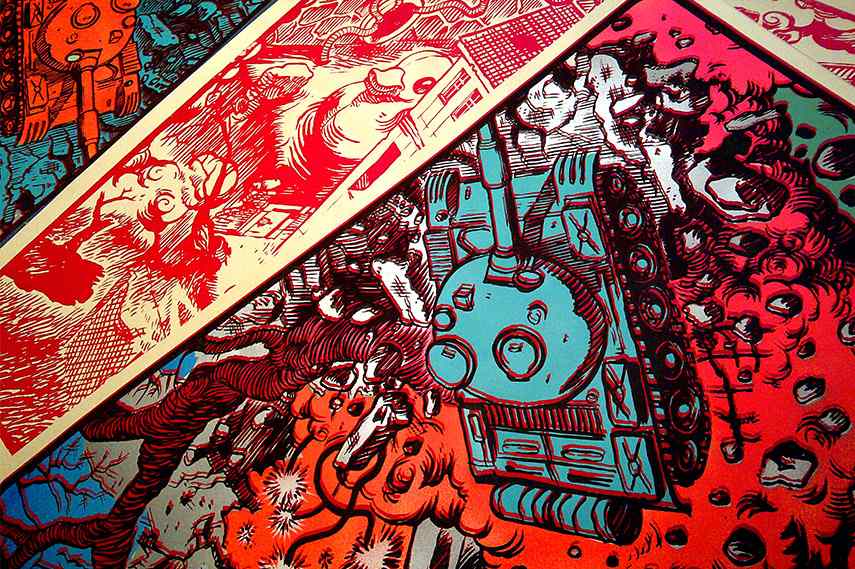 With Countless Events, We Catch Only a Few
The concept of this book is compiled of individual sheets of large prints on textured and colored paper, with a subtle use of stencils and spray paint which create metallic, fluorescent effects and blurred lines. Over the course of several years, the artist has been adding new images and ideas to the series each year, building upon the previously conceived universe around the central character of the story – Mirek. Now, in 2015, it consists of 34 images that display surreal scenes with a variety of stories that seem disconnected, but in fact carry a deeply interrelated link between them. The graphic sheets of this unique book display the life in a city where countless events surround us, with us being able to experience only a limited part of them, but when merged together they conjure up an entire city. With four mysterious travelers as main characters, we are taken on a journey through scenes rich with symbols and deeper meanings, all represented in a backdrop of urban peripheries which resemble the peripheral areas of our own minds.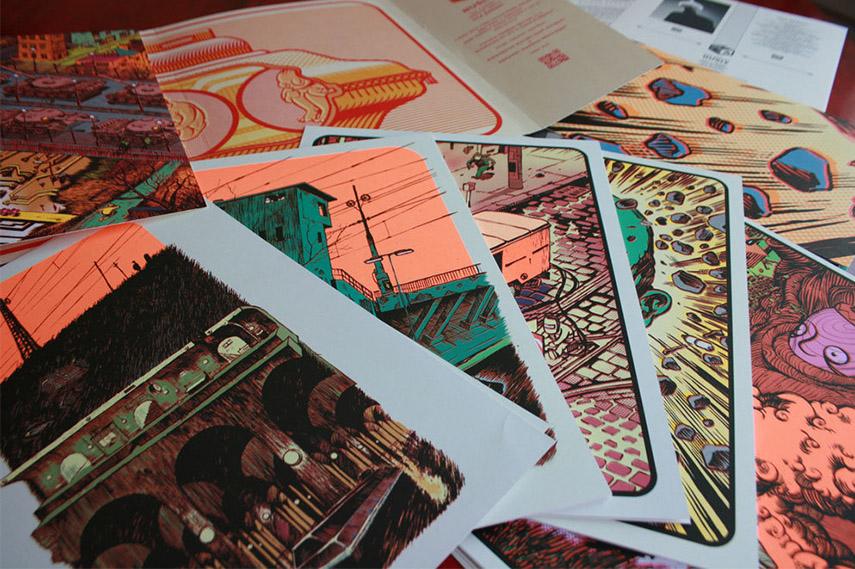 Beneath the Surface of Everyday Experience
As this surreal story is told with no words, but it rather uses symbols, associations and common features, it provides the viewer with the ultimate freedom of interpretation. This chosen method provides the possibility of re-reading the book, and experiencing it in a completely different way. Perhaps, the best way to describe the atmosphere Nusle creates is to explore the artist's statement: "Nusle is a place. Beneath the surface of everyday experience, strange creatures live their bizarre stories in asphalt driveway cracks, in the echo of railroad rumble, in the shadows of chimneys and telegraph wires. Along the stream of Botič, stories from the site with the highest concentration of butchers create a pattern, which reveals the world behind the world. In this world, the giant takes bath in a puddle between railway embankments on sleepy sunday afternoon."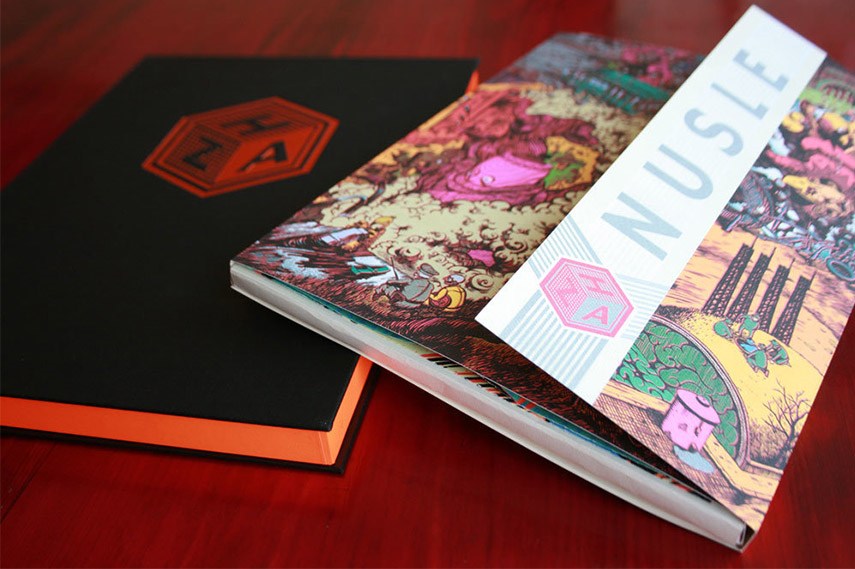 Hza Bažant's Nusle at Urban Spree Gallery
Vernissage for the exclusive german release of Nusle is scheduled for Thursday, September 3rd, 19h at Urban Spree Gallery in Berlin, while the exhibition will be on view from September 4th to September 12th, 2015. Take upon the adventure of revealing new layers of meaning each time you go through this remarkable compilation of works. Explore the surreal story told with images alone, where words and the narrative are left for the viewers to form, build and create on their own.
All images courtesy of Urban Spree Gallery
Sign up for free to My Widewalls, and form the narrative of your life through art