There is never a dull day when it comes to news and the renowned graffiti and street artist legend that is Banksy. The New York Post have just released details of a lawsuit by Brooklyn resident Richard Pfieffer, who it appears was arrested in July 2014 and accused of being the notorious street artist. The furore over the identity of Banksy can sometimes reach comedic proportions, with reports of arrests, hoax arrests and a string of names associated with the mysterious legend of graffiti. Banksy of course emerged recently from a quiet period, with new graffiti artworks in Gaza, which you can read about in our New Banksy Work in Gaza and the news that a 1998 work, created on a travellers trailer with seminal graffiti artist Inkie, will be up for auction later in the year with an estimated price of between £300,000 – £400,000, see more in Banksy's Silent Majority Goes Under The Hammer.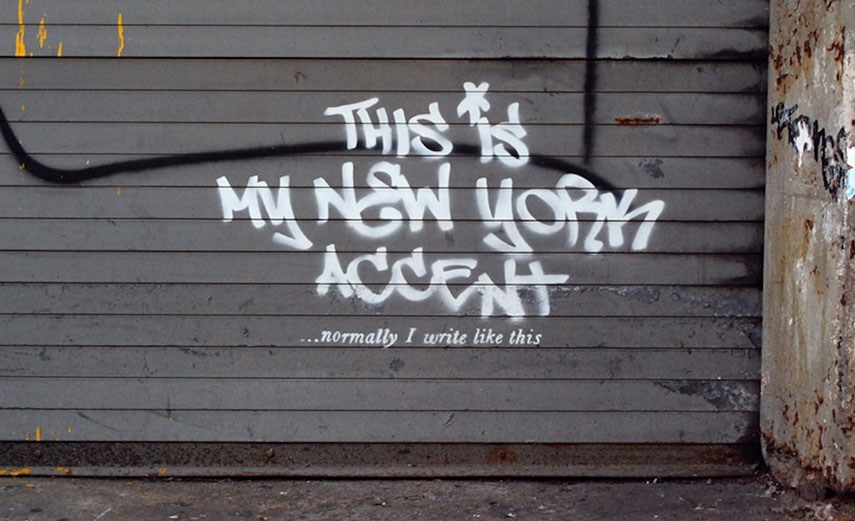 Banksy, Police & New York
The arrest and lawsuit by Richard Pfieffer once more highlights the almost Tom & Jerry like relationship that Banksy has with the law officers of New York. 2013 saw Banksy hit New York for a month long residency called Better Out Than In, causing chaos with his street art offerings, which resulted in Mayor Michael Bloomberg stating that Banksy would be arrested for vandalism and any of his work found of public property would be removed. One incident saw ten officers appear to confront the actor Banksy had hired for his Ronald McDonald Shoe Shine piece, located outside a McDonalds, confirming they were actively looking to arrest the street artist. Though rumours emerged again of an arrest, in this case they were simply moved on.
The residency did end in two arrests, though not of the man they really wanted, but two men who were trying to steal the street artist's final piece, balloons spelling out his name. However, the NYPD didn't seem to appreciate the balloons, valued at $200,000 and $300,000, citing them just as balloons and arrest evidence. Banksy also enjoyed fooling the majority of New York residents with his stall at Central Park, selling original artworks at bargain prices, which hardly anyone bought, read more about this in Bansky Sells Originals for $60.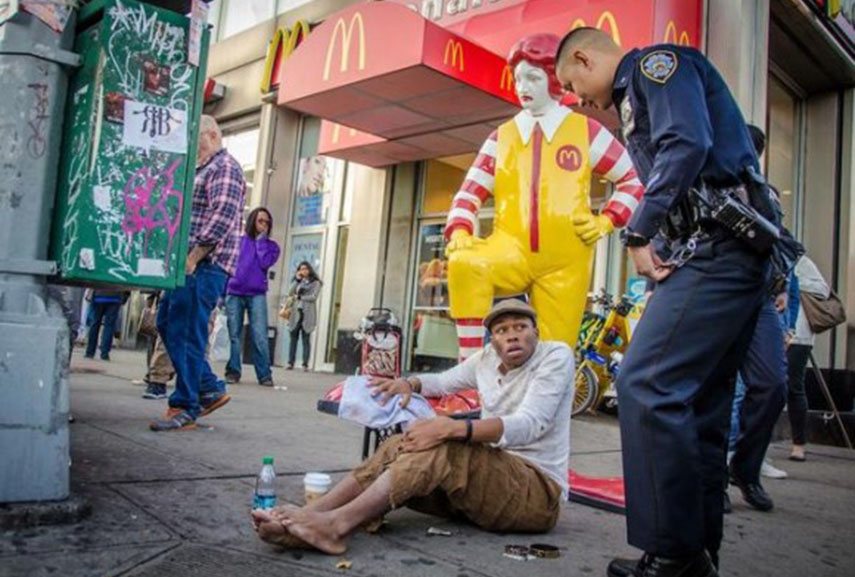 I Am Not Banksy!
I am not Banksy! Claims Richard Pfeiffer, a 33 year old freelance engineer from Brooklyn. Pfeiffer was arrested on July 12th, 2014, outside a coffee shop when admiring some graffiti, along with his fiancé. Six overzealous Police officers pounced, accusing Richard Pfeiffer of drawing the smiley face, which he claims was put there by Banksy. The unfortunate gentleman was arrested and accused of being Banksy purely because he had a marker pen on him at the time, though he tried to show that the work was not fresh and his pen didn't match the marks on the graffiti. The case against Pfeiffer was dropped in October 2014 and now he is suing for wrongful arrest and damages, having lost seven days of work and claiming that he now has to take Ambien and Trazodone to sleep. Perhaps Richard Pfeiffer should have set up a stall selling fake Banksy artworks after the arrest, he could have made a fortune and it would have been a nice ironic twist to the whole saga of Banksy and the New York Cops! Read more about Banksy in How To Become a Street Artist?, Banksy – Controversy & Future and The Unsold New York Works.
To comment on news articles follow us on Facebook.
For all the latest news sign up to My Widewalls today.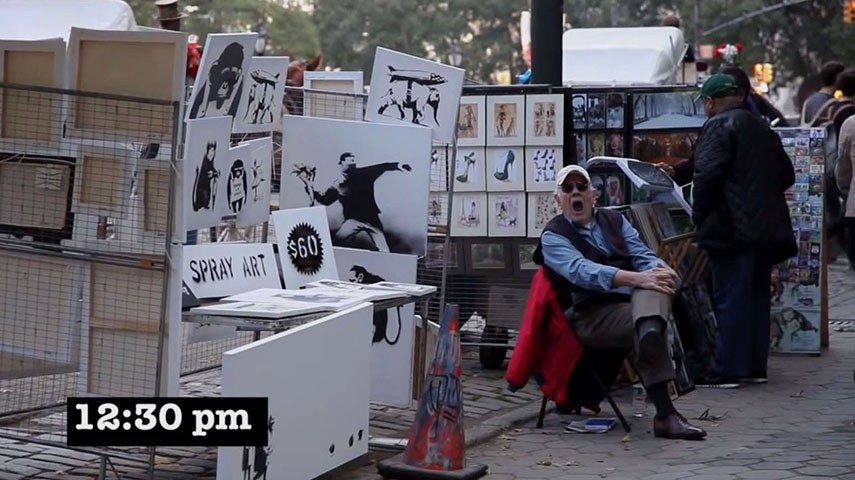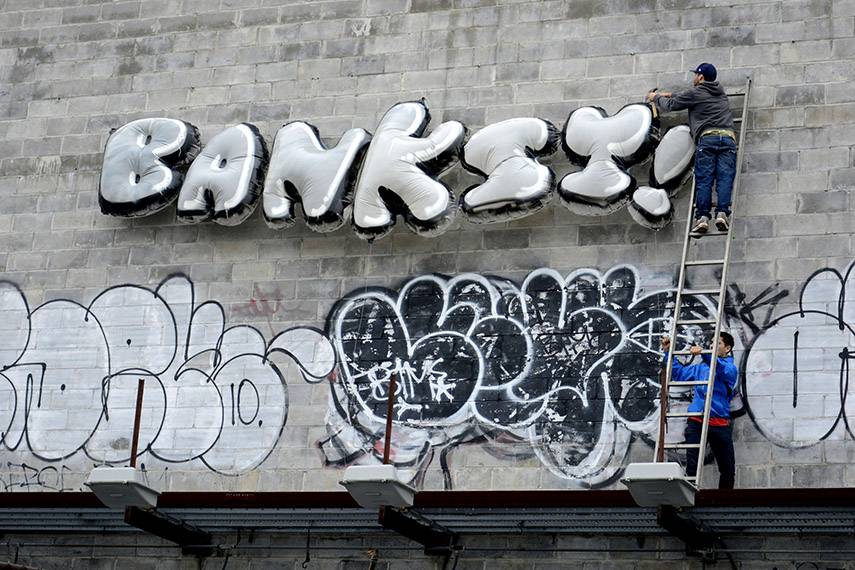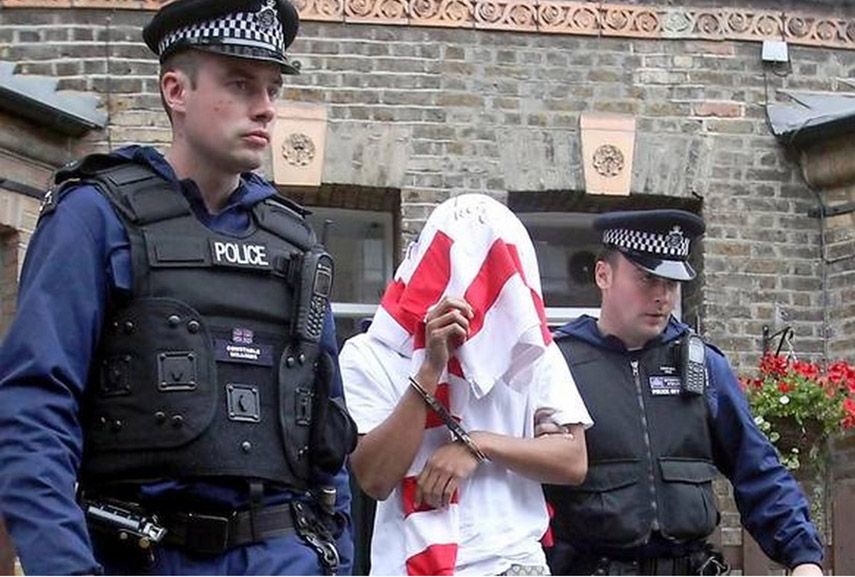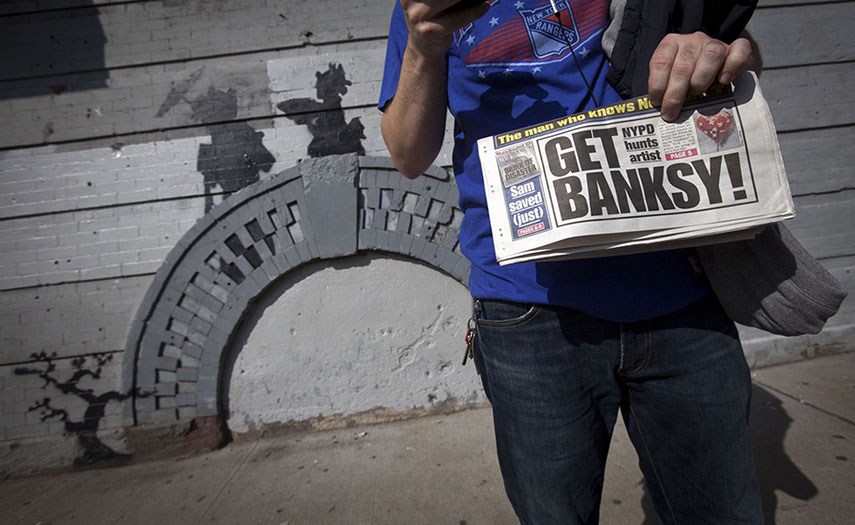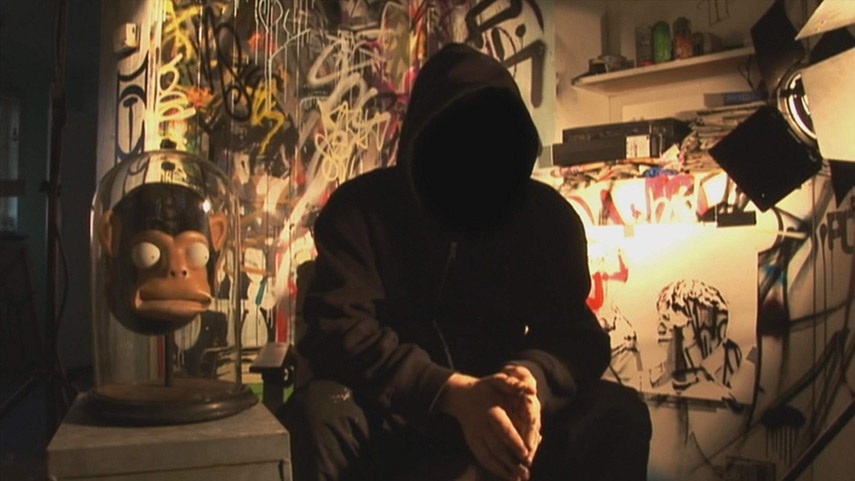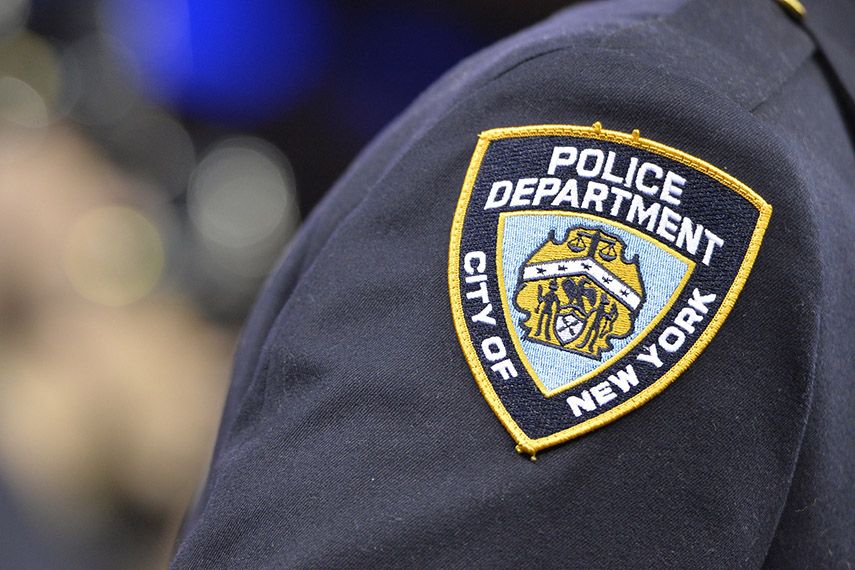 Photos courtesy of Banksy or as credited.