The Everywhere Studio at the Institute of Contemporary Art Miami (ICA Miami) is for everyone. It is engaging, educational and inspiring. Don't miss this opportunity to see about 100 pivotal works by over fifty artists from the post-war period to the present. Go slow and take time to read all of the labels. For a student, young or old, it is an amazing trip through art history.
However, much more than that, it's an introduction to the "studio mind," an examination of the creator's identity and an opportunity to reflect on our own. This exhibition is also a must-see for the artist. Revisit the true intention of your "calling" and confront the complexities of this profession within an ever-changing and technology-based society.
"The studio has long been bound with the artist's identity, often affirming the myth of the isolated genius, but the last half century as seen radical shifts in how we work that have profoundly changed the studio's function... This exhibition explores the feedback loops between the artists' site of production and the restlessly changing world outside and on screen," says the exhibition booklet
The Everywhere Studio is curated by ICA Miami Deputy Director and Chief Curator, Alex Gartenfeld, Curator of Programs Gean Moreno, and Associate Curator Stephanie Seidel. This museum survey is multifaceted and requires several readings. However, when grappling with it, one will find recurring coherences of which "time" is one of them.
And, within the historical trajectory of time, female artists challenged the social conventions of the artist's studio. Here's a look at four significant works by female artists who did just that.
Miriam Schapiro - Time, 1981-91
Miriam "Mimi" Schapiro was a major contributor to the feminist art movement in the 1970's. Schapiro was co-founder of the First-Women's Art Program and coined the term "femmage," a type of art created by women that incorporated sewing, quilting and other media that can be associated with the housewife, bringing the overlooked role in society into public view.
Time is part of Collaboration Series: Frida Kahlo and Me (1988-93) and references Kahlo's Self-Portrait with Cropped Hair. The focus of the painting is on the painter and the studio, placing emphasis on the female's force as a producer rather than as the subject.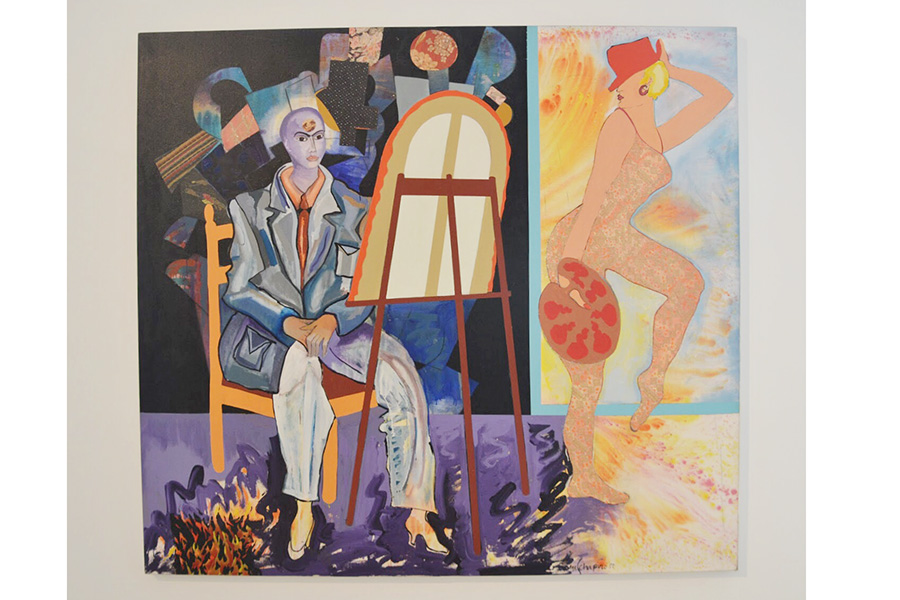 Andrea Zittel - Free Running Rhythms and Patterns, Version II
Time like an unmanipulated mass of clay, is examined. Andrea Zittel frees time from its constructs and documents life in her studio uninhibited by it.
From October 31 to November 6th 1999, Zittel lived her Berlin studio without indicators of time such as natural light, TV, radio or computers anything that displayed time. Time-lapse video was used to record a week void of the clock.
Although influenced by a scientific experiment, she was more interested in how it felt to live schedule free. Zeitel writes, "As both a functional recreational habitat, and as a critique of the commodification of experience, an A-Z Timeless Chamber will push the idea of a stress-less environment so far that it becomes a challenging adventure in itself."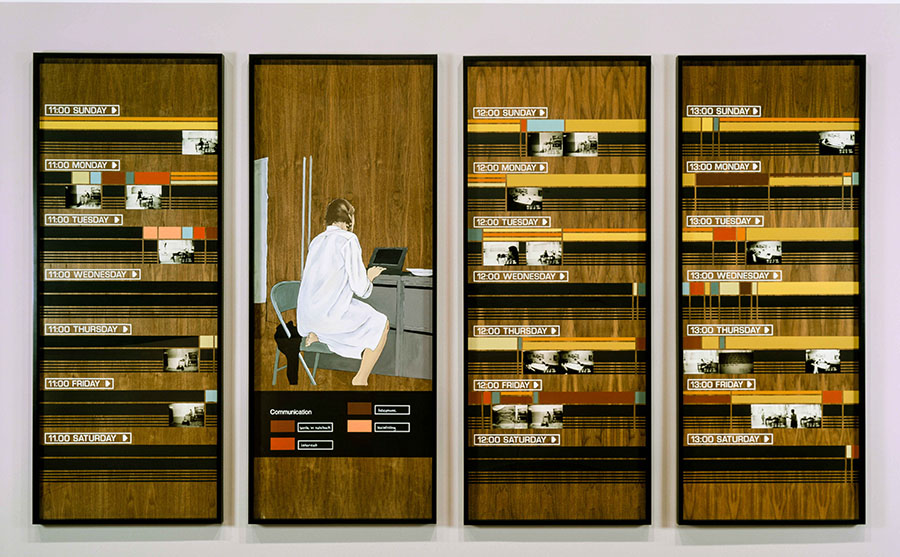 Anna Oppermann - Paradoxe Intentionen (Das Blaue vom Himmel herunterlugen) (Paradoxical Intentions [To Lie the Blue Down from the Sky), 1988-92
Time is fragmented and really irrelevant when viewing Anna Oppermann's Paradoxe Intentionen (To Lie the Blue Down from the Sky). Oppermann is known for her Ensembles, large-scale installations produced between 1988-92.
It was inspired by a shrine in her studio and is made of the artist's own paintings and photographs, found images, photocopies, signs, quotations, mirrors, plants and flowers. The idea of public and private space is blurred and Oppermann presents the expectations set upon the artist to produce a cohesive trajectory of art in mass production.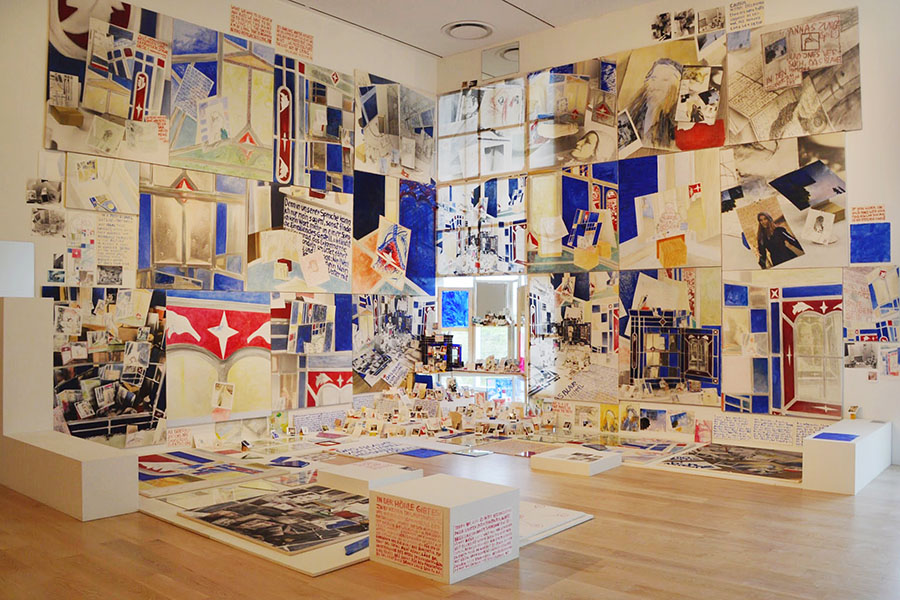 Nicole Eisenman - Morning Studio, 2016
The past, present and future come together in Morning Studio. Rather than artist and his muse, a woman (as artist) embraces her female partner, upturning the classical art norm. Technology looms over the artist studio symbolized by a computer screen that is projected on the back wall replacing what could have been a painting.
Neatly arranged folder icons on the desktop screen imply the artist at work, whereas an ashtray filled with cigarette butts on top of a purple milk crate refer to leisure time. Nicole Eisenman's work and living space become one and our gaze finds rest in this comfortable setting.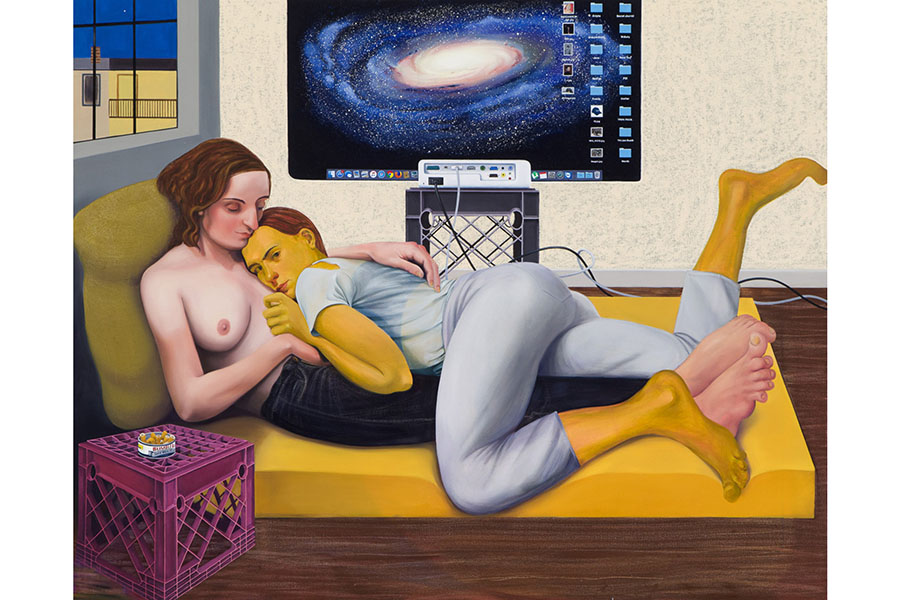 ICA Miami's The Everywhere Studio
On view through February 26, 2018, The Everywhere Studio marks the most ambitious and broad-ranging survey mounted to date by ICA Miami. See work by both post-war artists and emerging practitioners - including Pablo Picasso, Roy Lichtenstein, Bruce Nauman, Carolee Schneemann, Jason Rhoades, Martin Kippenberger, Elaine Sturtevant and Tetsumi Kudo, among others.
The Institute of Contemporary Art Miami opened its permanent home in the Design District during Art Basel Miami. The building by Spanish architects Aranguren & Gallegos is located in the perfect art and design enthusiasts setting: beside the de la Cruz Collection Contemporary Art Space; facing the Museum Garage, a stunning masterpiece in design by Clavel Arquitectos; J. Mayer H.; K/R, Keenen Riley; Nicolas Buffe; Sagmeister & Walsh and WORK AC; and neighbor to luxury brand retail stores, restaurants and delightful alleys and rest stops.
It's visual splendor maximus, before even entering the front door.
Featured image: Exterior of the Institute of Contemporary Art, Miami. Photo by Iwan Baan.