ICASTICA Arezzo Art Festival is one of the most interesting and most important contemporary art festivals in Europe. ICASTICA 2015 is the third edition of this amazing art event that takes place in a lovely city of Arezzo, Tuscany, Italy. And, what is so special about this festival? Those who were so lucky to visit it know that the line-up of the artist is amazing. It includes some of the leading contemporary artists. Secondly, artworks are exhibited in public spaces, all over the city streets and in institutional venues. So, the whole city becomes a space for celebration of great art. The city itself is beautiful, and it becomes even more attractive during this great festival.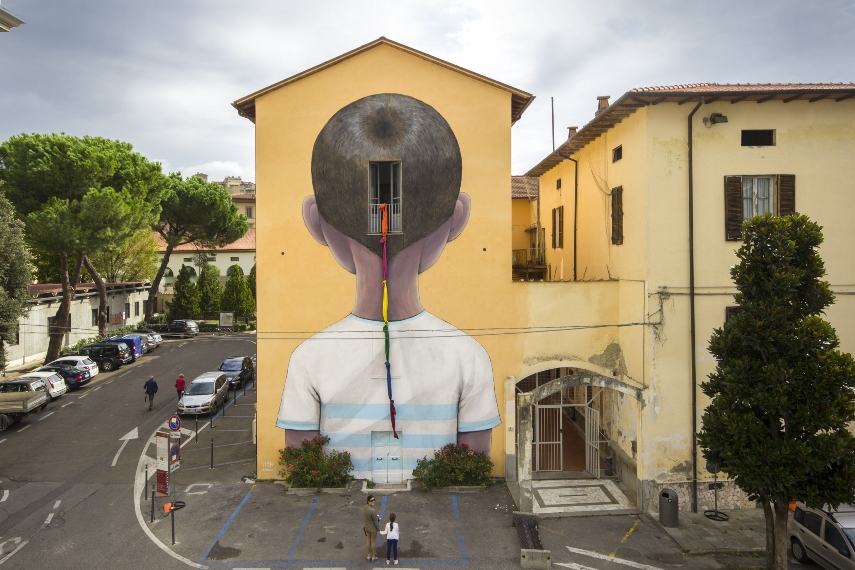 ICASTICA Arezzo Art Festival
Artistic direction of this year's edition of ICASTICA has aimed to introduce an urban art section, so the festival's organizers invited Rome-based 999Contemporary Gallery to curate this section. As Steffano S. Antonelli (a member of the curator board in front of the 999Contemporary) explains in his curatorial notes: What we wanted to bring in Arezzo in this edition of ICASTICA is a barbarian invasion. "Barbarism" is the name by which Nietzsche called the registry forces able to shatter the old borders and that's what we want to make with our contribution to the 2015 festival edition, leaving in the city a permanent sign to indicate where the future begins. We didn't place art in the city, but over city. So, although ICASTICA is generally oriented towards "more classical" contemporary art, street art lovers are having a great opportunity to enjoy some great urban art pieces.  
Brad Downey - Electrified Fountain, Artist Proof
BRAD DOWNEY (USA), Electrified fountain (artist proof) | 999Contemporary for Fondazione Terzo Pilastro from 999CONTEMPORARY on Vimeo.
Participants and Projects
Among dozens of artists participating at ICASTICA Arezzo Art Festival 2015 are contemporary art superstars like Ai Weiwei, Anish Kapoor and Francesco Vezzoli. But here we are mentioning just few out of a number of well-known contemporary artists whose works are being exhibited at ICASTICA. When it comes to street and urban artist that have participated in different projects and actions in Arezzo, 999Contemporary has chosen Sten Lex, Moneyless, Brad Downey, Eron and Seth. We have already written about Eron's amazing piece Sole of the Wall, painted on the site where a bomb destroyed a huge part of the Arezzo military complex during the Second World War. Similarly, Moneyless transforms geometrism into monumentalism to face the walls of the former Cadorna military base. French street artist Seth has created a beautiful piece entitled Escape, provoking a real visual shock for the city as Arezzo is a full coherent medieval town. Four muralists were selected because that's what people expect from street art but also Brad Downey to show street art is also able to reflect in different fields.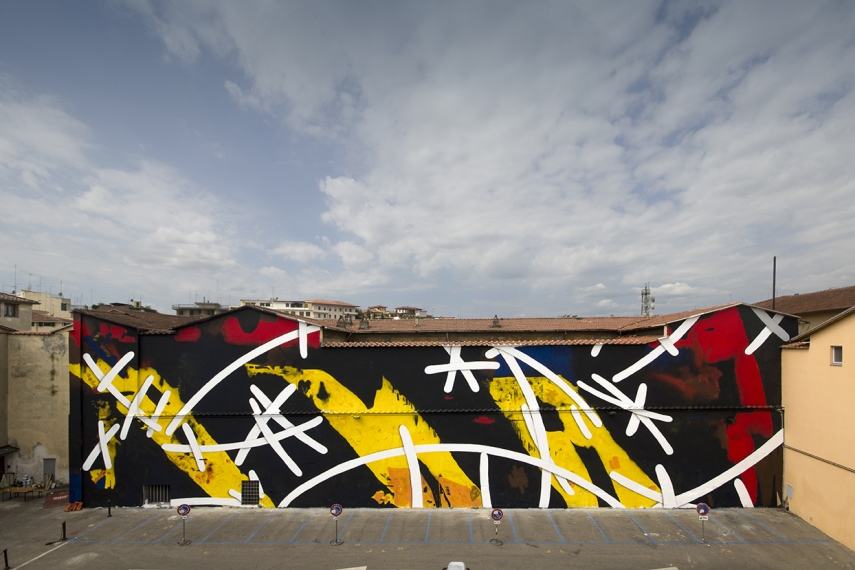 ICASTICA Still Open, But Hurry!
If you like contemporary art superstars, ICASTICA is a place for you; if you like street art, ICASTICA is a place for you. The whole lovely medieval town has transformed into a big art space. The festival was opened on June 28, 2015. Many great events took place during the festival. And, it is opened until September 27, 2015. So, hurry up! For further information, you can visit the official website of the festival.
For the latest news from the world of street art, sign up for My Widewalls! It's free of charge!
Images in slider: Sten Lex ICASTICA; Eron ICASTICA; ICASTICA
All Images couertesy of 999Contemporary.