In 2012, the Atelier of Michael Woolworth was recognized by the government of France as part of France ' living heritage'. The Atelier specializes in the hands on approach and printing of lithography techniques, as well as linocuts, monotypes, etchings and multiples. Michael Woolworth, American-born printmaker, agreed to answer few of our questions, and to reflect upon the experience of an independent publisher working with contemporary artists, who has been living and working in Paris for more than three decades, who has recently received a membership for the IFDPA.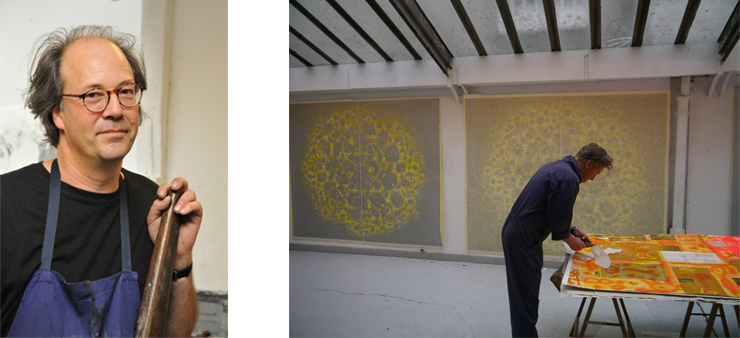 Widewalls: The IFPDA is the world's leading organization when it comes to fine prints and modern and contemporary art market. Could you tell us how the membership in IFPDA will affect your work?
Michael Woolworth: I'm not a secondary dealer; I'm a publisher and printmaker working with contemporary artists. The membership mostly affects my work because of what it represents—a "stamp" of quality and endurance. I am American-born and have been living and working in Paris for more than 30 years. Starting in the 1980s and until recently, I presented my editions at international fairs including the FIAC, ARCO, Art Basel, Armory Show, but those types of events have become vast machines that are no longer viable for small publishers like myself. If my IFPDA membership can bring me back to my New York roots more often and introduce a sophisticated, informed public of dealers, collectors, institutions to the European artists with whom I collaborate, that would be wonderful.
Widewalls: Do you believe that your membership in the IFPDA gives you a privileged status in the art print market in comparison to those art dealers who are not members of the IFPDA?
MW: I definitely hope so! IFPDA is not only a powerful force in the print world; it also has a quite a lot of heft in the art world in general. For buyers, the fact you're "IFPDA approved" is undoubtedly reassuring, a sign of integrity. In its early years, I viewed the fair primarily as a gathering for antiquarian or secondary modern dealers, although there were some top actors in contemporary editions as well, but didn't feel it related to me specifically. Obviously, the contemporary aspect and my printer-publisher counterparts have blossomed greatly in the past ten years in the organization, which makes it distinctly more exciting.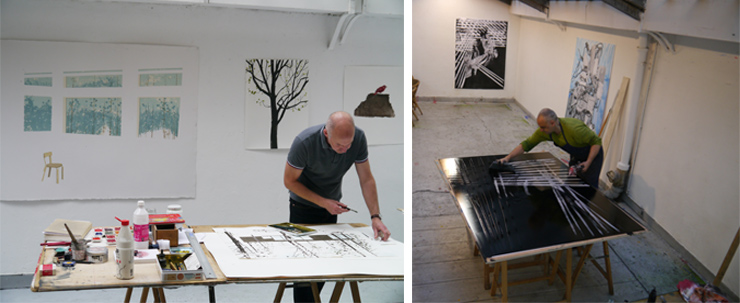 Widewalls: Print market is very competitive. Do competitiveness and dynamics of the market influence your work?
MW: No, not really. I've never made my decisions based on how the market is doing. I started out in Paris just after the consumerism boom of the 50s, 60s and 70s, a period that is coined in France as the "Trente Glorieuses." So I watched the print world take a downward spiral with no parachute. In the late 80s, things heated up in the art market, but print shops and publishers in Paris were disappearing like flies, and with them a whole culture of mass print production. I had a bit of experience with mechanical printmaking in the early to mid-80s, but when I opened my own atelier in 1985, I opted to work without any electricity. I still print exclusively with hand presses, making intimate, refined limited editions with artists, using traditional techniques as a medium to explore and subvert. It's a labor of love, the opposite of market-friendly. But of late, that kind of approach is finding a public too.
Widewalls: Could you tell us on which period, art movement or printmaking tradition are you focused on?
MW: Again, I'm not a dealer but a publisher and a hands-on master printer of artists, primarily my generation or younger. I make prints with living artists who come to the atelier to collaborate: artists that take my breath away, it doesn't matter whether they're conceptual, representational, Pop, neo-geo or Color Field…. We combine stone lithography, woodcut, photogravure, etching, monotype and linocut with unorthodox processes, basically anything that can be imagined using pressure. The workshop is like a recording studio where ideas pulsate. We interpret an artist's composition, we improvise, we invent. But in contrast to the music industry, instead of making millions of copies, we only generate 10, 15 or 30.
Widewalls: What can we expect from you in the coming months?
In April, I'm opening a two-month exhibition in my atelier celebrating the thirtieth year of my workshop (Still Under Pressure, Thirty years later...), a selection of mostly recent prints by 25 artists . I'm also curating a new print fair on contemporary art editions, the second edition of MAD (Multiple Art Days), which I cofounded, and which opens in Paris the first weekend of October at the Maison Rouge. But mostly many, many hours of printing and editioning proofs, as well as training students who come to the workshop for apprenticeships. We're very busy with a number of exciting projects, including artists' books with Jim Dine, French painter Djamel Tatah, and Spain's José Maria Sicilia.
Featured image in slider: Atelier Michael Woolworth - Djamel Tatah exhibit. All images courtesy of Atelier Michael Woolworth.