Images of microscopic organisms artistically described by Chilean artist Rommy Gonzales have come to Berlin's own Urban Spree, specifically to its child-space, the Ecke Galerie. Inspired by nature and human being, Gonzalez presents a series of new drawings and paintings, while she will also release her latest screen prints and riso-prints. Images of microscopic organisms made by Gonzalez are usually focused on human cells – the basic structural, functional, and biological unit of all known living organisms – and their components, such as membrane, cytoskeleton, or genetic material. Entitled Mitosis, the show displays an inspiring set of biologically-inspired art to embellish the Berlin summer.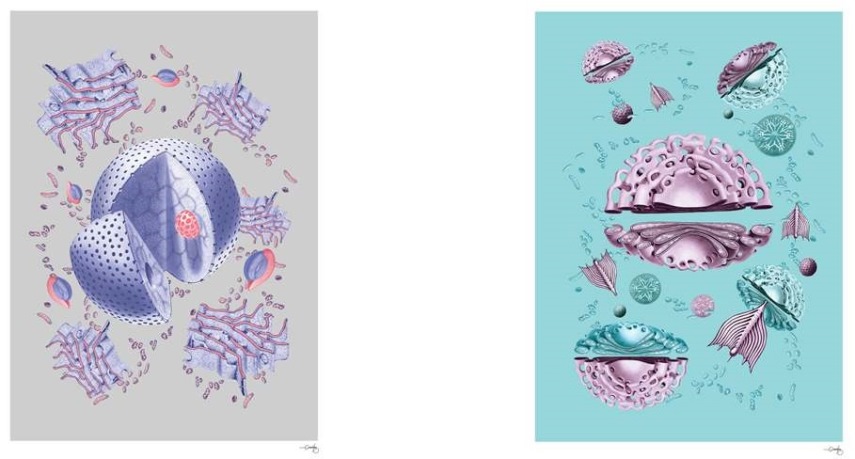 The Art of Rommy Gonzalez
Rommy Gonzalez was born Santiago de Chile, but she has been living in Berlin since 2014. She graduated from DUOC UC as a graphic designer in 2008. Gonzalez has huge experience in both advertising and design, working as an Art Director for known worldwide advertising agencies (Wunderman, Young & Rubicam, Mcann Erickson). She was also the developer of several creative campaigns (graphic, films, web) for famous Latin American brands related to fashion and communication industry. Simultaneously, Rommy Gonzalez dedicated her time to studies of Motion Graphics in School of Visual Arts, New York, USA and Photography Direction in Films in Escola Superior de Cinema i Audiovisuals de Catalunya, Barcelona. Those were the years when Gonzalez decided to leave the commercial industry and to dedicate herself to an artistic career entirely.
She has been painting since then. In order to learn more about the new visual techniques, she moved to Berlin, one of the global centers of contemporary art. Her art is focused on the nature and the human being from their most internal points. Gonzalez also researches the similarities between all organic elements found in the environment.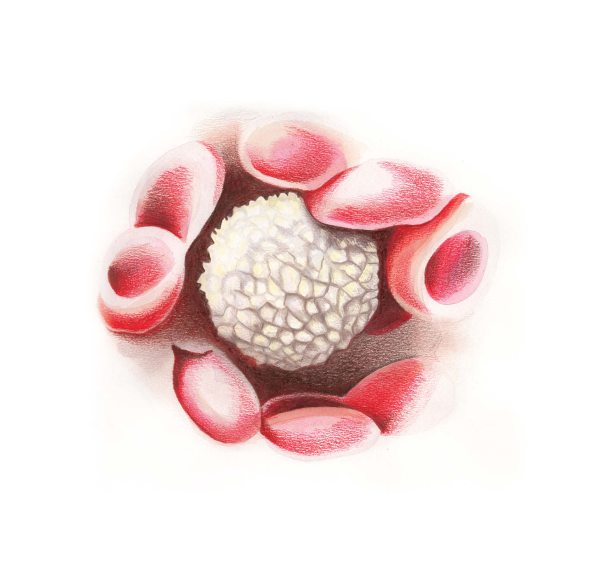 Images of Microscopic Organisms
In April 2016, Rommy Gonzalez had an exhibition at the Chilean Embassy in Berlin that was titled Das Mikro-Makro Leben. After this exhibit, the artist wanted to show the body of new works, which are now a part of the exhibition Mitosis. In her paintings and drawings, Gonzalez depicts the fascinating symbiosis of life, the cells cycle. Cells look like small machines – every component has its own purpose and role in what can be called "the essence of life". It's not only about DNA and genetic materials, but also about the stunning way a cell is functioning. The artist mixes perfectly these micro landscapes with colors, textures by creating stunning compositions. Finally, it's not only about the science, as the artist uses her own imagination to depict her own vision of the microcosm.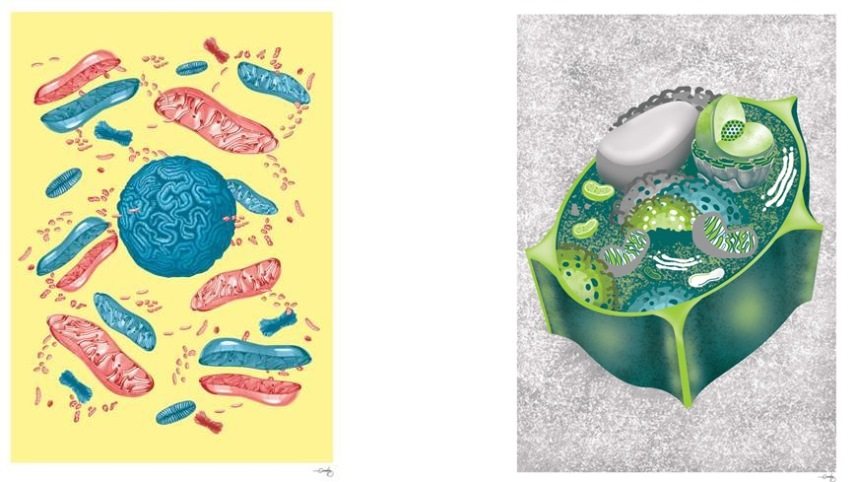 Rommy Gonzalez Exhibition at Ecke Galerie
These stunning enlargments of our inntermost physical selves are now on view, while the central space of the venue continues to put on exciting program throughout the summer.
The visitors of the Urban Spree saw exciting exhibitions since the beginning of this year: in July, the Gallery organized the exhibition of Justin Person. The show featuring new works by Rommy Gonzalez will be on view from July 20 until July 28 at Urban Spree Galerie, Revaler Str. 99 in Berlin-Friedrichshain (Ecke Galerie space).
Featured Images: Rommy Gonzalez - Artwork, detail; Rommy Gonzalez - Neuronas en Sinapsis, detail. All Images courtesy of Urban Spree