A very powerful and intriguing exhibition opened earlier this month in one of LA's premier urban art galleries. The exhibition introduced one of the prominent contemporary Italian painters whose works is known to be vigorous but also conveys emotional depth. Brightly titled Immune this collection of work is rooted in the notion of human pain endurance through time, until one becomes immune to it. Marco Mazzoni translates the mentioned paradigm into his work of art. As one of the young and upcoming Italian artists Marco Mazzoni is slowly securing the public attention towards his artwork. Immune will feature some of his new works as well as old ones including a series of his moleskine animal drawings. All of his work is firmly connected to the fabric of time and its consequences. Whether he's depicting transformation, memory or pain caused by loss, there is always that transcendental dimension to manipulate the equation. The hosting gallery is the well-known Thinkspace Gallery. 

Sardinian 16th Century Healers
The roots of this prolific work is from Mazzoni's direct cultural environment. Mazzoni is surrounded by mystical narratives that told folklore stories about female herbalists and healers from the 16th to 18th Centuries. The feminine figure was mystical and symbolic, opposing the concrete and precise definition. They've occupied a privileged and feared place in the cultural imaginary, ambiguously conveying both healing and malediction. In the paintings they're enfolded in the myriad of tendrils descend, wings protrude, flowers drip and bleed from mouths. Marco Mazzoni's imagery stretch far to the borders of the chaotic but he manages to spiral back into serenity, which is one of great artistic achievements of Mazzoni's work.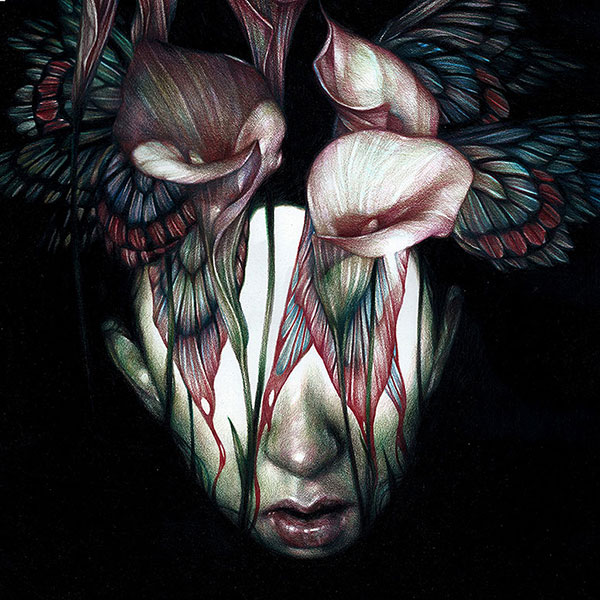 Palpable Body of Work
Mazzoni's technique is a meticulous one. With his highly skillful craft, he manages to vivify every emotional aspect hiding in the depths of canvas. As master of dry media, Marco succeeded to embody a deep respect for technique that truly animates his shadowy world of beauty and discomfort. His work tend to breathe and pulsate with a darkly sensibility that's so occupying that it's almost tangible and alive. As sensual as they are anxiety inducing, these works are like living ancients hovering in some long lost recess of time. Demanding remembrance, Marco's paintings become a vantage point to our spiritual and artistic habitat. Lightness and darkness seize a more inherent role in order to liven up the narrative behind it.
"Immune" represents Marco Mazzoni's first solo exhibition at Thinkspace Gallery. It opened on November 8th and will run through the 29th.
If you enjoyed reading this post and want to find out more about interesting upcoming exhibitions sign up for My Widewalls today!