The term Bohemian is somewhat vague and often misused, and today is applied broadly to anybody living an alternative, eccentric and rebellious lifestyle rather than the one of 9-to-5 ordinary Joes. This untraditional group has been traditionally made of writers, musicians, actors and artists. There were always people living these kind of lives, from the decadence of Alexandria and Rome to the poet Francois Villon in the 15th century or inhabitants of 18th century London's notorious Grub Street. But what exactly is Bohemianism and who were the first Bohemians? Essentially, bohemianism was about much more than just pleasure-seeking and frightening the horses. With the rise of industrial capitalism, Bohemia was first recognized as a state of mind representing a revolt against society. We could say that the history of Bohemia starts in the 19th century Paris.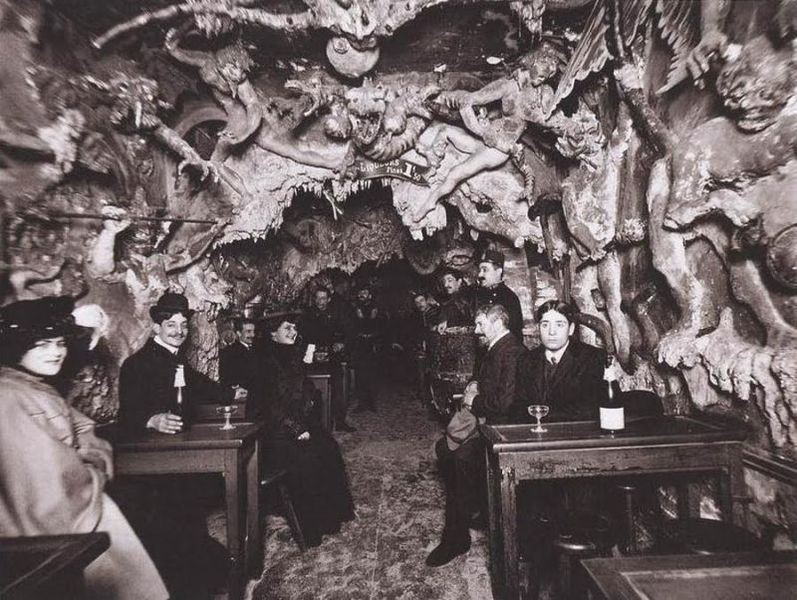 The Origins of Bohemianism
Bohemian was originally a pejorative term assigned to Roma gypsies, the nomadic, outsider and often vilified group commonly believed by the French to have originated from Bohemia in Poland. First associated with gypsies and a shady world of prostitutes, beggars and con men, the connotation soon became a romantic one describing artists, writers, musicians and actors who were starting to concentrate in the lower-rent, lower class gypsy neighborhoods in the 19th century Paris - Latin Quarter at first, and Montmartre soon after. The man most responsible for this transformation was Henry Murger, an author of the play La Vie de Bohème whose work served as an inspiration for Puccini's characters from the opera Bohemians. This theatrical presentation of bohemian life was the talk of Paris, and it showed all the inner contradictions in bourgeois society that drove these young people to flee towards its margins. As Murger wrote, 'Bohemia, bordered on the North by hope, work, and gaiety, on the South by necessity and courage; on the West and East by slander and the hospital'.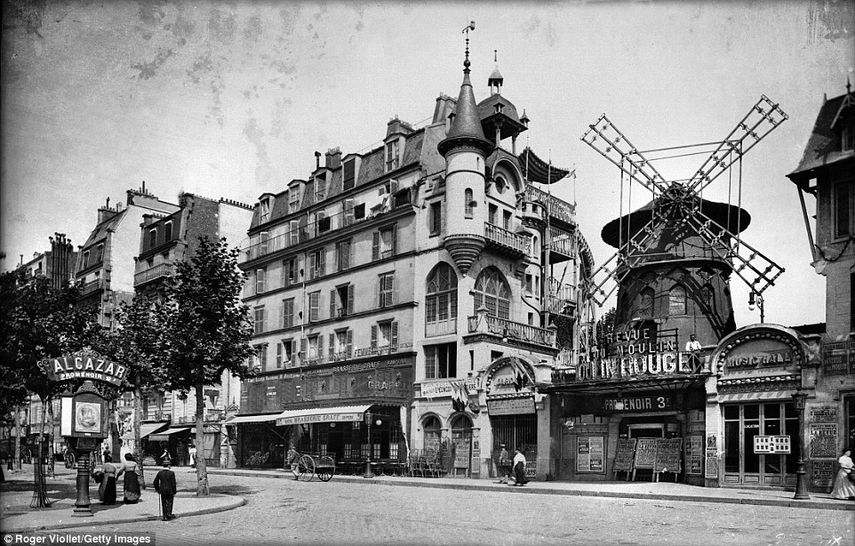 Bohemia As a State of Mind
Although the bohemian population was diverse, in essence, this lifestyle represented a personal, cultural and social reaction against the bourgeois values and way of life. Despite the outward signs such as clothing, occupation, gait and way of life, Bohemia was firstly a state of mind and being a Bohemian was a gesture about oneself and society. Locked in a love-hate relationship with the bourgeoisie, bohemian lifestyle was based on the expression of creativity and love for the arts, the pursuit of pleasure and sexual freedom, and voluntary poverty. The figure of the artist was central to bohemianism. Seeing sensual and artistic necessities as primordial, the bohemians lived on the merger of art and life, mixing rebellion with ambition. Among the vivid and colorful characters visiting studios, salons, cafés, dance halls, and brothels of Latin Quarter and Montmartre, walked some of the prominent figures of Impressionism and Post-Impressionism.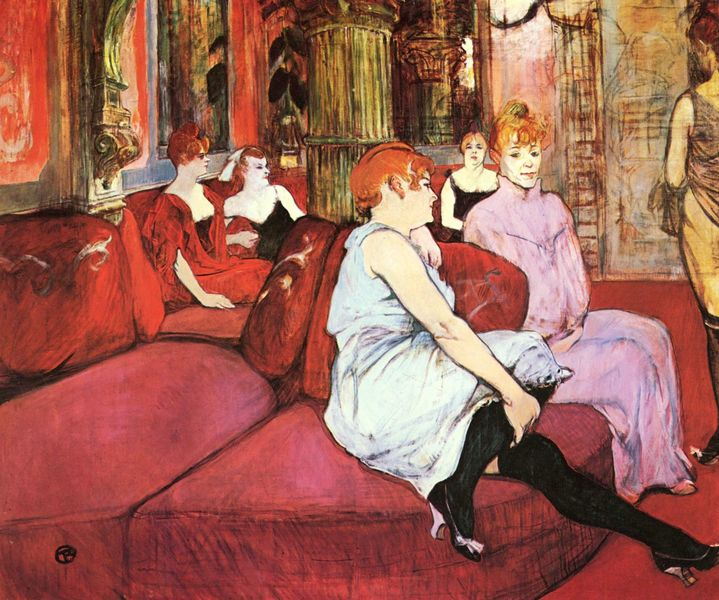 The Prostitutes of Montmartre
In Paris, drugs, alcohol and a freer attitude towards sexual expression were considered a special part of this subculture. Despite today's nostalgic romanticization, Montmartre was a dangerous and intense place between a brothel and a hospital. As Paris in the late 19th century was a city in the middle of the massive social transition, the art of the time depicted a new urban world in all its complexity. The wildness and strangeness of Parisian brothels and cabarets were best portrayed in paintings by Henri de Toulouse-Lautrec, as he regularly spent his evenings there. His favorite subjects were dancers and prostitutes, whom he depicted with honesty and beauty embracing the richness of unique human personalities. The masterpiece At the Moulin Rouge depicts an exotic and exciting scene featuring one of his favorite dancers named La Goulue in the background. Sometimes he would move into a brothel for days or months, observing and recording the prostitute's day to day life. The painting In the Salon at Rue des Moulins: The Sofa shows a group of prostitutes waiting for their clients, tired and resigned. 'A professional model is like a stuffed owl. These girls are alive', he stated.
Prostitution was a central part of daily life of the 19th century Paris, and prostitutes were a key subject for artists. One of the paintings that scandalized the French Salon was certainly Manet's Luncheon on the Grass. Despite an upper-class upbringing, Edouard Manet led a bohemian life and his strikingly modern images of urban life showed disregard for academic conventions of the time. The female nudes' presence in a modern setting, accompanied by clothed bourgeois men, suggested they were prostitutes. This painting presents the departure point for Modern Art.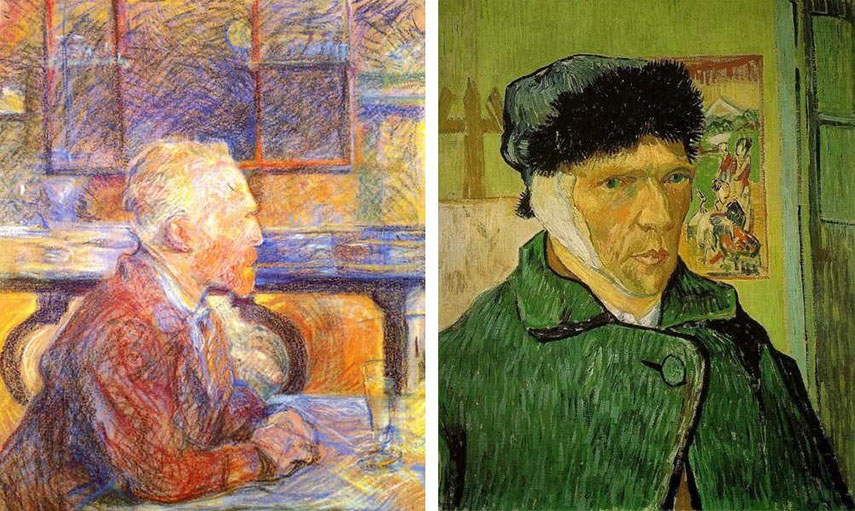 Impressionist Painters and The Green Fairy
Absinthe was a favorite drink and a major influence and inspiration of the Impressionist Movement. Edouard Manet, Vincent Van Gogh, Paul Gauguin, Edouard Degas and Henri Toulouse-Lautrec were all heavy users. Mocked for his short stature and physical appearance, Toulouse-Lautrec started to drown his sorrows in alcohol. He used to fill his hollowed cane with it to ensure he was never without alcohol. After collapsing due to exhaustion and life-long alcoholism, he was committed to a sanatorium where he drew 39 circus portraits. He used to say 'Of course one should not drink much, but often.' Vincent Van Gogh was also a raging alcoholic. It is believed that absinthe deliriums have influenced much of his work. When he couldn't get ahold of absinthe, he would sometimes drink turpentine as a substitute. The peak of his drinking was in Arles where he was living with Gauguin at the time. After one of their quarrels during an absinthe delirium, he cut off his own ear and left it to a girl named Rachel in a brothel he used to visit with Gauguin. He told her to 'keep this object like a treasure'. He didn't recollect any of this afterward, but he drew Self-Portrait with Bandaged Ear depicting him with a bandage covering his ear and extending under his chin.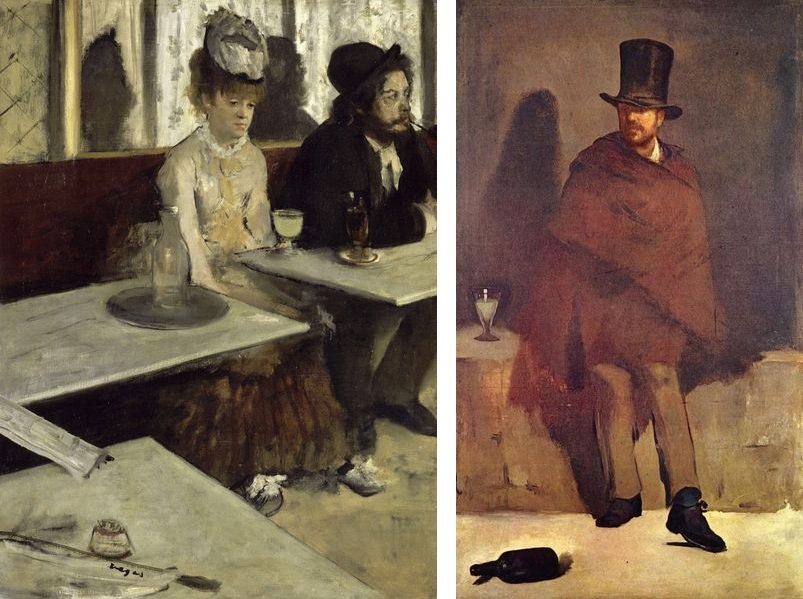 Absinthe as a Subject in the Impressionist Paintings
Absinthe was also a common subject in the Impressionist paintings. Despite the fact that the full-figure portraits were reserved for aristocracy and royalty in the 19th century, in his famous painting The Absinthe Drinker Manet portrays an alcoholic. Honestly describing a scene of modern Paris, this painting was rejected by the Salon. Degas' Absinthe Drinker portrays a famous Impressionist muse Ellen Andree with a glass of absinthe in a Parisian Café de la Nouvelle Athenes, a hotbed of intellectual bohemians. When the painting was first exhibited, Degas came under a fire and anti-absinthe advocates embraced this image as an illustration of the isolation and misery brought by this drink.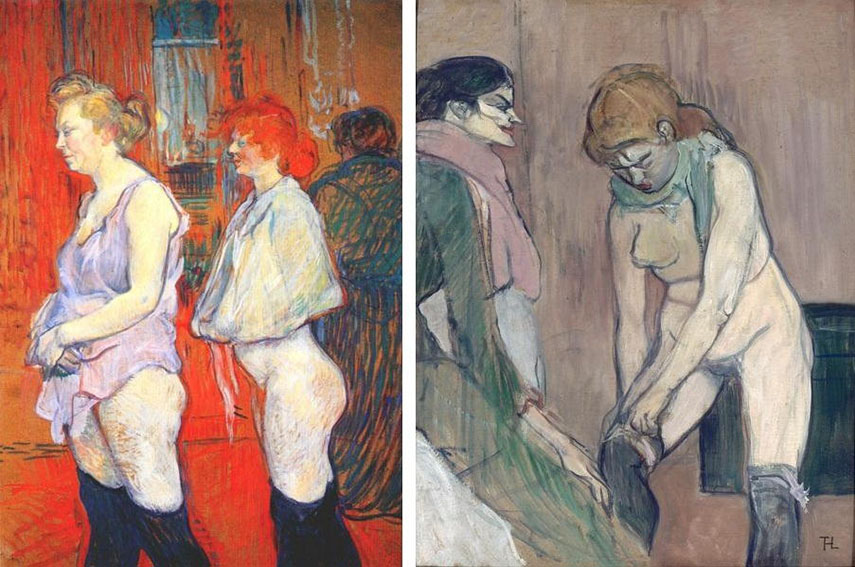 The Modernist Artist
The Bohemianism was officially over by 1914, but by the 1920s, many Bohemian features had been absorbed into the avant-garde and vanguard movements that followed. Artists such as Picasso or Modigliani filled the shoes of their predecessors. Identifying art with the life of the artist, the transformation of artistic practice dramatized the personal relationship to society. Even though Bohemian seems to be the first embodiment of the artist of modernity as the privileged interpreter of aesthetic truths in contemporary culture, the cultural meaning and implications of the phenomena are still confusing and contradictive. Contemporary theoreticians have described the Bohemian as a creator of transcendental art on one hand, but also as a product of capitalist modernity on the other. For the philosopher Walter Benjamin, bohemianism radicalized the modern artist, but also transformed him into a cultural commodity. By creating an independent intellectual and aesthetic autonomy, Pierre Bourdieu argues Bohemians found a way to co-exist with capitalism.
Featured image: Henri de Toulouse-Lautrec - At the Moulin Rouge (detail); Edouard Manet - Luncheon on the Grass (detail).