Inside Flesh was founded by artistic collective whose members are husband and wife - Piotr Wegrzynski and Sylvia Lajbig, creating videos that go beyond the limits of erotic art and porn. Still, Inside Flesh videos seem to be so much more than the exploration of the mentioned duality, but rather somewhere within the blurred lines of Video Art, Sound Art, Erotica, Fashion and Porn...
Inside Flesh Promo Video
What is Inside Flesh ?
Inside Flesh is a project founded in 2007 by artistic collective called SUKA OFF. Its members are Piotr Wegrzynski, the founder, visual artist, performer, and Sylvia Lajbig, classical philologist and performer. This collective presented artwork in many art festivals, theaters and galleries all over Europe, in the US, Japan, Brazil, and so on. In 2007, they launched the Inside Flesh project that "has always been focused on human carnality in all its aspects." These experiments in the field of art, theater and the possibilities of the human body eventually led them into pornography of its own kind. Their unique visions have been recognized by the Berlin Porn Film Festival, where they won an award for best feature, and brought them many successful collaborations with porn stars, fashion designers, performers, models and other video makers.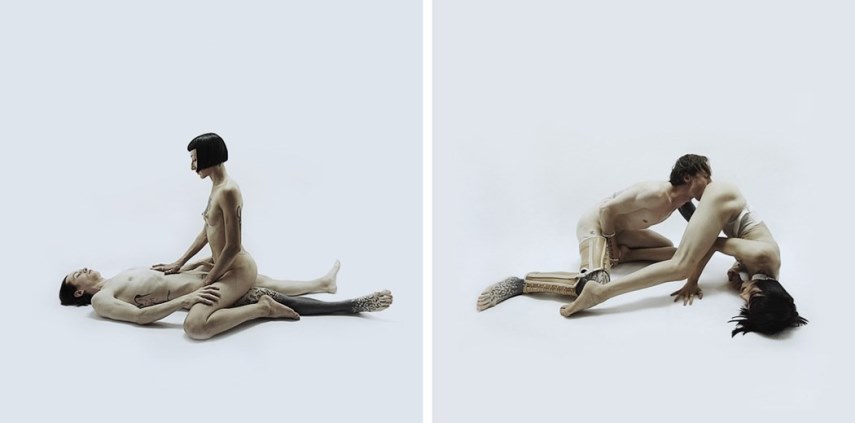 Fashion, Art and Porn
In a world where porn films are as predictable, cheap and stripped of any kind of aesthetics as they can possibly get, the videos of Inside Flesh introduce taste. Although it is all still porn in its core, with all the S&M, bondage and intercourse of many kinds, there are certain innovative aspects that could be considered groundbreaking and that turn the whole experience of watching porn upside down. Think re-invented narratives that follow no clear order, where the scene of an orgasm gets replaced with "the role exchange metaphor of a climax", or the complete absence of any kind of the expected moaning and screaming, because there's a dramatic soundtrack instead. Their favorite shooting locations are abandoned hotels and deserted non-places, often soaked in darkness or sheer emptiness. Finally, it is all dressed up in high fashion clothing, sometimes created by designers like Leonard Wong, Creepy Yeha and Majesty Black - all of which implies that Inside Flesh dove into waters far more creative than ever before in the field.
In fact, the duo's manifesto claims it is not just porn. However, it is not just art either. While they do not deny that Inside Flesh is an "authentic art project", they also insist that it is an "act of resistance against current divisions in porn regarding gender, sexuality and genre biases. It considers such division as both archaic and tendentious." The project belongs to no category, and only those who accept to see it that way can truly enjoy and understand it. With this in mind, perhaps we can say that Inside Flesh appears to go beyond the concept of traditional porn and escapes the mainstream of contemporary art due to its ever-provocative subject matter.
IF / LSF / teaser
Erotic Art, Video Art, Sound Art or Conceptual Art?
When watching a video made by Inside Flesh, a viewer might think it's about Erotic Art. However, an artistic expression we call erotic art would fit in the prevailing discourse of publicly shown art (galleries, museums, art fairs, and so on). On the other hand, it seems as though Inside Flesh remains on the other side of this narrative. Erotic art represents an eclectic entity, spanning across centuries and artistic media. This is an aspect that could arguably correlate erotic art and Inside Flesh as a project, still not making it a definitive argument for classifying this expression as Erotic Art.
Intense camera movements, distinct photography and video direction would suggest that Inside Flesh represents a par excellence example of Video Art. In addition, if we were to say that Video Art distinguishes itself from similar creative expressions (such as cinema or short video content of any kind) by exploring the maximum possibilities of the media, it seems that Inside Flesh would fit into these distinctive outlines quite nicely. On the other hand, the characteristic choices in sound mixing and the composition of the soundtrack within the creative expression of the duo behind Inside Flesh go hand in hand with the concept called Sound Art. And beyond this, one of the most important aspects of Sound Art is reflected in the fact that it needs to be appreciated (at least on some occasions) as part of an installation, a site-specific piece or other kind of experimental expression. And, an Inside Flesh video truly presents itself as a virtual installation. When we look at this creative output, an emotional response to the auditory instances of Inside Flesh's videos is all but neutral.
So, is this then Conceptual Art? If we look at the Inside Flesh Manifesto, there is a most interesting idea concerning the "essence" of a piece the duo creates. It distinguishes itself as being an original against a copy, something not (re)created from the symbolic universe of the everyday. It could be argued that this idea stands as "pure" otherness to the prevailing postmodernist perception of contemporary society… But is it enough to answer with a definitive "yes"?
IF is authentic art project. It needs no critique nor validation. This sentence stands as the first instance of Inside Flesh Manifesto. And although these lines had no intention to validate and or critique, it seems that we have fallen into an indescribable state of necessity to categorize this artistic expression. The urge to ask what art form or movement this expression belongs to might derive from the urge to essentially ask "What can this be?" Perhaps this is a testimony to the originality and intensity that is Inside Flesh.
Featured Images: Inside Flesh - Part of a work, detail (courtesy of dazeddigital.com). All images courtesy of daceddigital.com. They are used for illustrative purposes only.