The allure of the misunderstood artistic genius was slowly fading following the political and economic optimism of the 1950s, when French patent office issued patent number 63471 in 1957 for International Klein Blue - a color of a deep blue hue that was first mixed by the artist Yves Klein.
The use of the blue color pigments in art history is long and fascinating. Blue was in different time periods and cultures considered a color reserved for divine and religious representations, starting from the tombs of Egyptian pharaohs. Virgin Mary cloaked in a blue robe is another motif that established blue hue as a color reserved for metaphysical and spiritual representations. Even modern artists found in blue a specific emotional charge that was not taken for granted. For Wassily Kandinsky blue was the most philosophical and spiritual of colors, while Picasso entered his blue phase after the loss of a friend. As a consequence, critics linked blue with melancholy and sadness of the modern man. Behind the utilization of blue color lies not just the spiritual reasoning, but economic and social circumstances as well. This pigment was not easily produced in the past, and it was expensive and difficult to obtain. In contrast to earthly colors, blue was not something readily available in the nature, or acquirable through minimal effort. Its production and availability follows social history, scientific innovations and global trade. The variations of this pigment are known through names such as ultramarine, indigo, or cobalt.
However, International Klein Blue (IKB) stands out for its specific hue quality and effect it produces. It is not just the quality of the color that attracted international attention, which nonetheless plays a significant part in its fame, but also the specific circumstances of its application that mark a significant chapter in art history.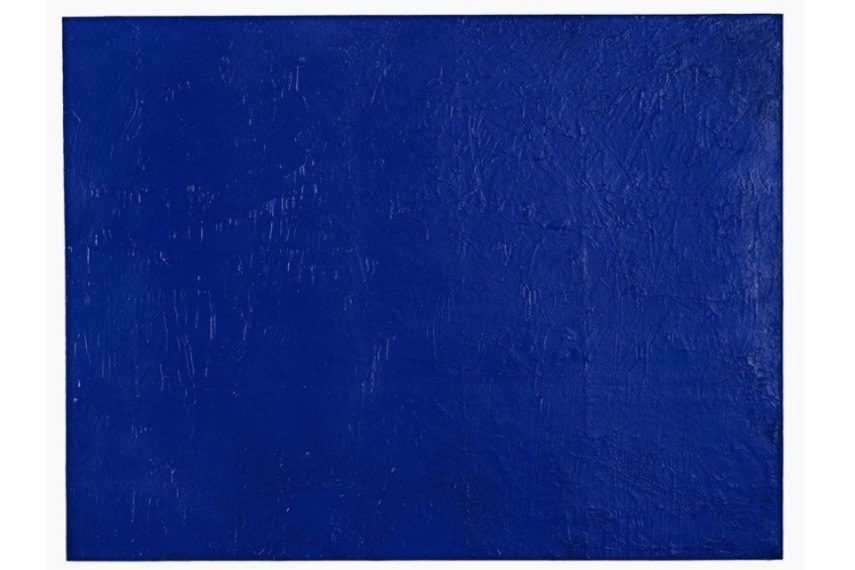 Yves Klein - A Search for a Transcendental Blue
"To sense the soul, without explanation, without words, and to depict this situation - this, I believe, is what led me to monochrome painting."[1] - Yves Klein
A precocious artist, Yves Klein did not undergo a formal art education. As he stated years later, he probably consumed the taste of painting with his mother's milk. His father was a landscape painter, and mother belonged to a circle of Enformel creatives in France. The surroundings of Klein's artistic career changed over years, but some of the general tendencies of the time reflected in his work. He started out as a prodigy who sought to represent the void, the space that existed outside of the living reality emptied out of all matter, about which he mused with his friends, Armand Fernandez, later known as just Arman, and poet Claude Pascal. Their friendship marked by readings of esoteric literature, alchemy, fasting, and meditation first propelled young Klein on the search for the innovative potential of the immaterial that could "levered the world out of its immobility."[2]
Klein's search for an ideal medium to represent the contemplative, immaterial realms led him to color. After his spiritual reverie on a beach when he was nineteen, from which he returned exclaiming that he has signed the sky, his monochromatic adventure started. His first ultramarine monochrome canvases date to late 1940s, but Klein was dissatisfied with the final results. Instead of creating the effect of the "sensibilized matter" to the full force, as Klein described color, its affective magic seemed to disappear under the glue or other materials used to fix it. In order to rectify this, he started collaborating with art supplier Eduard Adam and chemical manufacturer Rhône-Poulenc. The result was a synthetic resin called Rhodopas M60A which allowed ultramarine pigment with which it was combined to retain its aesthetic potency.[3] This discovery in 1956 marked a new chapter in Klein's career that would, for Otto Piene, make him a "present incarnation of the saint, prophet, [and] messiah."[4]
Anthropometries - Yves Klein (1962)
International Klein Blue Monochrome Paintings
Over the course of the next few years, until his untimely death at the age of 34 in 1962, Yves Klein created nearly 200 monochrome paintings where he used IKB. The color and the conceptual underpinnings for its application, however, are ingrained in specific historical circumstances, which do not dismantle IKB of its aesthetic force. Creating in a period after the Second World War, Klein was part of a wider artistic movement that sought to substitute the visual pollution of contemporary milieu with light as a new medium of art. The works of Cobra Group and Tachism in Europe together with their overseas counterpart of Abstract Expressionism were losing their charm, and gestural dynamism was slowly substituted with color fields of a single hue or its gradation.
Many of Klein's Monochromes are difficult to date, and the only distinction between the early and later works is in their texture, where the later ones are more uniform and finer. Although similar in the utilization of IKB, these canvases possess a distinct atmosphere and essence according to their creator, and were sold for different prices. From 1960 until his death, Klein also made his famous Anthropometries. These works are actual imprints of naked female bodies covered in IKB on stretched canvases or paper, or negative images of these bodies achieved through the use of a spray gun.
The lasting effect these artworks create in observer are a consequence of the specific technique used in their making, which justified the attribution of this color to Klein. The process included treatment of the canvas with a milk protein casein that helped in adherence of the paint, over which Klein would apply blue paint mixed with a fixative. When dried, the pigment on the piece seems to hover over its surface, creating an illusion of a velvety texture and depth. It is "a Blue in itself, disengaged from all functional justification."[5]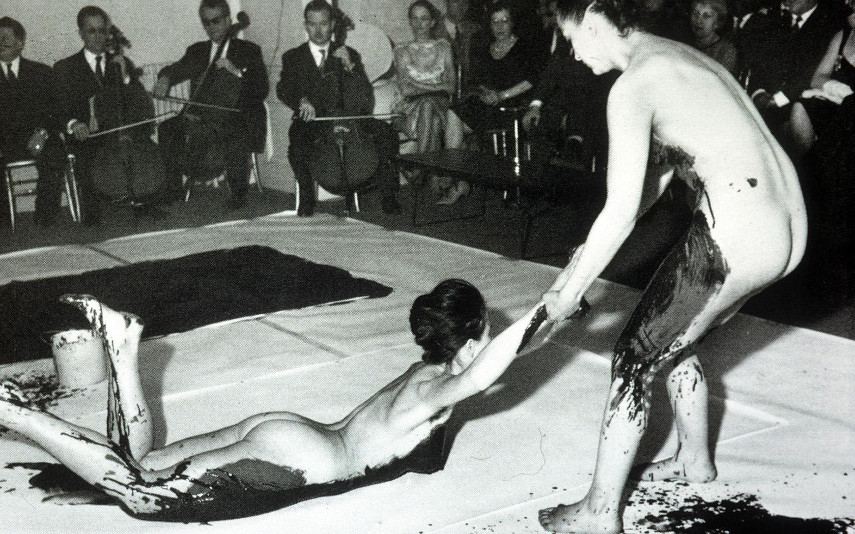 An Absolute Value that Was Never Born and Never Died
"A painter ought to paint one single masterpiece: himself, perpetually…becoming a kind of generator with a continual emanation that fills the atmosphere with his whole artistic presence and remains in the air after he has gone", wrote Klein in his diary in 1957.[6]
We could safely state that the emanation of Klein's artistic genius greatly surpassed his unfortunately short life. His search for an absolute value that, in his words "was never born and never died" left us with a IKB and artistic approach that influenced and was a precursor of conceptual and performance art. His artistic experimentations and insatiable search for the absolute aesthetic expression that is ever present and never fading, marked the middle of the previous century, but as many artistic and industrial uses of IKB show, this influence continues to live even today.

Editors' Tip: Yves Klein: With the Void, Full Powers
One of the last century's most influential artists, Yves Klein (1928–1962) took the European art scene by storm in a prolific career that lasted only from 1954 to 1962, when he suffered a heart attack at the age of 34. Klein was an innovator who embraced working in paint, sculpture, performance, photography, music, theater, film, architecture and theoretical writing. Self-identified as "the painter of space," Klein sought to achieve immaterial spirituality through pure color (primarily an ultramarine blue of his own invention―International Klein Blue) and even went so far as to present galleries emptied of all artworks for his renowned 1958 exhibition of "the Void."
References:
Ruhrberg K. et al., (2005), Art of the 20th Century. Painting, Sculpture, New Media, Photography, p.300.
Weitemeier H., (2001), Klein, p.7.
Frere-Jones S., (2015),

All About Yves: The Story of International Klein Blue

, departures.com [December 11,2106]
Ruhrberg K. et al., (2005), p. 298.
Stich S, (1995), Yves Klein, p.81.
Weitemeier H., (2001), p.8.
Featured images: Yves Klein - Portrait of the Artist. Hand colored with International Blue. Image via departures.com; Yves Klein - Relief eponge bleu (RE 51); Yves Klein - Anthropometrie Le Buffle (ANT 93), detail. Images via Widewalls archive. All images used for illustrative purposes only.