Draw A Line is Berlin's first destination when it comes to contemporary and urban art prints. The printmaker's from Neukölln always work in close collaboration with the artists to produce the best possible outcome. Draw A Line specializes in producing high-end lithographs at a price that makes art accessible to all. Using only experienced and Berlin-based screen printers enables the publishers to offer the highest quality silkscreen prints. This not only convinces art collectors to buy their prints but also encourages artists to work together with Draw A Line. Artists that have worked with the online shop include Andrew Schoultz, Cleon Peterson, Mark Jenkins and Sainer.
We obviously had to meet the people that started their urban art venture at a similar time as we did and conceptualized this fantastic project. Widewalls interviewed one of the three founders, Gunnar Triebel, to find out more about printmaking in Berlin, artists at their studio and editions they produced. The perfect occasion to lead the interview is Draw A Line's one year anniversary.
To celebrate their one year of existence, Draw A Line and Widewalls will issue an exclusive 20% discount code that will allow you to purchase these exceptional artworks directly from their online shop. The code will be valid until Friday, November 28th. Type in widewalls2014 during checkout and you will receive discount for any print.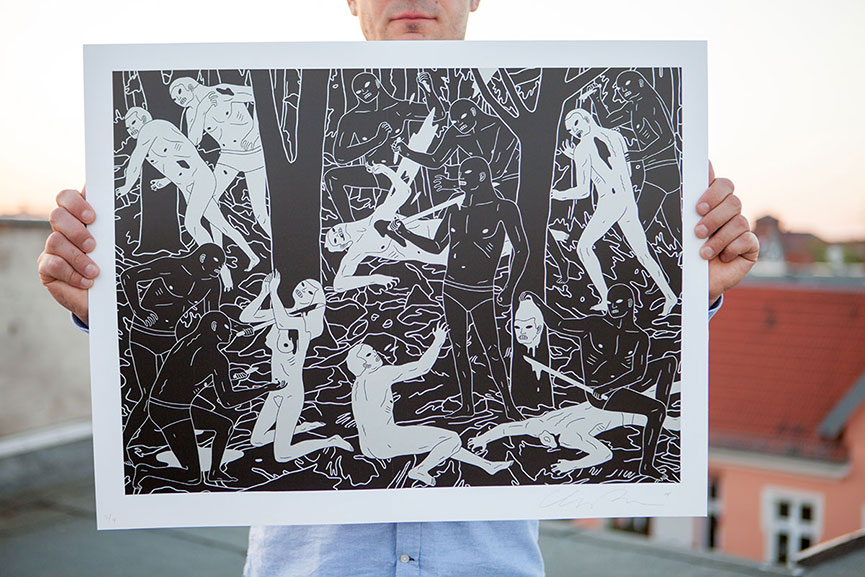 Widewalls: How do you become an art publisher? Tell us about your origin story and backgrounds?
Gunnar Triebel: What thrilled us in the beginning was to promote our personal taste of art and make it accessible to everyone everywhere. We are three friends that worked as freelance programmers, designers and project managers in the digital branch, and what unites us is a similar passion for contemporary art. By offering handcrafted limited print editions from emerging artists to an international audience we can contribute to a scene that we have been a part of for years.
WW: What was the first print you published?
GT: The first edition we produced was with Berlin-based artist Clemens Behr. It was a two layer print on plexiglass and alu dibond. Pretty experimental. The edition was sold out within a few weeks.
WW: What is the last print you would like to publish?
GT: That's difficult. I really don't know – there is so much more to do before we think about an end.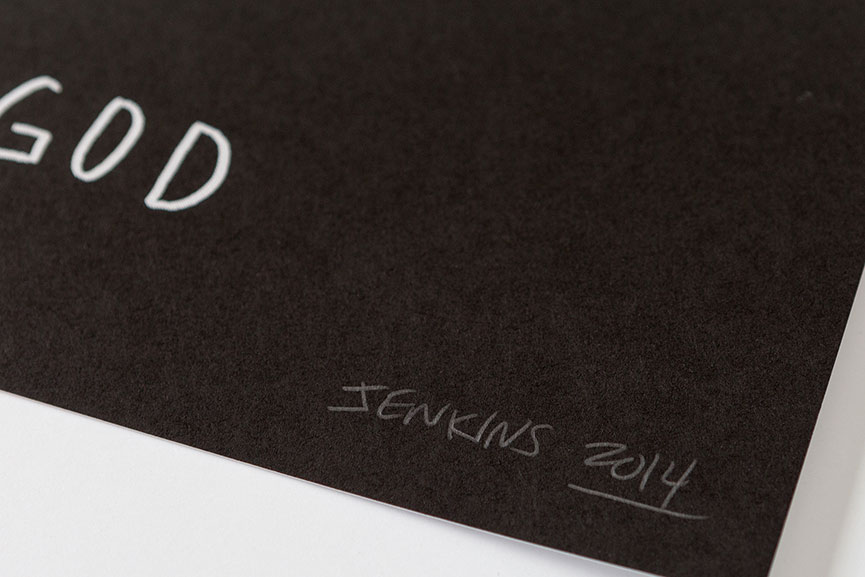 WW: How do you select the artist you work with? Is your selection based on personal preference?
GT: We discuss it a lot. Of course we want to work with our favorite artists, but we also try to choose other up-and-coming creatives who are doing interesting and adventurous work. In the urban art field there are many artists that struggle to develop their own style and they fall into a habit of following artistic trends. That can be a bit frustrating to see. It's important to us that we choose carefully with whom we work – we don't want to sell decorative stuff for your wall. So far most of the DRAW A LINE artists have their roots in street culture and have developed their own unique practice over the years. We believe that collecting art requires a solid foundation, so basically what we do is pre-select for our customers.
WW: Where do you sell more online or in the showroom?
GT: We definitely sell most of our prints through our online-shop since our customers are from all over the world. But the showroom is a great way for collectors see our prints in person and get a feeling for quality and details. The showroom is open by appointment only – if you are interested in coming by send us an email.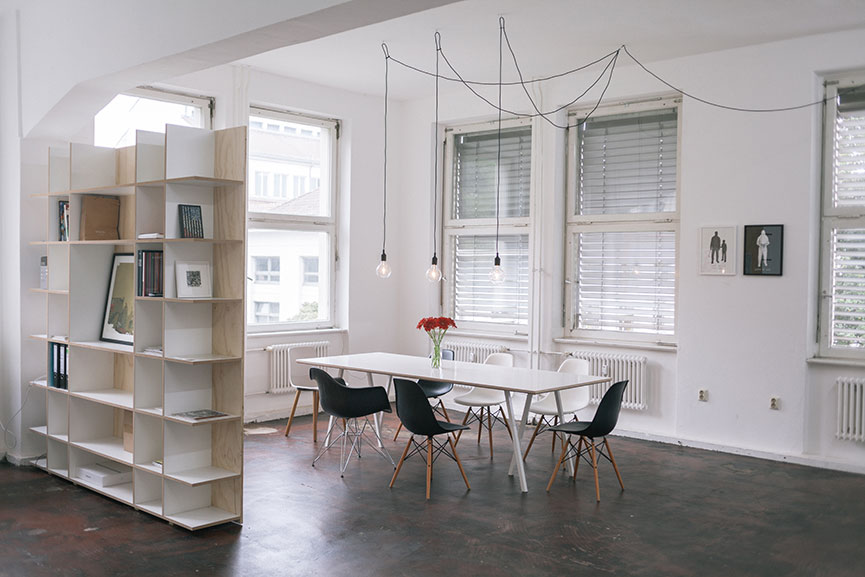 WW: Your blog allows potential buyers a look behind the scenes. Does the transparency lower the barrier to buy online? 
GT: We believe that art deserves a backstory. It is always cool to know a bit more about the artwork you're willing to buy. It makes it more special, especially for collectors or first time buyers. Since we mainly sell online, the stories do help communicate a bit of the artist's psyche and what moved them to put their idea to paper. It brings a more personal element to an otherwise relatively anonymous transaction. It also shows that we care about the work that we do and that we invest a lot of effort and pride in it. A pleasant side effect is that these interviews are a lot of fun – it's inspiring to question an artist's point of view.
WW: Are you successful in making art accessible to all?
GT: Yes, I guess we are. We've already sold our prints to 29 countries. It is an amazing feeling to pack a print that goes all the way to New York, Singapore, Moscow, Melbourne or Dubai.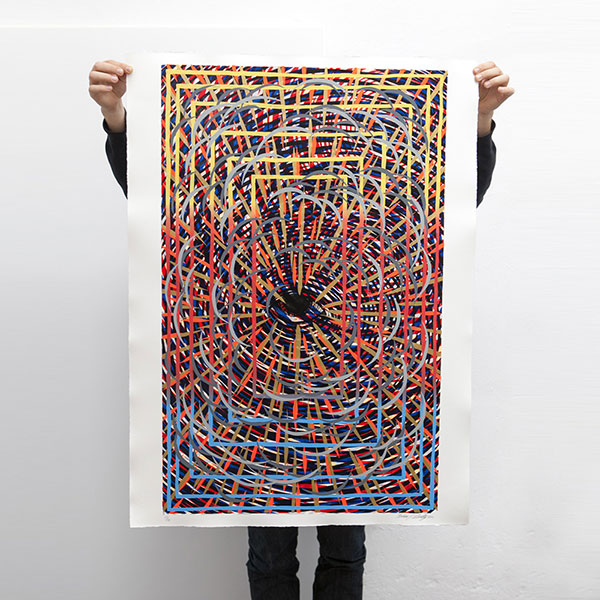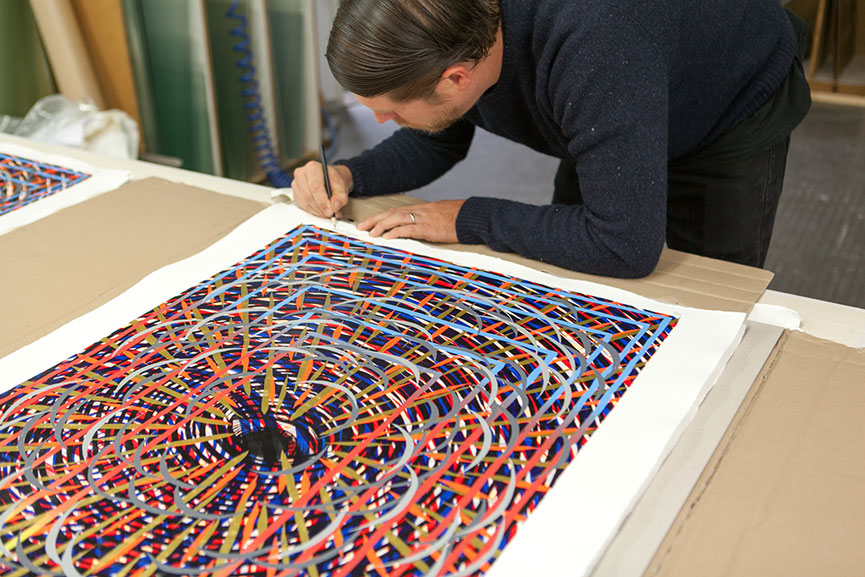 WW: Can you tell us a little about printmakers?
GT: Since there are so many giclée prints (digital prints) out there, most people don't realize how much work a screen print or a lithography is, or how much of a collaboration it is a between the artist and the printer. The printer plays a very important role because he translates the artist's idea into an issue. He's the one that's produces the artworks final version. Our aim is to bring artists into the studio whenever it is possible. We like prints that are handcrafted – it's really authentic.
We work with different partners in Berlin for each technique, but mostly we use silkscreen printing.
WW: Where are you heading? What are your plans for the future?
GT: It's pretty simple – we will follow your passion. We'll keep up promoting emerging artists and making art editions together. Hopefully travel around the world and dive deep into the international art scene. In December we have plans to hit Art Basel Miami to meet some of our current artists, check out the art shows and discover new emerging artists from all over the world.
Sign up to My Widewalls to never miss another interview.