Using only black lines, blurred to give the white shape some shade and volume, RUN creates a different world, the one usually associated with millions of colors, by using a monochromatic palette only. His characters are simple, yet expressive, his drawing illustrative and skillful, while the narratives implied are what give his art life. RUN is the conjurer of a parallel universe, the one where G dwells. His storytelling might be somewhat rooted in the tradition of comics, but blown up on a large scale, it becomes encyclopedic, overwhelming, larger than life.
Parabola di G, as is entitled the current show by Giacomo Bufarini RUN, is hosted by Howard Griffin Gallery in London, and Widewalls seized the opportunity to interview the artist. In this exclusive interview, RUN told us about his beginnings as a muralist, and the evolution of his style, as well as of his creative sessions out- and indoors. Versatile and inventive, RUN told us about his understanding of sculpture and its relations to drawing, and we also discovered the thought that went into development and realization of the Story of G, as well as the influences behind it. Finishing the talk with a hint of personal info, we're happy to have had the chance to get to know one of our favorite artists even better.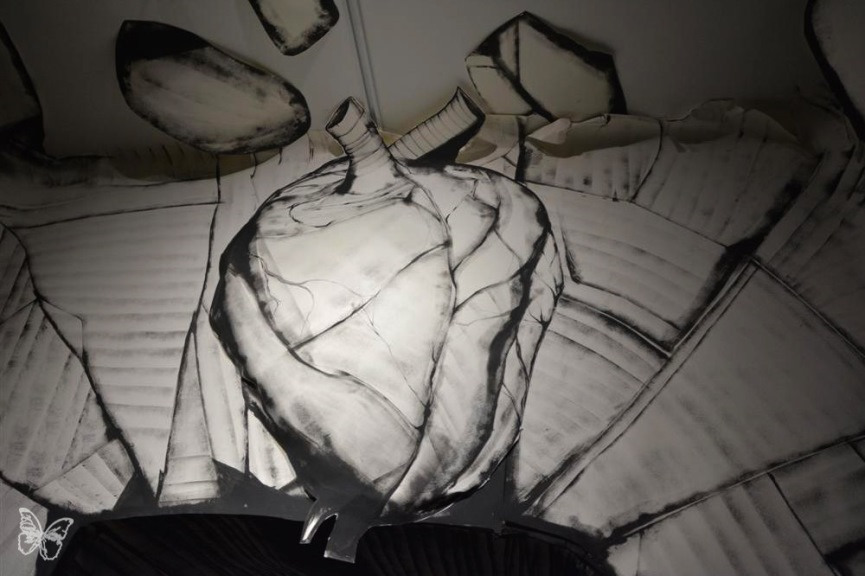 First Murals and The Style Evolution
Widewalls: What did the first mural you painted depict? Where and when was this?
RUN: One of the first murals I did was a character painted only as an outline. He was a simple character, a man 3 storeys high with four arms surrounded by flames screaming. It was in Florence, Italy in 2001. I only used black paint, improvising scaffolding with pipes, a bed frame and some pallets on top of a table.
WW: An evolution in your style and technique is quite visible. How did this come to be?
RUN: I have always enjoyed discovering new techniques. I have always used masonry paint with brushes or paint rolls. The tools sometimes allow you a different way of expressing yourself and your imagination. I guess that I have changed my subject matter depending on the tools I have been using.
This year, in the installation I created 80% of my work with a small 50p sponge paint roll and that's it. My subject matter used to be more varied, spread between animals and weird architecture. Since then they have become more synthetic and simple. I often represent the human being and his bare personality. I imagine the trunk and there are only arms, legs and a head. The trunk could become a pattern for what I am concerned with.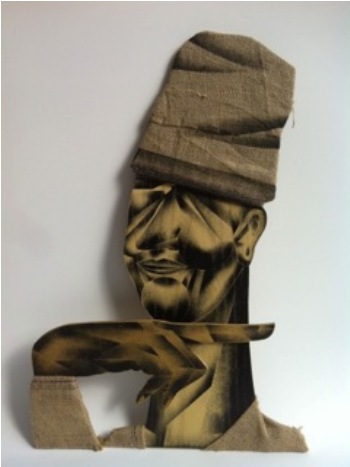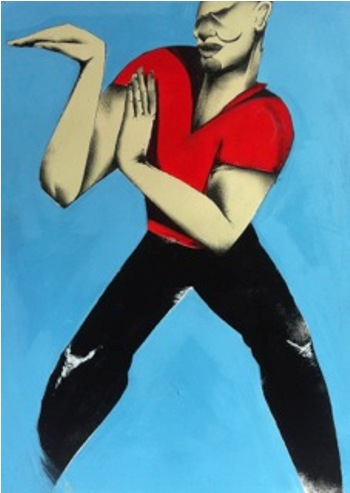 Inside, Outside, People
WW: Apart from the obvious reasons, what constitutes the main difference between creating as a street artist and in a studio, in your opinion?
RUN: In the studio you are alone in a box creating. On the street you are wide open to the environment and you are not alone. This could be the main difference. When you create in a studio, you do something that will possibly end up in a gallery or in somebody's home, so you are kind of influenced to follow an idea that can appeal to people.
On the street you have to be more honest, with no mask. You mainly want to express an individual thought that can appeal to everyone.
WW: How did you become interested in exploring anthropological notions within your creative practice?
RUN: I am a profane anthropologist, which means that my approach is about curiosity and feeling more than actually having to study it. The origin of man, ethnicity, nationality, the foreigner, religion, facial features, language, the colour of the eyes…I am intrigued by how we came to be where we are and I want to question it.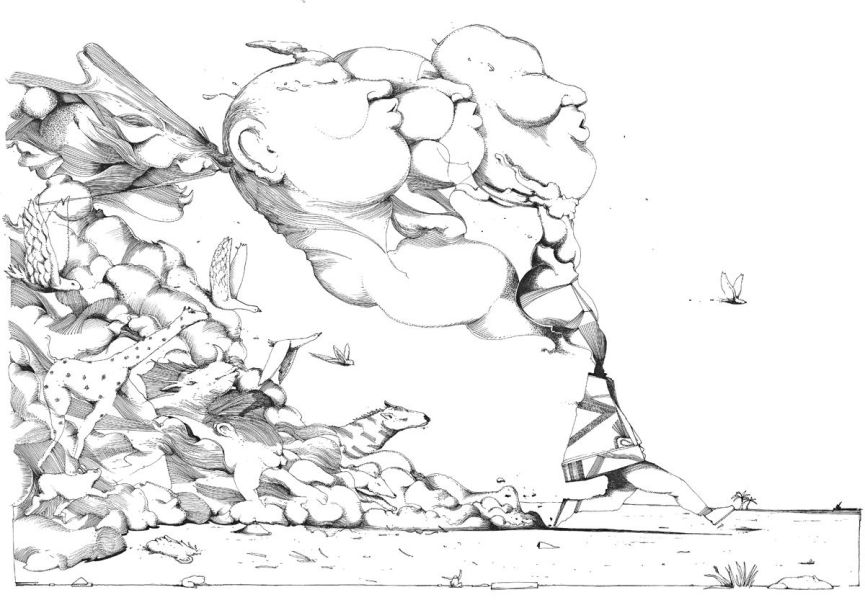 On Sculpture and Drawing
WW: What excites you the most when creating sculptures?
RUN: Sculpture is like drawing something in all the possible angles your sight can reach. I'm entering the artwork and knowing all the secrets of the space. A good sculptor is the best draughtsman, finding the materials that suit the idea that you want to achieve.
WW: Keeping in mind your work with sculptures, do you have any urban intervention planned in the future? Are you interested in creating a number of pieces as installations within the urban space?
RUN: I have lots of giant wooden sculptures that I don't know where to store anymore! I think that next spring I will hang them up on trees in parks. Working outdoors making or placing sculptures is not something that I want to do, though.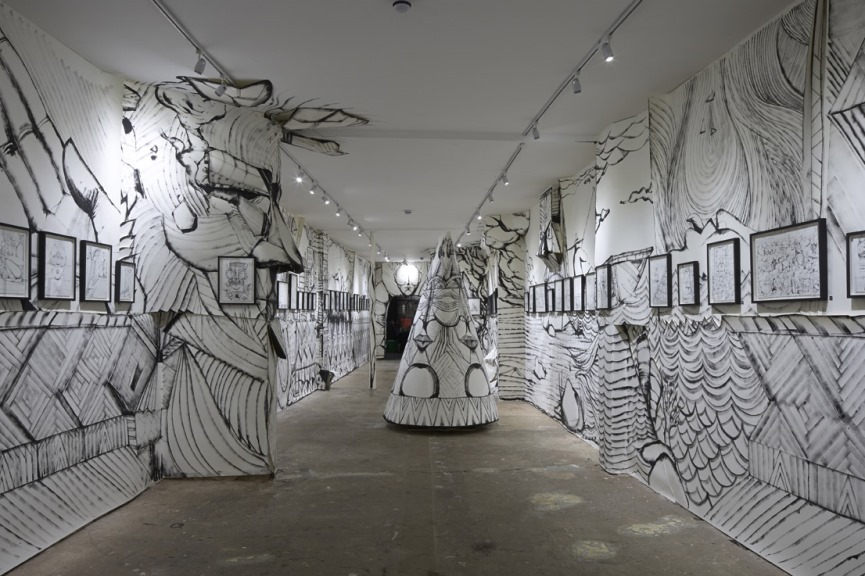 Who is G?
WW: What can you tell us about Parabola di G?
RUN: A parable is a type of analogy. Parabola di G has taken the last 4 months to be created – written, storyboarded, illustrated and installed in the gallery. It is a fictional story where I open myself, talking about myself in an abstract way. I felt so free when I was doing that. I wanted to show labour and creativity. Going against the digital era, I wanted to use paper, and the story in general shows an immense love for changes but also a fear of disappearing in the multitude. Life, death, time, where time contains everything. I know I am very hermetic, philosophical and dreamy but that's how I feel now.
WW: What is the correlation with Homer's Odyssey when it comes to your recent body of work?
RUN: The Homer link was a starting point, of creating the travel story of a character that starts a trip following stars like a sailor. Also the fact that I will have a baby soon took me back to the stories that used to be told in Italy where I come from, stories such as The Odyssey and The Iliad. Parabola di G is a story that I would like to one day tell my children.
I have presented this show for the first time with my real name, and it feels amazing to discover another side of myself coming up again from the inside. The entire exhibition is the declaration of my origins and my personal culture and taste.
WW: Who is G really?
RUN: G is a bare and pure soul who passes by in our dimension, leaving a trace beyond. All the action that the character does is an excuse for me to draw the story.
WW: What are your plans for the near future? Can you share some exclusive info with Widewalls community?
RUN: Some of the next year is planned, with an exhibition in Rome and the publication of another book in the UK which I've already started putting together.
Most of all in the next few months I will be mainly playing and changing nappies, said Giacomo Bufarini.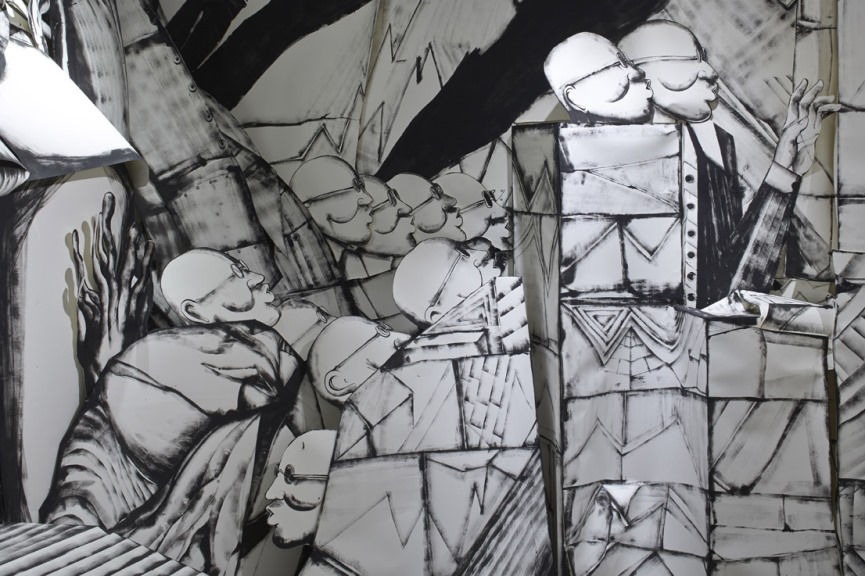 For all of Widewalls readers who happen to be in London before the December 21, 2014, make sure you see the exhibition Parabola di G at Howard Griffin Gallery in Shoreditch.
To get more asquainted with Giacomo Bufarini's work, read our articles on his activities in group projects such as Wide Open Walls in Gambia, painting of Cardiff walls with a group  of fellow muralists, or the farewell he and Phlegm gave to an abandoned building designated for demolition. His Dancer Master exhibition at Hang-Up Gallery was a solo show, with a strong narrative concept as well.
Images courtesy of Howard Griffin, Hang-Up Gallery and Butterfly.
If you are a fan of RUN and his peers, sign up for Widewalls today and stay tuned to the latest news from the scene!