How many times have you stood in awe, watching a piece of art residing in an urban space? Have you ever encountered a piece of large scale proportions and wondered how does an artist complete such a daunting challenge? In case you have visited some of the places where Hedrik Beikrirch aka ECB had painted his murals (in Sweden, Tunisia, Germany, to name a few…), you have surely felt all the mesmerizing attributes of the street art phenomenon. Widewalls had a chance to talk to one of the artists who represents an inspiration to all of us who aspire to be part of the urban and street art scene. We have asked Hendrik Beikirch about his beginnings as an artist, what has he achieved and what he has planed for the future. We talked about the challenges which the artist encounters while creating in the specific context of contemporary art, as well as his extraordinary devotion to portraiture. Read the story of an artist who understands what it means to be devoted to the urban space and the creative process of street art…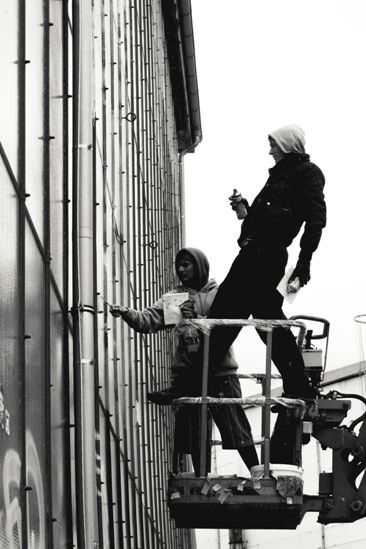 Widewalls: What is your earliest encounter with portraiture? How did it all begin?
ECB: I have been drawing since early childhood, it is something that has always been with me. My art teacher in school had lived a few years in NYC in the early eighties, in our drawing room hung a poster he had brought from over there with photos of painted subway whole cars on it. I was totally fascinated by the Lee Quinones "Stop the Bomb" whole car. When I did my first piece with spray paint in 1989 I somehow felt that I had found something I had always been searching for. I guess as a teenager I was also looking for another language to express myself. I found it in graffiti, as well as my extra bit of freedom, friendship, and adventure.
Widewalls: In terms of your sources of inspiration, what would you say constitutes a perfect object for depicting?
ECB: In both my large-scale murals and canvases, I try to depict the personal and the private. I want to portray people who's faces tell a story, even though they remain unknown to the viewer. Digital media has changed the way we see beauty anyway, most faces printed on billboards or ads appear unnatural - with my portraits I want to show real expressions.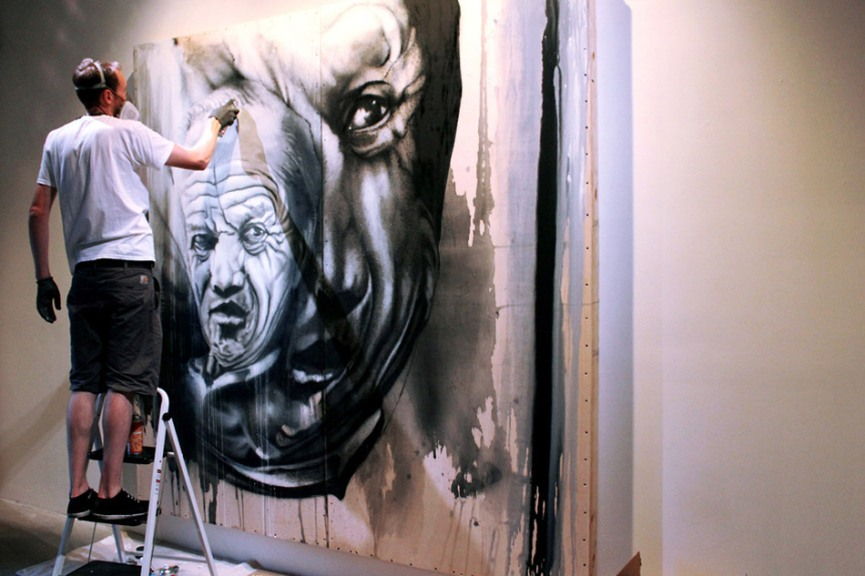 Widewalls: When choosing a person whose face will become a new mural, what do you find to be crucial?
ECB: A constant to my artistic practice is how both the intimate studio work and large scaled public murals influence each. And conversely, how techniques, picture construction and detailing of the studio work influence my work in public space. But above all, how the subject establishes a positive connection between the two domains. Mapping and representation are key terms that create comprehensive relationships and connect the exhibition space with public space. The portrait has to fit the space and vice versa, a mutual interaction…
Widewalls: Who do you think will be depicted in the last portrait you will paint?
ECB: You never know when it will be over, nothing lasts forever. In the end, all you have is what you stood for. I am trying to get this right.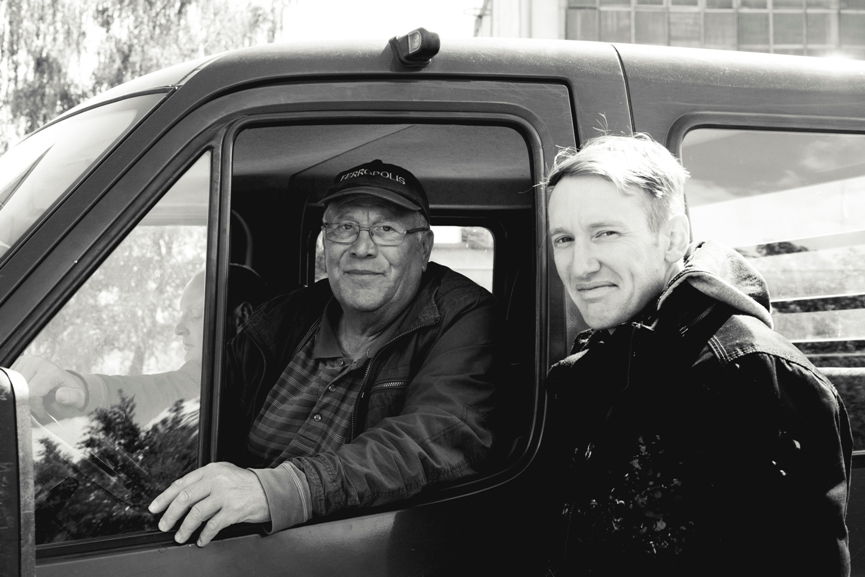 Widewalls: Are there instances in your work when you decide to deviate from realistic imagery?
ECB: If the wall space is to specific in terms of size and shape I switch to characters that are inspired by imagination and do not adhere to normal proportions. These imaginary portraits do not feature accurate depictions or anything in existence, but rather, a mixture of several things that may or may not exist.
Widewalls: Your methodology reflects an aesthetics of harmonious use of black and white… Could you explain to us why is this important?
ECB: If it comes to capturing emotions in a portrait I think black and white is the best way to go, plus with the big walls you have to break it down to a only a few shades anyway. Maybe it goes also back to one of the artworks that impressed me most as a kid. The installation Gottfried Helnwein did in Cologne in 1988 in memory of "Kristallnacht" (The Night of Broken Glass 1938). A hundred meter long wall of black and white pictures with large images of children's faces, in a seemingly endless row… When I saw this back then it blew my mind.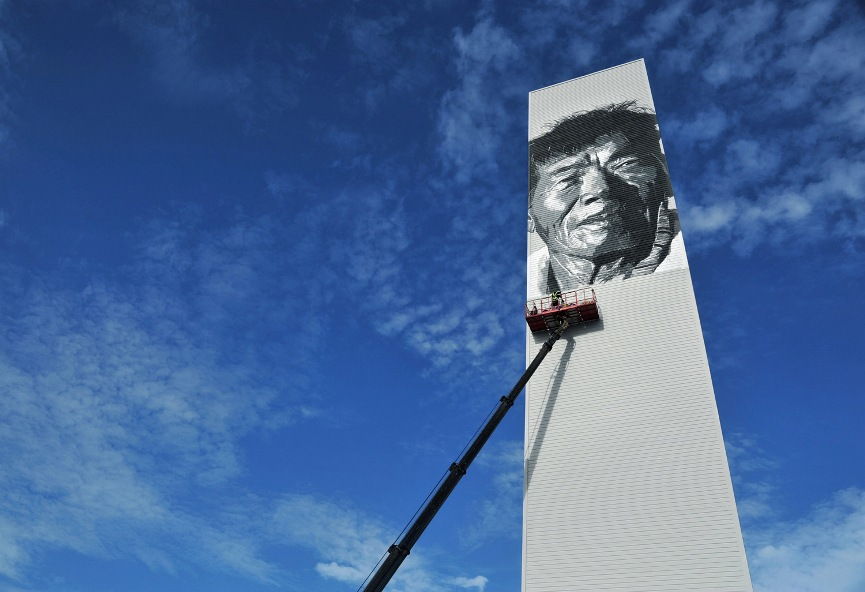 Widewalls: What is the greatest advantage of creating within an urban space? What do you find to be the most challenging aspect of an urban intervention?
ECB: This art form developed in an urban environment, nowadays it can adapt to any surrounding. I think one of the biggest advantages people coming from a so called urban art background is to have the right feel and eye for placement and composition in public space. With tight schedules, a pretty trivial aspect can cause real trouble to me: rain.
Widewalls: In terms of public space, what do you find to be the most important thing for choosing the right context to work?
ECB: If it comes to art in public space I believe you have two options to go for: Clandestine, small, hidden and tiny or as big or tall as it can get. Art has to compete with architecture, advertisements, and passers-by attention in busy city streets. You only got a few seconds to catch the attention, to get this first impact right.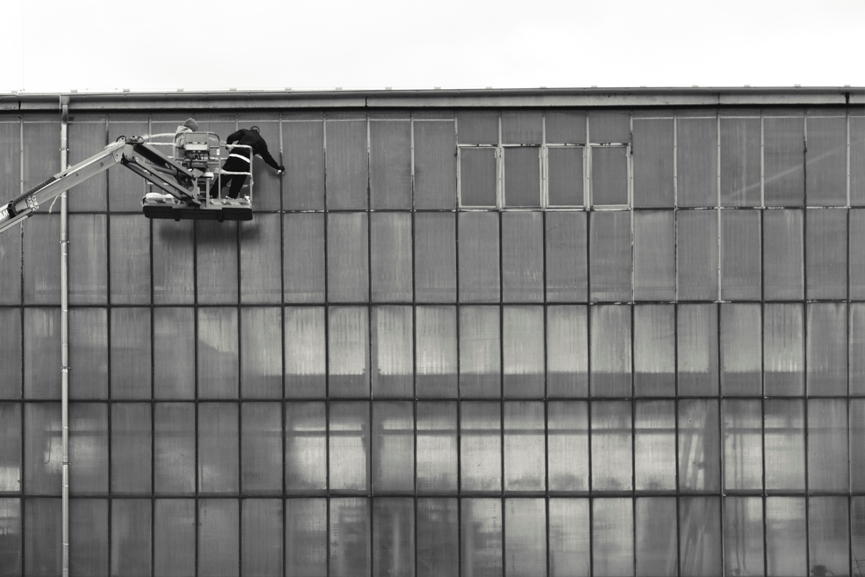 Widewalls: We had the chance to admire your work in Ferropolis. The grandeur of the project compels us to ask – how do you achieve this? Could you, please, explain your creative process (in terms of time, planning, material, etc).
ECB: First I would meet the miners to present the project idea and do sketches as well as take some photographs. The final paintings on the buildings I did in stages over the summer, four visits in total. Once I started painting I moved quite fast with finishing a portrait within a day or two. The main challenge was to create a set of portraits that would work as a group as well as individually. With different building sides it was also a lot about finding the composition to create the best impact, besides the formal challenges it was about how to portray their features with as much detail as the miners could tell us stories of work, hope for a better future and remembrance.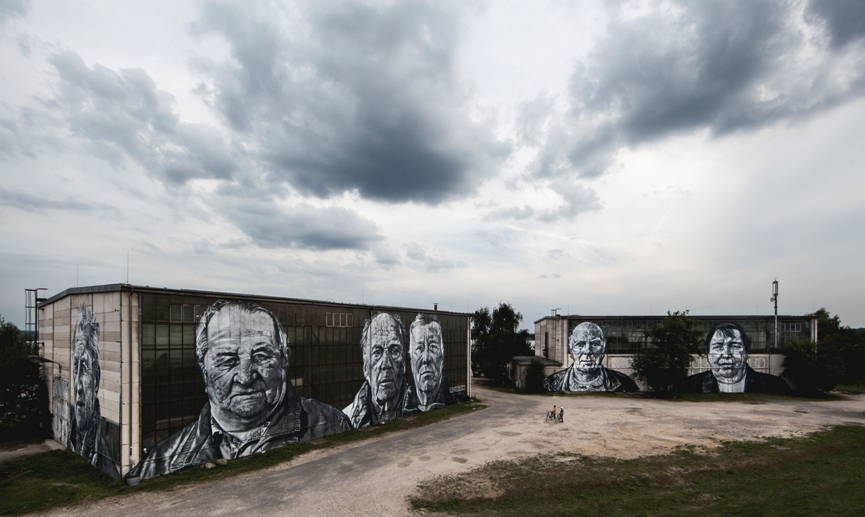 Widewalls: In the end, could you tell us where are we going to see you next and what are you preparing?
ECB: I just released my first monograph "Blurring Boundaries" over Publikat Publishing. Right now I am preparing works on canvas for group shows in Zurich, Marrakesh and Germany. Plus I am heading over to NYC in week to paint another big mural.