Jan Kaláb was born 1978 in Czechoslovakia, at a time when the Iron Curtain still existed and graffiti was a rare sight in the Eastern World. Luckily for us, with the fall of the Iron Curtain, Jan Kaláb was able to fall into the world of graffiti and street art, developing his unique style within the iconic street art crew DSK. Never one to standstill, his work has continually evolved from working on street art in Europe under the name Cakes, through to the challenging breakthrough of 3-D Graffiti. Using the name Point, he sculpted big abstract letters that were then placed on streets and walls, a departure from traditional graffiti and street art but in keeping with the original spirit of the scene.
2007 saw Jan Kaláb move to exploring abstraction on canvas, switching to acrylic paints for his studio work. The paintings became more geometric with themes of depth, time, motion and dynamics and he took some of these a step further, when he took them onto the streets of various cities to create a series of photographs. Jan Kaláb was also co-creator of the Trafacka cultural space in Prague, which put on almost 200 exhibitions until its recent closure. Widewalls are very honoured that Jan Kaláb, one of the most innovative voices to come out of street art, allowed us to pose a few questions to him about his life and art. Make sure you check out the article about his Getting Up solo exhibition.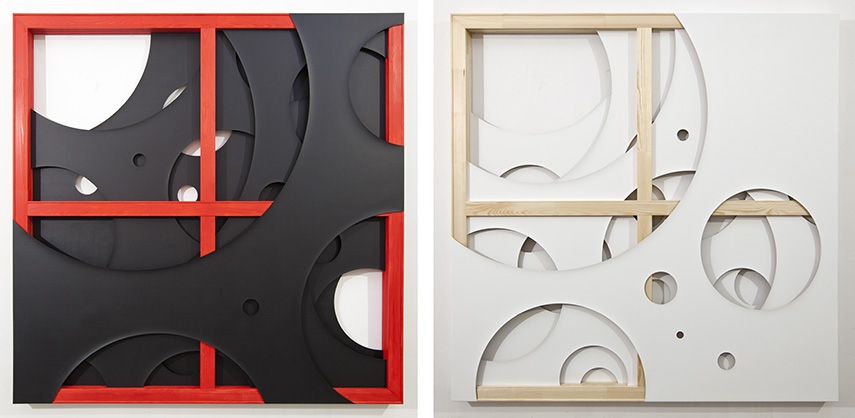 Jan Kaláb: The Early Years
Widewalls: Can you tell us how you got into art?
Jan Kaláb: I think drawing was always part of my life ever since I grabbed a pencil for the first time. Every kid used to draw, but most of them quit while getting older. I'm amongst that ones who didn't stop. Once I began to take it a little bit more seriously and gained an interest about art history, I admired the classic artists from the books like Albrecht Dürer, Rembrant, Tizian and so on. It was like "wow", they can paint better than photography. The taste changes over time, how you grow up, study and discover other meanings of visual interpretations. You start to like Claude Monet, Henri Matisse then Francis Bacon and from that is short step to abstract art, like Jackson Pollock and you go on until minimalism and back to cave paintings thousands of years ago. In fact the most important thing is the topic. I went through all the steps like drawing still life, architecture, portrait, etc. but the real topic and the real enthusiasm came with graffiti.
Widewalls: You have become known for your graffiti work, how did you come to work on the streets?
JK: Graffiti is magic. It is something that soaks you in without knowing what is really going on. In the early 90's, before the internet, graffiti worked in an even stronger way there was more magic I guess. You could see it only in real life. No information about the works at all. Bam! Shapes and colours on a boring wall, a message I don't understand! From the first moment I saw graffiti on the wall, I knew I wanted to discover what this is; I needed to be part of it. You also have to imagine at that time, my country was still absorbing all the new western influences after 40 years of isolation by the iron curtain. Graffiti was part of that change. In Prague in the early 90's, there were only couple of pieces and mostly done by foreigners. It took me one or two years to really begin to spray on a wall. After the group beginnings it went pretty fast, crews, bombing, subways, traveling, productions, magazines, jams until that moment of doubt and trying new ways. Graffiti sculptures for example.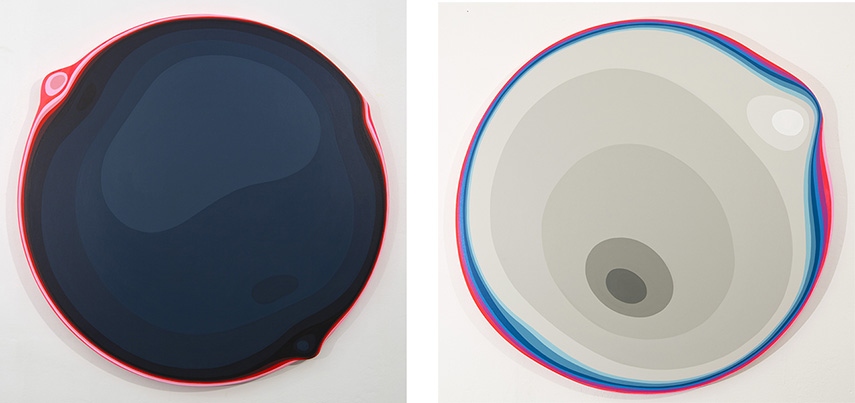 Jan Kaláb - Studio Techniques
Widewalls: What made you move into studio based work?
JK: It is natural evolution, from rage to concentration. We are grown up now. We have tried a lot of work outside and now it is the time to work in a different ambience. It doesn't mean I don't like to work outside anymore, it's still fresh! To work in a studio is more relaxed, the space of a gallery is something totally different and if something looks good in the streets, it doesn't mean that it works well inside the gallery space, and vice versa. It is new challenge to rock inside. And the challenge brings new inspiration; one begins to think differently when working in quiet and on limited formats. This is the most important thing, to move your mind further.
Widewalls: Can you explain your painting techniques?
JK: I paint with acrylics and brushes; I use a spray gun sometimes. I don't use graffiti spray cans on my canvases because I don't like how the paint looks on canvas, the acrylics shine more. I usually draw some ideas by hand, and then I do a rough sketch in illustrator. I never try to transfer the sketch exactly onto the canvas, it would be too boring. I like to change and search in every moment of the process. Sometimes I work just on one piece, but mostly on two or more at the same time. The creation is something like scientific research; one step leads you to the next one. I never know how my paintings will look like in one year. By painting I discover my way further.
Widewalls: Your website says you are invested in collective events, can you explain about the ideas behind collective events and how collective energy is important to your work?
JK: Well, in the time when nobody cares about your art or your friend's art, it is the best time to do it yourself. Until the end of last year we had run a space called Trafacka for 8 years. We created our own gallery, we did the first group exhibition there and I did my first two solo shows over there. From that time, almost 200 exhibitions and events happened in that place, I have to mention the street art and graffiti festival, Names, in 2008 for example. So I was involved by a natural need, I guess, I learned a lot by organising collective events. Now comes the period of focusing on my own work.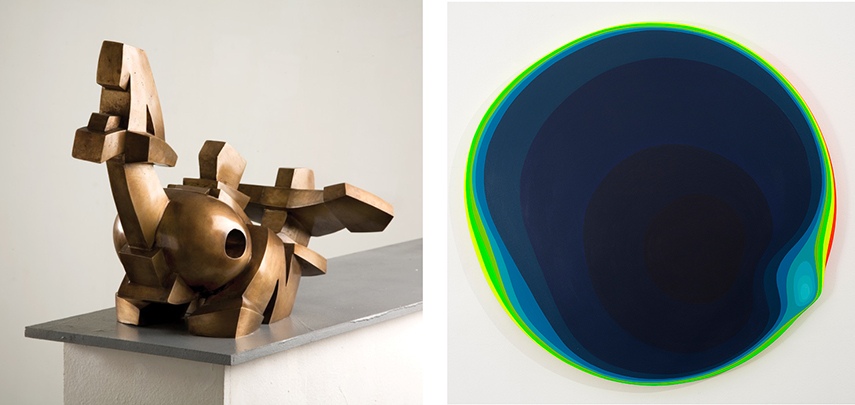 Getting Up with Jan Kaláb
Widewalls: What contemporary artists do you like?
JK: Huh, there are so many great contemporary artists I don't know. First name on my mind, Anish Kapoor, the bubble paintings by Jiri Dokoupil are amazing also. Jeff Koons is the example of the most successful artist, his balloon sculptures look sensational, but "his" paintings made by xx assistants are crap in my opinion. If someone is famous worldwide, it is a result of a big money lobby by a certain group of people. I want to say that I'm not sure that the most famous artists are the best ones.
Widewalls: Tell us a bit about your new exhibition Getting Up, at Art is Just a Four Letter Word in Germany.
JK: It is my first solo show in Germany, so I'm very excited. Most of the pieces I'm showing have been made in 2015, so very fresh stuff. I have basically three types of paintings, acrylic painting on square canvas, acrylic paintings on custom made irregular circle stretchers, which are part of the same cycle I began to work on last year in Brooklyn and cut thru canvases. I'm proud of two pieces that are 180 x 180 cm, made out of 4 layers, each one weighing almost 30 Kg. I have been working on this cycle since my last Prague solo show, Point / Alternate Plan(e)s in 2013. I am also exhibiting 2 sculptures, a small one made out of bronze that is called Point Bird, It is the same shape of Point I used to put around the corners of buildings in Prague and Berlin around 2006-2007, but it was made out of gypsum back then. Also a taller sculpture, Point Totem, made out of oak wood. I created my first totem in 2008 for my first solo show, held in Trafacka, called Point Shop. This red one is my fourth.
Find out more about the art of Jan at the Jan Kaláb website.
For all the latest interviews sign up to My Widewalls today!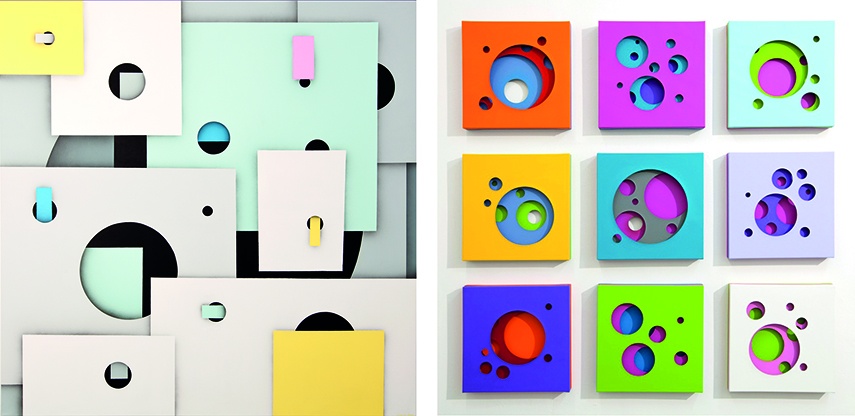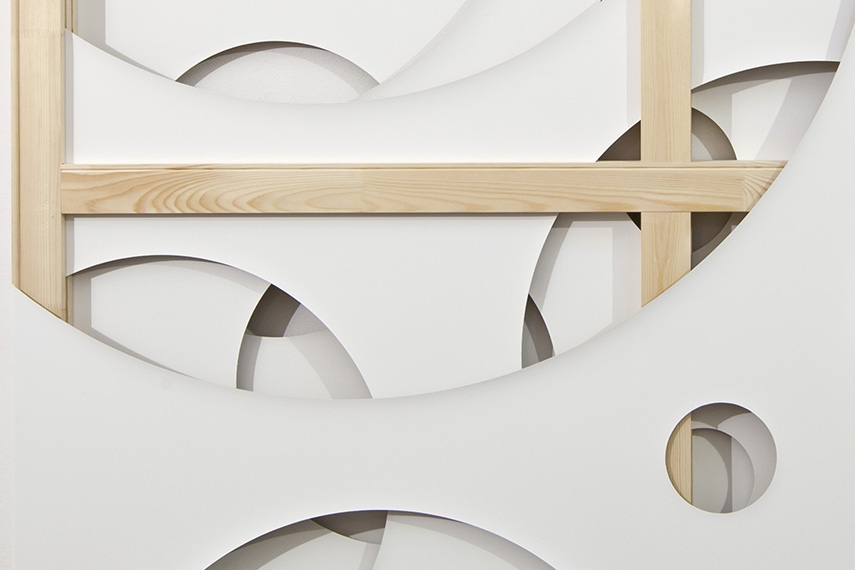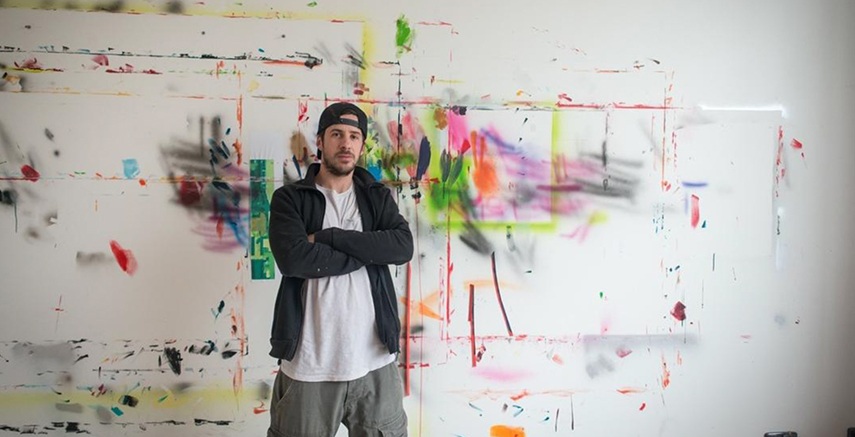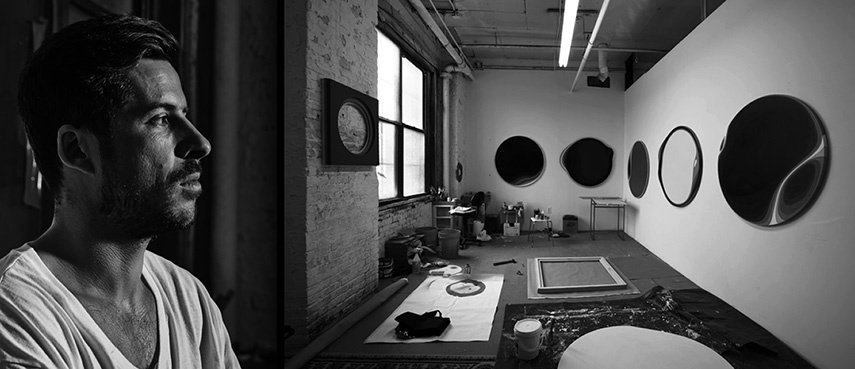 Photos courtesy of Jan Kaláb.