One of the most interesting mural projects of the year is going on in Detroit where a newly built mixed-use development serves as the enormous canvas for an array of street artists from around the globe. Library Street Collective, a contemporary art gallery from the Michigan's largest city, in collaboration with a real estate magnate, Dan Gilbert, have made commissioned from over 25 artists from various backgrounds to create murals for the interior walls and the rooftop of the venture's garage.  The project is known as The Garage Project or The Z, and it is still ongoing, although some of the fantastic works have been completed.
The Artists
The exciting artist line up includes street artists, graffiti writers, fine artists that were to make large scale murals in their signature styles. Each artist was carefully selected based on the significance of his/hers input into the global contemporary art and for their talent that shows through visual communication with the public. Coming from different cultures, some of the aritsts possess finest art education, while others emerged from the rugged streets of huge cities. The list of participants is quite populated, as we will try to make an overview of the progress by now.
How and Nosm
How & Nosm who made a mural that exudes their style with black, white and red palette and diverse geometrical elements that turn into symbols, characters and disclose the narrative nature of their piece.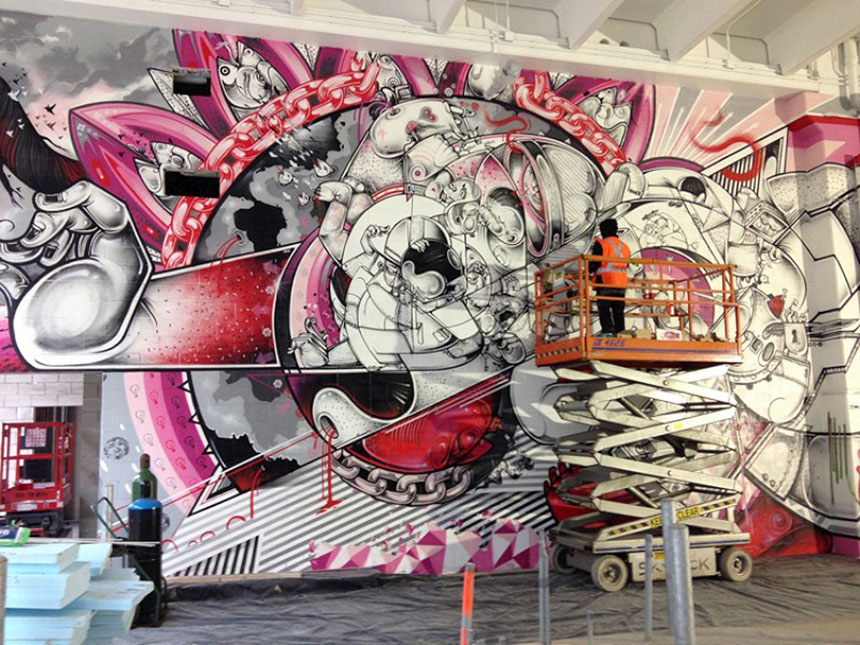 Adrian Smash
Adrian Smash 137 Falkner had an exhibition at the Library Street Collective, and by that occasion he created a mural on The Z's rooftop, defined by his recognizable abstract imagery and vivacious chromatism.
Interesni Kazki
Interesni Kazki are a duo from Ukraine who painted a beautiful, long piece inspired by surrealism and the world of fairy tales.
Tristan Eaton
Tristan Eaton's creation reveals a profound pondering on the mural subject and composition, through remake of Walt Disney characters created originally during the WWII era.
B. & Alex Brewer
Greek artist, B. brought his style of clean color, strong contour and utter pop to the place. Alex Brewer, a.k.a. HENSE, created a bright abstract piece, as did the Russian artist named WAIS.
Saner
Saner materialized an attractive mural of a bright red background featuring masked characters inspired by his native Mexican folklore and ornaments.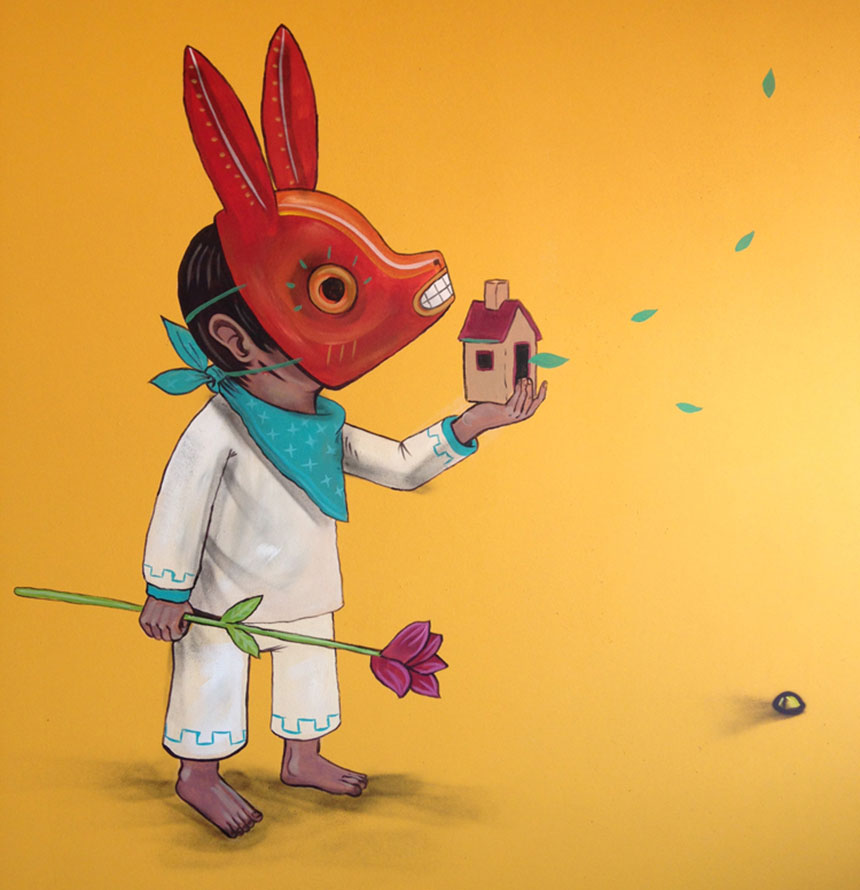 Dabs Myla and Sam Friedman
Dabs Myla, lit up the place with their fun and funky cartoonish imagery. Sam Friedman's wonderful work evokes the sensations of burning lights crossed with underwater experiences, through his warm palette and dainty, wavy abstract elements.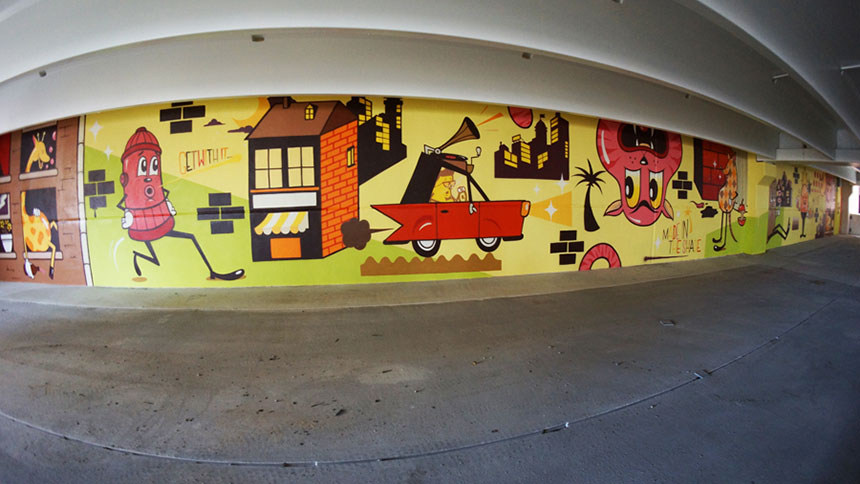 Mr. Jago
Bristol's own, Mr Jago, made a deep abstract expressionist piece, swarming with color and emotion. REYES' piece is characterized by flowy, transcendent forms bathing is his signature colors.
Remi Rough and Matt w Moore
On a murals done by Remi Rough and Matt W. Moore, geometrical elements evoke the pop culture of the 80's.
Cyrcle
Cyrcle made an imposing piece of strong imagery inspired by classical art rendered through his graffiti prism.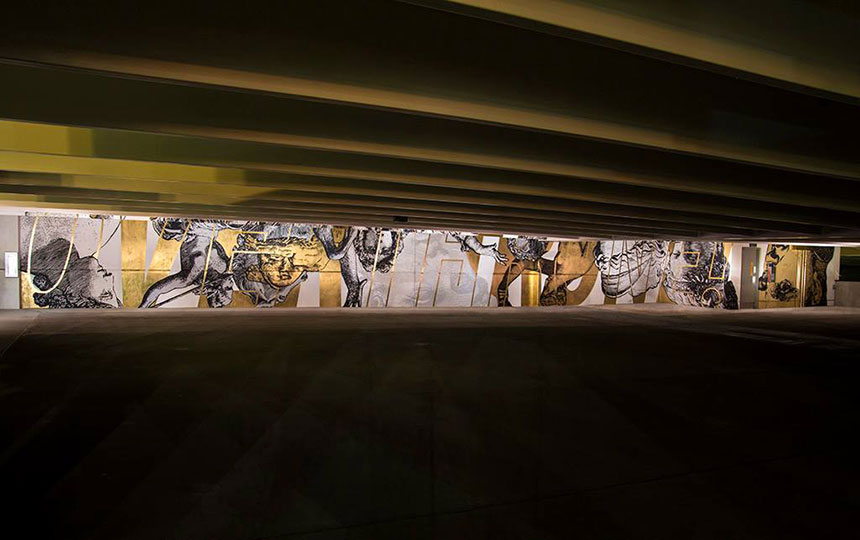 PUSH, Maya Hayuk and  REVOK & POSE
A mural by PUSH resembles a stained glass window, Maya Hayuk brought large pixelized images filled with chromatic nuances and REVOK & POSE depicted the Motown sound through an array of recognizable elements.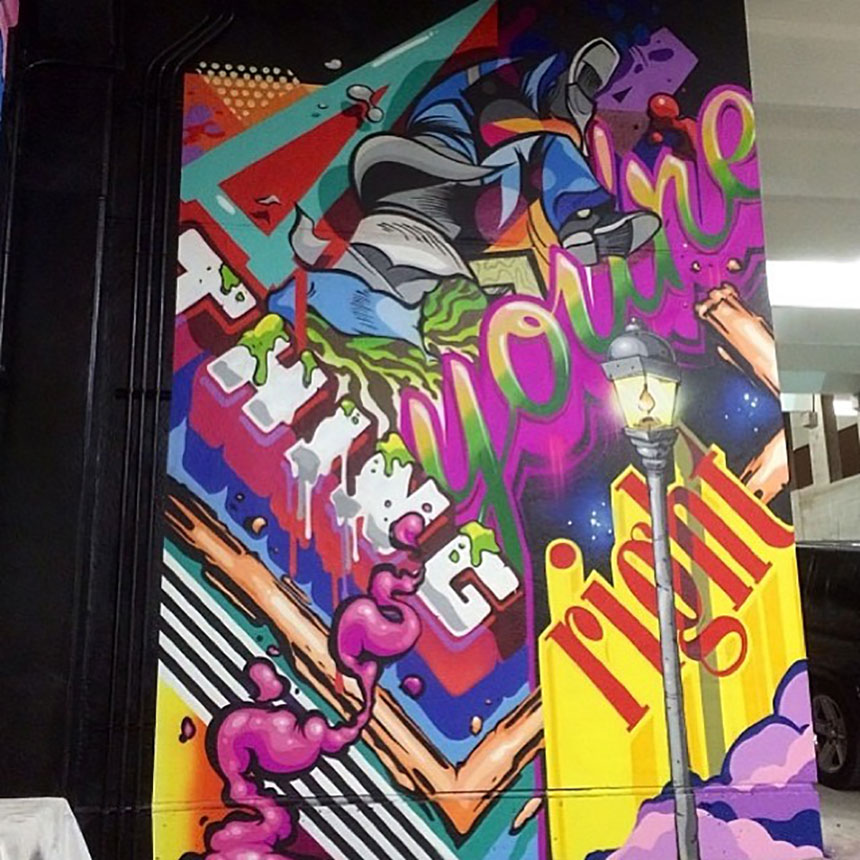 Richard Coleman
Richard Colman's elaborate piece is overwhelming and layered with meaning, discovering the narrative in two human figures at the bottom of the mural.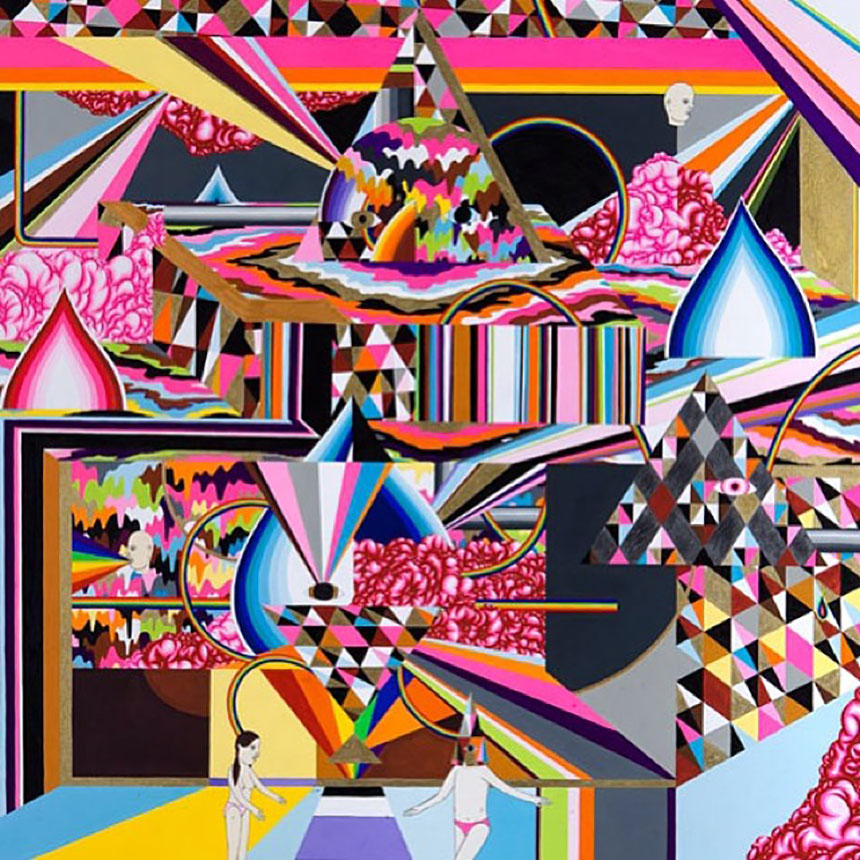 Gaia and Logan Hicks
Gaia takes the observer to the magical lands of beautiful landscapes, meadows, mountains and waterfalls, creating great illusionistic pieces as her contribution to The Z project, and Logan Hicks is also involved, as he revealed a part of his artwork.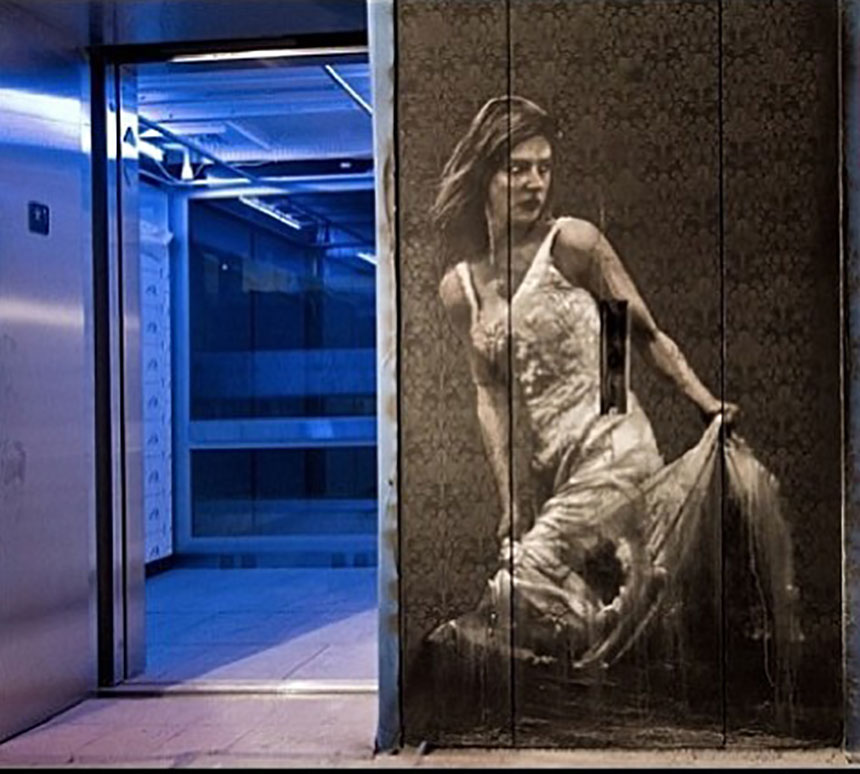 Lucy McLauchlan
A recent addition to the project is the last week's mural executed by an amazingly talented Lucy McLauchlan from UK. She presented her style of wavy lines, floral and zoomorphic shapes with just hints of accentuating color, exuding delicate and surreal feeling.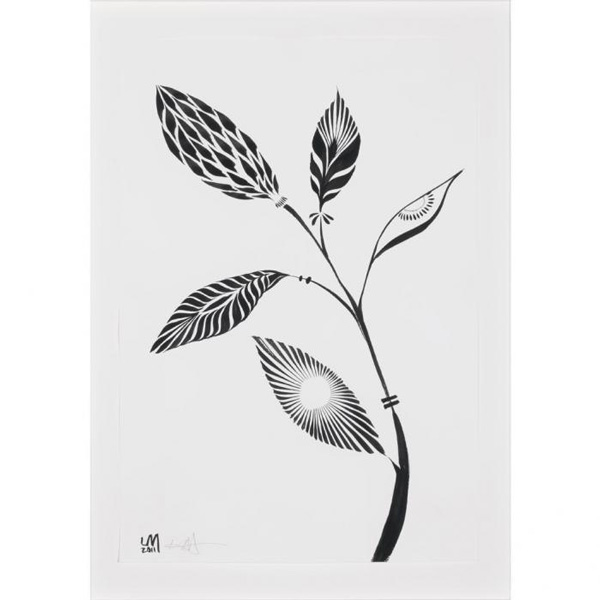 Augustine Kofie
One of the newest additions to the Garage project is a phenomenal mural executed by Augustine Kofie. Throughout the creation of this massive piece, the artist remained true to his expression predominantly influenced by architectural forms and geometrical shapes. The subtlety of detail and color, as well as the attentiveness in the execution draw the observer into this imaginative Kofie's world, diverting the attention away from the fact that the mural is at least 50 feet long.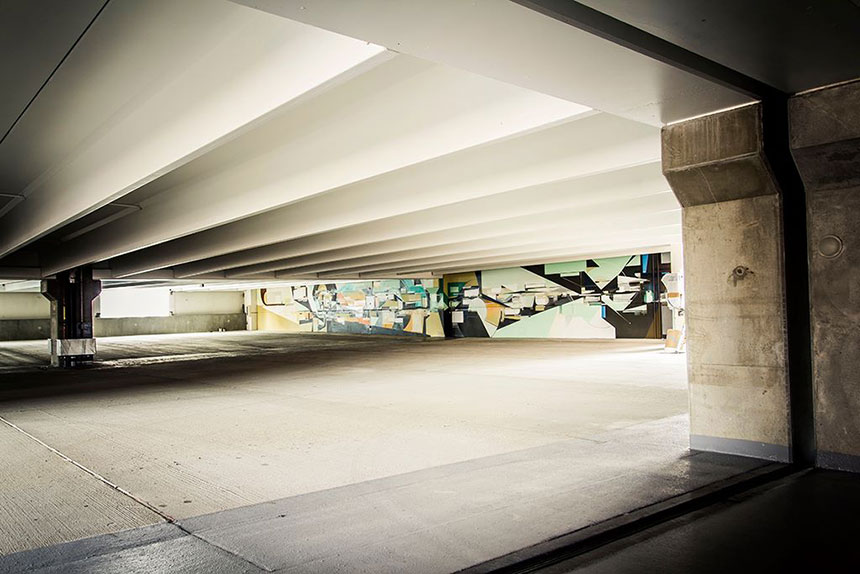 The world's largest indoor mural
Having numbered the known participants in this massive artistic project in Downtown Detroit, it is safe to say that this enterprise will grow to become the biggest indoor collection of street art murals so far.
Pictures retrieved from: Library Street Collective