Iris Grace painting is praised widely; her works are being sold for more than £1,500; her paintings are beautiful and attract a lot of attention, while her style is compared with the one by Claude Monet. Everything sounds logical, as something that does not deserve to be particularly mentioned; however, Iris is a six-year-old girl from Leicestershire who was diagnosed with autism. While she communicates with difficulties due to her condition, little Iris creates rather astonishing paintings that attract a lot of attention. Some of the world's most famous celebrities are buying art from Iris, while around 200 thousand people are fans of her works on Facebook. How did Iris Grace manage to become a young star and what kind of paintings Iris actually creates?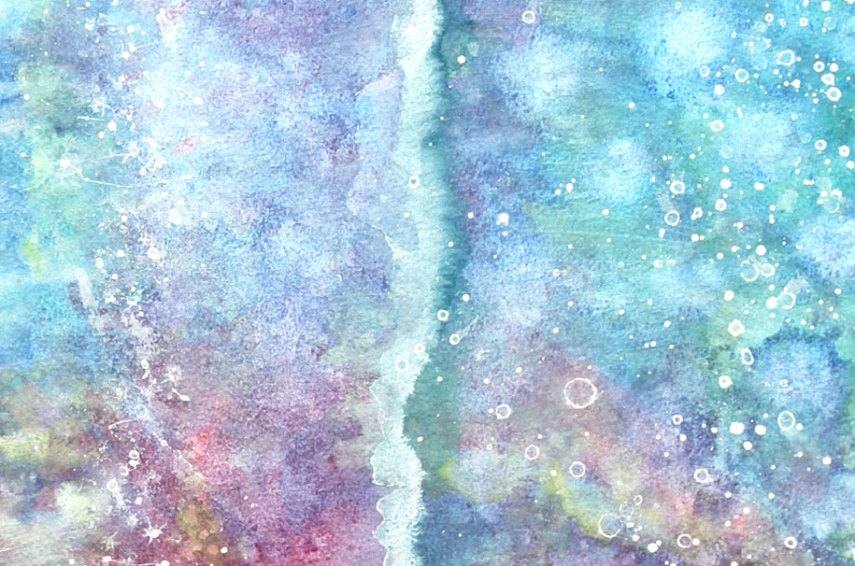 Iris Grace Painting Praised by Art Lovers
The sudden fame of Iris Grace is largely initiated by the activism of her mother Arabella Carter Johnson. When little Iris was diagnosed with autism, Carter Johnson quit her job, and dedicated all her time to raising and taking care of Iris. She read a lot about autism, and despite the depressing news coming from the doctors, Carter Johnson began teaching her daughter with what can be called "art therapy". Art had a big positive effect on Iris. As her mother describes: Iris loved it and it was an incredible change. She started to hold my hand, which she had never done before, and she would take my hand up to the sink and ask for more water that way. Not with her voice at first, just with gestures. She started looking into my face and my eyes more, and she was just more open. It was like we had found this key to her world. She wasn't that active before, but with painting, she was dancing around the kitchen; she was happy, she was smiling. You suddenly saw this completely different child; it was amazing to see her open up like that.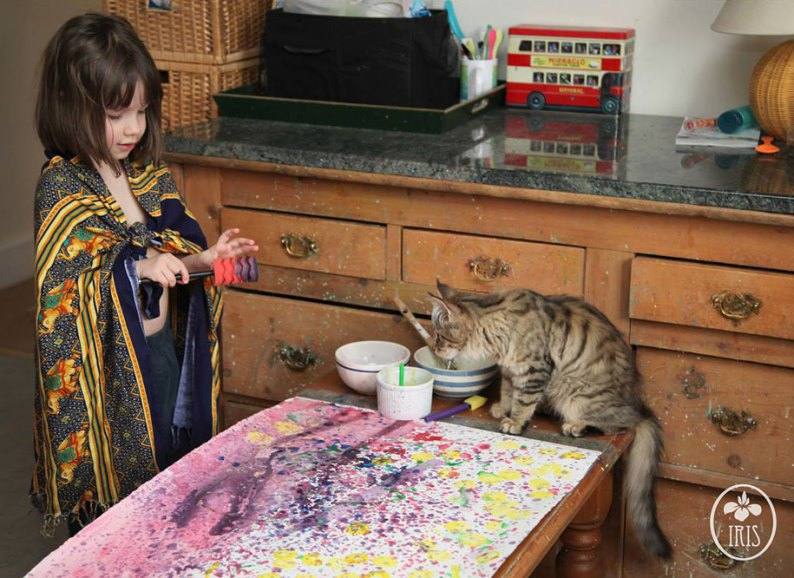 Painting with Cat's Help
However, someone else also helped Iris reach the status of a "child artist superstar". Animal therapy is recommendable for all the people who are diagnosed with autism – so, the family brought home a dog, Willow, but Iris was not so comfortable with him. Therefore, they bought a cat named Thula, which eventually became the best friend of Iris. Thula does not only help Iris when she cannot sleep, or when she has other problems, but the cat also helps Iris while she paints. Iris' mother, Arabella Carter Johnson, describes all the difficulties a child having autism is facing, but also the positive sides of different therapies in a book recently published by Penguin Books.
Beautiful Iris Grace Painting
Is Iris Grace new Mini Monet?
By achieving worldwide fame with her artworks, Iris Grace's paintings have become quite popular among collectors. The list of the celebrities who bought, or are interested in Iris' art is simply stunning. Angelina Jolie (who is, together with her husband Brad Pitt, known for a remarkable art collection) recently bought one watercolor painting by Grace. In addition, Iris' work has also been shared by Ashton Kutcher and Zooey Deschanel, while British actors Daniel Radcliffe and Oliva Coleman are campaigning for raising awareness of Iris. As we mentioned, Iris' paintings have even been compared with Monet's impressionist works. But, we should here pose a question: Is it really reasonable to compare the art of a six-year-old girl with such a Master as Monet was? Wouldn't it be enough to say that little Iris' works are beautiful examples of outsider art? Iris is still young, and her art will certainly and hopefully evolve even more; until that moment, her beautiful works will be another reminder of how amazing works outsider art can provide.
We would like to hear your opinion! Please comment on our Facebook Page!
Editors' Tip: Iris Grace
As we already mentioned, the mother of Iris Grace, Arabella Carter Johnson, has published a book simply titled "Iris Grace" This book is not only about autism, or about difficulties and challenges children and their families are facing with. It's also about wonderful art and animal therapy, and about moving on despite all obstacles. Finally, the book also describes how animals can help people and children with difficulties; in the case of Iris, it's about the cat named Thula. As Iris' mother says in the book: "Ever since we came home with Thula, this precious magical kitten has cast a spell over Iris. They sit beside each other as Iris paints, and new doorways to communication have been opened, doors we had previously feared might be locked forever."
Featured Images: Iris Grace, Photo by Arabella Carter-Johnson Arabella Carter-Johnson, via independent.co.uk); Iris Grace - Artwork, detail (via demilked.com). All Images used for illustrative purposes only.