A new exhibition is about to be opened at Munich-based Galerie Hegemann. The exhibition will present new works by Irish artist Nigel Cox as well as Michael Pickl sculptures. The show is titled Moments since both artists are representing and capturing their subjects as "frozen in time" – in a moment. While Nigel Cox focuses on representing ordinary people in his photorealistic paintings, Michael Pickl creates wooden sculptures showing women in various moments and poses. Both artists are trying to freeze the time, depict "normal" people around us, though they use different media. Cox and Pickl are masters in their practice, and this show is a unique opportunity to see their art pieces in one place, at the same time.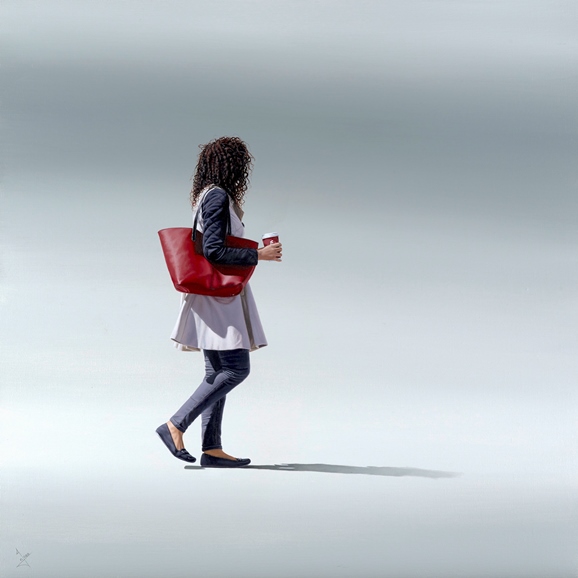 Irish Artist Nigel Cox and his Photorealistic Paintings
Based in London since 1989, Nigel Cox grew up in small market town - Dundalk in Ireland. When he was twenty years old, Cox was a part of the Sir Ranulph Fiennes, Transglobe Expedition whose team successfully circumnavigated the globe. It was a three-year long expedition and it tremendously influenced the artist's painting style. He travelled a lot, living in the Netherlands and Germany before moving permanently to London. His paintings are inspired by ordinary people. Cox creates minimalistic oil paintings capturing an extraordinary realism. His art is dealing with the solitude of ordinary men and women in the messy, hyper-productive urban societies. The artist perfectly paints his figures with their faces often completely obscured, and portrays his subjects against vast, but empty landscape. This is, of course, a deliberate move, as Cox wants to stress out the solitude of an individual figure and to make a viewer be part of his subjects' world. The feeling and the scenes of his paintings might be surreal, but the artist remains loyal to highly realistic representations. Nigel Cox was a previous finalist in the prestigious Royal Society of Portrait Painters Annual Exhibition in 2007, 2008, 2009, 2010, 2012, and he has exhibited widely in countries around the world.
Michael Pickl Sculptures
Michael Pickl is a German creator working and living in the Upper Palatinate, Germany. He is best-known for his wooden sculptures. He had studied sculpture for ten years in different schools across Germany, and he usually creates sculptures of women caught in various moments and poses. He carves out their unique characters from whole tree trunks and branches: strong and self-conscious or graceful and inward. Pickl's sculptures are highly spiritual and emotional, despite they do not appear like that at the first sight. The artist believes in in the beauty of that which is hidden; a mystery that gouges the curiosity that can be found in any man and woman.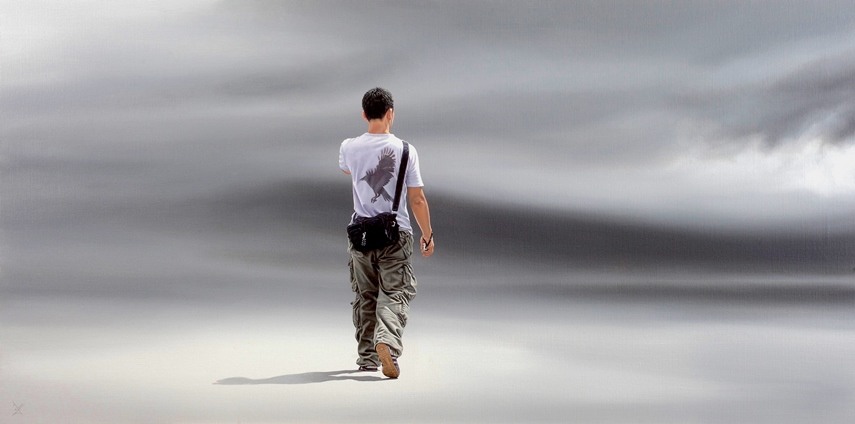 The Exhibition of Nigel Cox and Michael Pickl at Galerie Hegemann
Both Nigel Cox and Michael Pickl are dealing with men and women caught in a moment; their subjects often appear alone, lonely and misunderstood. Yet, that's the beauty of their paintings and sculptures – they invite the viewer to enter the subjects' intimate worlds. The exhibition Moments opens on October 14, 2016 at Galerie Hegemann in Munich. The vernissage is scheduled for 6-9pm, and the Cox and Pickl will be present. The vernissage is dedicated to the children's project Artists for Kids.
Featured Image: Nigel Cox - Fallen Angel, detail,  122 x 122cm, Oil on linen. All Images courtesy of Galerie Hegemann.