Before the internet arrived, the opportunity to see a movie star perform obscene acts was a rare one, at least when compared to today's overload of data of all kinds. In the first half of the 20th century they did, however, have their providers, and one of them was Irving Klaw, the self-proclaimed Pin Up King. He was a pioneer in fetish art, and obviously had an eye for recognizing a special sort of edgy beauty of his era.
Klaw was a photographer and a filmmaker, but prior to that he used to sell movie star stills, which brought him great popularity. Soon he realized that the appetites of his audience were growing, and as he couldn't find enough provocative images in movies, he decided to make photos of his own. With help from his sister Paula, Klaw gradually made a burlesque empire of his own (called Nutrix), photographing models that became big stars later on – Tempest Storm, Blaze Starr, Baby Lake. Even though their names may sound like sophisticated versions of today's porn star pseudonyms, the contents of those photographs never revealed more than an erotic photograph should, as Klaw's business relied on sending the material via mail, and otherwise would have been illegal. He started making erotic movies in the '50s, which featured, among others, one of the biggest pin-up and bondage stars, Bettie Page. However, Klaw started seeing the end of his career not long after it began, as he started facing political and legal problems, after which he burned most of his negatives.
Bondage Erotica in the '50s
Many questions can be posed when it comes to this kind of art. As it usually happens with things that stand right between the acceptable and the forbidden, erotic art Klaw used to produce drew much attention to it, and left room for individual interpretation. Unfortunately for him, it also made his work an easy target for the conservatives. But to be fair, it never went so far as to cross that line. This is exactly what classifies his work as erotic, and not pornographic as it was accused to be. However, the delicate role of a woman and her sexuality is a recurring question, and let us not forget that the feminist movement often accuses this type of art for other reasons. In this case, appropriation of a woman's sexual features is at stake, but then again, we clearly can't be the judges here. And for that matter, many topics that belong to this category are either never going to be agreed on, or outdated.
Iconic Pin Up Girls
From this point of view, the overabundance of nudity and explicitness may have even turned the things around, and made the vulgar images so ordinary that the ones including clothes, and at least some mystification, come as an inspiring surprise.
After all, the things we now call vintage used to be something different back then. Stepping into the studio upstairs above Klaw's store probably felt like an occasional excursion into the almost-forbidden. That is something people lack these days, which perhaps becomes evident when we remember that many women (and men) love masquerades, and around, let's say, half of them continue to dress as Pin-Up girls, or similar types of erotic characters. Only in this case, the dress up is not for the same reasons, and what used to be perceived as a light form of pornography those days, is now embraced as a nostalgic homage to the almost innocent past. And this way, you too can be a Pin-Up girl for a while - without being judged.
Flesh and Skin, and Some Nylon Stockings
So what was it, that made his films and photos so explicit (other than their premier content of course)? Probably the absolute clarity of the image. The cheeky titles on his movie posters, then the fact that there is no haze, except for what can be hidden by some pieces of clothes and the posture itself - directed by the model, Irving and Paula Klaw. Also, these images would have probably caused less drama if they were not photographs, but, let's say, illustrations instead. Their explicitness lies in raw depiction of flesh and skin, real body parts, and also the glimpses of women's real emotions. The fact that the scenario is very often the same in the images (the previously mentioned studio above the store) also gives them a home-made look that plays with the perception of intimacy and appears to be slightly unsettling. However, if you take a look at 'behind the scenes' photos, you can see a humble, ordinary-looking man, smiling and laughing with his attractive models. That sets these provocative pictures into a more hospitable, kind of humorous atmosphere.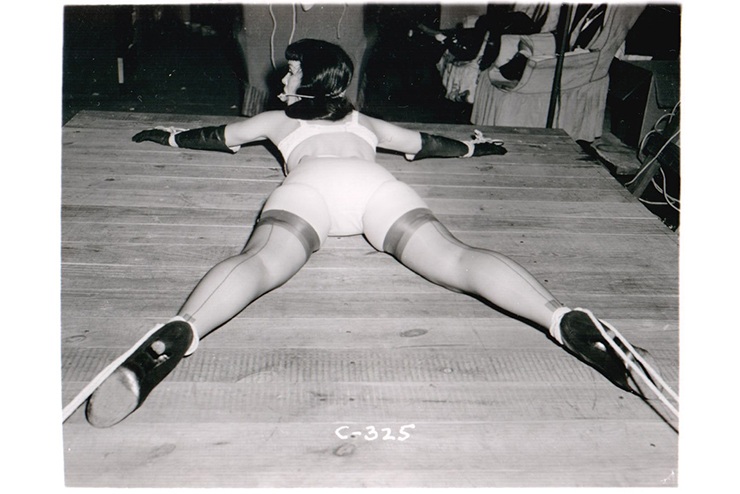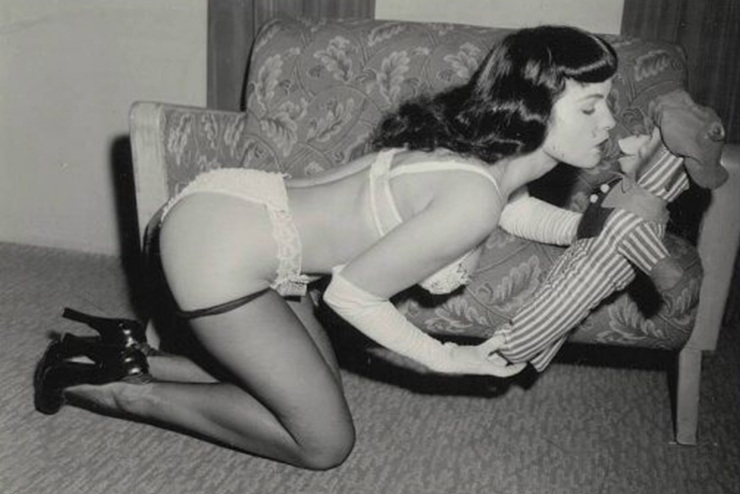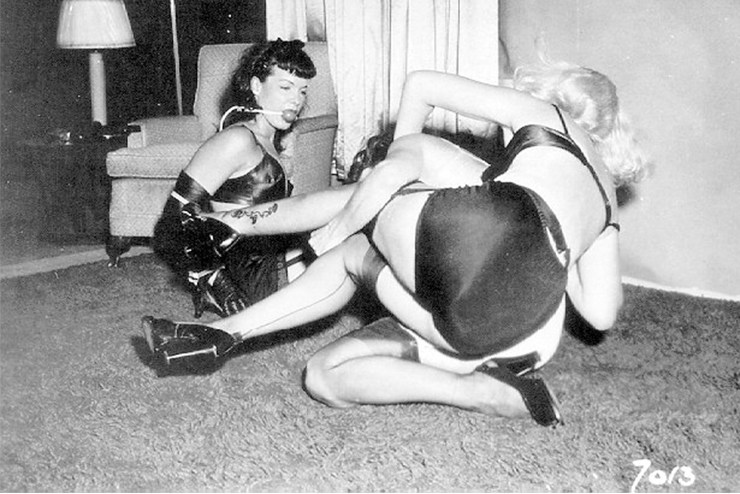 All images used for illustrative purposes. Featured Movie Posters: Varietease (1954) and Teaserama (1955).