During the 1950s, novel materials, mass production and new technologies were to influence all areas of life, from the daily maintenance of the living space to the built environment as well as the production of art. A seminal 1956 art exhibition at the Whitechapel Gallery in London conceived in collaboration with members of the Independent Group, This Is Tomorrow brought together a variety of architects, artists, designers and theorists who created work in response to the theme of the "modern" way of living. Their work transformed the gallery into a vibrant interactive space of installations.
Once again, the Whitechapel Gallery will be filled with experiential installations, environments and pavilions, conceived by over 30 world-leading artists and architects working in collaboration. Based on the original 1956 exhibition, the upcoming showcase titled Is This Tomorrow? brings together ten new experimental multimedia projects responding to critical issues of today, offering speculative visions of the future.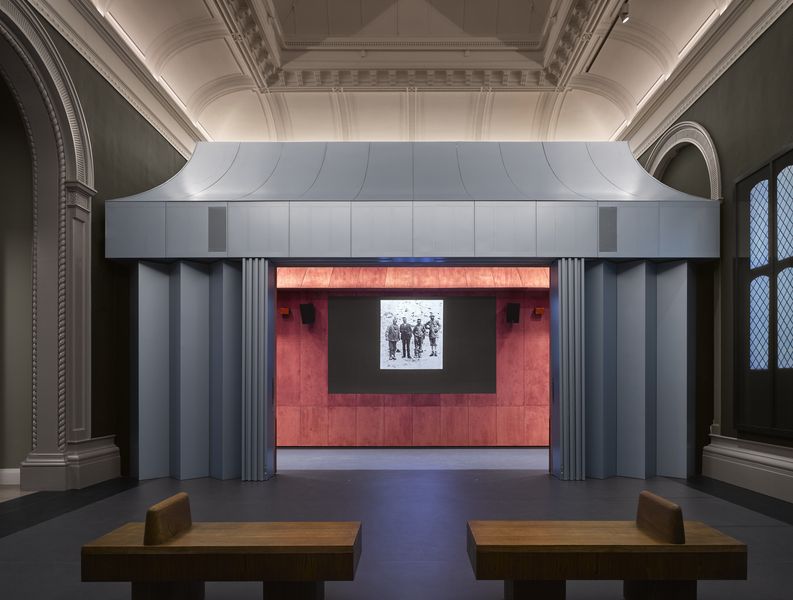 This Is Tomorrow
An iconic show in its conception and realization, This Is Tomorrow has continuously interested artists, theorists and curators ever since due to the challenge it posed for the creative practitioners and visitors alike. Opened on August 9th, 1956, it showcased 38 participants who formed 12 collaborative groups of three to four creative practitioners, resulting in 12 exhibits within the show which were produced separately and were independent of each other. Each group was polymorphic, formed by an architect, a designer, an artist and a theorist, and was asked to amalgamate their individual approaches and produce work by deploying a new methodology inspired by communications guru Marshall McLuhan, as well as symbols of pop culture. While each group worked independently, the final display was seen as one environment.
In 1955, architect and writer Theo Cosby who conceived the exhibition wrote that "the discussions... are really the point of the collaboration... the exhibition will not be a collection of miscellaneous art works." In a 1979 documentary by the architectural critic Reyner Banham, he revealed that "as you can imagine, the labour involved in getting any kind of agreement out of forty highly independent and free-standing geniuses has been quite something."
Remarkable for its collaborative process, This Is Tomorrow addressed issues which became crucial in contemporary art and is considered a watershed of post-war British Art. It was visited by almost a thousand people a day who had to make their own judgments as to how to navigate inside the gallery and interpret the works they viewed in an innovative layout of strange houses, corridors and mazes, all absent of interpretation panels and other information available.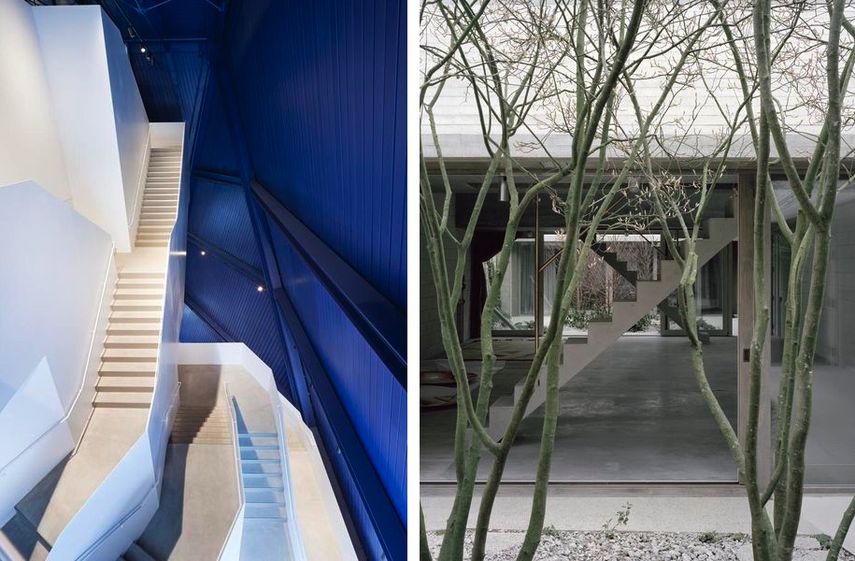 Is This Tomorrow?
The ripples of influence the original exhibition created 50 years ago are still being felt today. Expanding the vision of the original exhibition and reflecting changes of the intervening years, the upcoming exhibition Is This Tomorrow? invites visitors to travel through a sculpture formed from security barriers, peer into a model museum for the world's most famous artwork, empathize with animals by entering structures built for them, or consider how a machine could equip us for the future. These ten intriguing and provocative projects conceived by over 30 world-leading artists and architects pose the question – is this tomorrow?
Some of the topics explored within the show include borders, migration, privacy, living space and our relationship with technology. The expansive potential of collaboration, which was first explored in the 1956 exhibition, is once again explored as artists have been working in ten interdisciplinary pairs or groups. The exhibition features 6a architects, APPARATA, Rachel Armstrong, Rana Begum, Tatiana Bilbao Estudio, Cao Fei, Mariana Castillo Deball, Cécile B. Evans, Simon Fujiwara, Andrés Jaque / Office of Political Innovation, David Kohn Architects, mono office, Farshid Moussavi Architecture, Hardeep Pandhal, Amalia Pica, Jacolby Satterwhite, Zineb Sedira and Marina Tabassum Architects.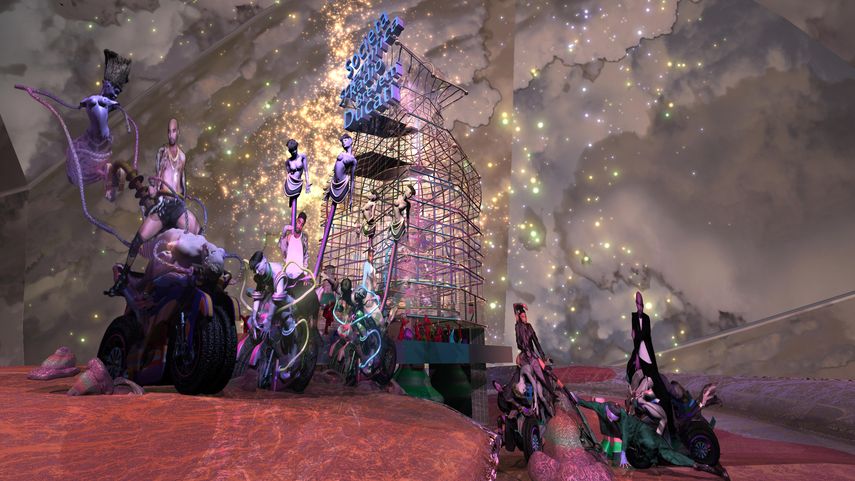 The Collaborations
The commissions are arranged by in a maze-like configuration throughout the galleries. It starts with the collaboration between 6a architects and artist Amalia Pica which explores the way architecture proscribes our relationship with animals, continuing with a top-heavy sculpture on insufficient support by APPARATA and Hardeep Pandhal exploring what happens to architecture when political systems collapse or become outmoded. Next, mono and Cao Fei explore the relationship between people and technology in a prototype for a machine that dispenses objects and emotions to represent and imagine possible futures.
Other collaborations include the one between Andres Jaque and artist Jacolby Satterwhite, whose installation considers the relationship between bodies and resources; the one between Tatiana Bilbao and Mariana Castillo Deball, which takes living space as their point of departure; the one between Marina Tabassum and Rana Begum, which serves as a space of hope and spiritual reflection; the one between David Kohn Architects and Simon Fujiwara, who explore how iconic works of art are gaining increasing currency in a world dominated by international capital and driven by mass populist appeal; the one between Farshid Moussavi and Zineb Sedira; who created an experiential pavilion made of a series of security gates, considering the physical architecture of borders and control; and finally the one between Rachel Armstrong and Cécile B. Evans, who explore systems that may already be in the process of eclipsing constructs of capital, like time and space.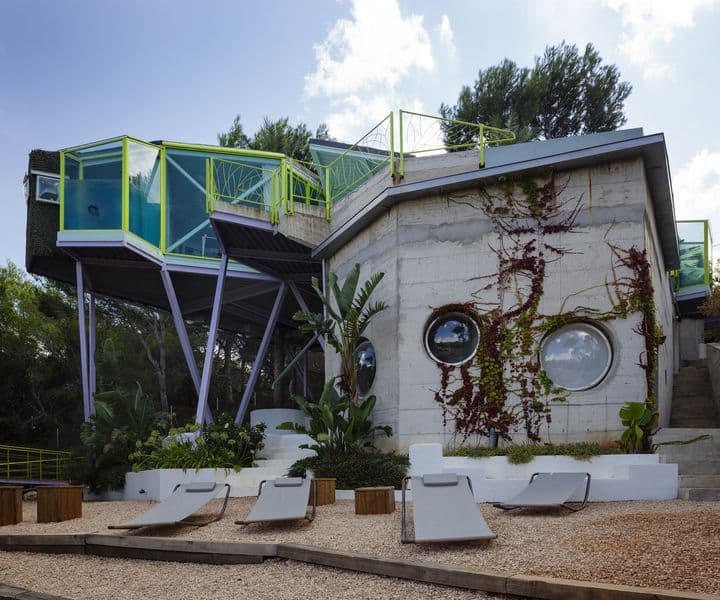 A Collaborative Exhibition at Whitechapel Gallery
The exhibition Is This Tomorrow? will be on view at the Whitechapel Gallery in London, in Galleries 1, 8 and 9, from February 14th until May 12th, 2019.
The show is curated by Lydia Yee, Chief Curator at Whitechapel Gallery, with Trinidad Fombella and Cameron Foote, Assistant Curators at Whitechapel Gallery and Pedro Gadanho, MAAT's curatorial advisor, and co-commissioned with MAAT - Museum of Art, Architecture and Technology, Lisbon, where it will be presented in 2020. It is accompanied by a fully-illustrated publication including contributions from each group.
Featured image: Cecile Bevans - Amos' World, Episode One at MUMOK, Vienna, 2018. Courtesy the artist; Marina Tabassum- Bait Ur Rouf Mosque, 2012. Photo by Sandro Di Carlo Darsa; Cao Fei - Whose Utopia?, 2006. Film still. Courtesy the artist. All images courtesy of Whitechapel Gallery.