Regardless of the great divide, the 1970s in Germany were marked by a new generation of artists willing to experiment and critically articulate either the past and the present through their work. While some went under the influence of Conceptual art, others started embracing Minimalism, and such was the case with Isa Genzken. Her sculpture-based, yet multidisciplinary practice passed through various stages while remaining focused on the investigation of contemporaneity and the permeating nature of capitalism.
This year, two exhibitions honor Genzken's domains; while the first one titled Window at Hauser & Wirth in London will feature both recent new and unseen works, the survey at Kunstmuseum Basel will focus on the artist's production made between 1973 and 1983.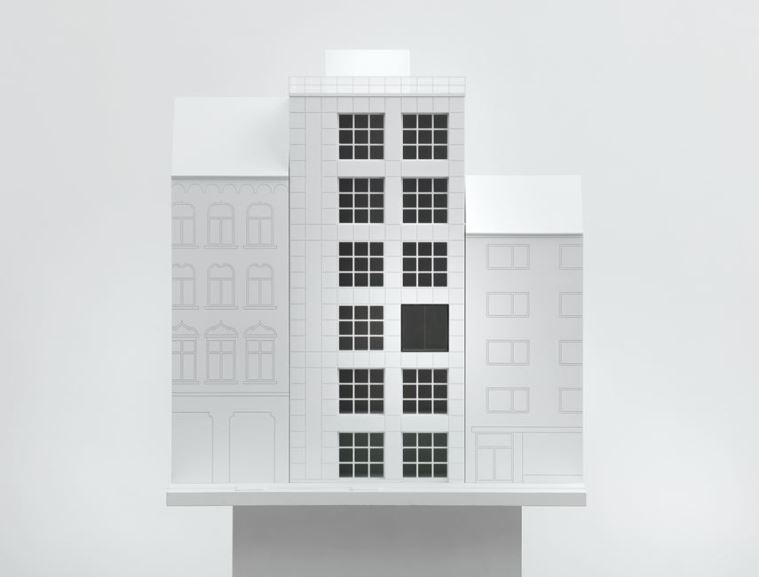 The Continues Explorations of Spatiality by Isa Genzken
Namely, the Hauser & Wirth presentation will reveal Isa Genzken's immersive environments that are a result of her interpretation of the themes of travel, elements of an aircraft cabin, and the window, as well as the interest in architecture and light.
The exhibition begins with a Brutalist looking concrete sculpture titled Saal (Room) made in 1989 that stands as an homage to modern architecture and its social and cultural contexts. Next to this piece is the Fenster or Windows series that is visualizing one of the leading concerns in the artist's oeuvre dealing with the notion of spatiality, and the following implications concerning the relationship between sculpture and space, as well as location and perception.
Dislocated airplane parts (windows and seats) that evoke the instability of a global society in constant flux and motion will be at the heart of the exhibition. Fifteen airplane windows will hang on the gallery walls in a formation similar to the open eyes subverting the notion of the window as a symbol of the openness, the worldview, traveling, etc. Those explorations are further explored with seats called Untitled made in 2018, implying a dystopian image of air transport.
The following series of models feature how the window motif was explored by the artists through her public sculpture such as Spiegel (1992). Genzken imagined this piece to be thirty meters high; the base of the sculpture functions as a resting place, allowing the visitor to contemplate, an activity practiced only by the privileged in today's society. On display will be also Camera (1990), a piece commissioned for the fifth-floor balcony of a Brussels apartment, that frames and captures a magnificent view, as a camera does, but as the view is already present the work operates on the level of absurdity.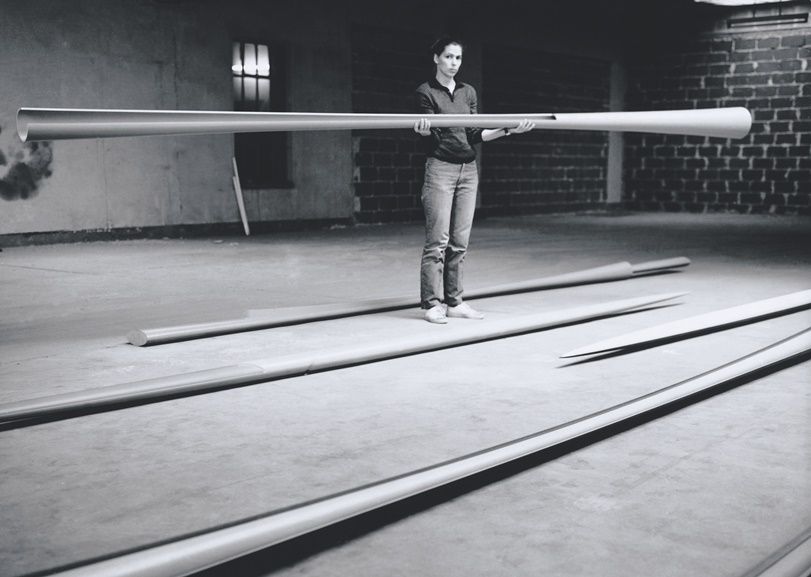 The Ten-Year Production
The second exhibition curated by Soren Grammel at Kunstmuseum Basel will, as it was already mentioned, unravel Isa Genzken's domains in the early stage of her career by extensively showcasing the works made between 1973 and 1983. Belonging to this group are the famous Ellipsoids and Hyperbolos, which will take the central spotlight of the installment.
Secondly, it will take into consideration Genzken's computer prints on continuous paper. It can be said that these works are sort of sketches or prototypes for the Ellipsoids and Hyperbolos, and are equally intriguing regardless of their technicality. They will be followed by a graphic series centered on line patterns that were eventually transformed into the curved horizontal shape the artist translated into the mentioned sculptures. The visitors will also be able to see the early film Zwei Frauen im Gefecht from 1974 and conceptual photographic series such as Instruments and Hi-Fis, both made in 1979.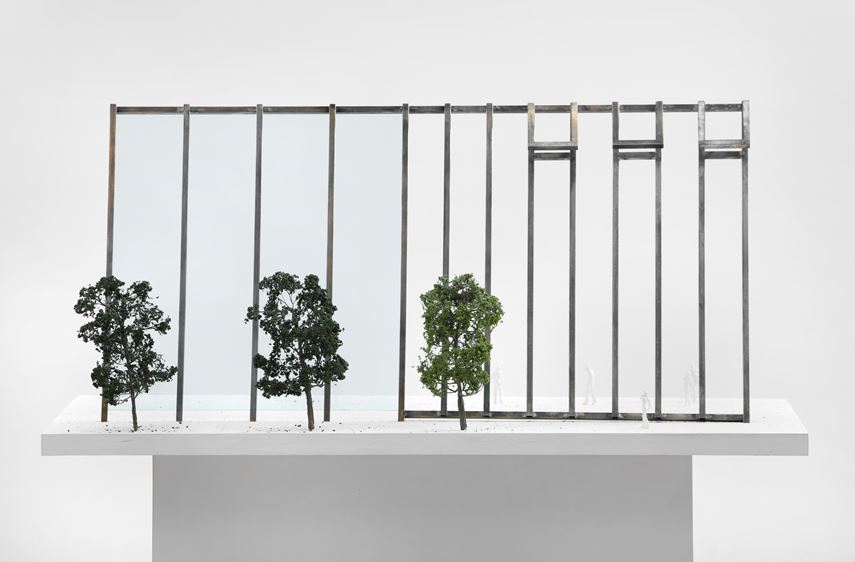 Isa Genzken at Hauser & Wirth and the Kunstmuseum Basel
After these brief descriptions of both exhibitions, it seems that the first one tends to show how Genzken translates everyday objects and locations to simplistic plastic language that is both subversive and humorous, while the second one will show the formative years and the obvious influence of conceptual and post-minimalist tendencies on her own approach.
Isa Genzken. Window will be on display at Hauser & Wirth in London from 7 February until 2 May 2020, while Isa Genzken: Works 1973 - 1983 will be on display at the Kunstmuseum Basel from September 5, 2020 until January 24, 2021.
Featured images: Isa Genzken - Parallelogramme, 1975. 112 parts, gouache on paper, 29.7 x 21 cm. Courtesy Galerie Buchholz, Berlin/Cologne/New York © VG Bild-Kunst, Bonn / 2020, ProLitteris, Zürich; Rot-gelb-schwarzes Doppelellipsoid 'Zwilling' (Red-yellow-black double ellipsoid 'twin'), 1982. 2 parts, laquered wood, 11 x 14 x 602 cm. Courtesy Galerie Buchholz, Berlin/Cologne/New York © VG Bild-Kunst, Bonn / 2020, ProLitteris, Zürich; Blau-grau-gelbes Hyperbolo 'Elbe'(Blue-gray-yellow hyperbolo 'Elbe'), 1981. Wood, laquer, 20 x 20 x 544 cm. Courtesy Galerie Buchholz, Berlin/Cologne/New York © VG Bild-Kunst, Bonn / 2020, ProLitteris, Zürich; Untitled, 2018. 15 airplane window panels with wood and metal mounting; 3 airplane bench seats. Window panels: each 130 x 106 x 38 cm / 51 1/8 x 41 3/4 x 15 in. Bench seats: each 116 x 154 x 56 cm / 45 5/8 x 60 5/8 x 22 in. Installation dimensions variable. Photo: Todd- White.