During the time spent in Montreal, artist Isaac Cordal has made the Canadian town his own personal playing ground. He placed his trademark cement characters all over the city in order to reflect on a modern way of life, our strive toward constant progress and its side effects on the society. The cement figures could be seen in poodles, at bus stops and building facades. These small scale instalations are an unusual introduction to Isaac Cordal's Urban Inertia solo show that will be on view at C.O.A gallery. Urban Inertia will showcase a series of artist's cement sculptures and a variety of photographs that depict his numerous urban interventions.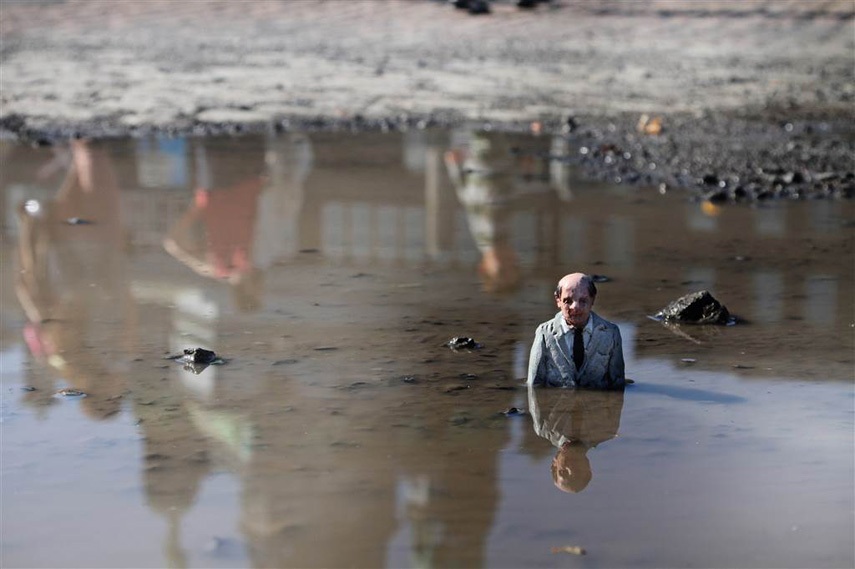 Miniature World of Isaac Cordal
Spanish artist Isaac Cordal is known for creating miniature scenes in urban landscapes of numerous cites with his recognizable characters. The 25cm tall figurines are first made in clay. Then the artist creates silicon molds from which the concrete figures are made. These cement characters, are then situated all over the city, in cracks in the walls, roads, pipes and sidewalks. They are often submerged in water, covered in stones and are vanishing in various ways. The catastrophic imagery powerfully depicts symptoms of a world in crisis. The artist believes that our disrupted relationship with nature, as well as our constant need for progress caused a "collective inertia that leads us to think that our small actions cannot change anything."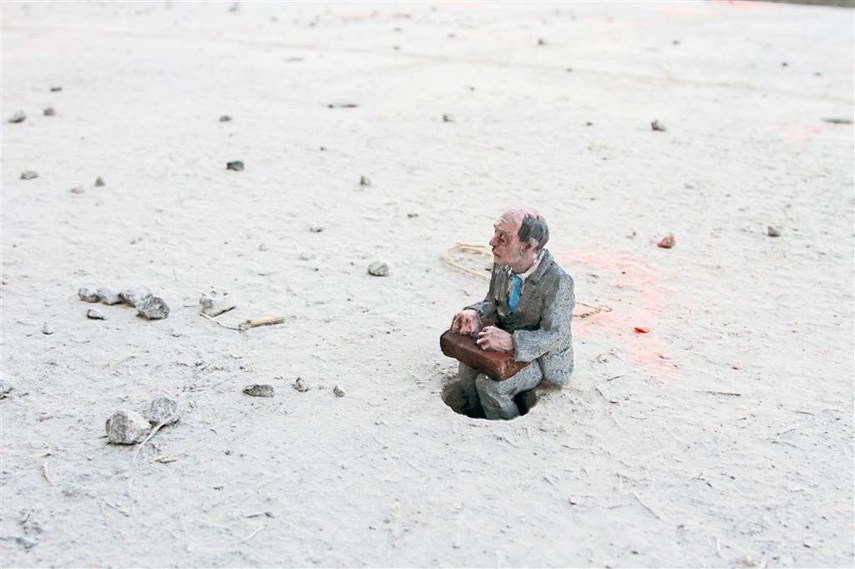 Small Cement People We Can All Relate To
Through the act of miniaturization and careful placement of his figures, Isaac Cordal portrays the routine of our daily lives. A string of worn out subjects, often go directly into their own disaster. Their faces are as gray as their suits and their expressions show no emotions whatsoever. The artist established various outcomes for his subjects. Some are drowning in puddles, others stand in the cracks high above the ground, some are sleeping on the sidewalks or sit in the piles of stones. And although at first glance they may seem lifeless and apathetic, Isaac Cordal's figures are in fact, quite easy to relate to. His tiny people go through all the moments and the hardships of life as we do: they are waiting for buses, work and rest, go to funerals and eventually die.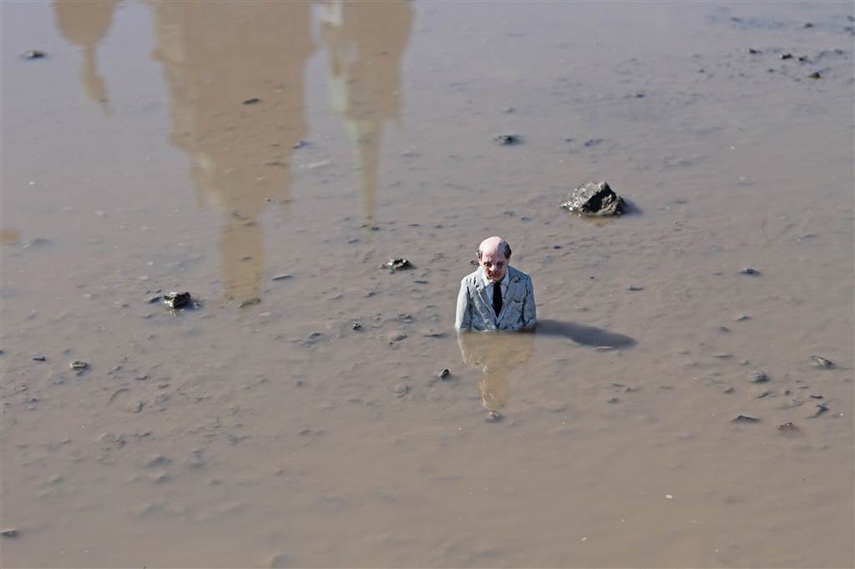 Urban Inertia at C.O.A Gallery
Isaac Cordal's little ceramic people will move from the streets and into the space of C.O.A. gallery for the upcoming Urban Inertia exhibition. Their carefully selected poses will take on various meanings to represent both the capacity for survival and the destruction of everything around us. A selection of photographs depicting artist's numerous interventions will be on view as well. The exhibition will open on October 29th and will last till November 28th, 2015 at C.O.A gallery in Montreal.
Don't be inert ! Sign up for My Widewalls and get the all the latest stories for FREE!
Featured image: Urban Inertia Exhibition Flyer
Images courtesy of C.O.A gallery