For what will be his fourth solo exhibition held within the halls of Galerie Mathgoth, street artist Jace will focus on an odd theme when compared to what he usually deals with; this time, Jace will tackle the challenging topic of love with his unique visual vocabulary.
Jace has over three decades of artistic experience, a long time during which he became a master of conveying strong messages with simple and effective visuals.
Of course, his main character Gouzou will yet again be taking the central stage as he will be the main creative tool for interpreting the exhibition's main topic.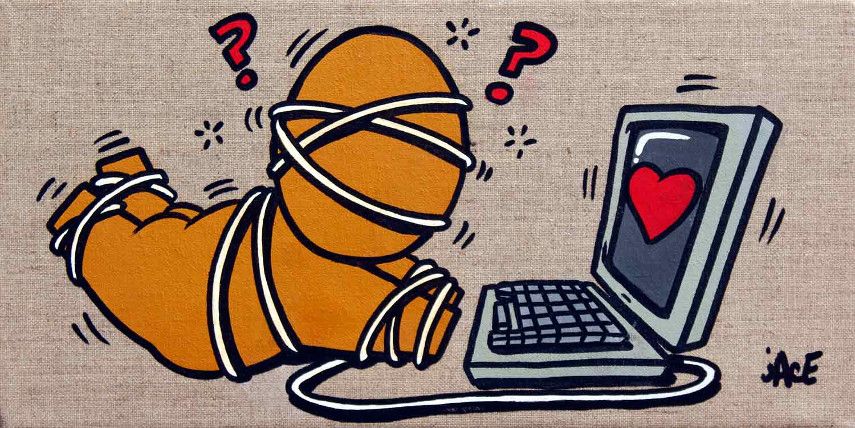 The Magic Street Language of Jace
Jace made a name for himself by creating incredibly deep and intriguing content, visually telling stories without words that always carry a strong and unfiltered message.
Whether he is working in a studio or out on the streets, he relies heavily on Gouzou, a little orange character without a face, hands or feet - it's fascinating to observe how this artist's work evolved over time, yet it never stopped revolving around the same adorable critter.
For this upcoming show, Jace toys with ironies that loving somebody can bring onto us. He explores what contemporary couples are willing to go through in order to fall in love and stay together.
However, he does not try to resolve nor even fully explain these issues - instead, it appears as if the artist wishes to celebrate these "problems", implying that these ironies are one of the main reasons life is worth living.
Ultimately, Jace makes a strong point that love is able to conquer whatever life decides to place in its way.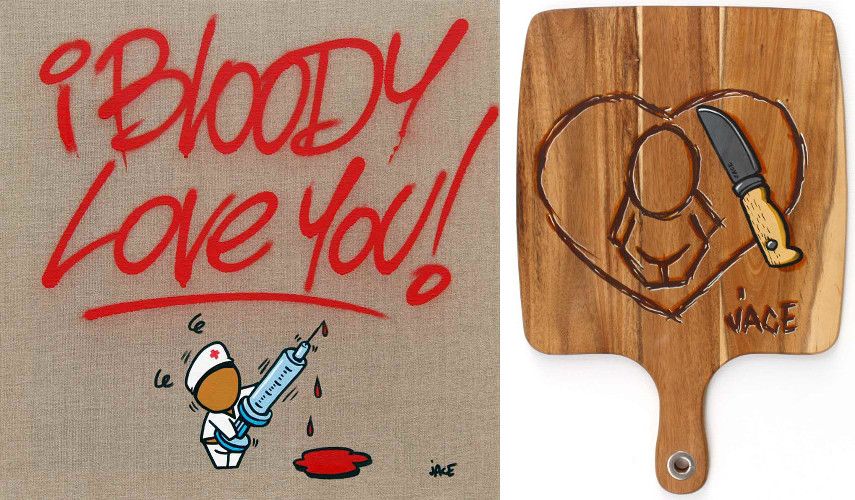 Conveying the Concepts of Love Through Gouzou
For years now, Jace used his Gouzou character by systematically placing him in different situations depending on the desired effects and the artwork's end goal.
For this latest show about to take place at Galerie Mathgoth, Jace prepared over forty artworks of various formats.
Small in size and huge in terms of content, the works selected for the show will definitely be a worthy addition to the Gouzou's already very impressive repertoire.
Just like everything else he created during the mature period of his career, Jace yet again demonstrates the ability to defy the ephemeral nature while maintaining other qualities of street art.
This is precisely what makes Jace one of the finest contemporary street artists when it comes to presenting artworks in a gallery setting.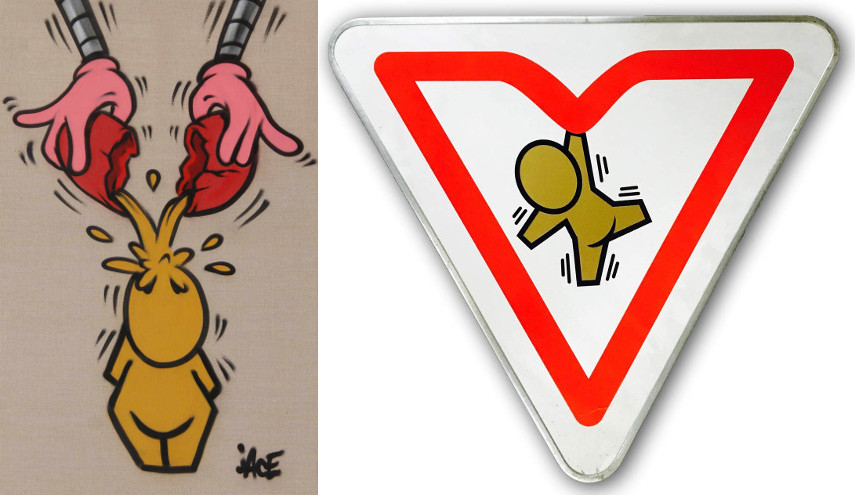 Jace Art Exhibition at Galerie Mathgoth
When Jace started painting Gouzou on the streets of France, he probably never even dreamed of how much he will be able to achieve with this adorable character. From decorating ruined industrial areas to breathing life into advertising posters, Gouzou serves the role of the main creative tool at Jace's disposal and we do not see this changing any time soon.
The upcoming show at Galerie Mathgoth that will feature Jace's colorful interpretations of love will take place between the 9th of December 2017 and the 14th of January 2018.
Featured images: Jace - Toile #18; Jace - Toile #1. All images courtesy of Galerie Mathgoth.