Stretching nearly twenty feet wide by eight feet high, Jackson Pollock's Mural from 1943 is an artwork which consumes the space and takes your breath away. Commissioned by art patron and gallerist Peggy Guggenheim, Pollock's Mural is today recognized as one of the pivotal achievements of the artist's career, the moment when he left figuration behind and started to develop the drip technique of applying paint to canvas that would become his signature. When the work was installed, it immediately caused a sensation in the art world. The art critic Clement Greenberg said of the Pollock's piece: "I took one look at it and I knew Jackson was the greatest painter this country had produced."
This iconic work is currently on view in Boston for the first time in the exhibition Mural: Jackson Pollock | Katharina Grosse at the Museum of Fine Arts. It is displayed alongside Grosse's Untitled from 2019, a free-hanging painting 48 feet wide by 16 feet high, which bursts with sweeping streaks of kaleidoscopic color. This unprecedented pairing demonstrates how each artist has respectively transformed painting through innovative techniques and unique approaches to color on a massive scale.

Jackson Pollock, Mural
Long before he became one of the most famous Abstract Expressionists, Jackson Pollock was an artist who was struggling to make ends meet in the vast city of New York. Desperate to make a living, he took a job as a janitor and handyman at The Museum of Non-Objective Art, now known as the Solomon R. Guggenheim Museum. After becoming aware of his work, Peggy Guggenheim's assistant Howard Putzel introduced him to the art patron who would change the course of Pollock's career.
It was in the mid-July 1943 when Pollock, who was still a relatively unknown artist at the time, received his first commission from Guggenheim. The acclaimed art patron initially envisioned a mural painted directly on the wall of her townhouse, but advised by her friend Marcel Duchamp, she decided to go with a painting on canvas that could be removed and transported in the future. The painting was finished by the end of that same year, and in 1951, it was gifted by Guggenheim to the University of Iowa.
This impressive piece is characterized by bold brushstrokes of paint that appear to dance rhythmically across the dense and vibrant surface, making it a hybrid form of composition that was both a mural and an easel painting. The largest canvas he ever painted, Pollock's Mural is often seen by art historians as a moment of liberation as the artist pushed beyond the restrictive traditions of easel painting, moving towards more gestural, more active painting. Following this work, Pollock continued experimenting with large-scale works and unconventional paint applications. Only four years later, he began making the so-called "drip" paintings, works which cemented Pollock's reputation as one of the most important artists of the 20th century.
As the condition of Pollock's work had deteriorated by the 1970s, the University of Iowa relined the painting in 1973, adding a second canvas with a wax adhesive, and also replacing the stretcher and varnishing the surface to stabilize the paint. Pollock's painting was also sent to the J. Paul Getty Museum in Los Angeles for an 18-months-long conservation from 2012 to 2014.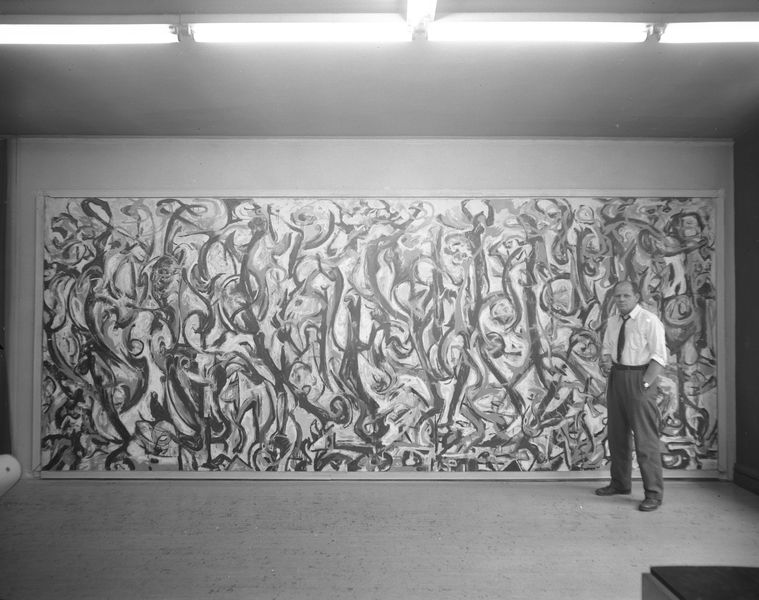 Katharina Grosse's Mural Work
German painter Katharina Grosse is best known for her wall-size paintings and even bigger installations made of seemingly incompatible materials and surfaces. Using architecture and nature as the basis of her compositions, she creates abstract, psychedelic works comprised of layers of expressive colors, canvas and other striking components. Breaking with the long tradition of the mural, Grosse sprays prismatic swaths of color directly onto architectural structures, objects and landscapes, creating immersive visual experiences that erode the distinction between two and three dimensions and radically expand the scope of painting.
Commissioned by MFA Boston, Grosse's Untitled is a free-hanging work which examines painting's potential to live off the wall and to respond to and confront the world in novel ways. It is deeply saturated with layered pigments that flow into each other and soak through the cloth, offering a vivid sensory experience on both sides. Shown perpendicular to Pollock's Mural, its three floating cloth panels bisect the gallery and suggest a mural without walls.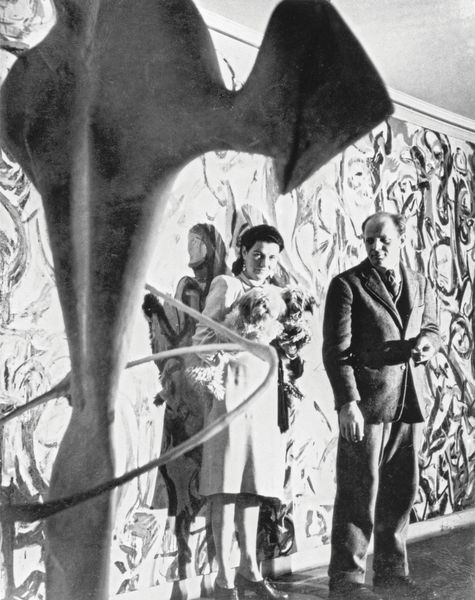 Jackson Pollock and Katharina Grosse at the MFA Boston
The visitors will also have an opportunity to see two other Pollock's paintings from the MFA's collection installed elsewhere in the Museum. On view on the first floor of the Evans Wing, Troubled Queen from 1945 marks a transitional moment in his career, just a few years before all traces of the figurative would drop out of his work. Displayed on the second floor of the Art of the Americas Wing, Number 10 from 1949 is an example of the revolutionary "drip" paintings for which Pollock is best known.
The exhibition Mural: Jackson Pollock | Katharina Grosse will be on view at the MFA Boston in the Charlotte F. and Irving W. Rabb Gallery until February 23rd, 2020.
It is curated by Zoë Samels, Curatorial Research Associate, Art of the Americas, and Akili Tommasino, Associate Curator, Modern and Contemporary Art,
On October 29th, 2019 at 7 pm, the MFA will host a free program with Grosse, who will discuss her work to date, including her new work for Mural: Jackson Pollock | Katharina Grosse. The artist will appear in conversation with Caroline A. Jones, Professor in the History, Theory and Criticism section of the Department of Architecture at the Massachusetts Institute of Technology.
Studio view 2019 - Mural: Jackson Pollock | Katharina Grosse
Featured images: Visitors in the exhibition Mural: Jackson Pollock | Katharina Grosse at the Museum of Fine Arts, Boston. June 27, 2019. Charlotte F. and Irving W. Rabb Gallery. Photograph © Museum of Fine Arts, Boston; Making of Katharina Grosse's Untitled, 2019. Photo Katharina Grosse. Copyright Katharina Grosse and VG Bild-Kunst, Bonn.