There's always additional value and a supplemental level to be taken into account when perceiving and interacting with particular artwork that is initially based on the work of your loved ones. Jacolby Satterwhite uses his mother's sketches and drawings for inspiration, he reacts to them as a certain proactive conduit, creating a multidimensional strong, vast and confusing cosmos. The beauty of it is that you get that subliminal signal that the work is like it should. By using a variety of different media the artist uplifts his art and almost redefines its form. Satterwhite's currently running exhibition titled How Lovely Is Me Being As I Am is a product of the same inspiration. The exhibition was opened a few days ago at OHWOW Gallery in Los Angeles.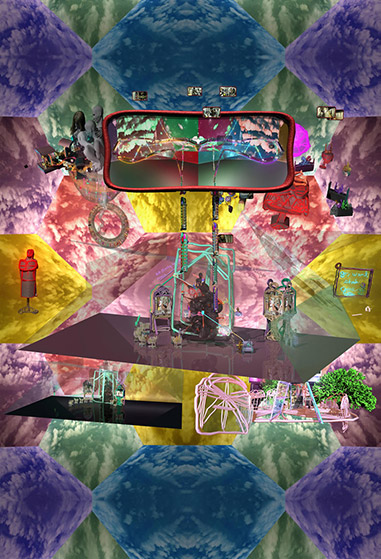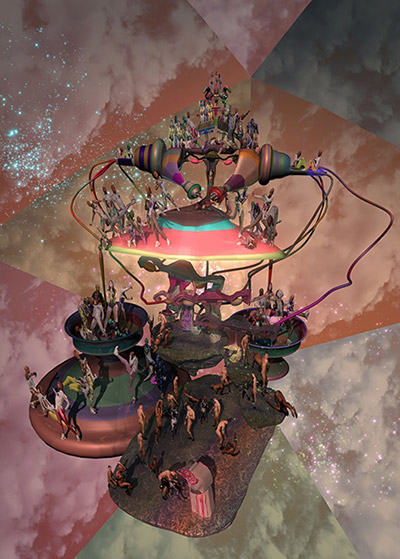 Intention, Interpretation and In Between
For this specific body of work Jacolby Satterwhite drew inspiration from one particular collection of his mothers drawings in which she drew seven vessels or architectural structures beneath the handwritten phrase that stated "How Lovely Is Me Being As I Am". As a response to the spark that lit up the artists creative force, Satterwhite created more than a reflection but a whole macrocosmos. By playing with perception of reality, this body of work also insinuates extraterrestrial dimension, transcending constraining dimensions of space and time. Although his approach can be perceived a basic one, the imagery is surreal and the artist still manages to stay on course of formalist aesthetics and composition. Satterwhite's exhibition serves as a re-exploration of histories, a compound of various art practices and a queer rendition of phenomenology. To Jacolby Satterwhite How Lovely Is Me Being As I Am serves as paradigm that is set to oppose the minimalist approach. It fully engages the viewer by presenting him an exhausting universal expression.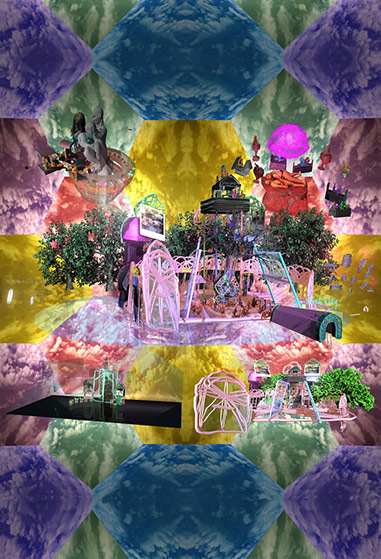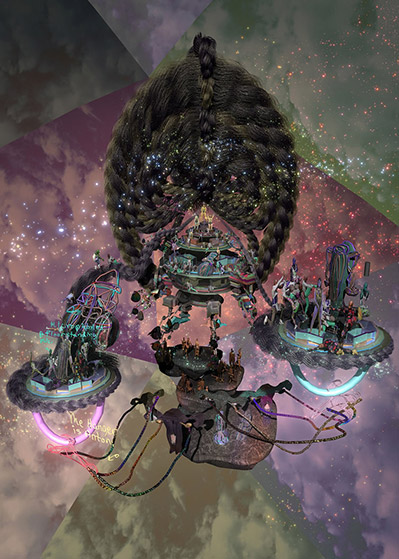 About Jacobly Satterwhite
Jacolby Satterwhite was born in 1986, Columbia, SC. He received a BFA from Maryland Institute College of Art, and a MFA from the University of Pennsylvania. In 2013 he was a recipient of the Louis Comfort Tiffany Foundation Grant. He was always intrigued by the process as meta narrative. Rooted in dadaism and surrealism the artist tries to combine multiple drawings in order to produce a time based narrative out of a nonsensical intersection of the text, rendered objects and dance performance. His work has been included in exhibitions at several prestigious institutions, including the Whitney Museum of American Art and New Museum in New York and many more.
Satterwhite exhibition will run until December 2014. as previously mentioned, in OHWOW Gallery in Los Angeles.
If you enjoyed reading this post and you want to read more about interesting upcoming exhibitions sign up for My Widewalls today!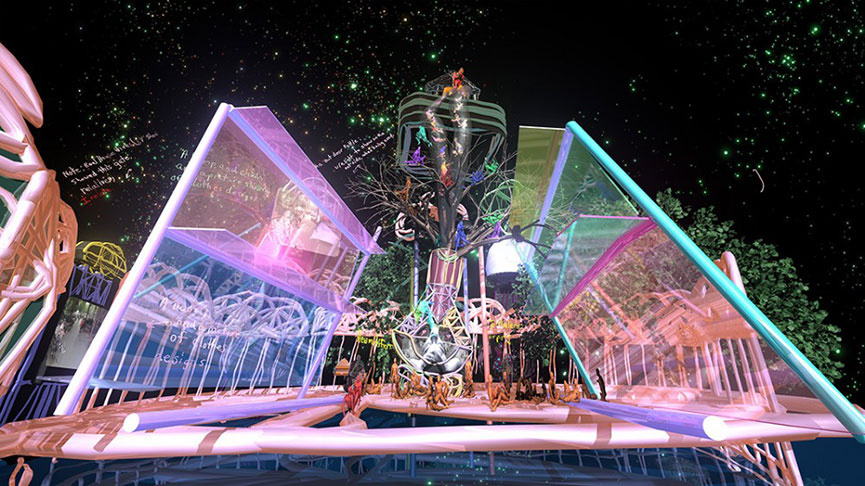 All images courtesy of OHWOW Gallery.