Exploring the hyperreal worlds of fantasy in nature, Jacub Gagnon and Kari-Lise Alexander art is soon going to be presented at the Thinkspace Gallery. In his new series titled Short Stories, Jacub Gagnon keeps pushing the natural world above the rules of its probability in a space where fantasy meets reality, a space where strange encounters amongst different imaginary creatures happen naturally. On the other side, works of Kari-Lise Alexander in her series WAKE explore the traditional Nordic stories and Scandinavian heritage through her surreal portraits of women intertwined with imaginative and rich flora in vibrant hues.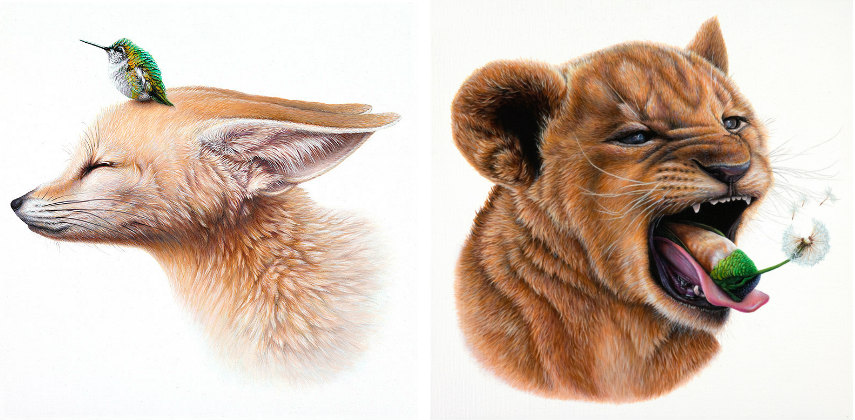 Jacub Gagnon Stages Impossible Sequences of the Known Objects
In Jacub Gagnon's third solo exhibition within this gallery, he continues to transform the animal world into one of puzzling beauty and surreal interrelationship. Creating an ecosystem within which everything is possible and where all parts are under a governance of their own and autonomous physical laws, he manages to create harmony between utterly different animal species. The focus is on creating multiple relationships of the enigmatic and unknown which becomes hyperreal by his impressive level of inner luminosity and detail created with layered acrylic paints and small brushes. Highly concentrated on extrapolating his subjects from the backgrounds, he uses both black and white indefinite spaces behind them in order to create a higher feeling of contrast and starkness leading to their isolation. Magic becomes reality freed from law in these perversely beautiful manifestations of the familiar which becomes transformed through a free association created by Jacub Gagnon.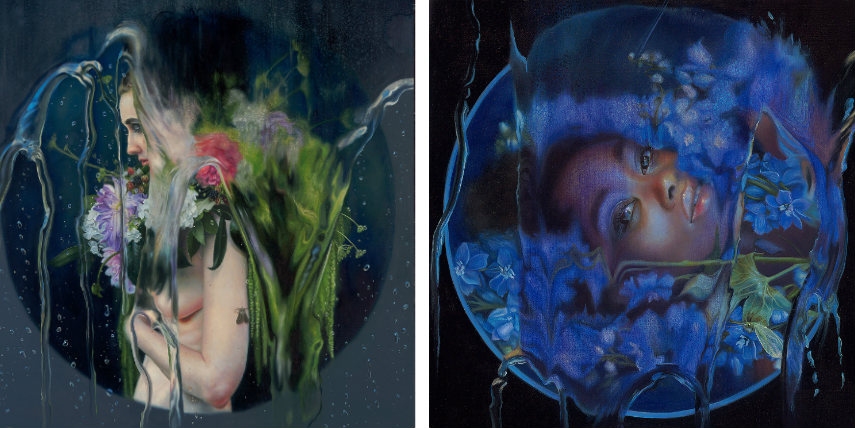 Kari-Lise Alexander Exploring the Flora of Nordic Folklore
In her first solo show at the Thinkspace Gallery, Kari-Lise Alexander created works inspired by her Scandinavian heritage, more precisely the tales of the Nordic Folklore and the lives of the female characters within them. Deeply connected to the world of nature, just like in the stories, these women become an interconnecting point between several states of transition and change, from sleep to consciousness, all enveloped with the fluidity of water and richness of color which intensifies the surreal effect. Perfectly capturing the beauty and vulnerability of her characters, she submerges them into the water and dissolves their materiality.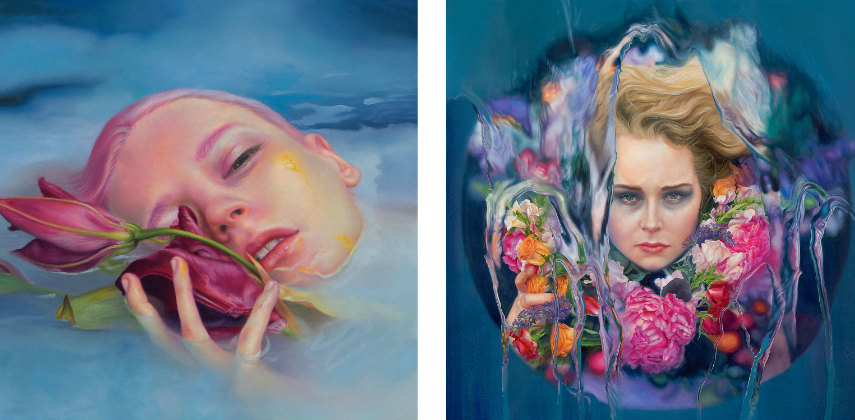 Jacub Gagnon and Kari-Lise Alexander Art at Thinkspace Gallery
Inspired by the tradition of fairy tales, Jacub Gagnon and Kari-Lise Alexander art will definitely lead the viewers on an introspective journey to the inner nature of our existence. Explore the fantasy worlds of two highly imaginative artists and become inspired to reconsider your own place amongst the world of magic and enigma in the Thinkspace Gallery in Los Angeles during the opening night on April 1st or anytime until April 22, 2017. 
Featured image: Kari-Lise Alexander - Faintly Far But Close Enough. All images courtesy of Thinkspace Gallery.