During her instinctive creative process Jade Doreen Waller, a young South African Urban contemporary artist, allows her imagination to decide upon the choice of images she will use. This impromptu composing results in surreal scenes made of recurring elements, from skulls and doves, to beautiful tattooed girls, all immersed in soft nuances of contrasting colors. Having already exhibited at 34FineArt Gallery in 2010, her popularity grew, and finally Waller has been invited by a hip urban art gallery in London, Graffik in Notting Hill, to exhibit in what will be her first international solo show. The coming exhibition bears a curious title - Overload, and it will consist of an entirely new body of work displaying her inventive expression and style heavily implanted in contemporary urban and pop art and culture.
Overload opens at Graffik Gallery on July 24, running through August 7, 2014.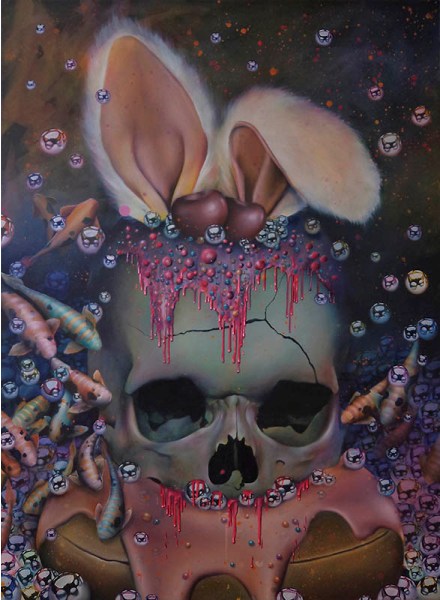 Overwhelmed
Waller's works are created by layering of various images, implicating the information overload we are all experiencing through multiple media channels. Despite the [seemingly] harmonious composition, Jade Doreen Waller's paintings are representations of the constant chaos she bears in her mind, as she hurls all of the symbols, silhouettes and forms onto the canvas without any particular order, emulating the mindflow. Her iconography is completely imagination-based, while details are rendered with much attention and precision, achieving smooth looking surfaces. Realizing the origins of Waller's art, it's not surprising that we encounter odd, freakish or even grotesque scenes made by superimposed single fragments. Usually grim or dark images are depicted in such a way that they become sweet and feminine, blending perfectly with other parts of the artist's overtly female fantasy. In attempt to define her work in terms of style, urban art doesn't cut it, since the overloaded paintings delve into Pop Surrealism as well, where traditional techniques and approach is used to paint contemporary visions.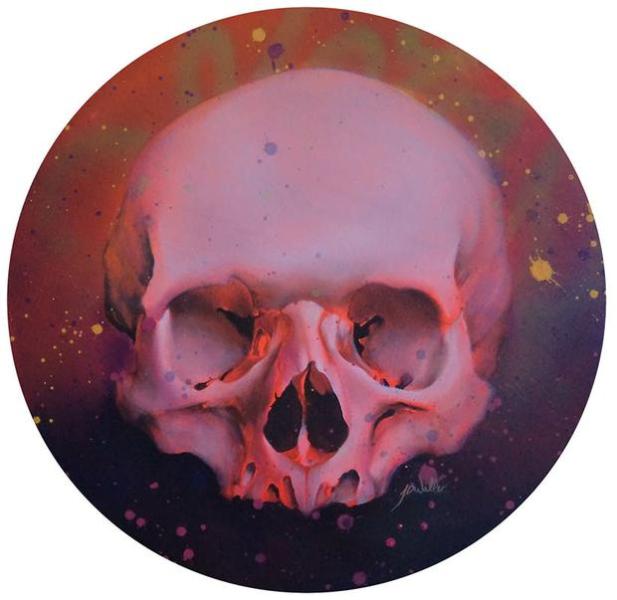 Reading the Layers
Reading Waller's paintings carefully, the viewer encounters inner layers, which hide interwoven references to visually overburdened consumerism of today. These details create a tension within the canvas, they are about to burst, showering the observer with a myriad of street culture emblems. Overload iconography infects the observer, who is instantly teleported into a parallel dimension of the artist's dreams, where candy skulls, scary toys, medicines, food, humanoid elements, cartoon characters, animals, insects, games and trinkets coexist in a simulacrum of Waller's brain space. Even though her works are primarily an outburst of the most intimate thoughts and views, they are also insightful commentary on the ephemeral and constantly multiplying images pertinent to urban lifestyle.
Observing Overload series as the grounds for study of Waller's art, her skill in combining and contrasting imagery and color with other pictorial elements becomes evident, providing an excellent understanding of her artistic concept and perceptions of reality.