Since moving from the US in 2010 to Berlin Germany, James Bullough finds himself reaching more and more for the spray can rather than the paint brush.  His seamless transition from photorealistic oil paintings to photorealistic spray-paint murals has gained a lot of attention.  In 2011, James Bullough co-founded the painting collective JBAK with fellow American born/Berlin based artist Addison Karl.  Together the duo has been creating quite a bit of buzz with their various projects and large scale murals throughout Germany and the US.
The summer of 2014 was quite busy and full of excitement for James Bullough. In June, Bullough stepped into the realization of his largest mural to date titled TOTEM in Berlin, Germany. Through an international competition of over 50 artists from 6 different countries, Bullough and street artist Addison Karl (together as JBAK) were awarded the prize and given the task of painting an 11 story building for the second installment of the biannual Lichtenberg Open Art project. According to the artist, TOTEM was the culmination of years worth of planning, conceptualizing, refining and dedicated collaboration.  The outcome is a 32 meter high triple portrait of three close friends grouped together in a formation of a totem symbolizing community and representing the multiculturalism of Berlin.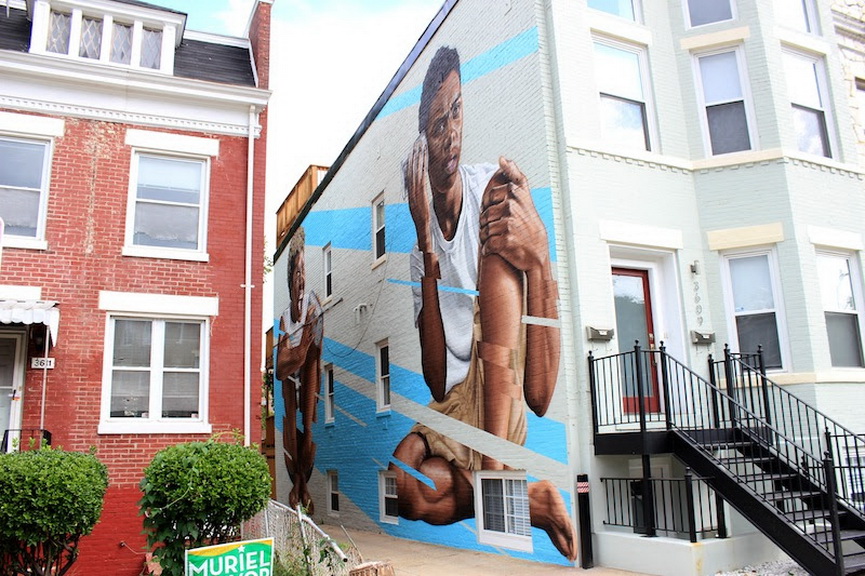 From Berlin Bullough set off to Washington DC to start work on a solo mural for a project called MuralsDC.  MuralsDC is run by an organization called Words Beats Life which uses the 4 elements of hip hop to reach out to the youth of Washington DC and get them involved in the arts.  These young adults were on sight with Bullough every day helping to paint the mural and also posed as models for the artwork itself.  The result is a playful scene of two local youth talking on a 'tin can telephone'.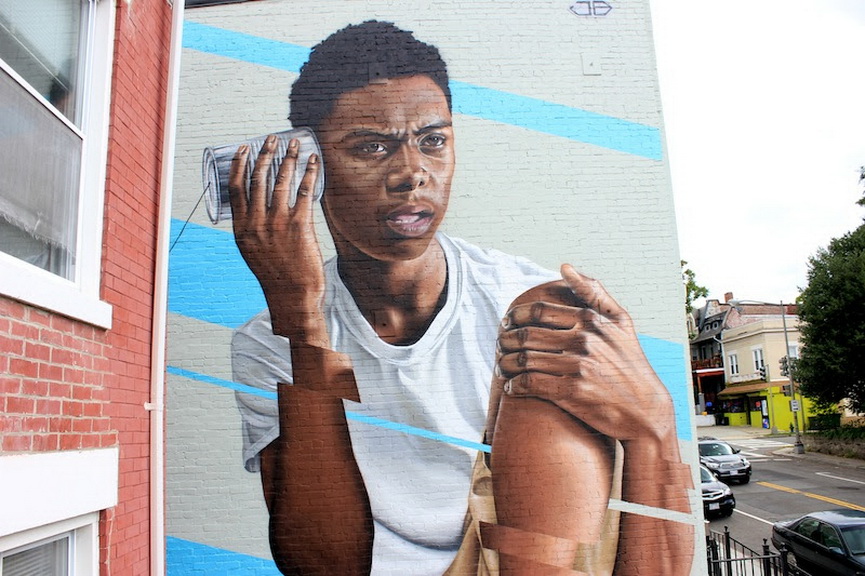 Besides the two aforementioned mural projects, Bullough has fulfilled his lifelong dream to have and host his own radio show. Together with Tom Phillipson aka Auto64, he launched the project called Radio VantagePoint. This bi-weekly talk and music show airs every Monday from 3-4pm Berlin time.  Each episode features a one hour in studio interview with a different "Urban-Contemporary" artists or group of artists. To date they have interviewed some of the scenes leading artists from all around the world such as JAZ, Word To Mother, Buff Monster, 1UP crew, and REKA. More about the show can be found on the dedicated website.
James Bullogh has informed us that the autumn is booked solid with more traveling and interesting projects on the horizon.  First, he is heading back to the US for a 4 week residency in Baltimore with master oil painter Matt Zoll.  From there, he will head off to Florida and then Texas for a couple more mural projects in November. Stay tuned! We'll keep you posted on these exciting projects.