Only recently, we talked about Abstract art and its two golden periods during the beginning and the middle of the 20th century. Today, many agree that this form of expression is making a big comeback, and we're as lucky as ever to be able to witness it. Explorations of shapes and colors, imaginative representations of pure thought, things whose meanings are completely open for interpretation. It would also seem that many graffiti artists find abstract art to be their next step and a sanctuary of their creation, where they can make a perfect blend of the two distinct notions. One such artist is Jan Kaláb, a Czech artist whose classic letter graffiti "melted" into optical circles, in order to form a new level of understanding Tension, in an exhibition of the same name hosted by Berlin's BC Gallery.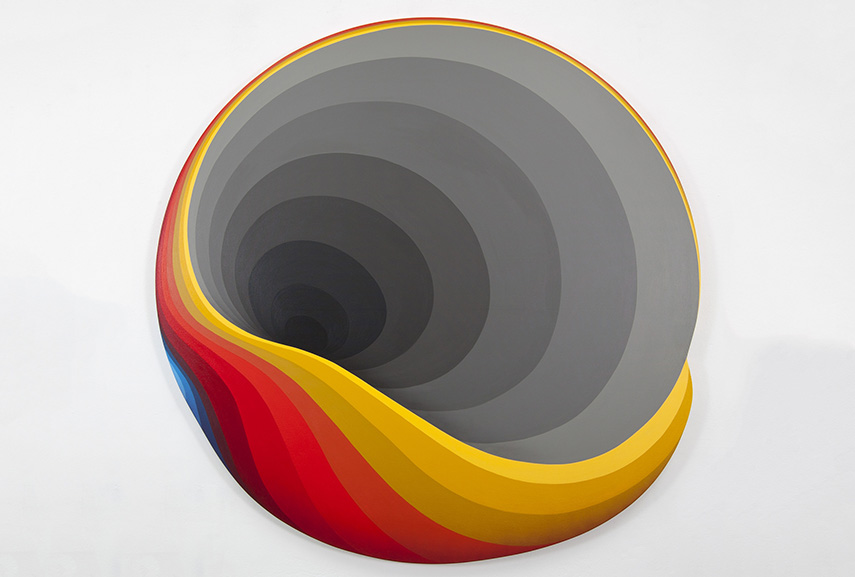 Tension
Round canvases and spheric sculptures, infused with color and illusionist layering, for a sublime visual impact of an abstract tension between forces. That's how we could describe Jan Kaláb's latest works, which follow the evolution of his artistic style from his early graffiti days to today, when this talented artist promises to become one of the most prominent abstract creatives out there. Going from the use of semantics of words and characters as a more direct approach in depicting his message, Jan Kaláb turned to the means of color and circular shapes, assigning abstraction to his exquisite artworks. His lettering gradually became more and more metaphysical in a way, grew bigger in size and even leaned towards becoming sculptural pieces. Such move let him re-invent the urban scene he was working in, but also opened the door to complete abstraction, which still carries traces of his roots on the streets.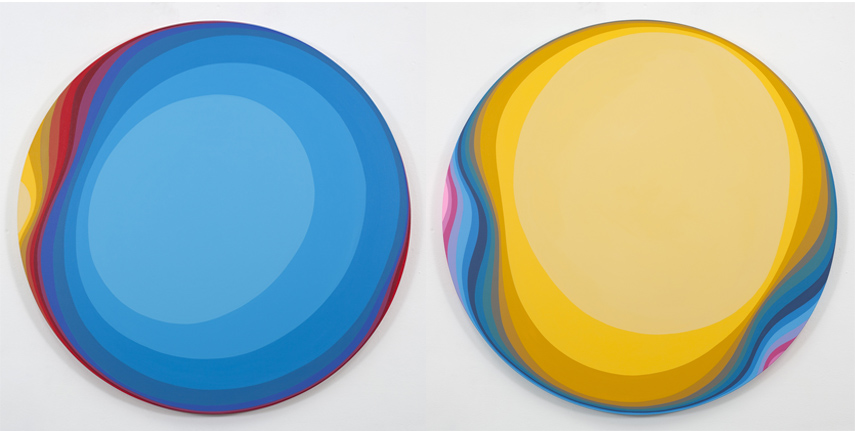 Circles of Abstraction
As a result of a certain organic awakening, Jan Kaláb's sculptures and paintings now feature circles of defined color and its layered shades, creating an optical illusion of a kind of a portal, as if luring us into the artist's mind. Defined by what's inside and outside his circles, the artist introduces a proper hierarchy between colors, choosing one that will "overrule" while the rest have to "obey" it. The chosen color overcomes most of the canvas's surface, creating a tension which reflects on the one experienced in the real world as well; as Earth, also a sphere, holds a significant amount of tension as well, ever since the beginning of evolution. Thus, Jan Kaláb's eight canvases and one spherical sculpture, to be on view at BC Berlin, mirror the tautness we experience on a daily basis, and the ever-lasting power fight between the "big" and the "small".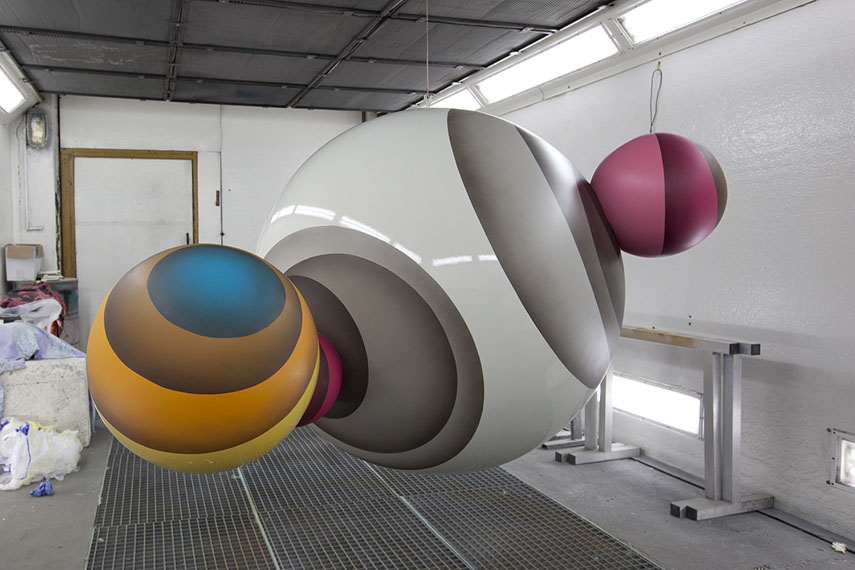 Jan Kalab Exhibition at BC Gallery Berlin
One of the pioneers of urban art in his country, Jan Kaláb has had one of the most exciting creative journeys, where the quality of his artworks never changed, but only became more versatile. With his move towards the examination of color, forms and their depth, he gained international recognition and great interest among abstract art lovers. Tension, an exhibition of latest canvases and sculptures by Jan Kaláb, will be on view at BC Gallery in Berlin, Germany, from December 10th 2015 through February 27th, 2016. The opening reception is scheduled for December 10th from 6pm to 10pm.
All images courtesy of BC Gallery Berlin.