An American pop artist, Jann Haworth is a pioneer of soft sculpture and an advocate for feminist rights especially for the representation of women in the art world. She is best known as the co-creator of The Beatles' Sgt. Pepper's Lonely Hearts Club Band album cover. One of the few female artists involved in the original Pop Art movement of the 1960s, her contribution is immense. Over the following four decades, she continued to build and exhibit her accomplished body of work, approaching it with ever-abounding enthusiasm and passion for exploration.
This autumn, Pallant House Gallery will be the first UK gallery to display Jann Haworth and Liberty Blake's mural, Work in Progress. The result of a collaborative community project, the 28-ft mural celebrates women who were catalysts for change in the arts, sciences and social activism. Alongside this monumental piece, the exhibition titled Jann Haworth: Close Up will feature Haworth's sculptural and wall-based works dating from the 1960s to the present day.

The Practice of Jann Haworth
Born in Hollywood to an artistically talented mother and a father, Jann Haworth grew up surrounded by creativity and the manufactured magic of the Hollywood film sets - an experience that had a profound and enduring influence on her work. The importance of popular mass culture within her oeuvre was perfectly in tune with the Pop Art sensibility of the era and, after moving to London in 1962, she quickly became involved with the British movement.
Haworth was a pioneer in soft sculpture, describing her use of sewing and textiles as being "the language of women." She used her work to push forward what has by association too long been overlooked as an important artistic medium. As she explained, she was drawn to the medium as it was a whole language of expression that her male colleagues had no inkling of.
I knew the language of cloth inside out. I knew how to turn two-dimensional flat fabric into any shape that I needed to create a 3-D object/figure/concept. I knew this opened the door to a vast territory of expression.
In the late 1990s, Haworth moved to Utah, where she has developed works that explore irreverent materials and artistic practices, including cardboard, patchwork wall pieces and large-scale urban mural projects.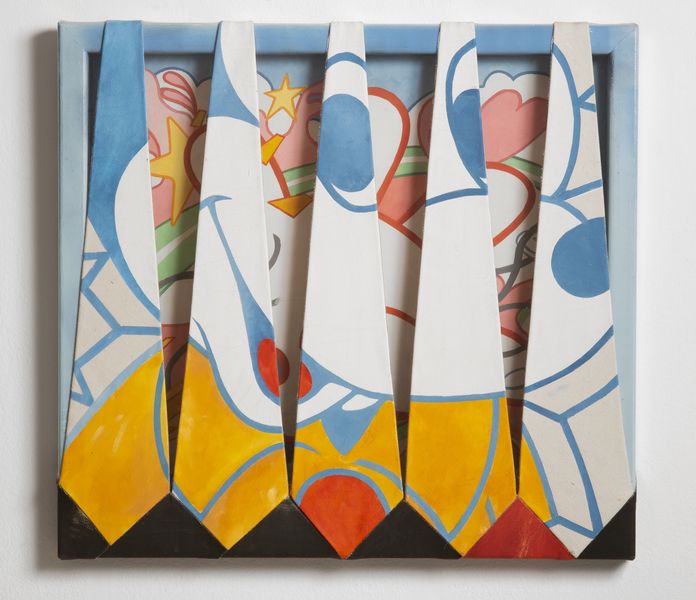 The Works on View
The mural Work in Progress evolved from Haworth's critical re-examination of Sgt Pepper's Lonely Hearts Club Band album cover produced in 1967. In collaboration with her daughter, Liberty Blake, she organized a series of workshops with community groups in America where participants created stencil portraits of women selected from across history and areas of influence. Celebrating the contributions that women have made to culture and social change, the resulting piece features over 100 women spanning over 3000 years, from Nefertiti and Queen Elizabeth I to Ellen DeGeneres and Malala Yousafzai.
The audience will also have an opportunity to see Haworth's wall-based and sculptural artworks which challenge the conventional perception of both the form and appropriate subjects for sculpture, including the elderly, donuts, newspaper comic sections, charm bracelets and cowboys - all cast in cloth. Among them will be Cowboy from 1964, part of Pallant House Gallery's collection of British Pop art, and Old Lady II from 1967 which are part of a range of soft sculpture works Haworth created in the 1960s.
Haworth will also select works from the Pallant House Gallery's collection which celebrate female creativity to be featured alongside her works.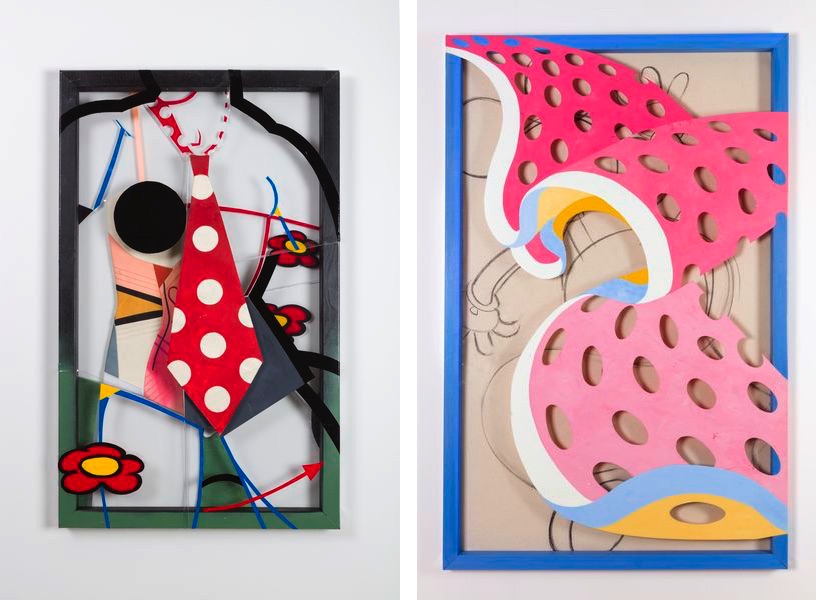 Jann Haworth Exhibition at Pallant House Gallery
Jann Haworth: Close Up will be on view at the Pallant House Gallery in Pallant, UK from November 2, 2019 until February 23, 2020. The press view will be held on Friday, November 1, from 11 a.m. to 1 p.m.
The exhibition will coincide with the show Radical Women: Jessica Dismorr and her Contemporaries', celebrating the role of women artists in avant-garde British art movements in the early 20th century.
Featured image: Jann Haworth - Donuts, Coffee Cups and Comic, 1962. Fabric, thread and kapok, Wolverhampton Arts Centre © Courtesy of the artist. All images courtesy Pallant House Gallery.