Corey Helford Gallery is delighted to present their first solo exhibition featuring the Jasmine Becket Griffith fairies with the title Allusions and Allegories, with the signature works of the renowned and world-known fantasy artist. Becket Griffith has enchanted the audiences all over the world in the past two decades with her fine art works, creating unique pieces by painting by hand with acrylic paints. Her works are the perfect blend of the realism and wonderful, magical world. She investigates gothic themes, implements the elements of classical literature, of fairytales, nature, and fantasy in general. Jasmine Becket Griffith paintings are easily recognizable to the wider public, as she has collaborated with Disney to create a merchandising and licensing line, and her works can be seen in various books, including the Spectrum fine art collections, Gothic Art Now, The World of Faery, Big Eye Art, and many others. Jasmine Becket Griffith fairy works are nothing short of amazing, and to add them to your collection would mean the world of magical experiences just waiting on your very wall to be lived!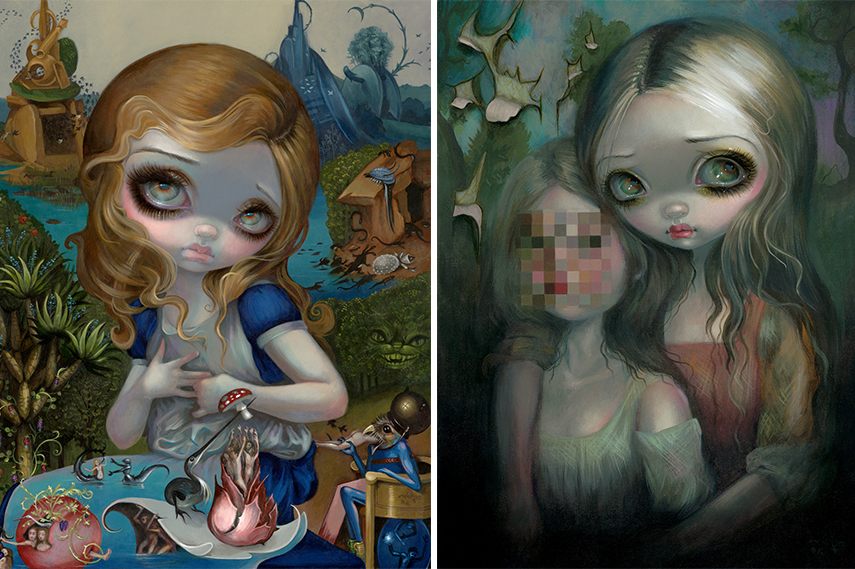 New Pieces, New Fantasy, New Jasmine Becket Griffith Art
The new piece in the Jasmine Becket Griffith fairies collection is entitled Tableaux Vivants III: Salome and Sphinx, and it is the third piece in her Tableaux Vivants series. This painting blends her original rococo style portraiture with the tiny tableaux "living images" from historic paintings. It was inspired by the 1800s French symbolist Gustave Moreau. The gorgeous henna-esque ornamentation on the large figure is inspired by the tattoos Moreau put on his characters in his later pieces. Regarding her new works, the artist said:
"My acrylic paintings in 'Allusions and Allegories' represent some of the themes, concepts and imagery that excite me both as an artist and as a person. These pieces are rife with appropriated classical art references, nods to past masters, literary characters, alchemical theories, universal symbols and other allusions I've re-imagined into my own world. I've patchworked my personal obsessions together with my own aesthetic ideals to create allegories I find beautiful."
Check out the time-lapse video of the creation of this piece.
About the Artist
The freelance artist Jasmine Becket Griffith specializes in fantasy, gothic, and fairy artwork, and prefers acrylic on canvas or wood. Her works appear on a number of lines of licensed merchandise, including the aforementioned Disney. She is the star of the fantasy conventions such as Dragon*Con, MegaCon in Orlando and FaerieCon, and her fairy world artworks get a lot of attention each time she presents her figurines and Strangeling gothic, fairy, and mermaid works. Ever since 2006, she has been doing co-branded artwork with the Walt Disney Company as one of the independent contractors, which means that you can obtain some of her Strangeling fairy works in their shop. You can see her works in the Pop Gallery Orlando at Downtown Disney in the Walt Disney World Resort. The perfect opportunity to see Jasmine Becket Griffith fairies would be in the magical world of Disneyland, but for the audience who prefers a more sophisticated space, the Corey Helford Gallery exhibition is the place to be!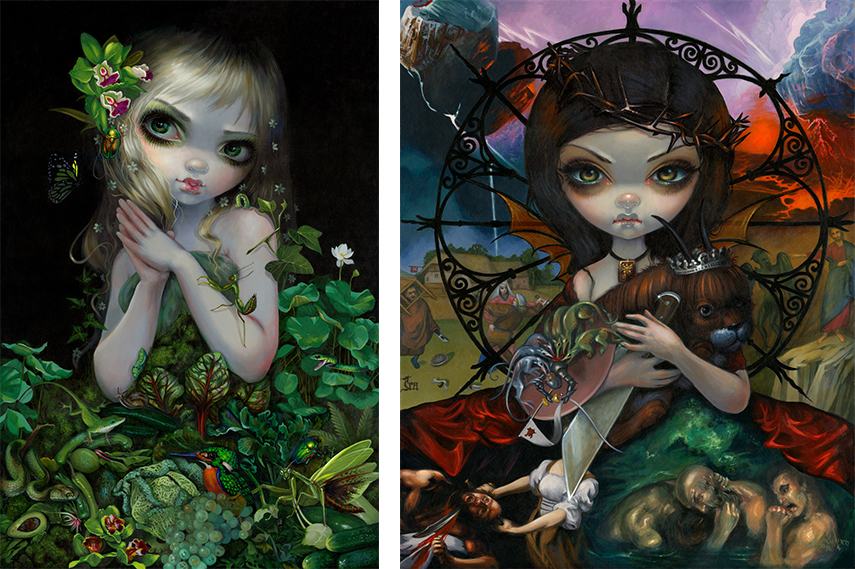 Jasmine Becket Griffith Fairies Exhibition
The Allusions and Allegories will open on Saturday, July 16th, from 7 PM to 11 PM at the Corey Helford Gallery. The Jasmine Becket Griffith fairies will be on view from July 16th to August 20th, 2016 in Gallery 2, running simultaneously with the new exhibition by Camille Rose Garcia in Gallery 1. Corey Helford Gallery was founded in 2006 by Jan Corey Helford and her husband Bruce Helford, the TV producer and creator. It represents a sundry collection of contemporary artists influenced by the pop culture of today, covering the genres of Pop Surreal, Graffiti and Street Art, and the New Figurative. The gallery is located at 571 S. Anderson Street in Los Angeles, California, so hurry up and go see the amazing Jasmine Becket Griffith fairy world unveil before your very eyes!
All images courtesy of the gallery.
Featured image: Jasmine Becket-Griffith - Étreinte de Papillons