After eight years of working with Jason Hernandez, C.A.V.E. Gallery is once again proud to present his newest art exhibition, A Miraculous Voyage. Brought into the contemporary setting of Venice Beach, California, Hernandez's art shines a new light on the mixture of something old and something new – the style of Byzantine icons and the tools for extraterrestrial expeditions. Man-made machines originating from our humble planet in a small galaxy are sent forth into the vast universe to explore and to quench man's thirst and quell man's hunger for knowledge and adventure.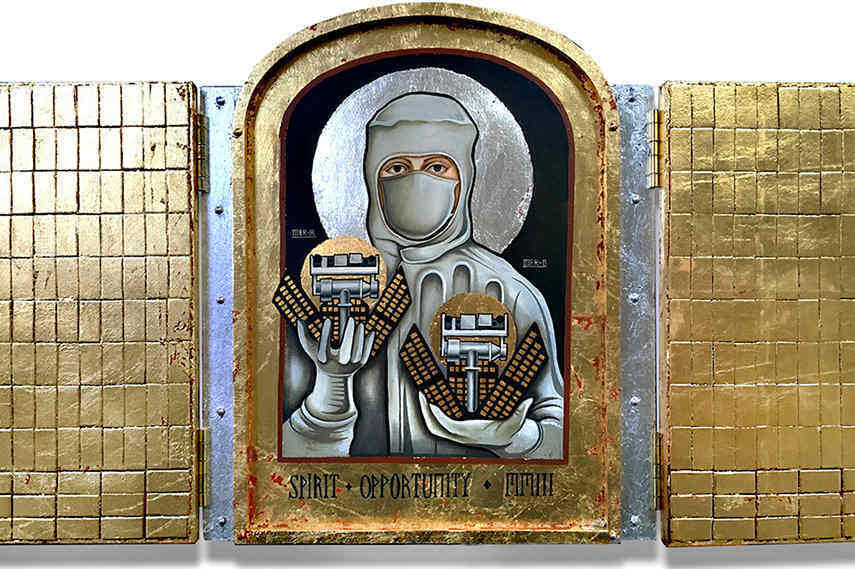 Jason Hernandez's Universe-trotting Art
The greatest dream of every child is to be an astronaut. People dream about investigating the infinite space filled with stars, planets, asteroids, black holes. They look up to the sky at night and wonder about the oddities of space, they build telescopes, satellites, rockets to further examine the immense infinity of the cosmos. These motifs are immersed in the core of Jason Hernandez's art. He masterfully plays with the notions of the ancient technique of Byzantine art and the Sci-Fi elements. The machines depicted on his artworks are usually held or presented to us by expressionless individuals, resembling old saints, scientists, and astronauts with odd bodies. The contraptions he paints are the ambassadors of our planet, the first thing some possible alien will see and learn about the Earth. They provide an evidence of man's existence in the universe.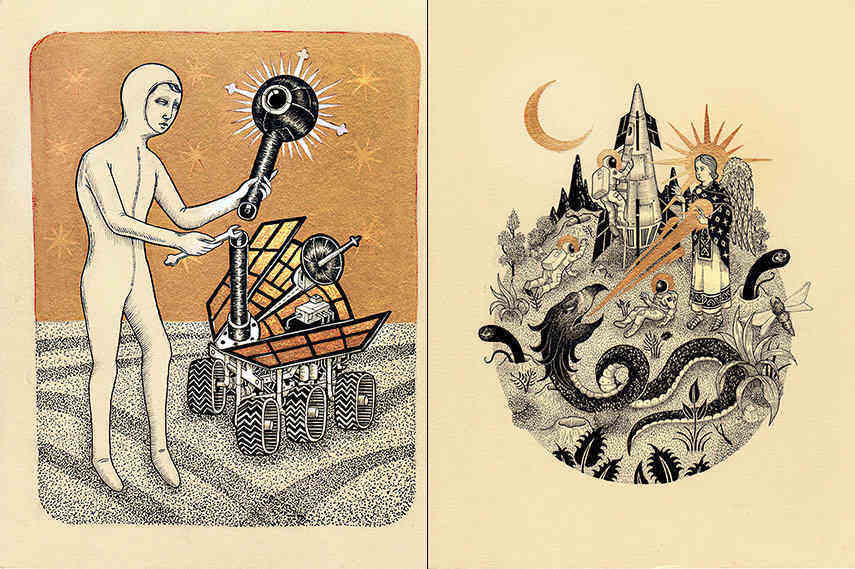 Fascination with Space and Science
Jason Hernandez's art shows his captivation with the cosmos and theoretical physics combined with orbital mechanics. His intricate designs explore the astronomy in a new and exciting way, bereft of run-of-the-mill sleek, cold and blue-tinted depictions of space technology that we usually see. His images are warmer, pleasant to the eye, they show curiosity – the driving force of humankind. That curiosity leaves us with the question of our stay on our home planet. Will the future of mankind include not only the planet Earth but will it also find a home elsewhere, somewhere in the deep space? This miraculous voyage of humankind is at the same time the object of exploration of man's dreams, ideas, scientific research, and potentials. Jason Hernandez manages to light that spark of inquisitiveness within the viewer with his skillful use of materials such as acrylic, oil, metal leaves, and ink, usually on paper or wood, thus creating whimsical images with a strong message.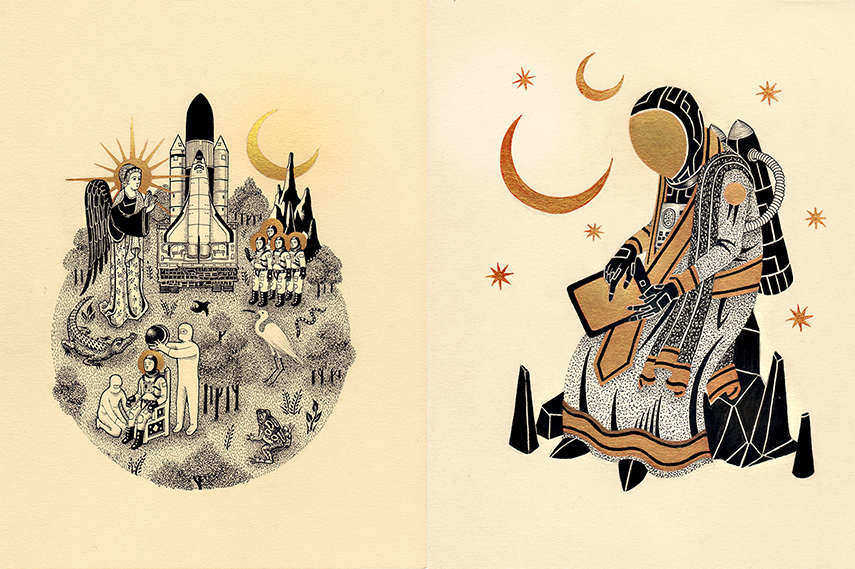 Jason Hernandez's Art in C.A.V.E. Gallery
The Center for Audio and Visual Expression, also known as C.A.V.E Gallery will show Jason Hernandez's compelling works of art in an exhibition that will take place in Venice Beach, California. C.A.V.E. Gallery is also famous for being the Mecca and hub of cutting-edge contemporary art, thus, it is only natural for it to have a great relationship with the artist of Hernandez's caliber. The exhibition will be on view from March 12th to April 3rd, 2016. The opening reception will be on Saturday, March 12th at 1108 Abbot Kinney Blvd, Venice, CA.
All images courtesy of the gallery.
Featured images: Jason Hernandez - Sojourner / Left: Jason Hernandez - Elegant Flight; Right: Jason Hernandez - Inhabit / Jason Hernandez - Curiosity / Left: Jason Hernandez - Conception; Right: Jason Hernandez -No Strings Attached