In 2016, we've had many opportunities to see Jaune art around Europe, as it was a good year for this talented Belgian street artist. Before exhibiting at renowned festivals such as The Crystal Ship Festival in Oostende, Belgium and Nuart Festival in Stavanger, Norway, he was busy painting his trademark murals in cities like Basel, Turin and Amsterdam. The Dutch city will now host a solo exhibition of his works, the first at out esteemed friends Vroom & Varoussieau Gallery. Under the title I wish you could see this for real, Jaune will present his unique urban and stencil art concept even further, the one we all came to love and admire.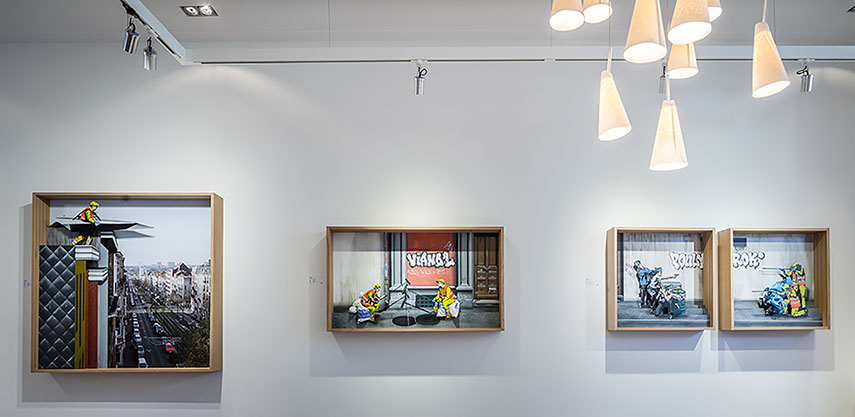 The Art of Sanitation Workers
When we think about Jaune art, we can't help but think of the one recurring motif in his humorous work: the sanitation workers in their recognizable yellow-orange-fluorescent vests and uniforms. The artist himself was working in this field, and his experience in the profession served him in his sarcastic, entertaining artworks. During that time, he started contemplating on the paradox between the visible and the invisible, and the way sanitation workers are often invisible to the public, for which they are doing important work, as they blend in their urban surroundings. Could it be it is because we are so used to seeing them there that they became practically invisible to us? Jaune then decided to take this idea further and to free himself and his colleagues in form of characters that would then become the protagonists of his many installations and paintings.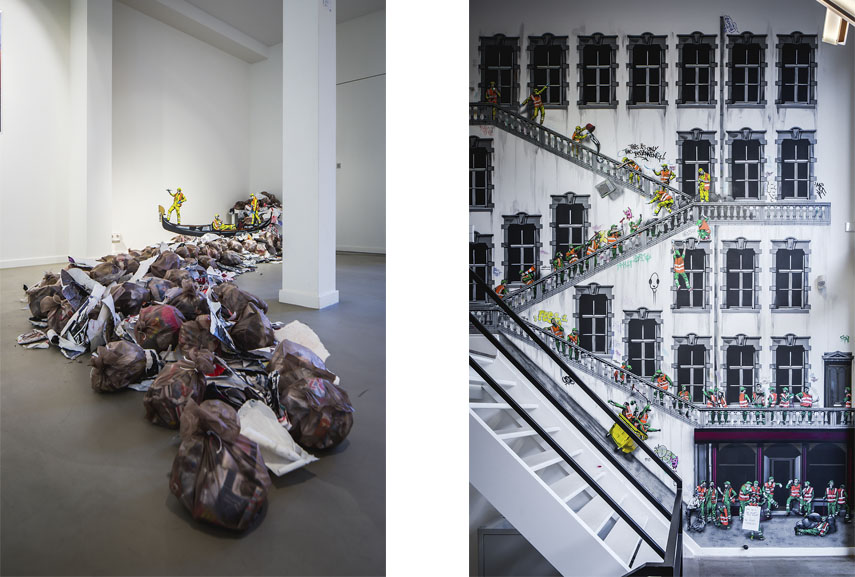 I wish you could see this for real
Around the streets of many cities, Jaune paints and creates stencils of his sanitation workers, implementing them within absurd and whimsical scenarios and narratives in order to finally get the attention of passersby. Ironically, it is the very people who are supposed to clean the city who are now in the midst of chaos, caught in the humorous, sometimes dramatic moment that is usually just about to happen. Jaune's characters make up storylines that always carry a strong message, whether obvious or hidden behind irony, engaging the viewer into a kind of dialogue which questions the nature of artwork, and nature itself. At last, each of the depicted individuals gets a voice as a part of a bigger picture, interacting with their surroundings in funny, intriguing ways and referencing our daily lives and popular culture at large.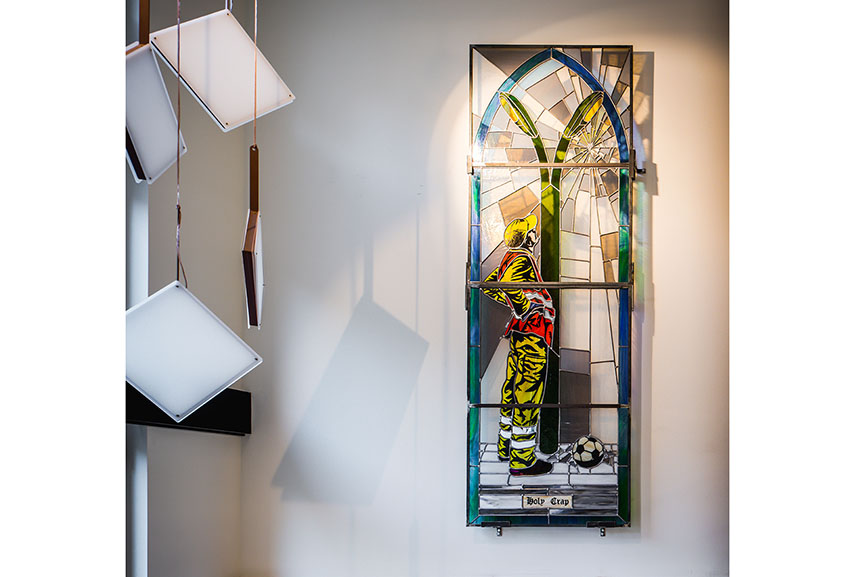 Jaune Art at Vroom & Varossieau
I wish you could see this for real, the first solo exhibition of works by Jaune, will be on view at Vroom & Varossieau gallery in Amsterdam, The Netherlands, from January 21st through February 26th, 2017. He is doing an artist talk on Friday the 20th of January, between 15.30 - 16.30h at the For Real Art Fair in Amsterdam. In the meantime, you can find his wall pieces at a new street art bar in Amsterdam that will open in February, called de Bajes. This week, there will be D*Face, The London Police and Ben EINE painting there, and we can expect appearances by Laser 314 and Niels SHOE Meulman in the near future as well.
Featured images by Peter Baas, courtesy Vroom & Varoussieau.