A freelance illustrator, art director and fine artist, J.A.W. Cooper draws inspiration from nature, cabinets of curiosity and fashion photography. She deftly constructs her compositions and narratives with a majestically flowing line, simultaneously filling it with both an unwavering confidence and a tangible vulnerability. Her latest body of work will soon be on view at her inaugural solo exhibition at SPOKE NYC. Titled Impermanence, the exhibition will explore themes of life, death and the urgency of the ephemeral through her distinct surreal lens. The exposition consists of a series of paintings and drawings on paper. While graphite drawings highlight her signature flowing lines, her paintings feature the artist's technique of gradually layering washes of acrylic or gouache over India ink.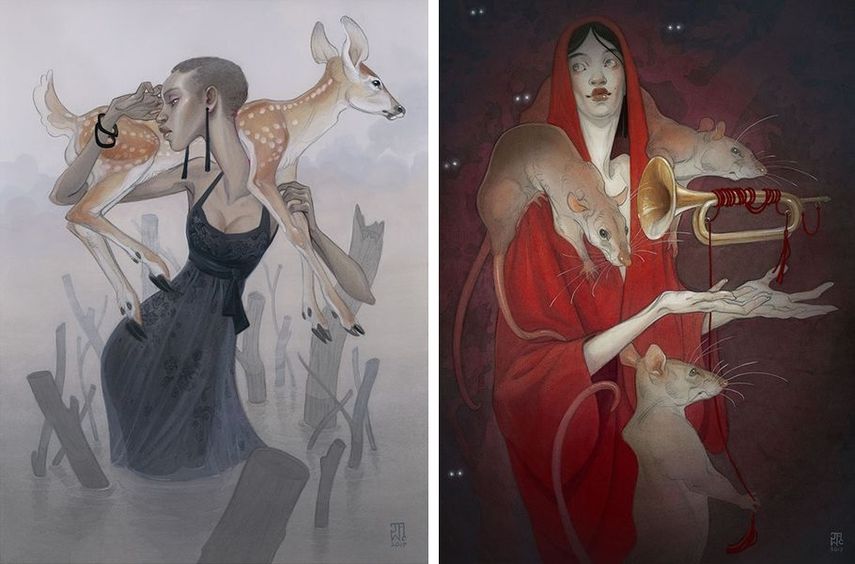 The Impermanence
In the latest body of work, J.A.W. Cooper has depicted scenes and figures that appear to oscillate between the paradoxical elements of strength and vulnerability, transforming them into metaphors for life and death. Her narrative based compositions create allegorical folktales. Exploring the relationships between animals, nature and humans, the artists provides a glimpse into her imagined alternate reality. As she explains, the latest body of work explores the significance imparted by the urgency of ephemerality and of the rhythms of seasons and of life and death. The conscious knowledge of our own impermanence makes our lives more significant.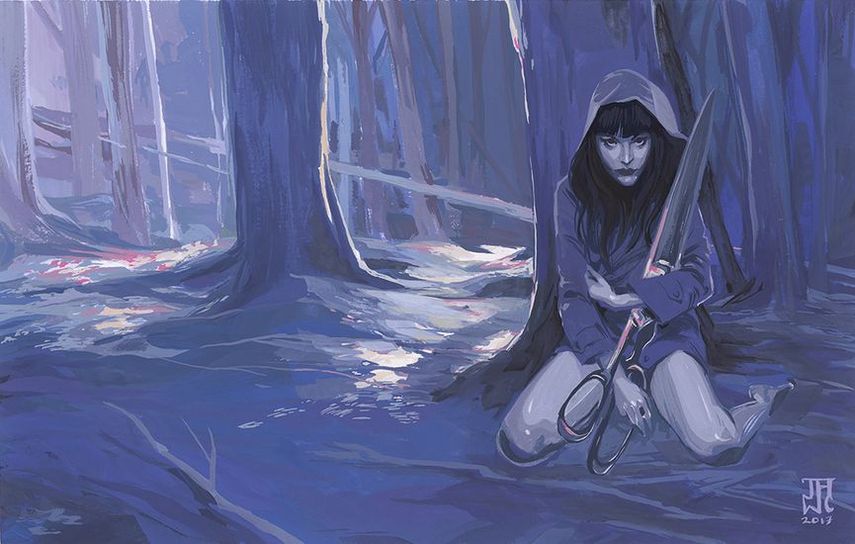 The Practice of J.A.W. Cooper
Through her female protagonists and their animal companions, J.A.W. Cooper explores the complexities and contradictions of the human spirit, but also our equally complex relationships with the animal kingdom and the natural world we all inhabit. Nature, and in particular the animal kingdom, provides many of her most returned to sources of inspiration. Featuring a certain sense of duality, her works are imbued with symbolism and metaphor sophistically employed. The artist communicates concepts sparked by the wealth of inspiration coming from the fields of science, philosophy, psychology and folklore. Fascinated by how subjective our perception of reality is, she creates powerful visual narratives. Often, there is also an autobiographical element carefully hidden in a broader narrative.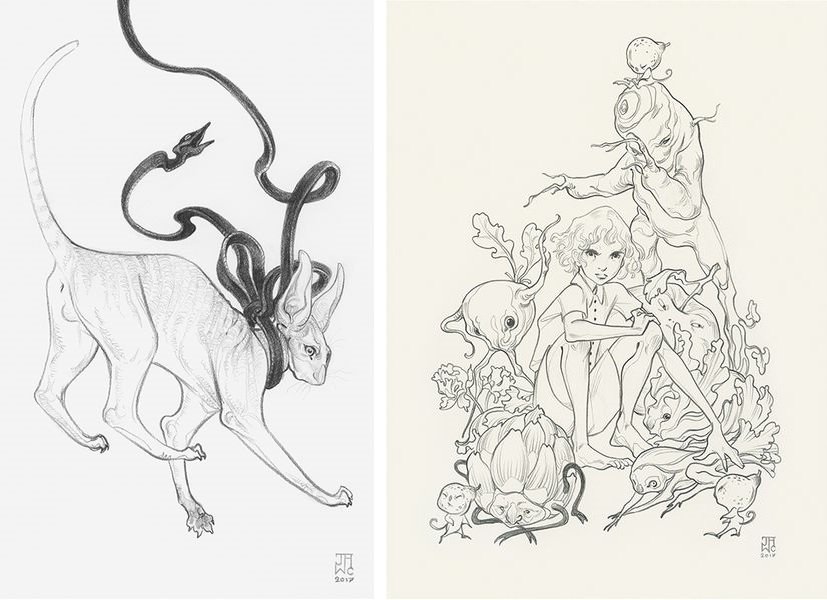 J.A.W. Cooper Art Exhibition at SPOKE NYC
Born in England to a South African/British mother and an American father – both freshwater ecologists – Cooper grew up in Kenya, Sweden, Ireland and California. Her childhood traveling experiences strongly influence her work and interests. The exhibition Impermanence will be on view at SPOKE NYC from August 5th until August 27th, 2017. The opening reception will be held on Saturday, August 5th, from 6 to 9 p.m. Complimentary beverages will be served and the artist will be in attendance. As an added bonus, the first 50 attendees of the exhibition will receive a free mini print.
Featured image: JAW Cooper - Raspberries. All images courtesy of SPOKE NYC.